iPhones Feed a Gadgets Frenzy During India's Busiest Gift Season
(Bloomberg Businessweek) -- Brands including Apple and Huawei are releasing almost a hundred smartphone models ahead of India's Diwali shopping bonanza, an unprecedented rollout for companies looking to capture a bigger chunk of the world's second-largest mobile market.
More than a dozen foreign and local smartphone makers will vie for attention around the Hindu Festival of Lights on Nov. 14, which ushers in an annual gifting spree that can make an American Christmas seem subdued. South Korea's Samsung Electronics Co. introduced twice its usual number of devices, while Cupertino, Calif.-based Apple Inc. showcased its smaller and more affordable iPhone 12 mini. Even Shenzhen-based Huawei Technologies Inc. pulled out the stops with three new designs, despite renewed Indian-Chinese military tensions over their contested border. (The dispute led Indian traders to call for a boycott of Chinese goods.) The lineup also includes phones custom-designed for the Indian market, geared toward everything from gaming to studying. There have even been zany promos like Xiaomi Corp. India chief Manu Jain starring in a rap video and mobile stores on wheels roaming the countryside.
India's smartphone penetration rate, which is the share of the population that uses a phone, is about 32%, compared with 61% in China and the U.S.'s 82%, according to data from the 2020 Newzoo Global Mobile Market report—suggesting significant growth potential. "India offers a large and untapped opportunity for smartphone companies," Bloomberg Intelligence technology analysts Matthew Kanterman and Nathan Naidu said in a note to clients last month. The combination of "cheap data packages, recent 4G rollout, development of diverse local content, and digital payments may further boost the country's smartphone users."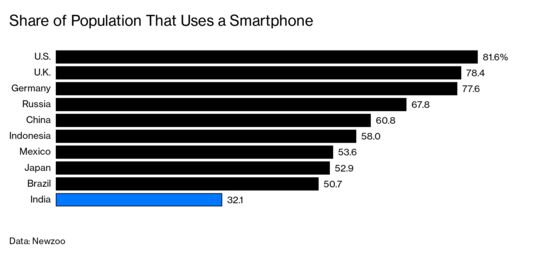 Sales leader Samsung, runner-up Xiaomi, and others hope to catch the recovery in Indian consumption since the initial Covid-19 lockdown, one that's already driven an 8% rise in third-quarter phone shipments, according to market researcher Canalys. The increase marks a stark reversal from a 51% plummet in the previous three months, when the lockdown closed shops and disrupted supply chains. Some of the pent-up demand has been fed by growth in the WhatsApp messaging service and content streaming via YouTube. At the same time, students and employees have learned to rely on mobile devices for study and work.
"This year's going to be different going by the velocity of launches," says Asim Warsi, senior vice president of Samsung's Indian unit. The company has introduced a dozen new models in the runup to Diwali. The cheapest is a M01 Core at 4,999 rupees ($67), while the most expensive is the Galaxy Z Fold2 at 149,999 rupees. "It's a very strong comeback, and our outlook is 40% growth in Q4," Warsi says.
Fifth-generation technology will be put on display. China's OnePlus Technology will be touting its OnePlus 8T 5G device, and Lenovo Group's Motorola Razr 5G will offer foldable phone competition. Xiaomi will have its budget-friendly Poco C3; Asustek Computer Inc. will court gamers with its ROG Phone 3. Xiaomi said that it had already sold 5 million phones in the week of Oct. 15 via Amazon.com Inc., Walmart Inc.'s Flipkart, and its own website. A contraction in India's smartphone market "in the pandemic-struck first half of 2020 has made it an intensely competitive festival season," says Anshul Gupta, research director at Gartner India. "Vendors are lining up models to appeal to every type of buyer."
Apple, which in years past was effectively priced out of India's market, is going big in 2020. The company is increasingly turning its focus toward the country to reduce its dependence on China both as a market and as a manufacturing base amid escalating tensions between Washington and Beijing. Apple opened its Indian online store in September with a special offer of free AirPods and personalized engravings—in a choice of seven local languages—with iPhone 11 purchases. Within the first two hours, Apple had to halt the offer abruptly after running out of stock. The company set a "September quarter record in India, thanks in part to a very strong reception to this quarter's launch of our online store in the country," CEO Tim Cook said during the recent earnings conference.
Even long-dormant homegrown brands, decimated by Chinese competitors, are making inroads. Gurgaon-based Micromax Informatics Ltd., once a favorite for its affordable gadgets, launched a new series on Nov. 3. In another pre-Diwali promotion, Xiaomi fashioned a traveling store-on-wheels to reach semi-urban and rural shoppers by showing up at weekly street fairs. Still, it's uncertain how the festivities will pan out given that India, much like the rest of the world, is wrestling with economic uncertainty during the Covid-19 pandemic. While the country has the second-highest number of coronavirus infections after the U.S., the number of new cases has steadily declined since a record high in September. "Going into the high season of 2020, we have rolled the dice," says Warsi, of Samsung. "We want to cater to every buyer looking to upgrade their phone."
 
Read next: 9-Year-Old Coders Show How India Is Pioneering Online Education