AOC's Organizing App Is Spreading to Democratic Socialist Campaigns
(Bloomberg Businessweek) -- Alexandria Ocasio-Cortez won her upset victory in New York's 14th Congressional District last year by blindsiding the incumbent Democrat, Representative Joe Crowley, a party fixture who never imagined thousands of new voters turning up, seemingly out of nowhere, to support a Democratic Socialist. On primary night, as the returns rolled in, Crowley could do little but grab an electric guitar and serenade the Left's new phenom with a rendition of Born to Run.
Ocasio-Cortez's political talent is undeniable. But her campaign was also a marvel of grassroots organizing, boosted, in the weeks leading up to the primary, by a mobile app called Reach that was cobbled together by a pair of volunteers, Jake DeGroot, 32, and Leo Sussan, 29. Both newcomers to politics, DeGroot, a theatrical-lighting designer, and Sussan, a digital marketing specialist, were frustrated by what struck them as the outdated methods for canvassing supporters: get a list of registered voters and knock on doors, hoping to catch them at home. The whole nature of the enterprise seemed off.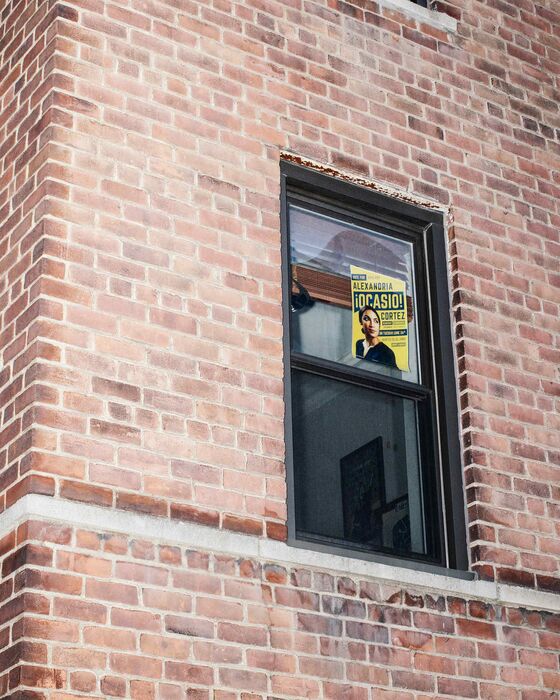 Ocasio-Cortez's Bronx-Queens district is filled with busy working-class and young people, who move often, don't spend tons of time at home, and rarely answer their phone. Her campaign—and her only hope of victory—was built around bringing underrepresented people into the system. Instead of taking a list and going off to find or call the people on it, DeGroot and Sussan thought it would make a lot more sense to go to places where large numbers of likely supporters gather—bars, churches, subway platforms—and be able to match them to the list right there. "If aliens came down and looked at how our politics happens, they'd be confused," says Sussan. "You knock on the door of someone you probably don't know and talk only about politics in a place—their doorway—that's kind of awkward."
With three weeks to go until the June primary, DeGroot had a mounting sense of frustration. "If we were going to win, we knew it was going to be through grassroots folks on the ground in the Bronx and Queens," he says. "We had all these people talking to voters, but we weren't capturing any of the data." He pulled an all-nighter and emerged in the morning with a prototype app that contained the campaign's entire voter file and turned it into a searchable, mobile database. Despite its late arrival, Reach accounted for 12 percent of total voter contacts during Ocasio-Cortez's yearlong campaign. Better still, people canvassed via Reach turned out at higher rates than those contacted through conventional methods. Ocasio-Cortez gained instant celebrity, and word of her organizing app spread quickly among the tight-knit world of socialist and left-wing campaigns. With her encouragement, Reach was passed along like samizdat to those deemed worthy, eventually servicing 14 campaigns in eight states.
"So little of politics allows that crack of light for new ideas and new ways of doing things," says Cristina Gonzalez, deputy campaign manager for Jumaane Williams, the Democratic Socialist who was elected New York City Public Advocate in February. "What you always hear is, 'This is how it's done.' Reach not only lets you maximize the limited resources we have to expand the electorate, but it's fantastic in the way that it allows you to have conversations with people."
Seeing the eagerness that campaigns had for their technology convinced DeGroot and Sussan that they were filling a real need. "Progressive tech is shockingly and unacceptably behind the times," says DeGroot, "but it's something we can fix."
What began as a tool for Democratic Socialists is now the basis of a capitalist enterprise. Backed by angel investors including venture capitalist Chris Sacca and Tumblr founder David Karp, DeGroot and Sussan have set up shop in the Queens neighborhood of Sunnyside and hired a team of engineers to overhaul and professionalize the app, to be sold to Democratic campaigns and nonprofits. Turning Reach from a DIY project into a viable business will entail moving beyond the limited universe of left-wing candidates to also serve a more mainstream Democratic and nonprofit clientele. For the young leftists drawn to AOC out of political conviction, this poses moral as well as business challenges.
Initially, Reach's founders and developers voted on whether a prospective candidate was politically acceptable, and only those who cleared a 60 percent approval threshold could use the app. Today the company has organized as a public-benefit corporation, a legal designation whose standards are a bit more ecumenical. Reach now focuses on aiding Democrats who don't accept corporate money. "Our mission is to power a world where progressive grassroots activism beats corporate cash," says DeGroot.
Many high-profile Democratic campaigns will be more than happy to submit their fundraising to the added layer of scrutiny, because of the potential benefits. The problem Reach solves of improving a campaign's ability to speak to large numbers of supporters is one all campaigns encounter, since traditional methods of voter contact haven't kept pace with the way people live now. "If I want to talk to 10 people, I'd have to knock on 100 doors," says Gonzalez. "Nobody picks up their phone anymore. In the end, politics is a numbers game, and any campaign would love something that doubles or triples the rate of positive response."
Sussan says his engineers are working to incorporate additional features into the app, such as online voter registration in the 40 states that allow it, which would further enable campaign workers to pull in new supporters wherever they may congregate.
As the presidential primary season heats up, Democratic campaigns are taking note. Already, five of the 2020 primary campaigns have contacted the company to express interest in the app. (The founders declined to name them.) Congress, too, where Ocasio-Cortez has been helping her new colleagues master social media, looks to be a source of future business. While the company's prospects will ultimately hinge on whether its technology helps campaigns, Sussan has reason to be confident: "We're built for organizers, by organizers."
Still, it helps to have a powerful testimonial. Ocasio-Cortez herself, a spokeswoman confirmed, has reached out to the Democratic Congressional Campaign Committee to tout Reach's benefits. In Democratic circles, few endorsements carry more value right now, a point DeGroot is quick to acknowledge. "One of our biggest assets is street cred," he says, "and our relationship with Alexandria."
To contact the editor responsible for this story: Jillian Goodman at jgoodman74@bloomberg.net