Defying Trump Ensures a Bruising 2022 Fight for Anthony Gonzalez
(Bloomberg Businessweek) -- In a world without Donald Trump, Representative Anthony Gonzalez of Ohio would be a rising star in the Republican Party: son of Cuban immigrants, standout wide receiver at Ohio State University, first-round draft pick of the Indianapolis Colts, graduate of Stanford's business school, and just 36 years old.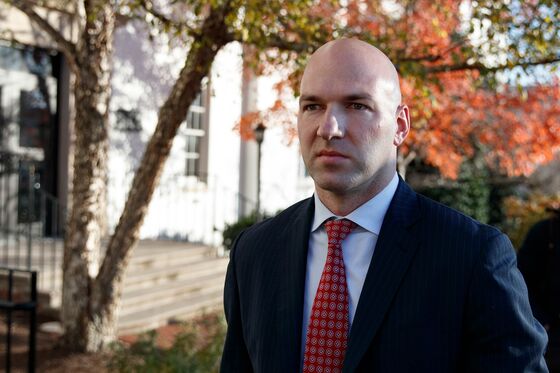 Practically overnight, Gonzalez became persona non grata for many in his own party. Josh Mandel, an Ohio Republican running for U.S. Senate, branded him a "traitor" who should be "eradicated from the Republican Party." Max Miller, a former Trump aide from Ohio, dubbed him "RINO Turncoat Tony" and filed to run against him in the Republican primary next spring. In late June, Trump, who relishes punishing his GOP critics, quickly endorsed Miller and held his first big post-election rally in Wellington, Ohio, to trash Gonzalez as "a fake Republican and a disgrace to your state," adding: "Every single Republican needs to vote him out of office."
Gonzalez isn't fazed. "I didn't watch a single minute of the rally," he says. "I took my wife to a nice Italian dinner and was in bed by 9:30 p.m."
Even so, his impeachment vote trails him everywhere, not least because Trump and his acolytes keep bringing it up. "It's created a lot of political noise," he says. "In politics today, the angriest, loudest voices tend to get the most coverage and airtime, so you have to find a way to look through all that noise and find what's true and valuable for your constituents."
Gonzalez intends to do just that. Unlike many elected Republicans who've come in for Trump's wrath, he isn't retiring or backing away from his vote. But neither does he flaunt it and wave a red cape at the bull the way his Republican colleagues Liz Cheney of Wyoming and Adam Kinzinger of Illinois like to do. He's simply a guy who voted his conscience and is trying to get reelected to a third term from his Republican-leaning district southwest of Cleveland.
This makes him an object of intense curiosity to political insiders in both parties, who believe Gonzalez's fate next spring could shed a great deal of light on whether Trump's strength with Republicans is as enduring as it appears to be—or if there's a chance that serious, credentialed Republicans who aren't totally in thrall to him can finally reassert some measure of control over their party.
"The Max Miller-Anthony Gonzalez showdown is a little bit like Groundhog Day," says Scott Tranter, a Republican strategist who's done work in Gonzalez's district (though not for either candidate). "If Miller wins, it's like the groundhog sees his shadow and we know Trump's influence extends for another season. But if Gonzalez holds on to his seat, then maybe spring has arrived for the GOP."
It's fair to say that the expectation among the political cognoscenti is that Republicans are in for a long winter. Inside sentiment is running against Gonzalez and the other Republican House members who asserted their independence from Trump.
"I'd be surprised if more than three of the 10 Republicans who voted for impeachment are still in Congress in 2023," says David Wasserman, a House expert at the nonpartisan Cook Political Report. Gonzalez "has a shot because there's still time. But he's the underdog, no question. Republican primary voters are likely to side with Trump. It's his party."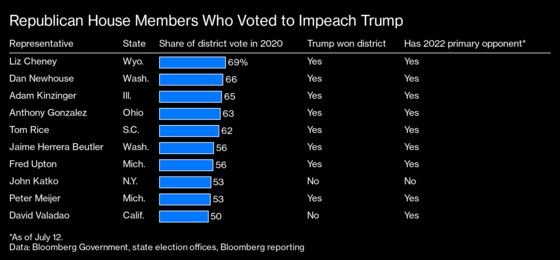 Gonzalez makes for an interesting test case because he has a strong claim, at least by traditional standards, for why voters should want to reelect him. Namely, he's doing exactly what he said he would do. His 2020 campaign centered on two big themes: defeating Covid-19 and distributing vaccines to all who want them, and "physically rebuilding our country by enacting a major infrastructure bill," as he put it. Today the country is rapidly reopening as vaccinations spread and the economy picks up steam. And in late June, President Joe Biden announced a bipartisan agreement for a $579 billion infrastructure deal that's funded through a public-private financing mechanism that Gonzalez has long touted and helped develop through his work with the bipartisan House Problem Solvers Caucus.
He won't lack for resources, either. Gonzalez says his fundraising this year has produced the best two quarters he's ever had. While there's no escaping his detractors (literally—they seek him out in airports and supermarkets), he says he's regularly approached by a much more discreet class of voter who quietly supports his stand on impeachment and his carrying out the things he promised to deliver. He's betting they'll show up for him when it counts, even if they don't make nearly as much noise as his critics. "Politics is a weird animal," Gonzalez says. "It's different than business. But I do believe that if you do good work and deliver results, ultimately you get rewarded."
His congressional tenure could very well hinge on whether enough of these silent supporters turn out for the Republican primary. Many experts are skeptical they will. "There's a new name for Republicans that believe Gonzalez was right—it's 'Democrats,'" says Wasserman. "They're not going to be voting in a Republican primary."
If Gonzalez seems oddly sanguine about his prospects, it isn't because he doesn't see the threat that lies before him. Rather, he appears to have a healthier relationship with his own political mortality than a typical member of Congress, who's intent above all else on keeping hold of his seat. Gonzalez isn't—and so he's free to act without the fear that governs the behavior of so many of his colleagues. This equanimity, he reckons, is due to his having successfully reinvented himself after a promising football career was cut short by multiple injuries. He'd like to stay in Congress. But he doesn't need to.
These days, most Republicans heed the word of Trump. Gonzalez, though he's a bit chagrined about it, draws instead on the wisdom of a Hall of Fame football coach.
"I try not to use football analogies," he says, "but Bill Parcells had a way of talking about pro football. He'd say, 'The train's always running. You're lucky enough to be on the train right now, so you've gotta do your best to have the impact that you want to have. But at some point we're going to throw you off the train, and the train's going to keep moving without you.' That's how I see this job: I'm on the train, and I believe we're at a really important time in the country."
His impeachment vote made that clear. He's banking on voters' willingness to look beyond it. In the meantime, whether or not the train carries him beyond 2022, he's discovering his current career has become the full-contact affair his last one was.