An Insider Look at How Angela Merkel Lost Her Grip
(Bloomberg Businessweek) -- Angela Merkel didn't flinch, and the brickbats kept coming. At a private meeting with her party's lawmakers on June 12, 2018, speaker after speaker got up to attack her refugee policy and endorse the enemy within her coalition government, Interior Minister Horst Seehofer, a hardliner on immigration. The chancellor's advisers had never seen her suffer such sustained fire from her own troops. "What's the strategy?" one Merkel aide asked a colleague in an SMS from the sidelines of the meeting in Berlin's Reichstag. "I don't know," replied his colleague. "I don't think we have one."
After 13 years in power, Merkel had run out of ideas for keeping the Christian Democratic Union (CDU) in line. She barely said a word throughout the meeting, and when it ended, no one knew what would happen next. The following week would see Merkel and Seehofer battle until she promised to muster support for her refugee policy from the rest of Europe at an upcoming summit. Seehofer desisted—for a while.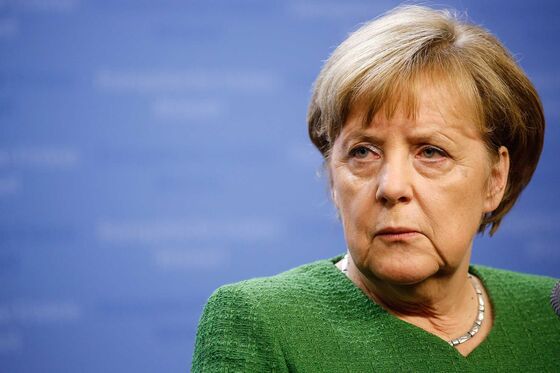 Merkel became Europe's preeminent leader with a reputation as an arch-pragmatist and master of the art of compromise—which included persuading her conservative party to move to the center and hammering out a bailout deal with the Greek government during late-night summit crises in 2015. But the June meeting marked the end of the imperial phase of her chancellorship. The breakdown in party discipline would be compounded by CDU setbacks in state-level elections in Hesse and Bavaria in October. And just six months after the contentious closed-door meeting, Merkel sat on the sidelines as her successor as party chief, Annegret Kramp-Karrenbauer, set out her plans at Konrad-Adenauer-Haus, the CDU's Berlin headquarters.
It was some consolation that Kramp-Karrenbauer, a Merkel protégée, had held off a conservative backlash during a December leadership contest to take over as CDU boss. That will give Merkel a degree of stability as she serves out her chancellorship, which ends in September 2021. It could still allow her to stand up to Donald Trump's challenge to the global order or even engineer one last European intervention to resolve Brexit. But the transition to the post-Merkel era has started. Kramp-Karrenbauer will try to heal the rift with the party's more conservative supporters by returning to its roots on immigration and the family, while preserving Merkel's legacy. The chancellor speaks at this year's World Economic Forum in Davos on Jan. 23, but investors and foreign leaders in attendance are looking to Kramp-Karrenbauer for clues to what Germany's future will look like once Merkel is gone.
How did the chancellor lose her dominant position in Germany, the European Union's economic center of gravity? The public controversy over her pro-refugee stance is well-known. But details of her personal intransigence on the issue—one that made it politically impossible for her to continue to lead the party—emerge from interviews with officials with knowledge of the events who asked not to be named discussing private matters. The chancellor's office offered no comment.
Merkel began 2018 facing questions about her political acumen. Her party saw the worst national election result in its history in September 2017, losing 64 seats in the Bundestag. It would take her six months to stitch together her fourth coalition. Critics within the CDU, such as Friedrich Merz, who led last year's challenge to her legacy, complained that she had no ideological convictions, no grand vision.
But she did have one big cause, which she'd embraced at the height of her powers in 2015: immigration. If the European debt crisis sealed Merkel's position as Europe's ultimate arbitrator, the flood of refugees that followed revealed the moral compass of the Lutheran pastor's daughter. It came at considerable political cost.
As the civil war in Syria deepened, millions of refugees abandoned the devastated country and headed west to seek asylum, trudging through the Balkans toward western Europe and triggering waves of alarm that still echo throughout the EU. By September 2015 governments in the east were erecting internal border barriers within the bloc for the first time in a generation, and thousands of Syrians were stuck at a Hungarian rail station. Merkel decided to let them in. In the months that followed, more than a million people arrived. "If we now have to start apologizing for showing a friendly face in response to an emergency situation, then that's not my country," she said that month as the anti-refugee protests mounted.
Looking back, Merkel's aides say her sensitivity to European and German history meant her decision was as much emotional as rational. Having grown up under communism, she's always had a special appreciation of how much Germany and Europe gained when the Berlin Wall came down. One aide said the scenes in 2015 reminded her of a moment in the summer of 1989 when East Germans crossed the Iron Curtain to make their way to the West. Another emphasized how moved Merkel was by the courage of those seeking safety and a new life for their families.
But it was also the first time any chancellor has been so openly at odds with the popular opinion of the country and the ruling party. That split would never heal. Merkel shut herself away from the political attacks, refusing to listen to critics. For advice she relied almost exclusively on her closest allies, Chief of Staff Beate Baumann and media adviser Eva Christiansen. Both supported her refugee policy. "They were in a state of ecstasy," says one party official who pleaded with the chancellor to take a more pragmatic approach. "You couldn't talk rationally to them anymore." The only response to his warnings was an email from Merkel's team: "A chancellor does not correct herself."
It echoed Margaret Thatcher's steely quote, "The lady's not for turning." However, the disastrous September 2017 election results began to force a correction on her and her party. To form her government, she turned to Seehofer, the leader of the CDU's sister party from Bavaria on the country's southern border. He'd been one of the harshest critics of Merkel's immigration policy, and in the coalition horse trading he snagged the post of interior minister. Although the flow of refugees had slowed, he had a point to make and proposed that Germany start to turn away people at the border. It was a policy Merkel could never accept.
CDU and Christian Social Union officials negotiated while rumors raced through Berlin that the parties' 70-year-old alliance could rupture, ending the newly formed coalition. CSU parliamentarian Georg Nuesslein stormed out of one meeting in the Bundestag. "Merkel doesn't care about the German people," he shouted at reporters. "Merkel doesn't care about the lawmakers. And you still believe that she is the last model European."
Seehofer was back on the offensive last September, when Merkel tried to fire her domestic intelligence chief. Hans-Georg Maassen had questioned the authenticity of a video of far-right protesters apparently lashing out at foreigners. But Maassen's office came under Seehofer's interior ministry—and Seehofer refused to comply with Merkel's decision. The two enemies met at the chancellery in Berlin to settle the issue. After a four-hour session, Merkel's office announced that Maassen wouldn't be fired but would get a new post under Seehofer. One CDU official, who asked not to be named, called it the absolute low point: Merkel couldn't fire her intelligence chief. Five weeks later, at the end of October, she announced she'd step down as party leader.
While she remains head of government, Merkel is already taking a back seat in politics. She wasn't the first speaker at the Dec. 17 CDU meeting that marked Kramp-Karrenbauer's debut as party leader. Merkel had to follow Secretary General Paul Ziemiak, who offered a report on efforts to keep the Merz bloc on board after their defeat in the leadership contest. The chancellor then got to brief the others on a recent EU summit. Merkel used to dash off after party conferences. At the December event she hung around instead to pose for photos with party employees. They wanted a goodbye picture with their former boss.
To contact the editor responsible for this story: Howard Chua-Eoan at hchuaeoan@bloomberg.net