Cheap Used Planes and Deep Pockets Help Airline Startups Take Flight
(Bloomberg Businessweek) -- It's difficult to think of an industry that's been slammed harder by the pandemic than aviation. Losses are set to hit $201 billion from 2020 to 2022, erasing almost nine years of earnings. Dozens of carriers have bowed out, and millions of jobs don't exist anymore. But that hasn't been enough to stop some entrepreneurs from creating airlines in Asia, Europe, and the U.S.
In Hong Kong, property tycoon Bill Wong is starting a carrier, hoping to take on flagship Cathay Pacific Airways Ltd., which got caught up in political fallout from 2019's anti-China protests even before the pandemic. In India, one of the world's most cutthroat aviation markets, billionaire investor Rakesh Jhunjhunwala is pumping money into newly formed Akasa Air. In the U.K., a former JPMorgan trader is starting an airline called Flypop in a bid to fly expatriate Indians to their homeland and link London to India's secondary cities. And in the U.S., David Neeleman—who earlier founded JetBlue Airways, Azul Brazilian Airlines, and Canada's WestJet—took to the skies in May with his newest venture, Utah-based Breeze Air, which provides nonstop service between smaller American cities such as Louisville, Tampa, and Tulsa.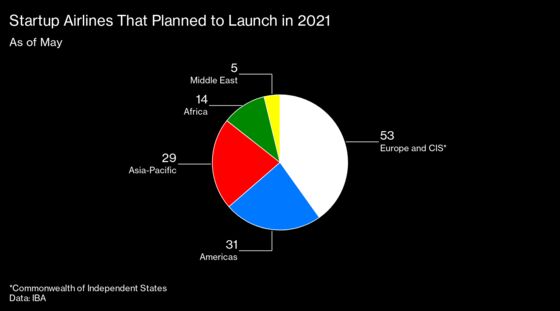 The optimism stems from a partial revival in travel demand, as vaccinations have encouraged nations to open up their borders. At the same time, the Covid-fueled demise of many carriers has allowed newer airlines to pick up laid-off pilots, cabin crew, and ground staff at reduced salaries. And rates for used planes are especially attractive.
For many new carriers, the focus is on the low-cost model, with plans to tap tourism. Although companies have traditionally been willing to pay more for their workers' business travel, the timing of a resumption of such flying remains uncertain now that many employers have seen how much can be done over cheap Zoom video calls.
"What we're talking here is … the market that's looking to get away for three or four days, maybe go to a capital city they've not explored, go to a new beach, a new destination," says Tim Jordan, a former executive at Virgin Blue and Cebu Pacific who's the founder of Bonza, an Australian airline that aims to start flying in the second quarter of next year. "History has shown us that as you come through various crises—whether it's 9/11, the global financial crisis, or Covid—the businesses which recover and grow fastest coming out of those crises are the low-cost carriers."
Nino Singh Judge, the founder of the U.K.'s Flypop, agrees with Jordan. "Legacy airlines are going to suffer as they rely on business and first class to subsidize their economy class," he says. Flypop, which will focus on the so-called visiting-friends-and-relatives market with a low-cost, long-haul model, is backed by private equity and U.K. government funds.
But the airline business is notoriously tough, even for no-frills carriers, with wafer-thin margins and colossal losses for many. Warren Buffett exited all his airline positions for a second time last year. "The world changed for airlines," he said as he announced his decision to stay away from airline investments in 2020.
That's not stopping newcomers. Research from U.K.-based IBA Consultants showed that, as of the start of the 2021 summer season, some 132 would-be airlines were planning to commence flying this year, with most seeking to revive routes left vacant by schedule cuts or the demise of an incumbent airline.
That compares with about 100 planned annually prior to the coronavirus pandemic—of which only about 20% ever got off the ground. Half of those that did failed in their first 24 months, according to IBA President Phil Seymour. But a drop in oil prices in the middle of the last decade reduced the break-even point for carriers and led to a surge in activity that saw the number of announced startups top 150 a year, IBA says.
"The airline business has a certain allure that can fool the savviest and smartest of entrepreneurs into believing they can become successful," says Shukor Yusof, founder of aviation consulting firm Endau Analytics in Malaysia. "Investors and businessmen feel the situation brought about by Covid has presented a once-in-a-lifetime opportunity to enter a very sexy industry." The barriers to entry are currently very low, with aircraft at "almost giveaway prices" and rentals at a fraction of what they were pre-pandemic, according to Yusof.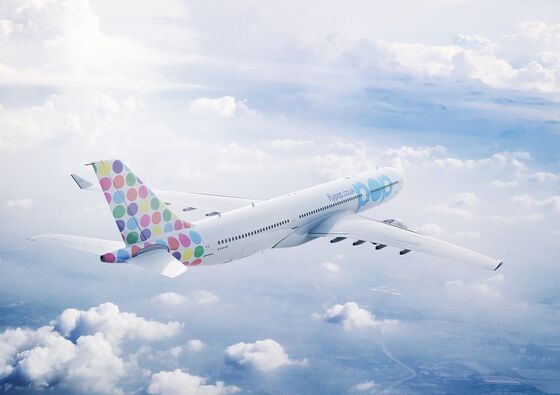 The availability of used narrowbody jets— Boeing Co.'s 737 and Airbus SE's A320 family, both popular for short-haul and regional routes—has more than doubled since the onset of the pandemic, and most startup airlines are looking for such aircraft, says Rob Morris, the global head of consulting at Ascend by Cirium. For these models, monthly lease rates have slumped by as much as 40%, and lessors have also started offering attractive deals, including allowing airlines to only pay for the time a plane is in revenue service, he says.
The current ample supply of skilled labor is another reason startup airlines are getting enthused. Covid may wipe out 2.3 million existing jobs directly involved with airlines, airports, manufacturers, and air traffic management, while a total of 44.6 million jobs supported by aviation are also at risk, according to the International Air Transport Association. Most pilots and crew that Hong Kong's Greater Bay Airlines is hiring, for example, are former employees of Cathay, Dragonair, or Hong Kong Airlines.
Startup carriers have the luxury of "year one" labor costs in a pandemic-disciplined wage market, says Robert Mann, the New York-based head of aviation consulting firm R.W. Mann & Co. But retaining skilled employees, including pilots, dispatchers, and mechanics hired during the pandemic, is already proving to be a challenge as the labor force starts returning to legacy carriers with higher wages, he says.
The enthusiasm isn't limited to setting up commercial carriers. In Italy, Italia Trasporto Aereo, the state-owned successor to bankrupt Alitalia, started flying in October, even though it acknowledges survival will be difficult without funding from a large airline. Cyrus Capital aims to resurrect Britain's Flybe after buying the brand from administrators, while a group of investors in India is trying to revive Jet Airways India Ltd., which collapsed under a pile of debt in 2019. And Tata Sons, India's biggest conglomerate with a salt-to-software empire, is buying loss-ridden, debt-laden national carrier Air India, adding a third airline brand to its existing joint ventures with Singapore Airlines and AirAsia Group.
The economics driving such deals is also giving optimism to newbie carriers such as Flypop, which managed to lease Airbus's A330 widebody jets at what it calls record discounts. Says founder Judge: "Even Warren Buffett can make mistakes." —With Christopher Jasper and Angus Whitley
 
Read next: Airlines Are Ripping Out Business Seats to Create a New Middle Class
ALSO READ
RELATED COVERAGE
Rakesh Jhunjhunwala-Backed Akasa Airlines Gets Government Clearance