How the Founders of a Famed But Failed Ice Cream Chain Plotted Their Return
(Bloomberg Businessweek) -- When Brian Smith and Jackie Cuscuna opened their first Ample Hills Creamery in Brooklyn in 2011, they sold out of ice cream in four days.  Ample Hills flavors mix in peppermint patties, cakes and cookies and more — it's almost a pure expression of childhood id. The company grew slowly at first, but then Bob Iger, then chief executive officer of The Walt Disney Company, ordered some pints and fell in love. He shared the ice cream with friends; enthralled celebrity endorsements soon followed, as did the prospect of mass-distributed Disney-themed ice creams and scoop shops, including at Walt Disney World. That required an ice cream factory and money. By 2018, Ample Hills had brought in $17 million in equity financing.
The possibilities quickly overwhelmed the small company. Smith and Cuscuna had little business or technical expertise to guide them and no sense of how much money they were spending — until it was about to run out. Ample Hills filed for bankruptcy in March 2020, the day before Covid-19 shut New York City down. Eventually, the company sold for just $1 million to a West Coast precision machinery manufacturer. Smith and Cuscuna concluded that their future lay elsewhere.
So the couple did the only thing they could do: they started another ice cream parlor, a few blocks away from the original Ample Hills. The Social opened on July 25 with a distinct Seventies vibe. Smith sat down in The Social's party room one August afternoon to talk about the experience, which included a turn through personal bankruptcy to get free of the guarantee on a $3.5 million company loan. "People like second chances," he said, "but there aren't a lot of stories about third chances." Cuscuna sat a few tables away hunched over a laptop with an employee. She joined Smith for part of the interview, which has been edited and condensed.
How did you go about building The Social from the ashes of bankruptcy? 
Smith: We went in fits and starts down a couple of different paths trying to cobble together enough money to open up a small footprint, just to get back out and do something. But then we decided, 'let's build the perfect idea and see if we can find somebody who's willing to pay to help us build that.' And that wasn't the 500 square-foot space. It was a space like this, 2,700 square feet with a party room and we can do birthday parties, classes, maybe fondue nights. But we needed a concept to build around it, to give context and meaning to the space, and that was the ice cream social. If we could get all that into a tightly knit narrative and story, we felt we could raise the money.

How did you hope to finance it? 
Smith: Originally, we were going to follow what's called a chef or small restaurant model, in which friends and family invest in a single location, and they're paid back in full based on the profits of the business. Once they're paid back, then there's some split percentage of the profits each year for the life of the business. It forces one shop to absolutely be profitable, and not be focused at all on growth. And that was totally fine. But to be honest, we hadn't gotten all the way there. It's a lot of meetings to get $10,000 from each person.

Venture capitalists frequently talk about betting on the jockey, not the horse. But as Ample Hills's jockey, you basically took $20 million and turned it into one million dollars. So what's the pitch? 
Smith: I think you're seeing it through the prism only of the financial guardrails and the money. The intangible part that people are willing to pay for is building a brand. The brand was as strong as ever on the day we filed for bankruptcy. We didn't fail because people didn't like the product. I still had a beautiful horse.
We have an investor that is not a traditional venture capitalist. He was a businessman himself, but I think the key is nobody obviously would see what we did and invest in us without making sure that the guardrails were in place.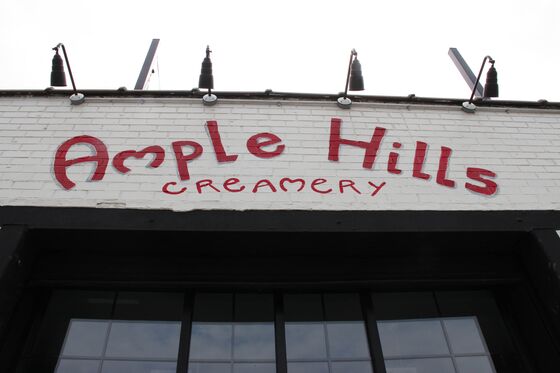 How did you find your investor?
Jackie Cuscuna: It was just this random Zoom class on pivoting during the pandemic that a business therapist taught in conjunction with another business educator. And it was free. And I was free. I was doing a lot of introspection about all the things that led us astray and how to make this right. These two people who taught the class worked with the investor. He, too, went bankrupt, and was able to rebuild a $140 million company. They suggested that I talk to him and just get his advice. 
Smith: So we met with him a couple of times before he said, "I don't think you should do this restaurant model. Why don't we work together?" I think he really responded to second chances and stories. 
Cuscuna: When we met him, we were in a very precarious spot. We knew we had something, but we were also fresh from coming out of a loss that was huge. He was very understanding, empathetic, and I would call him to talk me off the ledge, because he went through it. It's also nice to have a successful businessperson tell us that this kind of thing can happen, you can bounce back.

How are you running The Social differently?
Smith: We have an outsourced finance team that's running the reports from the beginning. Before we ever opened, I sat down and went through what my COGS — costs of goods sold — were for the different flavors of ice cream. When we started Ample Hills, we were taking bags of money, uncounted, over to the bank. I didn't even know the term "COGS" when we opened.
Cuscuna: Same for me for labor costs. That wasn't something that I was personally involved in. Now, I'm pretty obsessed.

Has your approach to growth changed? 
Smith: Yeah. Our plan is to try to open up a couple more shops, either next year or the year after. We're going to be much more focused on the brick-and-mortar experience. We were chasing wholesale pint distribution with Disney way too early. If you're an ice cream business starting out and trying to grow, pints are the quickest way to the deathbed, because the margins are so low. It only works with really high volume. So we need to establish a strong business in our stores, and eventually have that turn to pints down the road.

Ample Hills's brand doesn't seem to have depended on you — lines were around the block at their new shop in Brooklyn.  How important is brand identity and how much of it is just that if the ice cream is really good, the rest takes care of itself?
Smith: I do think that for a good portion of people, if the ice cream is really great, then all the rest of it is window dressing. But I don't think people really know why they respond to something — they're responding to a whole package whether they know it or not. And we have to get up in the morning and want to go to work. And that's all wrapped up in a package — it's not just ice cream.