America's Unequal Jobs Recovery Leaves Some Minorities Behind
(Bloomberg Businessweek) -- The U.S. government has poured trillions of dollars into the economy to support pandemic recovery, with President Joe Biden and Federal Reserve Chair Jerome Powell vowing a rebound that's equitable. To monitor progress toward that goal, Bloomberg has been tracking unemployment rates by race and ethnicity in metropolitan areas across the U.S. Available data show an uneven picture, with minority communities in some areas faring much better than others elsewhere.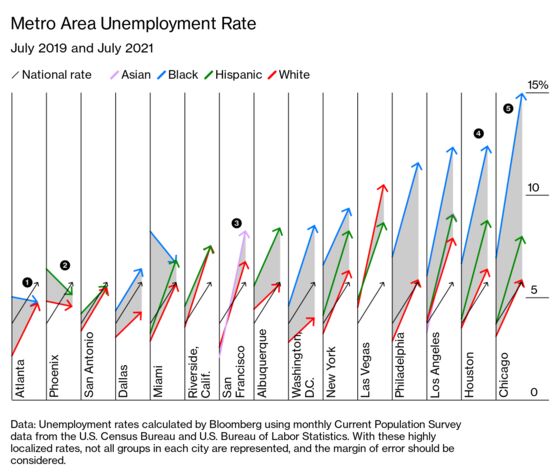 ❶ Black residents of Atlanta have seen unemployment fall from pre-pandemic levels, which makes the city an outlier among U.S. metro areas. The city's historically strong jobs market, combined with Georgia's early reopening, has contributed to Atlanta's resilience: The jobless rate for Black residents stands many percentage points below the national Black unemployment rate, even after accounting for the margin of error.
❷ Arizona's most populous urban area, Phoenix, has seen a solid recovery among its many Hispanic residents. Joblessness among Hispanic workers has fallen to 5.1%. That's below the 2019 rate and about equal to the national Hispanic unemployment rate within the margin of error.
❸ The jobless rate for San Francisco's Asian community is two to four times higher than it was at the same time in 2019. Asian workers are concentrated in industries that were hit hard by the pandemic, including food services and personal care, according to the Chinese Progressive Association, a San Francisco-based advocacy group.
❹ Although oil prices have recovered since they plunged in 2020, hiring has been slower to follow in Houston. As of July, the city had the second-highest Black and Hispanic unemployment rates of the 15 metro areas tracked by Bloomberg.
❺ In Chicago, unemployment has roughly doubled for groups we tracked over the past two years. The picture remains as unequal as it did in 2019: Black residents are faring the worst, with almost 15% unemployed.