America's Tech Giants Should Enjoy Their Home-Field Advantage
(Bloomberg Businessweek) -- America's technology superpowers are worldly, in a way. Google's YouTube is used more in India than anywhere else. Nine out of every 10 people logging in to Facebook are outside the U.S. and Canada. Microsoft Corp. sells software in more than 190 countries. But U.S. technology giants are provincial when it comes to their finances. Apple Inc. is the only one of the five American tech giants that generates significantly more money overseas than in the U.S.
It may not be surprising that U.S. companies rely on their home country. Then again, software and the internet can be exported worldwide instantly with just the push of a button—at least in theory.
The tech stars face two main barriers to international growth: One, U.S. industry spends the most on advertising and business technology—the principal source of revenue for many of these companies—and U.S. consumers spend the second-most on internet retail. China has the largest online shopping market, which brings us to barrier No. 2: U.S. technology companies have a hard time there because of government restrictions and local competition.
Amazon.com Inc. provides a snapshot of how tricky international diversification can be. The company has invested heavily in India and other parts of the world, but it's grown more reliant on the U.S. rather than less. Meanwhile, it's flopped in China, where online shoppers spend three times more than their U.S. counterparts.
That said, the giants' domestic dependence could be a good thing. The U.S. economy and consumer spending are humming along, while China and some other parts of the world have growth hiccups. Parochialism has never looked so good.
● Falling Far From the Tree
Apple is one of Silicon Valley's biggest global successes, particularly in China. Future international growth will be tricky, however. Relatively high iPhone prices and a disinclination to tailor products to regions puts Apple at a disadvantage in fast-growing smartphone markets such as India and Vietnam.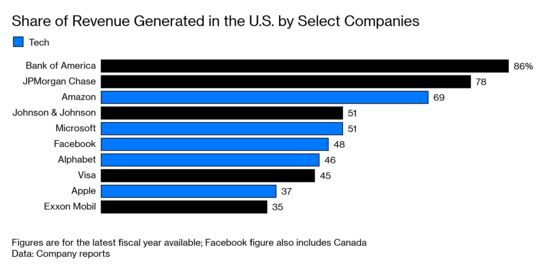 Amazon generated 69 percent of its sales last year in the U.S., with revenue growth there increasing faster than in the rest of the world.
● Where the Money Is Made
Large U.S. companies tend to generate a large share of revenue at home. Most of America's tech superstars are no exception, despite the global popularity of their products.
● Two Countries, Two Markets
The U.S. and China are the biggest markets for digital ads, e-commerce, and information technology, but many U.S. tech companies are barred or irrelevant in China.
To contact the editor responsible for this story: Jillian Goodman at jgoodman74@bloomberg.net, Howard Chua-Eoan