AMC Became the People's Stock by Not Being a GameStop Remake
(Bloomberg Businessweek) -- In a TikTok video with nearly a million likes, a cocky young guy walks into an AMC theater wearing a white, backwards ball cap. An attendant asks him if he needs anything. "I'm just making sure the theaters are running smoothly," says ball cap guy.
The cashier does a double take. "Do you work here?"
"Let's just say, I'm a partial owner. I'm the money."
The cashier is still puzzled. "Don't you come in here every Saturday night with your mom?"
The 25-year-old actor Andrea Angiolillo, who plays both characters, is one of the many small investors who have jumped into AMC Entertainment Holdings Inc. in recent months. They've helped push up the price more than 2,300% this year while writing themselves into a strange kind of turnaround story for AMC.
The movie theater chain was recently on the brink of bankruptcy, and still faces huge problems. But its price at one point was more than four times the target price of even a bullish Wall Street analyst—showing the gap between retail investors' and professionals' expectations for the money-losing company. The stock was 80% owned by individuals as of March. "My AMC" was recently trending on Twitter alongside social media hashtag #AMCArmy.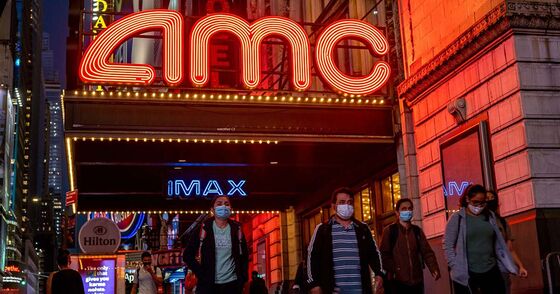 AMC's management is welcoming that army with open arms. Investors who own shares in the theater chain can sign up for perks including a free large popcorn, as well as exclusive screenings. "Many of our investors have demonstrated support and confidence in AMC," Chief Executive Officer Adam Aron said in a statement announcing the program. "After all, these people are the owners of AMC, and I work for them."
That doesn't mean Aron isn't focused on AMC's future. After the stock closed at $62.55 on June 2, AMC announced that it was selling shares—for the second time this week. The announcement came with a warning from the company that cautioned prospective purchasers that due to recent volatility in the stock they should be "prepared to incur the risk of losing all or a substantial portion" of their investment. Such stock sales dilute the stakes of existing owners, and shares in AMC plunged 40% after the announcement. But they rallied back to close at about $51. That's an 18% one-day loss, but still almost twice the stock's value at the end of May.
Sound familiar? The latest surge in AMC echoed the meme-stock mania of the year's start, when retail traders made household names out of seemingly dead-end companies like GameStop, and terms from Reddit discussion boards such as "stonks," "diamond hands," and "to the moon" entered the financial lexicon. But while AMC's unfathomable rise came as a sequel to GameStop Corp.'s January blockbuster, it's not a faithful remake.
GameStop's executives seemed to be keeping a vow of silence as their stock shot up. What was going on seemed as much a mystery to them as it was to the hedge funds when their shorts—bets that the stock would fall—suddenly backfired on them. The video game retailer opted not to cash in by selling new stock during the height of the madness. Not so for AMC, because—unlike GameStop, which, for all its troubles, still had a healthy balance sheet—the theater chain was unmistakably strapped for cash. For AMC, the social media-induced rally was a helping hand that couldn't be pushed aside.
Flash back to last year, when AMC was warning investors of bankruptcy risk following the shuttering of cinemas across the U.S. amid the pandemic. The company was burning cash and in desperate need of a lifeline. "We're going to throw all of our efforts now into raising additional capital, primarily equity, to lengthen our runway even more," Aron said in an October interview with Bloomberg. Without new financing, existing cash would run out by the start of 2021.
But both equity and debt investors stepped up, assembling $1 billion of fresh financing to avert a near-term filing. The company continued selling shares, capitalizing on the Reddit-fueled investing frenzy that took off in January. (GameStop was the star of that show, but AMC stock jumped, too.) On June 1, AMC raised $230 million by selling shares to one of its main creditors, Mudrick Capital Management.
Mudrick quickly dumped its entire stake for a tidy profit and called the company massively overvalued. The Reddit retail-trading crowd didn't care. Shares continued to climb, prompting the June 3 sale of 11.55 million shares. And the company says it will seek shareholder approval to sell even more stock. Each time AMC issues new shares, the company gets more cash on its balance sheet, increasing its chances of survival.
Whether retail investors who buy in at these prices can turn a profit is a different question. It remains to be seen whether moviegoers will return to theaters in meaningful numbers. "It is clear that fundamentals don't support common stock levels at all (which makes sense for the Reddit crowd)," said Mark Levin of Asterisk Advisors in a note.
During AMC's quarterly conference call in early May, Aron spoke directly to retail investors, applauding their passion, commitment, and enthusiasm. He then urged the skeptical stock analysts to pay attention—"read what these people write," he told them.
But investors' interest in the stock doesn't purely reflect a love for movies or faith in AMC's long-term prospects. On online discussion boards, a pervasive argument for the stock has been the potential for a short squeeze. In a squeeze, buyers rally other buyers to push the price up so much that short investors are forced to buy stock to cover their positions, pushing the price up further. This is a matter of market gamesmanship, not fundamental analysis.
The question was always what catalyst might trigger the squeeze. On the WallStreetBets Reddit forum, the end of Covid-19 lockdowns was a frequent guess. The forum was littered with so many posts proclaiming an imminent melt-up that some WallStreetBets users dismissed it as wishful thinking, even just a few days before the stock more than trebled. With the reopening, the AMC legion has taken to the streets. Twitter is filled with snapshots of a pep rally being held for a … stock.
Still, AMC is a long way from a fairy-tale ending. It carries more than $5 billion of debt with hefty coupon payments that send a lot of cash out the door. Millions of dollars in unpaid rent during the pandemic will start to come due. The company needs all the support it can get. For now, the market is obliging.