Jeff Bezos Wants to Send You to Space, Too
(Bloomberg Businessweek) -- On July 18, outside the West Texas town of Van Horn, hundreds of Blue Origin employees and their families and friends gathered to watch the New Shepard rocket blast off toward the edge of space. The rocket performed the kind of feat that was once the province of sci-fi stories and discarded NASA white papers. It took off vertically like a conventional rocket, rose 66 miles above Earth to jettison a parachute-equipped crew capsule carrying a test dummy, then returned to the same tract of land and gracefully landed upright, drag brakes deployed, retro booster flaming. The capsule touched down nearby, raising a cloud of dust. Thousands watched this precise interplay of physics and chemistry online, and for those listening closely, 39 minutes and 15 seconds into the broadcast, a familiar, staccato laugh could be heard emanating from the control room: It sounded as if Blue Origin's founder, Jeff Bezos, was having a very good day.
He's been having a lot of those lately. With a fortune of about $150 billion, according to the Bloomberg Billionaires Index, he's the wealthiest person in the world. By a lot. He's worth approximately one Bill Gates and two and a half Elon Musks. One of his other companies, Amazon.com Inc., is now the world's second-most valuable corporation and has turned an otherwise dreary summer day in retail into Prime Day, one of the busiest shopping events of the year. President Trump is attacking Bezos again on Twitter for, as Trump tweets it, using the Washington Post as a lobbying arm; cities are courting him to secure Amazon's second headquarters; and investors have bid its stock up almost 150 percent over the past two years.
Yet guiding Blue Origin LLC "is the most important work I'm doing. It's crucial," Bezos told an audience in May at the National Space Society's International Space Development Conference. He founded the rocket company 18 years ago in an old warehouse south of Seattle, originally stocking it with tinkerers and science fiction authors who could help reimagine space travel. Now the company, known in the space business as Blue, employs more than 1,500 software engineers and rocket scientists, most of them at its headquarters in Kent, Wash., and the West Texas launch site. It plans to launch New Shepard with test pilots on board as soon as this year, and in 2019 it will sell tickets to brave tourists who want to sit atop a tank of combustible liquid hydrogen and oxygen to experience four minutes of sublime weightlessness in suborbital space. The ticket price has yet to be revealed. But unlike other space startups that have to make the numbers work, Bezos largely funds the company himself by selling $1 billion in Amazon stock every year.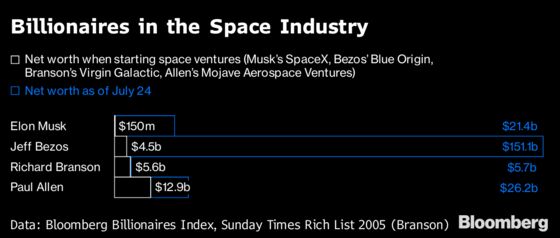 Blue Origin's eventual goal is "millions of people living and working in space," Bezos has said. He plans to get there "step by step, ferociously," according to Blue Origin's motto ("gradatim ferociter"), which adorns its coat of arms. New Shepard is the first step. The rocket is tall, thick, and cone-tipped—its shape strenuously suggests off-color metaphors that shall not be deployed here. The crew capsule has a half-dozen large windows, so its astronaut-tourists will have a fantastic view of the gentle curvature of Earth. Unlike passengers on Virgin Galactic's SpaceShipTwo, which will be dropped from an airplane before its rockets send it soaring upward, Blue's astronauts will endure the same blastoff and parachute landing experienced by space pioneers like the vessel's namesake, Alan Shepard.
Bezos' plans get more ambitious from there. Another Blue Origin rocket, New Glenn, will take astronauts and commercial payloads such as telecommunications satellites to low Earth orbit and beyond, with tests starting in 2020. Bezos has also hinted at a future design called New Armstrong, which presumably will voyage to the moon. Bezos says lunar villages can be set up there to mine water ice and other deposits that can be used to manufacture rocket fuel, facilitating travel elsewhere in the solar system. Those big rockets will eventually compete with partially reusable launch vehicles such as the Falcon Heavy and forthcoming BFR, both made by SpaceX, which is owned by that other high-profile spacefaring tech billionaire, Elon Musk.
On the surface, Bezos and Musk have plenty in common, including a steadfast belief that reusing rockets can dramatically bring down the cost of getting to space. Beyond that, though, their styles and visions dramatically diverge. Bezos has said relatively little about Blue Origin outside the occasional speech and company promotional video. Musk has almost single-handedly pried open the space business to new entrants by noisily suing the federal government over its exclusive contracts with Boeing Co. and Lockheed Martin Corp., driving a space capsule around Washington on the back of a flatbed truck to get Congress's attention. Unlike Blue Origin, which to date has been something of a personal passion project, SpaceX has been funded by revenue from paying customers, including NASA, the U.S. Air Force, and commercial satellite companies.
Even so, Bezos looms so large in space circles, insiders joke that one day, with much fanfare and media attention, Musk and his crew will set off on what they believe is the first manned expedition to Mars. Upon landing, they'll be greeted there by Bezos and his crew, who've quietly been living there for months. But that belies another stark difference in their philosophies. SpaceX defenders will point out that Blue Origin's rockets have yet to reach orbit, a milestone SpaceX passed a full decade ago. And Musk has his eyes on distant planets in a way that Bezos doesn't. By the time Blue Origin sends a rocket to Mars, it may well be called New Musk.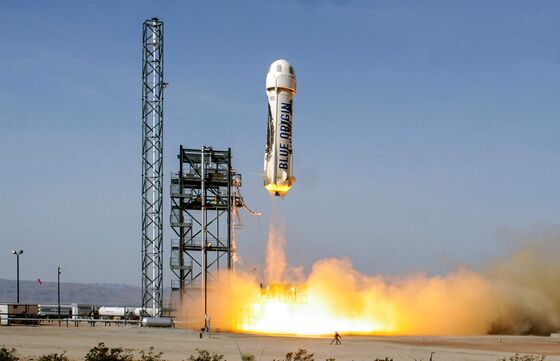 But it's not even clear Bezos wants to go there. As a child, he devoured sci-fi books at the local library outside his grandfather's ranch in South Texas and eventually discovered the writings of Gerard K. O'Neill, who spun visions of people living and working in space habitats. Bezos later gave the valedictorian speech at his Miami-Dade high school on the topic, describing a future in which polluting heavy industry is moved into orbit, to be powered 24/7 by solar power, while Earth is rezoned into something resembling a giant nature preserve. Thirty years later, he's still remarkably consistent, captioning a recent Instagram photograph of the Perito Morena Glacier in Patagonia: "We've sent robotic probes to every planet in this solar system. Earth is BY FAR the best one. We go to space to save the earth."
Compared with Amazon, famous for moving fast and pioneering new industries, Blue Origin seems unBezos-like. "Blue Origin has been very methodical and a little more cautious and patient than others," says Marco Cáceres, a senior space analyst at the Teal Group. "Their primary thing is to do it right and avoid any failures."
But while Blue Origin proceeds carefully—the recent test of New Shepard was its ninth—Bezos speaks with urgency about humanity running out of resources and hitting the limits of growth. As he told the National Space Society gathering, opening up space for both heavy manufacturing and exploration is essential. "You might not need it, actually," he said. "You might be fine. You're going to live out your life on this Earth, and it is going to sustain you, and you're not going to have to do weird things. That won't be true of your grandchildren or their grandchildren." —With Karen Weise and Spencer Soper
To contact the editor responsible for this story: Jim Aley at jaley@bloomberg.net, Max Chafkin