Amazon Works to Avoid Google's Fate With EU Antitrust Regulators
(Bloomberg Businessweek) -- Amazon faced the prospect of an escalating conflict with the European Union in November when Margrethe Vestager, the EU's competition chief, laid out evidence that the company may have unfairly used sales data from smaller retailers on its platform. The specter of Amazon using such data to identify emerging trends has been a major concern for regulators worldwide, and interest from Vestager—perhaps the world's most feared antitrust enforcer—was an ominous sign. The EU also recently started a second probe into how the company picks products for a highlighted "buy box."
But while Vestager laid the groundwork for what could be a repeat of the bruising fight the EU has waged against Alphabet Inc.'s Google, resulting in fines of about $9 billion, she has also struck a surprisingly conciliatory note, hinting that Amazon.com Inc. might not have to head down the same track.
The difference may be Amazon's willingness to address enforcers' concerns before the legal process goes too far. Amazon settled a 2017 EU probe into e-books, says Vestager, and has worked with other regulators, such as Germany's Federal Cartel Office. "Amazon has been very forthcoming to solve the issues at stake" in other cases, Vestager told reporters on Nov. 10. While Google did try to settle three investigations the EU waged over the past decade, its offers either came too late to be taken seriously or didn't go far enough to soothe angry rivals and their political supporters.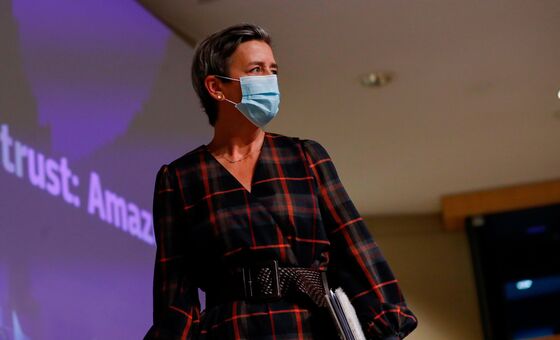 Both Amazon and Vestager's office declined to comment. Amazon said in November that it disagrees with the antitrust charges, and said it supports small businesses while facing significant competition from them.
Amazon may have scored some points with Vestager by remaining "open throughout to making changes in its business practices, rather than starting out by saying its conduct is unassailable and it has nothing to concede," says William Kovacic, a law professor at George Washington University and a former Federal Trade Commission chairman.
Timing might be on Amazon's side, says Jay Modrall, a Brussels-based lawyer for Norton Rose Fulbright, because the EU is considering ­proposals that could set clear guidelines for how large tech companies operate. The new rules, set to be published in December, could weaken the desire to pursue enforcement actions; the EU has closed a number of antitrust probes based on pledges to change behavior with no fines, including two this year.
The shadow of the fight with Google also hangs over any future EU enforcement action against U.S. tech companies. For the EU, the Google probe served as a test of strength, showing the regulator could finalize a complex case under intense pressure. Vestager's predecessor, Joaquín Almunia, was forced to pull back on his planned settlement with Google after publishers and politicians said it didn't go far enough.
Vestager pursued three separate actions against Google and ended up imposing record fines on the company related to its advertising contracts, shopping, and Android. Still, critics slam the EU for taking too long and not imposing behavioral changes on Google that would make it easier for smaller companies to compete. EU officials say their job was merely to stop the bad behavior—and not necessarily to give small companies a boost.
Vestager has said she wishes she'd been bolder. But her campaign against Google has changed the atmosphere around antitrust enforcement enough to open up other avenues to force change. She no longer needs to score a win against Silicon Valley.
Amazon also isn't facing one key factor that kept the pressure on Google. While dozens of companies filed complaints against the search giant, Amazon sellers—the purported victims of its anticom­petitive behavior—have been relatively quiet. Agustin Reyna, legal director of consumer advocacy group BEUC, says he would support an Amazon offer to make sure consumers get the best choice of sellers and the lowest prices. One thing he says wouldn't be good either for sellers or customers: "Endless litigation."