For Amazon Workers, Winning Union Vote Would Be Just a First Step
(Bloomberg Businessweek) -- It's impossible to predict the outcome of the union vote under way at Amazon's warehouse in Bessemer, Ala. As Bloomberg recently reported, workers are sharply divided about the benefits of organizing in a town where Amazon's $15-an-hour starting wage goes a long way. But one thing is almost certain: Even if the union emerges victorious, Amazon's own campaign is far from over.
Winning recognition of a union "is sort of like a sports team getting to the playoffs," says John Budd, who tracks labor issues at the University of Minnesota's Carlson School of Management. "It's important, but it really isn't the end goal."
The Retail, Wholesale and Department Store Union (RWDSU), which is running the organizing campaign, says its goal is a contract with Amazon.com Inc. But Amazon has fought hard to keep unions out of its U.S. operations and will have a menu of options if the vote doesn't go its way, such as contesting the result, dragging out talks with the union, or closing the 855,000-square-foot warehouse entirely, a prospect already on the minds of some Bessemer workers and politicians.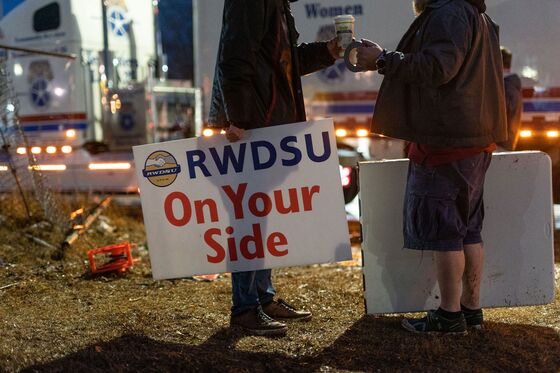 An Amazon spokesperson declined to comment on its plans should its workers vote to unionize. The company has defended its working conditions and says it doesn't believe the RWDSU represents the views of most of its employees. RWDSU President Stuart Appelbaum has said that even getting to a vote is a victory for labor because it sets an example for other unions.
Labor organizing in the U.S. is refereed by the National Labor Relations Board, the New Deal-era creation whose staff will tally ballots from the warehouse's 5,800 eligible workers beginning on March 30. If a majority of votes favor the union, Amazon and the RWDSU will be required to enter bargaining talks.
But Amazon could postpone talks by filing charges with the NLRB of unfair conduct by the union during the vote. "You can get six months to a year out of that sometimes, if you're really good," says Sally Klingel, who teaches labor-management relations at Cornell's ILR School.
Talks between union and company negotiators often wind up at an impasse, fueling additional rounds of NLRB rulings.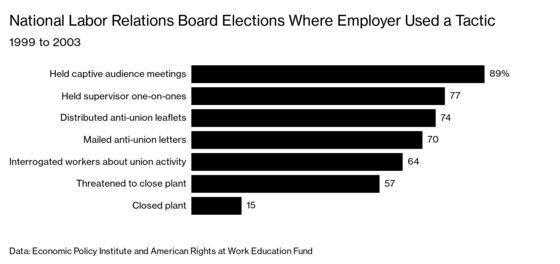 Unions have long criticized the NLRB's enforcement of the bargaining process as weak. It's usually not labor law but solidarity and public pressure that make collective bargaining work, says Kate Andrias, a law professor at the University of Michigan. "First contracts are won not because of an effective legal regime but because of workers' decision to stick together and demand improvements in their workplace, combined with public and political pressure on employers to behave responsibly," she says.
That kind of pressure is already building on Amazon. The union drive has drawn wide support from labor groups, including the union representing NFL players, and Democratic politicians all the way up to President Biden. The frenzy has made the vote a flashpoint in debates about the beleaguered U.S. labor movement and the power of one of the world's most valuable companies. Amazon executives tend to brush off outside critiques as misunderstandings of its values and intentions. But the company has bowed to public pressure in the past, as it did in 2018 when it raised its starting wage to $15 an hour or in 2019 when it retreated from a planned corporate campus in New York amid local opposition.
Companies have been successful in waiting things out. A 2009 study found that one year after voting to unionize, in 52% of cases workers hadn't yet won a collective bargaining agreement. That's significant because if there is no contract a year after the NLRB certifies a union, workers can call a vote to decertify it.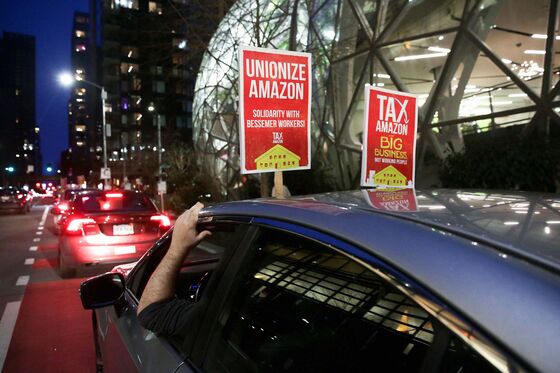 Amazon could also pull the plug on the facility entirely, something that happened after 15% of successful union drives, according to the study, which analyzed elections from 1999 to 2003. The company has a pattern of steering work away from labor hot spots. It closed a Seattle call center in 2001 after workers began a union drive, built warehouses in Poland after being challenged by powerful German labor groups in 2013, and earlier this year closed a small Chicago depot that had been a locus of worker organizing. In each case, Amazon cited factors other than worker organizing in explaining the decisions.
Labor law protects employees from dismissal for advocating changes to their working conditions, and workers can allege that such closures were motivated by retaliation against the union. But even winning those cases doesn't mean victory. When Walmart Inc. shut down a store in Quebec and all its meat-cutting departments in the U.S. after successful union drives, it sparked legal action that dragged on for years. By the time it was resolved, workers had moved on or settled with the company, and unions were still on the outside looking in. "It's often too late, the deed is done," Cornell's Klingel says of challenges to closure decisions. "It's very hard to win those."