Biogen Hopes Alzheimer's Drug Mired in Controversy Earns FDA Nod
(Bloomberg Businessweek) -- Jeffrey Borghoff was just 51 when he received a diagnosis of early-stage Alzheimer's disease. Shortly thereafter, he retired from his job as a software developer and went on disability. He also quickly enrolled in a trial for an experimental Biogen Inc. drug to remove an aberrant amyloid protein from his brain that researchers believe is tied to reduction in memory and brain function in Alzheimer's patients. Since then, with the exception of a brief interruption, he's been getting monthly infusions of the medicine, named aducanumab, which he credits with slowing his cognitive decline. Now 57, Borghoff can't drive because he confuses red and green lights, but he can still cook and take walks with his wife, Kimberly, and their dog. His life, he says, is full.
Now Borghoff is steeling himself: The U.S. Food and Drug Administration is set to rule soon on aducanumab, which has already been rejected by an FDA advisory panel of medical experts. The FDA may also reject the drug, requiring years of additional study. That could eventually force him to search for a trial of a different treatment—something that takes time that many patients simply don't have.
"We're fighting like hell to get this drug approved," says Borghoff, of Forked River, N.J., who also spoke to FDA regulators in favor of the Biogen medicine at a meeting of patients in January. "Every day they are making progress in cancer and diabetes and other diseases. We need something for Alzheimer's disease," he says.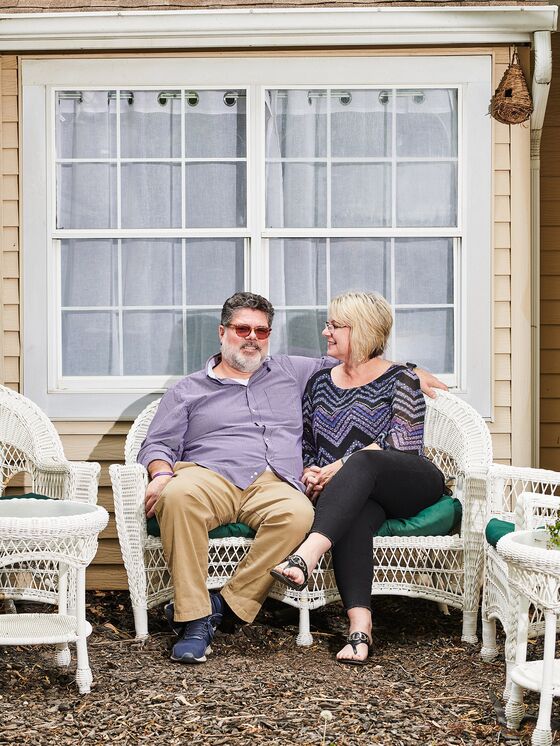 The decision, which Biogen says the FDA will make by June 7, is one of the most consequential the agency has faced in years and is guaranteed to be controversial no matter what the outcome. Existing Alzheimer's drugs only temporarily improve symptoms. If approved, aducanumab could become the first drug ever authorized to slow the course of the most common type of dementia. That suggests the drug could become a hit, providing at least some hope to an estimated 6 million Alzheimer's sufferers in the U.S.—and likely billions of dollars in annual sales for its makers.
That Biogen's drug is even up for approval at all is noteworthy. In early 2019, Biogen and its Tokyo-based partner Eisai Co. discontinued two big trials, citing lack of evidence to merit further study. The drug appeared destined to take its place among the hundreds of Alzheimer's failures over several decades. But Biogen and Eisai, in a surprise move, later reversed course and submitted the drug for approval. "This [FDA review] is a momentous decision of tremendous consequence," says Marwan Sabbagh, director of translational research at the Cleveland Clinic Lou Ruvo Center for Brain Health in Las Vegas and a consultant to Biogen on Alzheimer's treatments, who thinks the benefit from the drug is meaningful.
Two large trials run by Biogen produced seemingly contradictory results. In one, high doses of the drug slowed patients' decline by 22% over 18 months. In the second, the drug was ineffective overall. Biogen says some patients didn't receive high enough doses in the unsuccessful trial. Still, those conflicting results have sharply divided doctors and Alzheimer's researchers.
"Nobody is ambivalent about this," says Sabbagh. "They are either for it or against it."
Some doctors and groups such as the Alzheimer's Association say the evidence is good enough given the desperate need for a treatment. "The downside of it not working is greatly outweighed by the possibility of being able to give something to people who are dying of Alzheimer's every day," says Maria Carrillo, chief science officer for the Alzheimer's Association. "Waiting another five years for another trial is for us not acceptable."
Other researchers and physicians say approving a medicine on such uncertain evidence would set a bad precedent. The drug is likely to be expensive, must be infused in a clinic by medical professionals, and is likely to require costly brain scans to monitor for possible side effects such as brain swelling. What's more, aducanumab's benefit is modest at best and less than what some doctors consider clinically significant for an individual patient.
Approving the drug now "would send a horrible message to the market for what the FDA is willing to settle for," says Caleb Alexander, an epidemiologist at Johns Hopkins Bloomberg School of Public Health, who was on the panel of FDA advisors that voted against the drug in November. "It would completely undermine our regulatory system."
Biogen has a lot riding on the Alzheimer's treatment, and its share price has swung wildly along with aducanumab's prospects over the past two years. The drug may cost $30,000 a year, bringing in $5 billion a year in annual sales, estimates Jay Olson, an analyst at Oppenheimer & Co. who gives the medicine only a one-in-three chance of approval. "It is probably the most unusual setup the FDA has ever faced," he says.
Biogen has said more than 600 clinical sites in the U.S. could begin infusing the drug into patients soon after a potential approval. The drug will also likely require brain scans or spinal taps prior to treatment to confirm amyloid is present. "Our team is currently working to evaluate the capacity at these and other sites to absorb an influx of Alzheimer's patients," Biogen Chief Executive Officer Michel Vounatsos said on an April 22 investor call. The company said its executives were unavailable for further comment.
For more than a quarter century, researchers have targeted amyloid, the aberrant protein that clogs the brains of many Alzheimer's patients. It was first spotted by Alois Alzheimer in 1906, but didn't become the focus of drug hunters until rare inherited forms of the disease were linked to amyloid buildup in the 1990s.
Yet over the years at least 25 major trials of amyloid-targeting drugs have failed to slow the disease. That disappointing track record hasn't kept other companies, including Eli Lilly & Co. and Roche Holding AG, from also pursuing a breakthrough amyloid drug. "The people that are the smartest in the book, the ones with the most money, all put their money on amyloid," says George Perry, a biologist at the University of Texas at San Antonio, who thinks that the heavy attention to amyloid has delayed other promising approaches.
Over two decades, Lilly has spent billions testing Alzheimer's drugs that didn't work. Finally, in March, the company reported its anti-amyloid antibody donanemab slowed decline on a measure of cognition by 32%. "This is the first time really we had a clean hit," says Lilly CEO David Ricks. A Phase III trial is under way to confirm the result.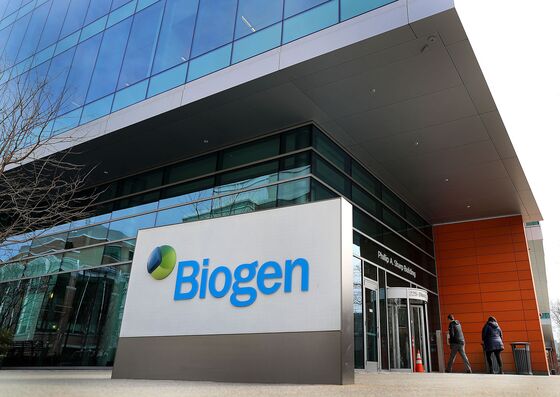 Biogen's drug is the closest any amyloid-based drug has gotten to approval. After an early trial showed promising results in 2015, Biogen began two final-stage trials that eventually enrolled more than 3,200 people with early Alzheimer's. When the company halted the trials in March 2019 after a statistical analysis showed the medicine was unlikely to work, it quietly assigned dozens of scientists to comb through the data to figure out what had gone wrong. As more data rolled in from patient follow-up visits, something strange happened: One of the trials turned positive. The Biogen scientists also noticed that in the second trial, which is still showing negative results, patients had received lower doses of the medicine, potentially explaining the differing findings. In October 2019, Biogen reversed course, declared one of the trials a success after all, and revived the drug. Some Alzheimer's researchers were still skeptical; they thought a third big trial was needed as a tiebreaker.
Biogen applied for approval in July 2020. Its shares surged on Nov. 4 when, in an unusual move, FDA staff released a joint report with Biogen, in which the agency called the evidence behind the drug "exceptionally persuasive." (Usually, the FDA posts its own report.) But two days later, a panel of independent FDA advisers reviewing the evidence took a much dimmer view. It voted 8 to 1, with two undecided, that the one successful trial was insufficient to prove the drug works. A University of Washington statistician on the panel likened Biogen's after-the-fact explanations for why only one trial worked to the "Texas sharpshooter fallacy," referring to a gunman who shoots first and then draws a bullseye around wherever the bullets land.
While the advisory panel vote isn't binding, the FDA has rarely gone against such a lopsided vote. The agency may find some way to approve the drug with a requirement that Biogen perform another large study, as it has done with some cancer drugs, says Olson, the Oppenheimer analyst.
Coverage under the federal Medicare program remains a wild card. On May 5 the Institute for Clinical and Economic Review, a nonprofit that reviews drug cost-effectiveness whose findings are closely monitored by payers, released a draft report that called the aducanumab data "insufficient" and "contradictory." Nonetheless, health insurer Cigna Corp. is preparing for a potential flood of patient inquiries. "Patient demand will happen fairly immediately," says Steve Miller, Cigna's chief clinical officer. "There's a lot of people waiting for this product." —With John Tozzi and Riley Griffin