All Hail Skewers, the Handiest Tool in a Griller's Arsenal
(Bloomberg Businessweek) -- Skewers check multiple important boxes when it comes to partying: They don't take much time to prepare, they're easy to cook, and perhaps best of all, they don't require a fork.
They also lend themselves to a universe of treatments and savory ingredients. A cut of tenderloin or rib-eye can undergo a fiery transformation just as well as a meaty mushroom or chunk of eggplant. One trick chefs agree on is to make sure each item on the skewer—whether it's meat, vegetables, or both—is around the same size and similar density, so they cook evenly. Haphazardly threading multiple kinds of food onto a skewer may make for a colorful picture, but it's a classic culinary faux pas.
Another mistake? Serving a sad, unadorned square of meat on a stick. Skewers need some kind of flourish, something special to make you want to grab another. A drizzle of pungent sauce, such as zhoug, the spicy, green Middle Eastern condiment, powerfully accents food cooked over fire, from zucchini to shrimp. Even dishes that haven't been grilled can be elevated by the skewer treatment, speared and transformed into fun finger food with a sprinkle of seasonings or a sauce with a kick.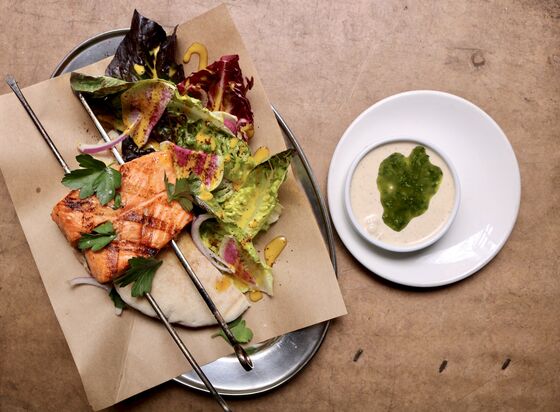 Ayesha Nurdjaja, chef and partner at the modern Mediterranean restaurant Shuka in New York, applauds the overall simplicity and broad appeal of skewered foods. "You don't have to worry about taking temperatures," she says. As a general formula, she advises to "cook the food of choice over high heat for three minutes, quick turn for another three minutes"—and voilà—"your skewers are done," she proclaims. "A stir fry on a stick."
Her can't-fail veggie recipe is below, along with three other crowd-pleasers from top chefs across the country.
Zucchini Skewers With Tahini
From Ayesha Nurdjaja, chef-partner, Shuka, New York
1 cup tahini
4 tbsp olive oil, divided
1 garlic clove, grated on a microplane
1 lemon
2 tomatoes, grated on a box grater's medium holes
½ tsp oregano
½ tsp sea salt
3 medium zucchini, ends trimmed, cut in half crosswise
1 cup olive tapenade
1 cup zhoug (a fiery green cilantro sauce)
In a bowl, combine tahini, 2 tbsp oil, garlic, and juice from ½ lemon. Add a little water to thin the sauce so it's pourable. In another bowl, combine tomatoes, 2 tbsp oil, oregano, and salt. Heat a grill or broiler. Stand a zucchini half on a cutting board, wider side down. Slice each half into three or four ½-inch-thick planks. Thread two skewers—one from either side for easy flipping—through each zucchini plank. Grill or broil over medium high heat for about 3 minutes per side until nicely charred and just tender. Squeeze remaining lemon over zucchini and drizzle with tahini sauce, tapenade, and zhoug. Sprinkle with seasoned tomatoes.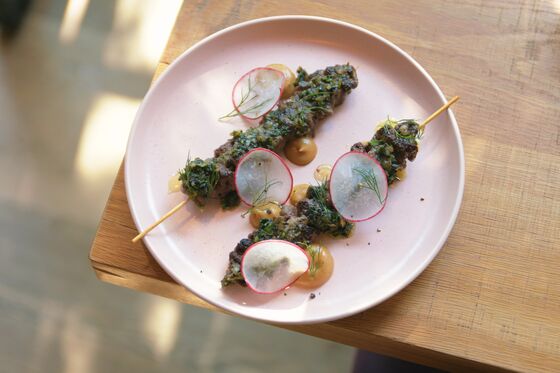 Wagyu Skewers With Mostarda
From Sarah Grueneberg, chef-owner,  and  Bailey Sullivan,  chef di cucina, Monteverde, Chicago
2 tsp juniper berries
2 tsp fennel seeds
2 tsp black peppercorns
2 tsp coriander seeds
2 tbsp dark brown sugar (packed)
4 tsp salt
2 lb wagyu sirloin or other tender beef, cut into 1½-inch cubes
6 tbsp fruit preserves, preferably rhubarb or peach
2 tbsp Dijon mustard
6-8 spring onions, cut into 1½-inch sticks
Sliced radishes (optional), for serving
In a small skillet, toast the juniper, fennel seeds, peppercorns, and coriander seeds over medium heat until fragrant. Let cool slightly, then grind in a spice grinder or mortar to a fine powder. Transfer to a bowl; stir in sugar and salt. Lightly coat wagyu with spice rub and let stand for 30 minutes. Heat a grill or broiler. In a bowl, whisk together fruit preserves and mustard to make fruit mostarda; set aside. Make the skewers, starting with a stick of spring onion, then a wagyu cube. Continue until ending with a piece of onion. Grill or broil over high heat for 2 minutes per side for medium rare. Serve skewers with mostarda, and radish slices, if desired.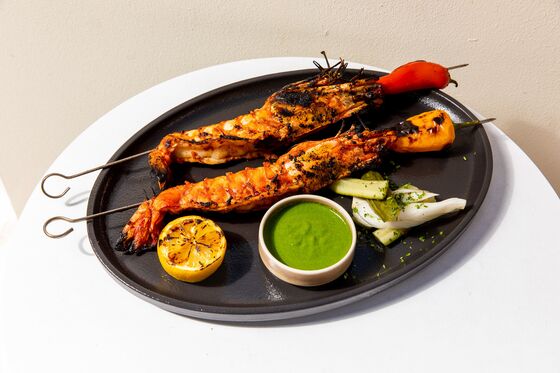 From Ian Fleischmann, chef, Strawberry Moon, Miami
⅔ cup olive oil
|2 tbsp harissa spice (recipe follows)
1 large garlic clove, chopped
1½ tbsp fresh lemon juice
1½ tsp kosher salt
⅓ cup chopped fresh oregano
2 lb shelled large shrimp, head and tail on
Grated zest of 2 lemons, plus 1 lemon, cut into wedges, for serving
Mini sweet peppers
Cipollini onions, trimmed and peeled
In a small blender, combine oil, harissa spice, garlic, lemon juice, and salt and process into a smooth dressing. Transfer to a medium bowl and add lemon zest and oregano. Add shrimp and toss until well-coated. Refrigerate overnight or up to 24 hours. Heat a grill or broiler. Skewer shrimp with peppers or onions. Grill or broil over high heat for 2 to 3 minutes per side until cooked through and lightly charred. Serve with lemon wedges.
In a spice grinder or mortar, combine 1 tbsp dried urfa chile peppers or dried chipotle, 1½ tsp cumin seeds, 1½ tsp coriander seeds, 1½ tsp caraway seeds, 1½ tsp black peppercorns, 1 tbsp sweet paprika, and ½ tsp powdered garlic. Blend to a fine powder. Discard any large pieces.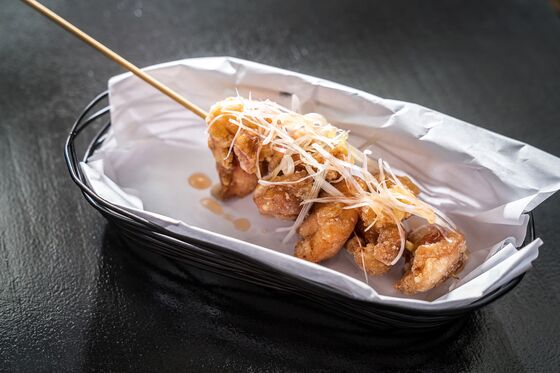 From Cyed Adraincem, executive chef, Katana Kitten, New York
1 cup soy sauce
½ cup sake
1 tbsp grated ginger
2 garlic cloves, grated
Freshly ground black pepper, to taste
2 lb boneless chicken thighs, cut into chunks
Vegetable oil, for frying
Potato starch, for dusting
Good-quality sweet-and-sour sauce, such as Kikkoman
In a medium bowl, combine soy sauce, sake, ginger, garlic, and black pepper. Add chicken and stir to coat. Marinate for at least 30 minutes, up to 6 hours. In a medium skillet, heat 1 inch oil to 350F. Spread potato starch in a shallow bowl. Working in batches, lightly coat chicken with starch. Fry in hot oil, making sure not to crowd the pan. Transfer to paper towels to drain. Thread hot fried chicken on small skewers and drizzle with sweet-and-sour sauce. Serve with more sauce.