Airlines Get Pushed to Brink Again With Virus Decimating Demand
(Bloomberg Businessweek) -- Just a month ago, airlines around the world began adding flights as national lockdowns eased and people craved an escape from hibernation. But as the travel season reaches what should be its annual peak, hopes for an industry rebound have been dashed by flareups of the pandemic in Asia, a deepening health crisis in the Americas, and the reimposition of flight curbs in Europe. As a result, the aviation world is becoming increasingly resigned to years of depressed demand as optimism about a quick rebound from the crisis is swept away.
The reversal is pushing airlines to rethink plans to restore their schedules and raises the prospect of a jump in bankruptcies. It's also forcing a reassessment of just how long travel will take to return to normal, with the International Air Transport Association predicting that last year's traffic probably won't be matched until 2024, a year later than previously estimated. "The situation is deteriorating," IATA Chief Economist Brian Pearce says. "Airlines are having to take on costs, but demand and revenues are not rising as quickly as was expected, so they're still burning cash."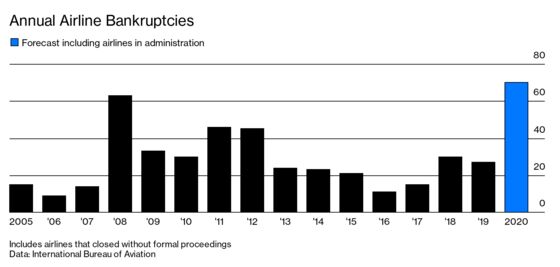 The difficulty facing airlines to plan even days ahead was illustrated when Britain on July 25 abruptly reimposed a 14-day quarantine for people arriving from Spain after a surge in Covid-19 cases in the Catalonia region. TUI AG, the world's biggest tour operator, responded by scrapping all package holidays for Britons in Spain—previously their No. 1 destination—until the middle of August.
Fresh emergency measures imposed across the Asia-Pacific region, where international flights were first to return, suggest spontaneous clampdowns may be the shape of things to come. A so-called travel bubble allowing unfettered service between Australia and New Zealand is on hold for months, after a flareup in infections put Melbourne into lockdown and triggered a disaster declaration in the state of Victoria. The Philippines has halted nonessential overseas trips just a month after resuming service, and Hong Kong now requires some visitors to prove they've tested negative for the coronavirus.
In the U.S., a burgeoning recovery in demand has been squashed by a leap in cases, with many states and some major cities adopting a patchwork of quarantine rules for visitors. The relapse prompted Scott Kirby, chief executive officer of United Airlines Holdings Inc., to predict his company's revenue will plateau at no more than half of pre-pandemic levels until a vaccine is widely available. IATA, which has forecast a record $100 billion loss for the industry this year and next—three times the losses after the 2008 economic slump—will need to revisit that prediction, according to Pearce.
Summer represents the only profitable period for many carriers even in normal times. But with the prospect fading for a traffic rebound before the vacation season ends, a spate of collapses and bankruptcy filings is inevitable, according to Stuart Hatcher at consultant IBA Group. Compounding the crisis in tourism is the collapse in lucrative business travel, particularly on key routes across the Atlantic and linking China with Europe, which make up a major part of full-service airlines' earnings.
Some 34 carriers have failed so far this year, up from 27 in 2019 but well short of the 63 that went under in 2008. Airlines that have folded include U.K.-based Flybe, SunExpress Deutschland, which carried German tourists to Turkish sunspots, Miami Air, and the OpenSkies unit of IAG SA, which flew between Paris and the U.S. And Richard Branson's Virgin Atlantic Airways Ltd. filed for Chapter 15 bankruptcy protection in the U.S. on Aug. 4 after telling a London court it was set to run out of cash next month if a pending rescue deal isn't approved. Among other carriers in administration, Virgin Australia Holdings Ltd. is being acquired, and two of the biggest South American carriers, Latam Airlines Group SA and Avianca Holdings SA, are also likely to re-emerge.
Collapses have been held back by the grounding of fleets at the height of the pandemic, which stemmed the outflow of cash, together with governments using furlough programs to continue to pay wages and injecting billions of dollars via bailouts and state-backed loans. But Hatcher estimates casualties may double by yearend. "We expect the next level of blood to be spilled from September," he says. "That's when airlines take stock of what's been achieved over the summer in ticket sales and make a judgment about whether to continue."
Most devastating for carriers would be a new wave of infections over the Northern winter, coinciding with the seasonal slump in revenue and a tailing off of government support. Charter carriers, regional airlines, and operators that primarily serve leisure destinations are most vulnerable, according to IBA. Household names will generally endure, with discounters buoyed by strong cash positions and national carriers likely to be given further government support if they need it, Hatcher says.
At the same time, a clutch of major players is facing a long slog for survival. Carriers in Southeast Asia may be endangered by a recent splurge on route expansion and aircraft orders, which left an unsustainable level of capacity. Auditor EY has cast doubt on the viability of Malaysia's AirAsia Group Bhd., once the poster child of the region's fast-growing no-frills airlines, and its AirAsia X Bhd. unit, a specialist in the kind of low-cost, long-haul travel that may have no place in the post-coronavirus skies.
Similar pressures are playing out in India, until recently the fastest-growing aviation market, where budget carrier SpiceJet Ltd. is struggling with liabilities of more than 500 times its cash in hand. The Indian government has ruled out assisting airlines as it confronts the world's fastest rate of infections.
In Europe, Norwegian Air Shuttle ASA's bid to penetrate the lucrative North Atlantic market was struggling under a mountain of debt even before the pandemic. The carrier has restructured its borrowing, but by shifting its strategy to emphasize short-haul routes, it now faces being squeezed between healthier discounters such as Ryanair Holdings Plc and full-service airlines like Air France-KLM and Deutsche Lufthansa AG—two flag carriers that have been propped up by a combined €20 billion ($23.5 billion) in state aid. Even the three giant U.S. carriers are under pressure after their borrowing ballooned in April. American Airlines Group Inc. is seen as the most at risk, with the upfront cost of insuring its debt in the credit-default swaps market implying an almost 100% chance of default in the next five years. The odds stand at 59% for United Airlines and 47% for Delta Air Lines Inc.
The extent of the crisis may be most apparent in the number of aircraft now set to permanently exit fleets. Some 980 planes have already been retired, and IBA projects that 5,000 will follow this year and next combined. "It's a very worrying time," says Willie Walsh, CEO of IAG, which owns British Airways, Iberia, and Irish carrier Aer Lingus. The holding company reported on July 31 that all of its airlines suffered substantial losses in the second quarter, when traffic was all but wiped out. "The figures speak for themselves," Walsh says. "British Airways has lost more in one quarter than the record loss it made in a year. This is by far the biggest crisis we have ever faced." —With Anurag Kotoky, Justin Bachman, and Mary Schlangenstein
 
Read next: Can China's Comac Catch Up With Planemakers Airbus and Boeing?