Joby's Plan for Air Taxis Takes Shape
(Bloomberg Businessweek) -- Joby Aviation's prototype electric aircraft looks less like a fantastical flying car from vintage science fiction than it does a buzzing insect large enough to carry a few human passengers. One morning in May, the empty five-seat airplane rose from a dirt field straight up to about 1,000 feet, its tinted windshield reflecting the midday sun. Then, as one Bloomberg News reporter watched from a chase helicopter and another from the ground, the aircraft's six propellers tilted forward, and it zoomed ahead at a brisk 90 miles per hour, emitting a mechanical purr about as loud as a rooftop air conditioner. The vehicle, controlled by pilots on the ground, circled over a California military base while a bald eagle followed, regarding it skeptically.
Joby, an 12-year-old startup headquartered in Santa Cruz, is one of dozens of companies racing to realize the promise of an eVTOL—an electric airplane that takes off and lands vertically. The company's rivals include aerospace giants such as Boeing, Lockheed Martin, and Airbus, as well as startups like the Vermont-based Beta Technologies, which recently won backing from Amazon's Climate Pledge Fund and Fidelity, and Germany's Volocopter, which has been testing its two-seat aircraft for the last three years in Singapore.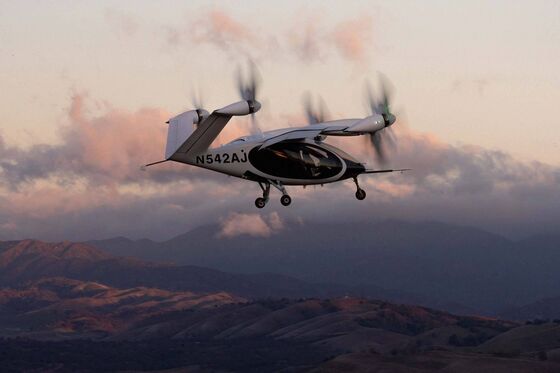 The cottage industry is aiming to change how people get around every day, promising to transform cities and reduce carbon emissions in the process. In the U.S., Federal Aviation Administration head Steve Dickson recently told a House appropriations subcommittee hearing that he expects such advanced urban aircraft to be approved by 2023, with the first flights taking place the following year. Many analysts expect a massive industry will develop, though they say investors might have to wait patiently for more than a decade to see it flourish. In May, Morgan Stanley predicted the eVTOL market will hit $1 trillion in 2040.
While the race is still in its early stages, Joby can lay claim to leading the pack. It's been working with the FAA for three years, longer than any of its competitors have, and recently received a checklist to certify it to carry passengers. The company has also raised more money than its rivals, including $400 million from Toyota Motor Corp., which will help it with manufacturing. It recently took over Uber Technologies Inc.'s flying-car division, through a deal in which the ride-hailing company also invested $75 million and committed to adding Joby's air taxis to its app.
The company will go public this summer by merging with a SPAC created by LinkedIn Corp. co-founder Reid Hoffman. The transaction will raise an additional $1.6 billion to help finance operations through 2024. That year, Joby plans to begin commercial service for passengers in cities such as Los Angeles, Miami, New York, and San Francisco. That's assuming it can navigate the inevitable regulatory hurdles and public opposition. Ride-hailing has brought a spate of controversy when its drivers use existing roads; it stands to reason there'll be a completely new set of objections when companies start releasing fleets of newfangled aircraft into urban skies.
Then there's the risk of facing so many well-heeled rivals. "I wouldn't be surprised if a number of the big names don't make it, while a number of other ones we haven't heard of yet do," says Robin Riedel, a McKinsey & Co. partner who leads its aerospace practice.
This month, Joby is announcing a few modest steps forward. It recently reached an agreement with Reef Technology Inc. and Neighborhood Property Group to negotiate long-term leases for takeoff and landing pads atop some of Reef's 5,000 parking garages and other sites in North America and Europe. It's also planning to open a pilot training program in the next few years. Joby foresees a future where its vehicles operate autonomously but says there'll be a significant transition period when pilots will still need to be on board, if only to reassure passengers who grip their armrests tightly even on conventional flights.
JoeBen Bevirt, Joby's founder and chief executive officer, says he sees pilots as "our ambassadors, helping people to get comfortable with this new mode of transportation."
Bevirt, who founded Joby in 2009 after selling two successful technology companies, started dreaming about building flying cars when he was a kid growing up under Santa Cruz's redwoods, five miles from the nearest school bus stop. He leads engineering; Executive Chairman Paul Sciarra, who also co-founded Pinterest Inc., handles business operations and strategy.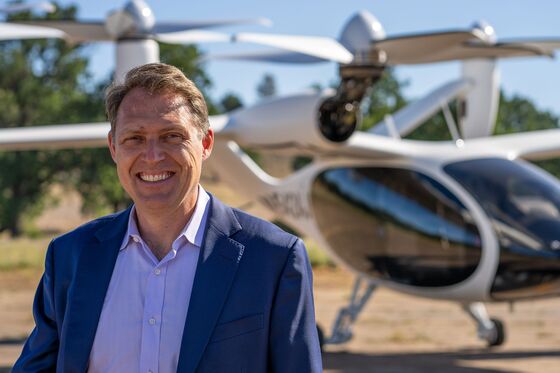 It was Sciarra who reached out to Hoffman and his investing partner, Mark Pincus, the co-founder of Zynga Inc., about the SPAC. There's mounting skepticism about such deals, which critics see as a way for investors to cash in on unprofitable companies that can't withstand the scrutiny that comes with a conventional initial public offering. Sciarra says Joby's deal is more responsible, citing a provision keeping major investors from selling for five years, and until Joby quintuples its market value, to more than $30 billion. "It's not an exit for anyone," Sciarra says.
When Joby does begin trading publicly, it will have at least one paying customer. The United States Air Force, which certified Joby vehicles for use late last year before also approving ones from competitors Beta and Lift Aircraft, wants to start testing up to 10 Joby aircraft by next year. The chief benefits to using the aircraft, says Colonel Nathan Diller, the director of the Air Force's venture capital arm, Afwerx, are financial: Joby estimates its vehicles operate at about a quarter of the cost of conventional helicopters.
Diller says the lack of emissions and robust safety features are selling points, too. Joby's vehicles have six propellers, and two can fail without compromising flight—a significant improvement over the two-propeller helicopter design that's been standard for 50 years. The electric aircraft will be used mainly for medical evacuations, disaster relief, and humanitarian crises—but not in battle. They aren't designed for it, and Sciarra and Bevirt say they oppose building combat vehicles on moral grounds.
Even now, with the Air Force partnership and the company finally bearing down on its goal of electric urban aircraft, Bevirt says he has plans to work on electric aircraft capable of traveling between cities. That project presents significant technical challenges that will require advances in battery density and lightweight materials.
For now, his investors want him to focus on keeping his feet on the ground. Hoffman says Joby's North Star is to eventually offer rides within cities at about the price of an Uber X. But Uber is still trying to figure that out with earthbound cars. McKinsey's Riedel wonders if air taxis are destined to be seen as a "toy for the rich." Part of Joby's challenge will be figuring out airline-like operations, such as minimizing downtime, filling most every seat, and remaining easy to book via smartphone. In retrospect, making a prototype and showing it off to journalists in the desert was the easy part.
 
Read next: Space Plane Startup Promises One-Hour Rides to Anywhere on Earth