A New CEO Plans Big Cuts to Mend Deutsche Bank
(Bloomberg Businessweek) -- As chief of Deutsche Bank AG's retail division, Christian Sewing earned a reputation as an unapologetic cost-cutter who closed hundreds of branches, reduced staff by 7 percent—3,100 positions—over two years, and sold operations in Poland and Portugal. Today, as the company's chief executive officer, he's following a similar playbook. But there's far more at stake as he faces restive shareholders dismayed by more than $10 billion in losses over the last three years.
Since April, when he was appointed CEO of the battered bank, Sewing has cut an additional 1,700 jobs, told bankers they can no longer buy first-class train tickets, eliminated daily office fruit bowls, and is planning to shrink the New York office 30 percent and move away from Wall Street. It's part of a pledge Sewing made to trim overhead at least 8 percent by 2019. "We'll have to make progress on costs," he said at an August banking conference in Frankfurt. "It's about what we can control ourselves: making the business profitable."
Sewing's hardest task will be convincing investors and employees that he can break out of the bank's cycle of serial disappointments. Revenue has fallen 21 percent in the last two years and is on track to drop again in 2018, to its lowest level in a decade. The investment bank is losing market share, the asset management division has been unable to stem outflows, and the stock has plunged to near-record lows since Sewing took over. The CEO has acknowledged that he has little more than a year to mend the bank's shattered credibility. "If Sewing next year says they'll continue to miss targets, that would be a big problem," says Daniel Regli, an analyst with brokerage MainFirst.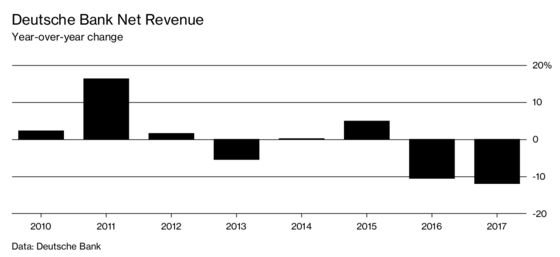 There are persistent rumors that Deutsche Bank is considering a merger as a way out, most likely a tieup with crosstown rival Commerzbank AG. But at a strategy conclave in Hamburg on Sept. 14-15, the supervisory board and top managers examined potential combinations with partners in Germany and abroad and decided the time isn't right for such a deal. Sewing has told people around him that the company must first better integrate Postbank, the financial arm of the country's postal service that Deutsche Bank bought in 2010 but never managed to bring under one roof with its own operations.
The new CEO contrasts sharply with his predecessors John Cryan and Anshu Jain, Brits who joined Deutsche Bank after rising to executive roles at rival investment banks. Sewing is a German who's spent almost his entire career at the company, starting as a trainee at a branch in his hometown of Bielefeld and climbing the ladder in Frankfurt and abroad. He earned recognition from regulators for his work leading Deutsche Bank's investigation into its role in allowing suspicious money transfers out of Russia—for which the bank was fined almost $700 million last year. In 2010 he joined senior management as chief credit officer, and he's since served as deputy chief risk officer and audit boss.
Sewing commutes home most weekends to see his wife and four children near Bielefeld, a four-hour drive north of Frankfurt headquarters, and his deep roots in Germany have helped him cultivate strong ties with the country's economic and political elite. He can be seen quaffing beers with bigwigs from Germany's blue chip companies and has shared the stage with Finance Minister Olaf Scholz at industry conferences. "Sewing, a homegrown talent from the very beginning, represents the classic bank business in the European tradition," says Michael Seufert, an analyst with NordLB.
Befitting the first German to run the bank as sole CEO in more than a decade, Sewing aims to shift away from Asia and the U.S., instead emphasizing Europe and especially Germany. The question is whether he has the charisma and vision to lead a sprawling operation with 100,000 employees spread across five continents. While his track record suggests that Sewing is good at increasing efficiency, his plan consists mainly of cutting expenses.
Deutsche Bank has gone through three other turnaround plans since 2015, and insiders fret that Sewing's retrenchment will end up eliminating many global outposts. An investor who recently talked to Sewing said the CEO failed to adequately answer any questions that extended beyond his 2019 targets. And one top manager says Sewing rejected an argument that job cuts posed a risk to the unit's effectiveness. "I don't see Sewing as a visionary," says Michael Hünseler, a fund manager at Assenagon Asset Management. "He's a rational, adaptable CEO, but he doesn't seem to like to make big bets."
In April he ordered a review of the investment bank—meaning job cuts—which unsettled international clients and employees alike. Indeed, most of the positions eliminated in the second quarter were at the investment bank, and he's dismantled teams doing equity research or strategic advisory work in Brazil, Dubai, and Japan. With many top staffers jumping ship, Sewing has sought to quash uncertainty by traveling the world—since becoming CEO he's made five trips to the U.S. and three to Asia—to underscore the bank's commitment to a global footprint. And he's instituted get-togethers the company calls the "Hour of Truth," where workers from all levels are encouraged to ask him questions.
His aim is to restore credibility and a sense of pride to an institution that's become a symbol of failed expectations. Having witnessed the brutal defenestration of Cryan—whose tenure was marked by conflict with Supervisory Board Chairman Paul Achleitner and, ultimately, a failure to cut expenses—Sewing is trying to avoid what he's called the bank's "pattern of negative surprises" in fourth-quarter costs. "We've gone through a difficult phase," Sewing said at the Frankfurt conference. "We need to reawaken our pride." —With Nicholas Comfort
To contact the editor responsible for this story: David Rocks at drocks1@bloomberg.net