A Crash Course for Investors on the Lingo of (Legal) Weed
(Bloomberg Businessweek) -- With Canada set to legalize recreational use of marijuana on Oct. 17, the world appears on the cusp of a cannabis boom. Spending on recreational pot will surge to $32 billion globally by 2022, triple its current size, U.S. research firms Arcview Market Research and BDS Analytics say. At least three Canadian pot companies have stock market values of more than $10 billion each, and new companies are popping up by the day. Investors looking to break into the marijuana market may need to hit the books first. Just don't call it "high" school.
There are two key chemical compounds found in marijuana, aka weed, dope, Mary Jane or countless other nicknames. Only THC (tetrahydrocannabinol) gets you high, while CBD (cannabidiol)  is increasingly being used to treat medical conditions such as sleeplessness and anxiety . These chemicals, collectively known as cannabinoids, are most potent in the cola — the flowers or buds at the top of plant. There are three main types of plant. Indica, stout and bushy, is purported to produce a mellow high. The taller sativa is said to give a more energetic lift. A hybrid may have features of each. The essential oils that give a plant flavor like citrus or clove are terpenes. Pot's poor cousin, hemp, doesn't get you high but does contain CBD and has long been used  to make clothing and rope and for other industrial purposes; it's even sprinkled on cereal in the form of seeds.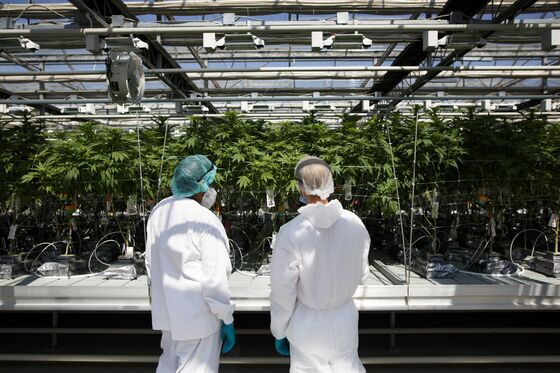 By acting now, Canada has earned a first-mover advantage in the budding pot economy. The fact that pot is illegal at the federal level in the U.S. has created a listing frenzy north of the border, many on the small Canadian Securities Exchange, earning it the moniker Cannabis Stock Exchange. As of Oct. 9, there were at least 137 companies listed on Canada's exchanges tied to pot, with a combined market value of about C$63.3 billion ($48.8 billion). But Canada's pot preeminence may not last. Tilray Inc. of Nanaimo, British Columbia chose to list only on the U.S. Nasdaq, quickly becoming the world's most valuable pot company.  Canopy Growth Corp.  of Smiths Falls, Ontario and Cronos Group Inc.  of Toronto are now listed on both sides of the border, while Edmonton, Alberta-based Aurora Cannabis Inc. is heading south soon. The U.S. allows listings of marijuana producers so long as they don't have U.S. operations. For investors not wanting to put all their cannabis dollars in one basket – the shares can be extremely volatile – there are cannabis funds such as Ninepoint UIT Alternative Health Fund, the Purpose Marijuana Opportunities Fund and the Horizons Marijuana Life Sciences ETF .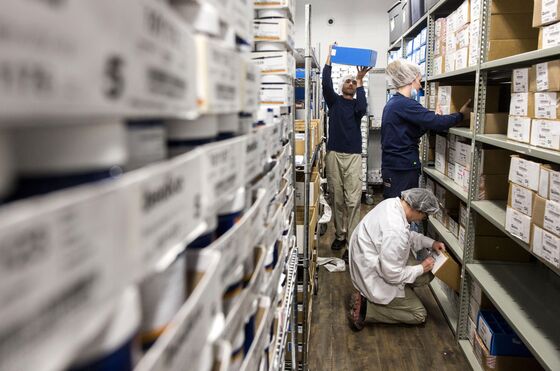 Potency is generally measured by the percentage of THC, which for a long time was well under 10 percent but in today's strains frequently ranges from 10 percent to 30 percent, and can be even stronger. Where pot may have been long sold in the U.S. in fractions of ounces, Canada's marijuana business uses the metric system of grams and kilograms. As for the price, Canada has set a target of $10 a gram to try and drive away the black market, though each province has the final say over where and how marijuana is sold. As of mid-September, Canada had given 66 of 117 licensed producers the go-ahead to sell pot. Production facilities will cover about 11 million square feet, according to Health Canada. Aurora Cannabis, one of Canada's biggest producers, is building what it claims to be biggest indoor growing facility near Edmonton at 800,000 square feet. The supply of legal pot is estimated to be only about 210,000 kilograms in the first year of legalization, according to a study released Oct. 11, enough to supply only 30 percent to 60 percent of demand.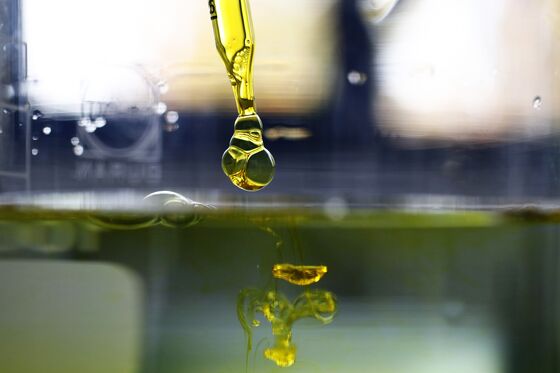 Hindu Kush, Acapulco Gold, and B.C. Bud are celebrated names in pot's long history, but today's producers are breaking with the industry's counterculture past. Aurora Cannabis reminds customers on its website "to start low and go slow" and has renamed its strains for Canadian mountains: The strain now known as Tower, which is being grown at the company's indoor facility near Edmonton, is what's known as Cannatonic when sold on the street.  Canopy's main cannabis brand is Tweed, which was the company's original name when it set up shop in 2014 to grow medical marijuana producer Tweed Inc. in an abandoned Hershey Co. chocolate factory. Packaging is for the most part spare and clean, since symbols can't be larger than the government's obligatory health warnings under strict Canadian marketing rules.  While Canadian pot-related companies are all about appearing slick and professional, they're not above having a little fun with their tickers. Canopy Growth trades as WEED, Purpose's marijuana ETF is MJJ, and Horizons' is HMMJ, 1933 Industries Inc.'s is TGIF and PUF Ventures Inc. is PUF.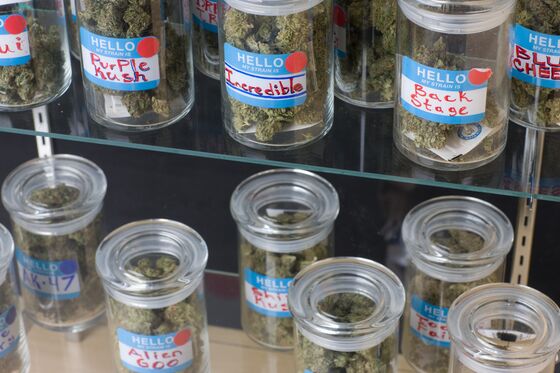 There are many more options now than merely lighting up a joint or filling a bong. Cannabis can be packed into a device that heats the flower or oil, producing a vapor that can be inhaled through a mouthpiece. There's vape pens, desktop vaporizers and countless different vaping devices you can sip at on the go. Canada plans to legalize retail sales of marijuana edibles like brownies and gummies in about a year, which will be key to widening the drug's appeal. The next frontier may be marijuana-infused beverages, with even Coca-Cola Co. considering how CBD might be infused into "wellness beverages" to ease inflammation, pain and cramping. Constellation Brands Inc., the maker of Corona beer and Robert Mondavi wine, has indicated an interest in selling CBD-infused drinks through its partnership with Canopy Growth, and Molson Coors Canada Inc. has formed a joint venture with Hexo Corp. to develop cannabis beverages.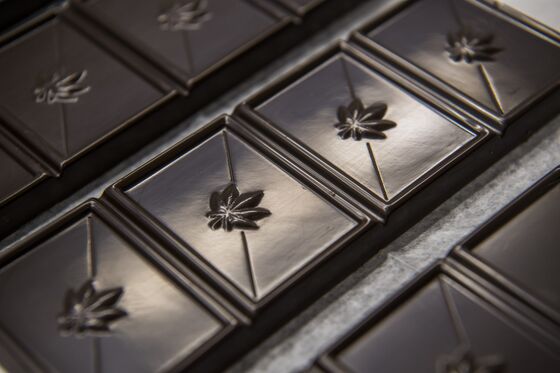 Period 6: Political Science
Canada is just the second nation to legalize production, use and sale of recreational marijuana, following Uruguay, where pot is now sold in pharmacies. Though no other market is on the verge of such a move, dozens of countries have taken steps toward decriminalizing medical and personal recreational use of the drug, among them Argentina, Chile, Colombia, Portugal and Spain. Legalization continues to spread in the U.S. at the state level, with North Dakota and Michigan voting next month on whether to become the 10th and 11th states to permit recreational pot use.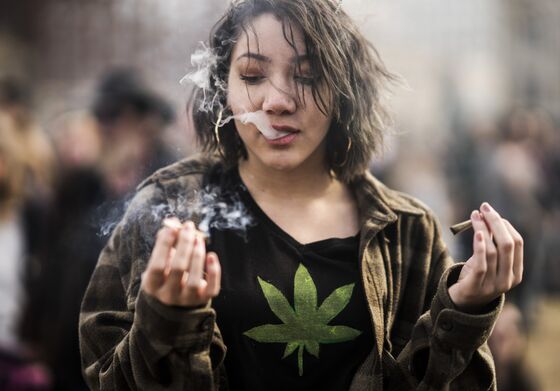 All about Canada's legalization of marijuana.
What Coca-Cola might do with a cannabis component. 
A QuickTake explainer on the legalization of marijuana.
--With assistance from Craig Giammona and Kristine Owram.
To contact the editor responsible for this story: Laurence Arnold at larnold4@bloomberg.net