This $9.8 Million Maui Home Is a Design Icon From the Memphis Group
(Bloomberg Businessweek) -- The entrance to the home of Adrian and Lesley Olabuenaga looks like the gateway to a fun house dreamed up by Dr. Seuss: A fire-engine-red door gives way to a canary-yellow entryway, and once inside there's a glass table held up by a sphere, a square, and a triangle. One bathroom is tiled in Pepto-Bismol pink.
For 21 years, the owners have kept their Maui home exactly as it was imagined by its architect, Ettore Sottsass. The Italian designer was the driving force behind the Memphis Group, a loose coalition of artists who developed the zany patterns and bright colors that defined the late 1980s and early '90s. He built only seven houses during his lifetime, and this one, completed in 1997, is ­arguably his most distinctive.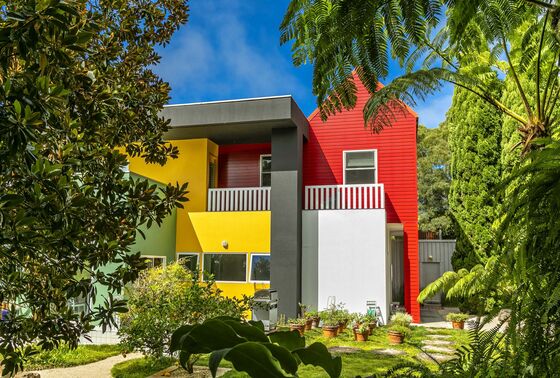 The Olabuenagas were already admirers of the movement when they commissioned Sottsass. They sold accessories by Memphis designers through their company, Acme Studios Inc., and after Sottsass agreed to do the home, they handed the reins to him entirely. "We wanted it to be a complete expression of what he had in his brain," Adrian says. "We didn't want to get in the way."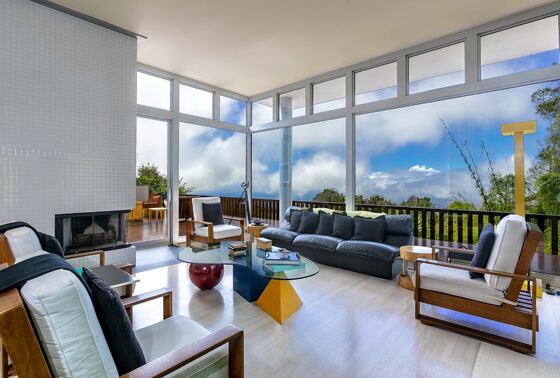 After it was finished, the couple filled the home with Memphis-style furniture to complete the look. This includes one of Sottsass' trademark yellow-and-brown desk chairs, which sits in front of a typewriter he did for Olivetti, and a black, green, and orange floor lamp by the Memphis-aligned architect Michele De Lucchi. Sottsass designed a bookshelf to hold Adrian's collection of radios, and one of his vividly phallic, pale-pink Shiva vases is on display in the guest bathroom.
In the subsequent decades, the ­owners' only intervention was to put a new coat of paint on the house's exterior. "We live and breathe Ettore Sottsass," Lesley says. "We eat with his cutlery and china. We drink out of his glasses." The furniture, the couple say, could be included in the sale of the house for an extra fee.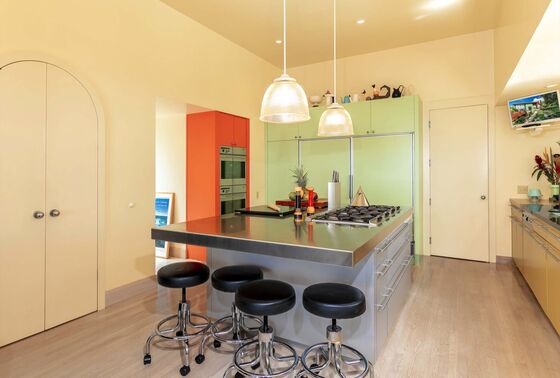 Although the Memphis Group has become a popular reference point again, it's still a polarizing strain of home décor: The group pioneered the use of laminates and particleboard, neither of which is regarded as a high-­quality material today. The style was broadly pilloried in the 1988 Tim Burton movie Beetlejuice, where much of the plot concerns an out-of-town couple who move into a classic New England home with the intention of turning it into a vulgar display of Memphis-style architecture.
But the Olabuenagas say they've had no problem living with Memphis. Over the years, they filled the house with contemporary art and entertained a stream of friends and visitors interested in the building. "We were concerned that we would have to walk around with kid gloves," Lesley says, "but we use it like a normal house." In 20 years, the only damage she says occurred was a couple of broken drinking glasses and a shattered plate.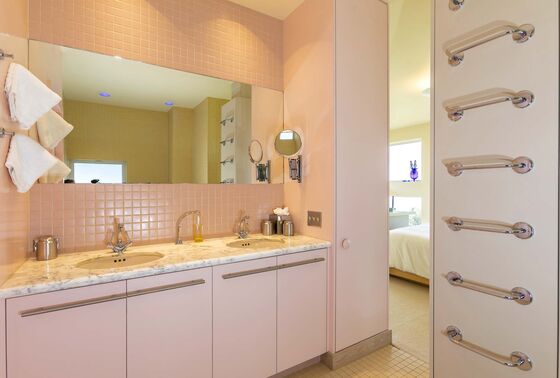 The house is set inland, near the center of Maui, about 30 minutes from Kahului Airport. But its perch on a hilly half-acre plot affords ocean views from much of the property. There's about 2,750 square feet of living space, with three bedrooms (all on the second floor) and two and a half bathrooms. One, which is shared by two bedrooms, has multicolored tiles and a soaking tub.
The house is also clearly divided into public areas downstairs and private rooms upstairs. A dining alcove is separated from the rest of the space by an arch outlined in wood, and the kitchen—which is open to the living room—is populated by colorful, blocky cabinets and counters. The bedrooms are cozier and slightly less jarring, but no one would confuse them with those in a conventional abode.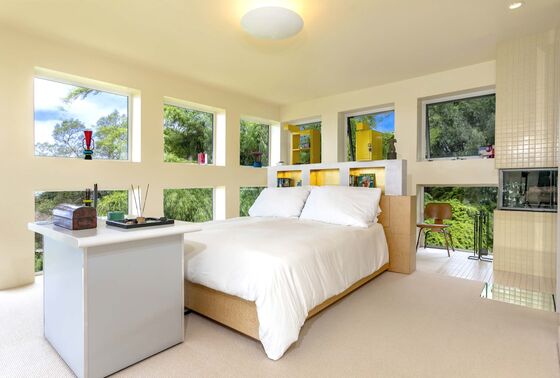 Sottsass had carte blanche with the landscaping, too. A 1,500-square-foot deck is attached to the house, and there's a courtyard tiled in terra cotta and ­porcelain. Sottsass "sketched out the garden, for what we should do in the front and the back," Lesley says.
The plan included a grove of trees that would shield the home from the road, plus a lush—albeit compact—­garden with pathways. Two cypresses flank the back door. "When we got them they were around 3 feet tall," Adrian says. "Now they're 40 feet."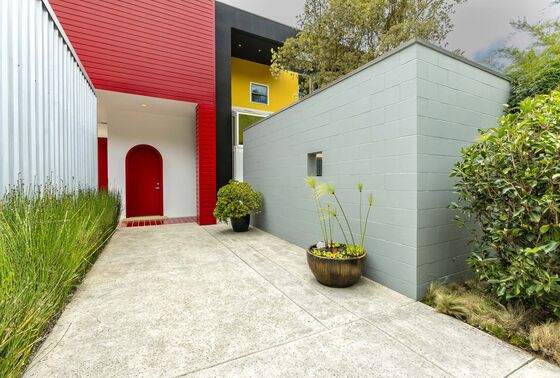 The couple's decision to sell underscores the particular plight of design-focused homeowners who have, in their own way, devoted a significant part of their life to maintaining what they consider an architectural masterpiece. The $9.8 ­million price puts it in rarefied company: Only 23 homes on Maui are listed for $9 million or more, according to Zillow, and all but one of those houses is on the ocean. (The other is a 20-acre-plus property.) Whoever buys this one will probably do so just because she loves it.
And if she doesn't? "We've spoken about it a hundred times," Adrian says. "The longer we think about it, the more we come to terms with it." Obviously, he says, "we'd love for someone to keep it exactly as it is. But once we sell it, we have to cut our ties." He compares it to owning a valuable painting or a 1960s Ferrari. "You're the caregiver," he says, "and then you pass it on to the next ­person."
To contact the editor responsible for this story: James Gaddy at jgaddy@bloomberg.net, Chris Rovzar