Extortion by Rogue Police Gangs Is Booming in Bolsonaro's Brazil
(Bloomberg Businessweek) -- A new cigarette, Gift, went on sale early last year in the bars and newspaper kiosks of Itaboraí, a crumbling former oil town on Rio de Janeiro's outskirts. At just under a dollar a pack, Gift quickly cornered the market in contraband tobacco in the sweltering city that, despite a population of almost 240,000, looks and feels abandoned. Its dominance wasn't because of the Paraguayan product's quality. Rather, police say, it marked the arrival of a murderous militia that forced vendors to sell it.
About 30 miles east of Rio, Itaboraí has been ravaged by recession, crime, and corruption—the same forces that have ground down Brazil and drove voters to elect hard-liner Jair Bolsonaro as president last year. Ten years ago the city looked set to ride the commodities boom. Now the gargantuan cluster of gleaming metal chimneys and gas flares of the petrochemical plant Comperj, built by oil giant Petrobras, stands virtually idle, and a violent paramilitary group is picking over the economy's bones.
Militias—bands of rogue and off-duty police and other security officers—started operating in Rio's impoverished western neighborhoods a few decades ago. Politicians either turned a blind eye or collaborated with the groups, which were ostensibly formed to drive out drug traffickers but mutated into mafia that charge for services such as security, cooking gas, internet access, and cable TV. These gangs are now active across Rio and 14 other cities in the state, affecting the lives of 2 million people, police say.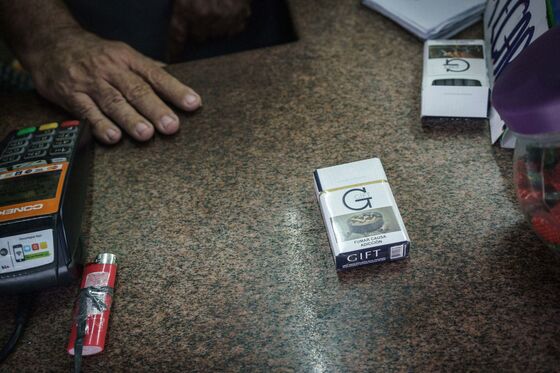 Bolsonaro, who campaigned on a law-and-order platform, didn't respond to requests for comment, but publicly defended militias during his lengthy career as a congressman representing Rio de Janeiro. "Some people support militias, as they see them as a way of freeing themselves from violence," he told Radio Jovem Pan in February last year. "Where the militia is paid, there's no violence."
Itaboraí's terrorized residents tell a different story. In January, state agents arrested nine suspected militia members there, accusing them of extortion. Residents and merchants who resisted faced "kidnapping, torture, and finally death and the disappearance of their corpses," according to a press release from prosecutors. The local police force didn't return messages seeking to discuss the militia. Locals say they have nowhere to turn.
"If criminals know someone is ratting them out, this person will be killed," says District Attorney Romulo Silva, who on April 2 charged seven Itaboraí militia members with torturing a couple suspected of squealing to a drug gang. The men broke into their home, handcuffed them, and beat them with a pool cue, planks, and pistols, according to court papers. In front of the couple's children, they urinated on the woman and tormented the man by forcing him to straddle a piece of wood that compressed his testicles. The family fled the city with only the clothes they wore.
Itaboraí has been on a long slide. Homicides rose 30 percent from 2016 to 2017, to 95 deaths, when a branch of the Red Command drug gang seized control. Police in December 2017 drove the traffickers out, ceding the territory to a militia, according to Silva. Crime soared once more. In 2018 more than 130 residents were murdered, according to Rio de Janeiro's public security institute. Disappearances rose 113 percent, to 111 people, from the previous year.
The militia operates an extensive protection racket, with fees ranging from $5 a month for a small house to $375 for large businesses. Recently it's expanded into illegally developing land and selling smuggled cigarettes, which offer rich profits and lesser criminal penalties than drugs.
Corruption exacts a punishing cost throughout Brazil. Graft consumes as much as 2.3 percent of gross domestic product, according to the Federation of Industries of the State of São Paulo. That's about $39 billion a year, according to economist Gil Castello Branco, founder of Contas Abertas, a transparency advocacy group. "We have systemic corruption on all levels," he says. "It is a practice that's deeply embedded in the country, and in public security, it is no different."
Brazilians' seething rage powered Bolsonaro's rise. One of his first acts was to appoint Sergio Moro, lead judge in the corruption investigation known as Operation Carwash, to head the justice ministry. Moro is pushing legislation that would reduce or eliminate punishment for police who kill due to "justifiable fear, surprise or violent emotion." Critics say the terms are too broad. But even before the bill arrived in congress, Rio police killings reached a 16-year high in the first two months of this year, with one death every four and a half hours.
As lawmaker, Bolsonaro argued that militias offered order where the state had failed. Until November his eldest son, Flavio, a senator, employed the wife and mother of a fugitive police officer accused of criminal activity. Flavio says his staff made the hiring decisions.
The number of paramilitary groups have exploded in recent years, according to José Claudio Souza Alves, a sociology professor at the Rural Federal University of Rio de Janeiro. "No one acts to put a stop to them," he says. In March 2018, left-wing city council member Marielle Franco was murdered by gunmen suspected of links to militias.
In Itaboraí, the militia is extorting an economy on its knees. On the road from Rio, a new shopping mall sits empty, its shutters smeared with black graffiti. Unfinished apartment blocks loom over the main street, while "for rent" signs appear in every other dusty shop window.
More than a decade ago, money poured into the city, which was once known for its oranges, when former President Luiz Inacio Lula da Silva laid Comperj's foundation stone. The complex was to be Latin America's largest petrochemical plant, generating more than 200,000 jobs. Thousands of workers flocked there from across the country, but in 2014 oil prices plummeted, Brazil slumped into a record recession, and Petrobras became enmeshed in Operation Carwash. In late 2017 a trickle of jobs began returning. About 1,500 workers are employed with a natural gas processing unit, according to Petrobras. The number of workers there should double by yearend, the company says.
When jobs open at Comperj, Petrobras subcontractors hire their own employees, often from out of town, or advertise through Itaboraí's jobs center, according to Marcus Hartung, vice president of a local union. The agency, controlled by the mayor's office, is just off the central square, and thousands gather whenever openings are rumored, Hartung says. "There's a lot of controversy over how the jobs are distributed. There's a lot of politics involved."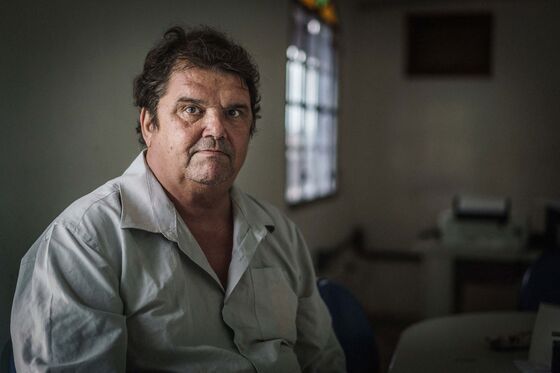 Police say militia members have infiltrated the mayor's office and the employment agency. Armed, hooded men frequent the jobs center, according to two Itaboraí residents who requested anonymity for fear of reprisals. The militia demands a cut of workers' salaries for employment, the people said.
"The rise of militias over the oil business is very worrisome," says Helvio Rebeschini, an executive at Plural, a fuel distribution association. "There are militias operating a growing number of illegal gas stations, and Petrobras has also been a victim of growing oil theft on its oil pipelines."
Repeated requests for interviews submitted to the mayor's office went unanswered. Petrobras says responsibility for hiring at Comperj rests with subcontractors. Bloomberg News contacted three: MIP Engenharia confirmed only that it had used the Itaboraí jobs center as part of its hiring process. Metodo Kerui said it keeps its own database of applicants. Enaval didn't respond. Silva, the district attorney, said that charging for jobs would fit with the militia's modus operandi: "Wherever they see an opportunity to make money, they will exploit it."
Manuelito Correa de Santos, 39, who's been unemployed for more than two years, makes a daily pilgrimage to the jobs center. "People there are trying to help, but it's difficult for them," he says. "It doesn't just depend on them."
Few in Itaboraí would speak openly about the security situation—and few appeared hopeful. "They say Comperj is going to come back. I don't believe it," says Delphina de Jesus Neto, 61, who owned a beauty salon before the plant closed but now works as a parking lot attendant. "Everything here has failed."
To contact the editor responsible for this story: Stephen Merelman at smerelman@bloomberg.net, Cristina Lindblad