Getting Rid of Swimsuits Was Just the Beginning
(Bloomberg Businessweek) -- The first night of this year's Miss America competition in Atlantic City, Nina Davuluri, who held the title in 2014 and now owns a skin care company, took the stage to introduce a brand-new event. Gone was the old-fashioned evening gown segment, in which the Miss State winners would parade down a catwalk in floor-length gowns. Instead, this year's finalists would swish down a red carpet and give an eight-second pitch for a charity or cause—in floor-length gowns. That way, Davuluri explained, beauty and brains would be on display. "Are you ready?" she asked the audience, who cheered and waved homemade signs in reply. "All right," she said. "Let's get glamorous and socially conscious!"
For the past year, the 97-year-old Miss America Organization had been attempting to align itself with contemporary feminism—and recover from its own sex-discrimination scandal. In December, emails leaked showing top MAO executives referring to past Miss Americas as "c--ts," criticizing their weight, and even wishing one woman dead. The controversy prompted several resignations and the appointment of Gretchen Carlson as chairwoman. Carlson, Miss America 1989, is better known as the former Fox News host who in 2016 won a $20 million sexual-harassment settlement from Roger Ailes. "I had no intention of ever having this position," Carlson proclaimed on Good Morning America in January. "I plan to make this organization 100 percent about empowering women."
Viewership for the telecast on ABC had been falling precipitously, to 5.7 million last year from 8.6 million in 2013, and the #MeToo movement—which Carlson's lawsuit portended— offered the pageant an opportunity to participate in a global conversation about society's treatment of women. In June, Carlson revealed the key to her vision for a feminist-friendly Miss America: The once-iconic swimsuit competition would be no more. But while many outside the pageant world cheered, reaction within the Miss America community was decidedly more mixed. By the time of the Sept. 9 finals, 46 state pageant leaders had called for Carlson's resignation. (Through a representative, Carlson declined to be interviewed for this article.)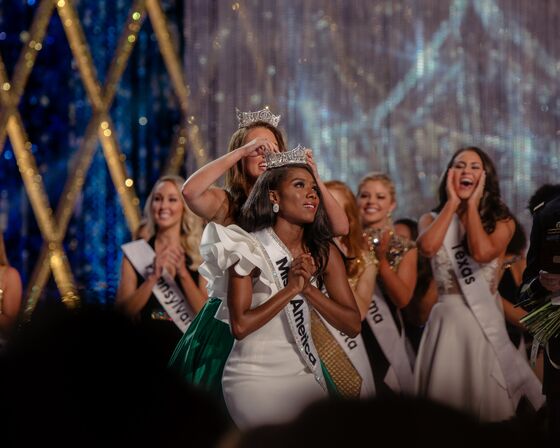 The new evening wear competition was part of Miss America 2.0, as this year's event was officially known. Miss Oklahoma walked the red carpet in a black- and gold-beaded mermaid dress, then turned, smiled, and spent her 8 seconds decrying human trafficking. Miss Tennessee, in white, said she'd lost four family members to Alzheimer's and wanted to find a cure. Miss Connecticut, in red, declared that "women are powerful sources of creativity," though her time ran out before she could clarify what that meant. Over the course of three preliminary nights before the televised finals, each of the 51 competitors—one for each state, plus the District of Columbia—took her turn. The word "empowerment" was used almost as often as the word "beautiful."
On the third morning of the competition, the reigning Miss America, North Dakota's Cara Mund, called me from her hotel room at Caesars Atlantic City. Over the past year, she told me, Carlson and Regina Hopper, Miss America's new chief executive officer, had frozen her out of promotional opportunities, dictated what she could say and how she could dress, publicly belittled her, and retaliated when she tried to speak out. "I'm the main product, I'm what the Miss America Organization has to offer," Mund said. "I do not feel empowered right now, by any means." A few minutes later, a security guard came to check on her, and she abruptly hung up.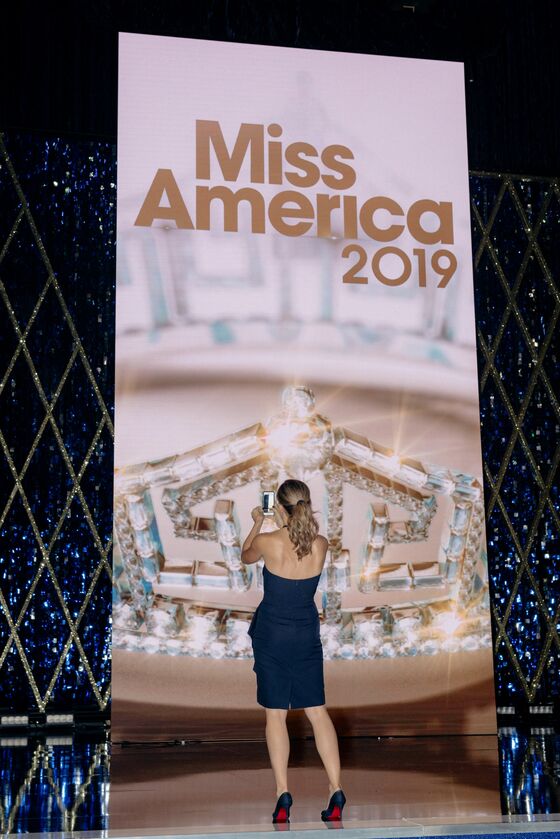 The pageant community is sometimes depicted by its critics as a bunch of spray-tanned traditionalists who think women with washboard abs should be admired and not heard. That's not what I found while speaking with the dozens of state executive directors, former board members, contestants, and former titleholders I interviewed for this article. They want nothing more than for MAO to become the kind of woman-led, woman-centric brand they believe it could be.
Former board directors say they were lied to by Miss America's new leadership. State and local officials report that education scholarships—the pageants' ultimate prizes—have been handled improperly. (MAO either ignored or declined multiple requests to make any of its representatives available for this article.) "It's not about getting rid of swimsuit—most of us agreed that was archaic," says Jennifer Vaden Barth, a former Miss North Carolina who works at Google and until June sat on MAO's board of trustees. "It's about Miss America failing to do the one thing it's supposed to do: help young women."
That wasn't always the aim. Miss America began in 1921 when a group of Atlantic City businessmen, hoping to extend the summer tourist season, decided to stage a post-Labor Day "bathing beauty" contest along the beachfront boardwalk. Winners earned Broadway auditions and Hollywood screen tests until 1945, when the pageant's first female director, Lenora Slaughter, decided that educational scholarships were more respectable. Her decision gave Miss America two seemingly incongruous identities—beauty pageant and educational charity—that have persisted in the decades since.
Donations to beauty pageants aren't tax-deductible, so the entity known as Miss America is actually two separate nonprofits—MAO, which puts on the pageant, and the Miss America Foundation (MAF), which pays the scholarships. Feeding into them are the 51 state pageants and hundreds of local ones, each a separate nonprofit licensed under the Miss America brand and run entirely by volunteers. Competitions involve a talent performance, evening wear, and a brief Q&A.
While the idea of crowning a woman "Miss America" may seem quaint, the organization is one of a very few American institutions focused on and largely run by women. Its educational scholarships draw a type of driven, career-minded young woman not usually associated with beauty pageants—this year's competition, for example, featured undergraduates in computer science, journalism, and social work; several law and MBA students; a Microsoft Inc. software developer; an aspiring commercial airline pilot; and a Harvard graduate turned neuroscience Ph.D. candidate. At the state level, titles are increasingly being awarded to women of color.
Meanwhile, the national organization has been in a financial spiral. In 2009, Miss America reported a modest $874,000 in net assets; today it's almost $3 million in the red. The email scandal didn't help. MAO lost a number of sponsors and partnerships, including Dick Clark Productions Inc., which promoted its televised pageant. Its three-year contract with Atlantic City's Casino Re-Development Association, which had given MAO about $12 million to put on the pageant, was up after this year. The 2018 state winners collectively earned more than $1 million in scholarships before ever stepping foot on the Atlantic City stage, but Miss America has been offering its winner the same $50,000 for the past 19 years. "Miss America this year is getting the same amount I got when I won in 2004," says Erika Dunlap, who's now a public relations consultant, "Fifteen years later, and it's still $50,000? Get the f--- out of here."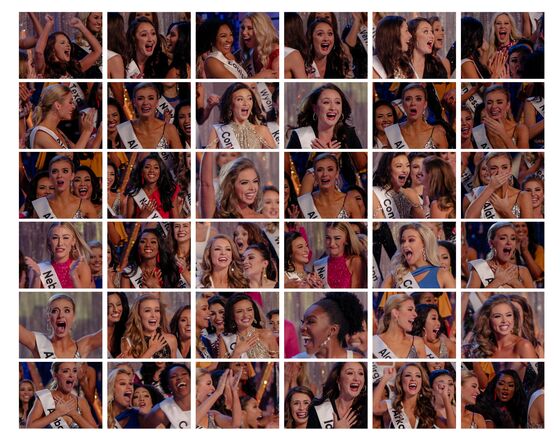 When Carlson assumed her post as chairwoman, state directors say she talked candidly with them about what she planned to do. She'd get the financials straightened out. She'd court new sponsors. She'd hold monthly conference calls. But after Hopper—who previously ran MAF—was made CEO in March, it became clear they'd mostly be dealing with her.
Hopper, 59, was Miss Arkansas 1983. More recently, she headed two Washington lobbying firms in quick succession, ultimately resigning from each as its revenue plummeted. Some former colleagues say she's the kind of bold leader you bring in when you want to make big changes, but others, who asked not to be named because they say they're still afraid of Hopper, paint a different picture. They describe being regularly yelled at, pitted against each other, and generally mistreated. One claimed that Hopper used to supply her favorite employees with bottled Dasani water and make everyone else drink from the common water cooler. According to several former Miss Americas and a December article in the Press of Atlantic City, Hopper and an MAO employee leaked the offensive emails. (Hopper was among the representatives MAO refused to make available for comment.)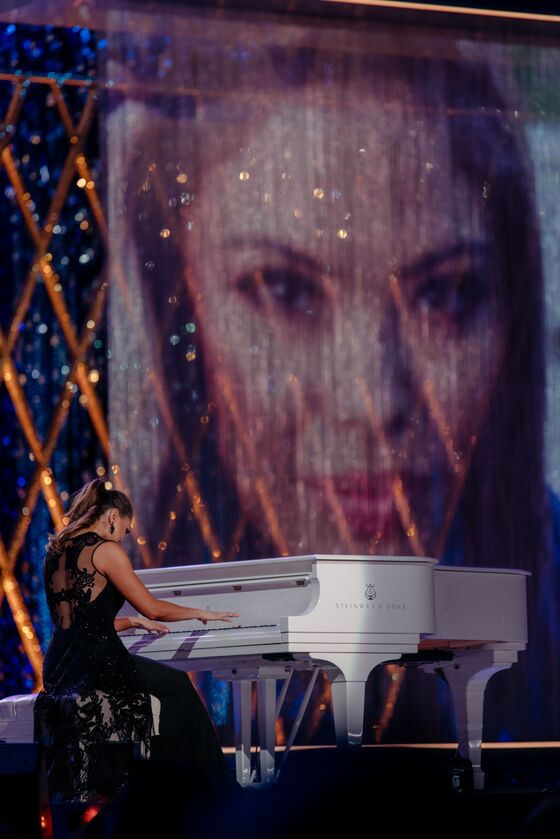 Mund says she first met Hopper at a Washington hotel in January. When Hopper asked her what she wanted to do as Miss America, Mund said she wanted to advocate for affordable health care. She explained that she'd already interned on Capitol Hill and was particularly passionate about making sure elderly patients understand their Medicare and Medicaid options. "I tell her all this, and Regina looks at me and says, 'Wow, you're a lot smarter than I thought.' "
Hopper promised to help her get going in Washington, Mund says. Instead, she was shuttled to parades and fairs and baseball games, as if it were still the 1950s. Hopper, through Mund's tour manager, approved all her outfits. She was told never to wear pink—"apparently Regina hates pink," Mund says. The rules got more bizarre: "I was told I'm not allowed to wear the Miss America sash in public at all. If I'm in a parade, I can wear the sash but only in the car. I can't get out of the car without the sash first being taken off." It sounds like a small thing, except the sash was how people identified her. When she showed up to events wearing just a tiara, Mund says, "people would say, 'Oh, is this your bachelorette party?' "
Mund didn't know it yet, but Carlson and Hopper were working with the powerful New York marketing agency Young & Rubicam on the largest branding overhaul in Miss America's history. The cornerstone, of course, was the elimination of the swimsuit competition, which has been controversial since the pageant's inception in 1921: Atlantic City had to suspend a ban against women showing their bare knees in public for the pageant to go forward.
Almost everyone interviewed for this article recognized that requiring women to wear bikinis to get an educational scholarship wasn't a good idea anymore. "Everyone thinks we're upset about swimsuit, but I'm fine with it going away," says Leah Summers, executive director of the Miss West Virginia Scholarship Organization. And yet, even that consensus turned into conflict.
To get rid of the swimsuit competition, Carlson needed board approval. Multiple board members say that she and Hopper told them TV executives were refusing to broadcast Miss America anymore if the swimsuit competition remained. State directors say they were told the same thing on a conference call. "They said on the call that we had to make a decision between having swimsuit and being shown on any network TV," says Suzi Doland, executive director of the Miss Colorado Organization. "I said, when did TV suddenly get a moral compass?" However, ABC, which broadcasts Miss America, says it never made such a request. When MAO directors discovered the threat wasn't real, they confronted Carlson and Hopper. Vaden Barth, the Google employee, says the meeting devolved into a shouting match. Some directors quit in protest; Vaden Barth says she was forced to resign.
The problems within Carlson's Miss America go beyond board disputes. Even though the state pageants are separate nonprofits, they keep some of their funds with MAO, which pays scholarships on their behalf. Jennifer Bailey, who runs the Miss Virginia Organization's scholarship fund, says she's twice received frantic calls because students' tuition wasn't paid. The first came from the parents of Casey Shepard, a student enrolled at the Richmond School of Ballet who'd won a $1,000 scholarship. Bailey's predecessor had submitted a payment request to MAO in January. When Bailey inquired on the Shepherds' behalf in April, she says MAO told her that with all the leadership changes, no one had check-signing authority. Miss America finally paid the scholarship in May, though by then the Shepards had already covered the tuition to avoid late fees. In the second instance, Bailey learned that a $7,000 scholarship was accidentally paid twice, then canceled twice, jeopardizing a student's ability to graduate.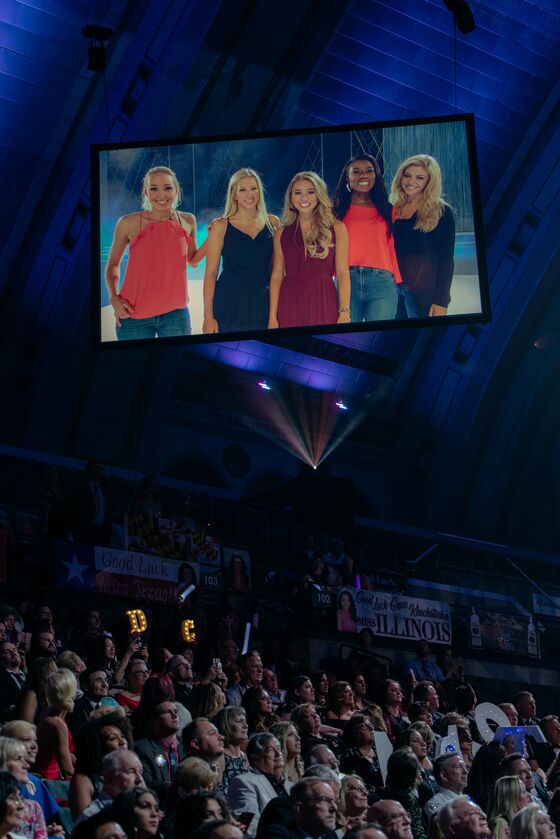 Mund says Hopper told her about the swimsuit changethe day before Carlson announced it on Good Morning America in June. For the most part, Mund played her role dutifully. "Instead of the outer beauty, we're focusing on the inner!" she told TMZ right after the announcement. But she balked at reading a statement she says Carlson and Hopper provided, which included the sentence, "#MeToo started with a Miss America, Gretchen Carlson, who has now donated her time to empower women." Mund says she told Hopper she didn't want to say Carlson started #MeToo, because it wasn't strictly true. (The hashtag was started by activist Tarana Burke and popularized by actress Alyssa Milano.) After that, she says, MAO didn't send her on many interviews.
In August, Mund sent a 3,200-word letter to a group of former Miss Americas detailing the way she'd been treated by Hopper and Carlson; the letter was quickly leaked. Two days later, Carlson released a public statement on Twitter denying the bullying allegations and claiming that Mund's airing of grievances had cost the organization $75,000 in sponsorships. Carlson also said she'd tried to talk to Mund, but she refused to discuss anything in person or over the phone. Mund disputes this and says Carlson called her once, late at night, when she was asleep. "I've learned at this point that everything needs to be in written form," Mund says.
MAO hired an outside firm, Employment Practice Solutions Inc., to investigate Mund's allegations. Over two weeks, EPS interviewed 14 people associated with Miss America. Mund, who by then had hired an attorney, told EPS that she would be in Atlantic City for a good portion of that time fulfilling her Miss America duties and said she would answer all questions after the pageant concluded. On Sept. 10, the day after the Miss America telecast, EPS released a formal report of its findings, a copy of which was obtained by Bloomberg Businessweek. It absolved MAO and Carlson of any wrongdoing. Mund was never interviewed.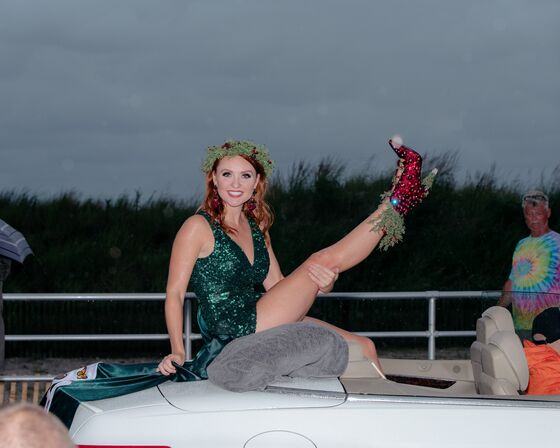 The final night of Miss America 2.0 opened with a Beyoncé song. Based on their preliminary scores, the 51 contestants were whittled down first to 15 and then to 10 finalists, who danced, sang, and reiterated their charity pitches. The show felt like a well-executed, appropriately inclusive commercial, though it wasn't clear what it was selling.
One contestant cut early was 24-year-old Emily Sioma, whose only on-camera moment came when the women introduced themselves during the pageant's opening number. Sioma's official platform was sexual-violence awareness. But she lives in Michigan, where the town of Flint has lead-poisoned water and Detroit public schools have declared their drinking fountains unsafe. When the camera panned to her, with her hands on her hips, she said, "From the state with 84 percent of the U.S. fresh water but none for its residents to drink, I am Miss Michigan." What she said had no effect on her fate in the competition. But these were the few seconds afforded her, and Sioma took her opportunity. The moment exposed how superficial the changes to Miss America really were. If you want to empower women, you have to let them think and act and speak for themselves in a way that's meaningful. Even if you don't like how they're standing or what they have to say.
Only 4.3 million people tuned in to watch Miss America this year, fewer than the number who watch Big Bang Theory reruns. At the end of the night, Mund gave up her crown to New York's Nia Franklin. But before that, she managed to sneak in another act of defiance.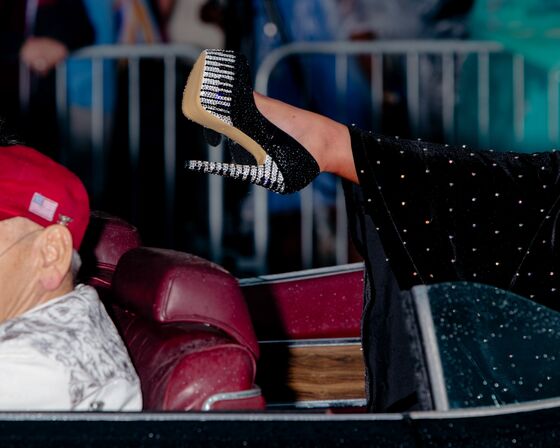 One of Miss America's kitschier traditions is the Show Us Your Shoes Parade the day before the final, when contestants dress up in state-themed costumes—this year's Miss Alabama was a NASA astronaut, Miss Georgia a Coca-Cola bottle, etc.—and ride on the back of convertibles, kicking bedazzled stilettos (or, in the case of Miss Montana, hiking boots with plastic bison glued to them) in the air as high school marching bands follow behind.
The reigning Miss America always rides on the first float, wearing a long, flowing ball gown. Mund was having none of that. "I wanted to be Wonder Woman," she says. Earlier in the summer, MAO approved the idea and let her work with a costumer to design the ensemble, she says. After she spoke out, she was informed that Sherri Hill, a popular pageant dress designer who'd agreed to sponsor Miss America, was demanding she wear one of her creations. Mund talked to Hill, who didn't remember making any such demand; in fact, she loved the Wonder Woman idea. Mund, adhering to her rule about getting things in writing, asked Hill to confirm her approval in an email. "Go rock it!" Hill wrote.
Minutes before the parade was to start, with the floats lined up and spectators gathered along the boardwalk, Mund's tour manager pulled her aside and asked her to change. "She said they had a contract with Sherri and she wanted me in a dress," says Mund. "I said, 'Oh, don't worry. I have verbal and written communication from Sherri that I can wear this.' " Her tour manager stepped away for a few minutes. When she returned, Wonder Woman was miraculously approved.
"She told me she was just doing her job," Mund recalls. "I said, 'And so am I.' " Then she picked up her superhero shield and boarded the float.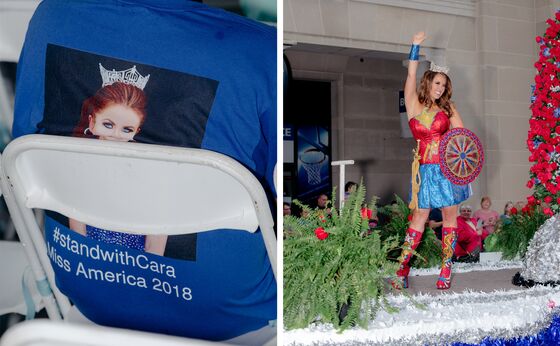 To contact the editor responsible for this story: Jillian Goodman at jgoodman74@bloomberg.net, Jeremy Keehn