Elon Musk Doesn't Need a COO. He Needs a New Board
(Bloomberg Businessweek) -- After what's been quite a summer for Elon Musk and Tesla Inc., the company he runs, the strain is not so much showing as being broadcast (and tweeted) live. But don't worry. This isn't the start of a psychological profile of an embattled entrepreneur.
This story is about something else: practical help in the C-suite. Musk's recent behavior—not least August's bizarre buyout deal that wasn't—has revived calls for Tesla to appoint a chief operating officer or someone similar to lighten the burden of disrupting cars, energy, and the rest of it (and maybe give Musk some extra time to sleep).
This makes a lot of sense. Except for one thing: It won't work. Not unless a deeper problem gets fixed first.
Even as the noise around Tesla has turned up, its board of directors has stayed relatively quiet. When Musk blew up a Tuesday afternoon with an Aug. 7 "funding secured" tweet, it took almost a full day for several directors to release the briefest of public responses. The delay and lack of detail were only the first indications that the board seemed to be playing catch-up with its maverick chief executive officer (and chairman). The board then took almost a week to announce a special committee—while also acknowledging it hadn't yet seen a formal proposal from Musk—and the whole episode ended 10 days later. The repercussions, including a class-action lawsuit, linger on.

In one respect, a board's relationship with the CEO is like that of a parent with a teenager: providing latitude to grow and thrive while also keeping wilder instincts in check. In Tesla's case, this is trickier than usual, because Musk is the largest shareholder, the chairman, and the central character in the stock's narrative of innovation and disruption.
Yet that makes getting it right all the more essential. "Musk is such a force and a big shareholder. You need a very independent and robust board to hold him accountable," says Aeisha Mastagni, a portfolio manager in the corporate governance unit of the California State Teachers' Retirement System, known as CalSTRS.
Very independent this board isn't. That Musk's own brother, Kimbal, a food entrepreneur, is still a director eight years after the company went public isn't the only issue, but it epitomizes the problem. Tesla, which declined to comment for this article, did appoint two new directors in 2017, Linda Johnson Rice of Johnson Publishing Co. and James Murdoch of 21st Century Fox Inc. This was in response to calls for reform following the 2016 SolarCity Corp. acquisition, described at the time by proxy advisory firm Glass, Lewis & Co. as a "thinly veiled bailout" of a company in which Musk was both chairman and a major shareholder and his cousin was CEO. The board recommended that deal—or rather, a minority did: Most directors at that time recused themselves over potential conflicts of interest.
Given everything that's happened since, one wonders exactly what's changed. As a senior officer at a large state pension fund put it earlier this month: "Much of what concerned investors last year really is being played out now on the front pages." Two proxy advisory firms recommended shareholders vote against Murdoch at this year's annual meeting. (He remains.) Tesla has also successfully fended off calls for reforms such as splitting the CEO and chairman roles, getting rid of staggered elections for directors, and adopting "proxy access," which allows shareholders to propose their own board candidates. In short, there's little evidence of Tesla's board providing any meaningful check on Musk. And without that, appointing a COO ultimately isn't likely to work.
This assumes a credible candidate would even consider the job amid all the turmoil. For example, while Musk's weed smoking dominated headlines on Sept. 7, the real news that day was that Tesla's chief accounting officer quit after less than a month. He blamed "public attention" on the company and the "pace" of the work. Fair enough. But such things were hardly a secret before he took the job, so his departure is unnerving for anyone else considering a senior role there. Tesla's vice president for worldwide finance and operations is also said to be leaving, according to people familiar with the matter.
Even if he were fine with the turnover in the senior ranks, any new COO would surely demand some sort of guarantee that he could overhaul Tesla's operations without Musk countermanding him. But how could this board realistically provide such backing?
Imagine a scenario in which the hire recommends scaling back Model 3 production targets in the interest of efficiency and dispensing with talk of future products such as the Model Y altogether. From an operations perspective, that could make a ton of sense. Yet it would fly in the face of Musk's approach to date. Just as important, taking a breather to fix stuff is, for want of a better term, boring. That could turn off the more enthusiastic stockholders whose blue-sky expectations underpin Tesla's high valuation. The company's incumbent CEO-chairman-largest shareholder might lose patience and simply overrule the "help" absent credible cover from the board.
For now, Musk is sticking with trusted insiders. On the same day the chief accounting officer's resignation was announced, Jerome Guillen, an eight-year Tesla veteran, was promoted to the new position of automotive president. Having masterminded the tent production line that helped Tesla hit its target of building 5,000 Model 3 cars in the last week of June, he will oversee the core car operation and supply chain—reporting to Musk, of course.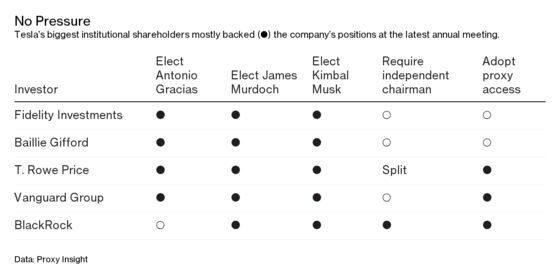 The big asset managers at the top of Tesla's shareholder register (just below Musk himself) have largely been unwilling to criticize the board in public or vote against its positions. It's possible they worry that even if governance reforms make intrinsic sense, they could hit the stock in the short term.
Pension funds have tended to be more vocal but hold smaller stakes. They have a longer horizon and a vested interest in fixing structural problems even if reforms might prompt a sell-off in the near term.
New York City Comptroller Scott Stringer, fiduciary to five public pension funds, said, "The board is there to oversee the work of the CEO and the company to ensure it remains on a healthy track for the long term. It is time for the independent directors to take a hard look at Tesla's governance and compensation structures to ensure that there are proper processes in place for strong board independence and oversight."
Musk surely could use an extra pair of hands. But it won't do much good if he remains free to simply slap them away whenever he feels like it. —Denning is a columnist for Bloomberg Opinion
To contact the editor responsible for this story: Howard Chua-Eoan at hchuaeoan@bloomberg.net, Dimitra Kessenides