Can Crypto, Cannabis, and Nicolas Cage Boost Puerto Rico's Economy?
(Bloomberg Businessweek) -- Just months after Hurricane Maria swept through Puerto Rico, wrecking the island's power system, demolishing or damaging one-third of its homes, and killing almost 3,000 people, Brock Pierce showed up in San Juan with a message: Blockchain is here to help.
In a February speech to the Puerto Rico Investment Summit, the child actor-turned-entrepreneur talked about the island's failing infrastructure and suboptimal food supply, implying that his expertise with the technology that underlies cryptocurrencies could address the most vexing challenges facing the U.S. territory.
"Together as one, we can do great things, and everybody can win," said Pierce, who appeared in Disney's The Mighty Ducks and several other Hollywood movies before retiring from the business at age 17. A pair of screens flanking the stage had been projecting the word "ME" in a bold black font. The letter M slowly turned upside down to make "WE." In short order, Governor Ricardo Rosselló established a blockchain advisory council to promote the development of the business.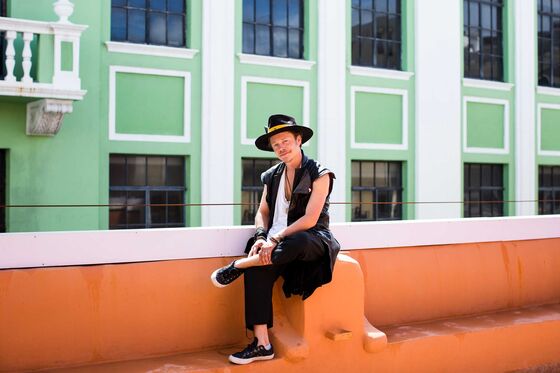 As Puerto Rico struggles to rebuild an economy battered by the September 2017 storm and a decade-long recession, Rosselló is putting government resources behind financial technology, medical marijuana, and movie production, among other propositions. His initiatives resemble a venture capital portfolio, in which many small bets are placed on risky but potentially transformational businesses in hopes of chancing upon the next Facebook or Google. "We want to put some of our biggest bets in some of these areas and direct incentives toward what has the greatest return," Rosselló said in an interview on Aug. 17 in San Juan.
Puerto Rico's gross national product contracted about 7 percent in the 12 months ended June 30. But the local economy was in a shambles even before the hurricane hit. The government's free-spending ways and easy access to Wall Street money collided with the economic downturn, triggering a $74 billion bankruptcy. Economists trace the slump to the phaseout of a federal tax provision that turned Puerto Rico into a major production hub for pharmaceuticals. During the 10-year sunset period, which ended in 2006, scores of companies left, taking thousands of high-paying jobs with them.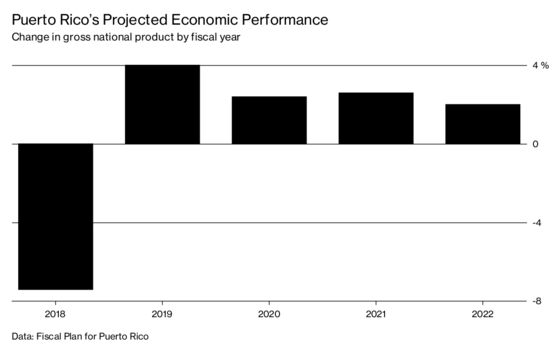 An influx of federal aid is expected to buoy growth to 4 percent this year, but projections by the governor's office show it falling off sharply thereafter. That's why Rosselló is scrambling to create new lures for investors. In July he joined timeshare mogul Keith St. Clair at the groundbreaking for a $70 million film studio, where both men donned the obligatory white hard hats and posed with shovels in front of a mound of dirt. The complex, in which St. Clair is the main investor, is going up on government-owned land, although the Rosselló administration won't divulge what it's charging for the 40-year lease.
Filmmakers say the island is prized for its tropical outdoor settings—and tax credits of 40 percent on payments to resident crew and 20 percent to nonresident talent. (Rosselló has been trying to sweeten the deal with legislation to convert tax credits into a cash rebate, though many legislators are pushing back.) What's been lacking, the project's backers say, are indoor sets and editing capabilities.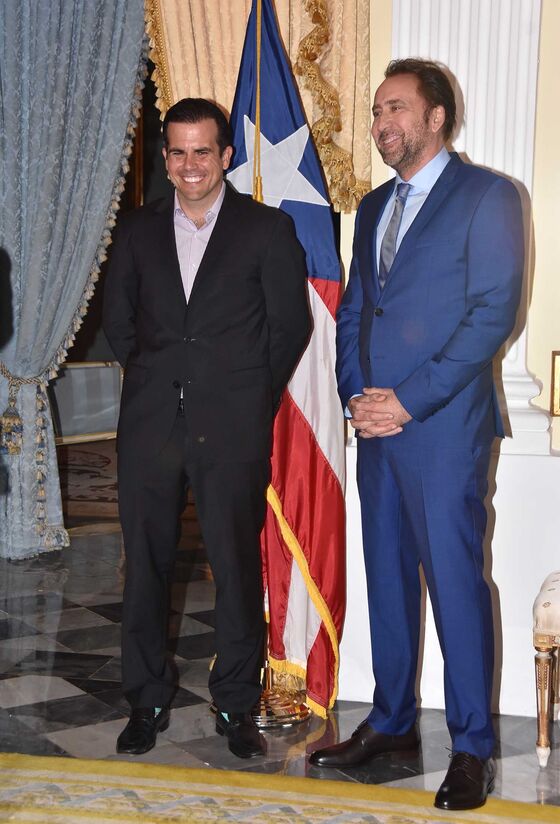 The governor's office projects the 180,000-square-foot Puerto Rico Film District will create more than 1,325 direct and indirect jobs, plus 350 in the construction phase. It will have sound studios, dressing rooms, conference areas, and editing and postproduction capacity. The government said it hoped to build on the $256 million in income the industry generated in the previous 18 months. The island recently hosted film crews for The Last Thing He Wanted, a Hollywood adaptation of a Joan Didion novel starring Anne Hathaway, and Primal, in which Nicolas Cage plays a big-game hunter overseeing the capture and transport of a rare Amazonian white jaguar. At a press conference at the governor's mansion in April, the American actor said he was "mesmerized by the beauty" of Puerto Rico.
Rosselló is also trying to capitalize on the great American weed rush. Medical marijuana got off to a slow start in Puerto Rico after its legalization three years ago by executive order, because of unclear rules. But six months after taking office in January 2017, Rosselló signed a comprehensive law that firmly placed the commonwealth among 34 jurisdictions where medical cannabis is legal. Puerto Rico's department of health this year published detailed guidelines for the industry.
Rosselló, who has a Ph.D. in biomedical engineering and once founded a pharmaceutical startup, hopes to turn the island into a center for marijuana innovation, led by the University of Puerto Rico. Under a 2017 law he shepherded, the university's researchers would get 50 percent of all administrative fines from the new industry. All told, the industry may generate as much as $18 million in tax revenue next year, according to finance ministry projections.
NextGen Pharma, a local business, has spent $10 million to turn an old government building in Toa Baja, a municipality bordering San Juan, into a growing facility that houses 3,000 marijuana plants. The proprietors, who say they have more real estate for expansion across the street, play music for their weed. "A happy plant makes for a good product," says partner Carmen Serrano.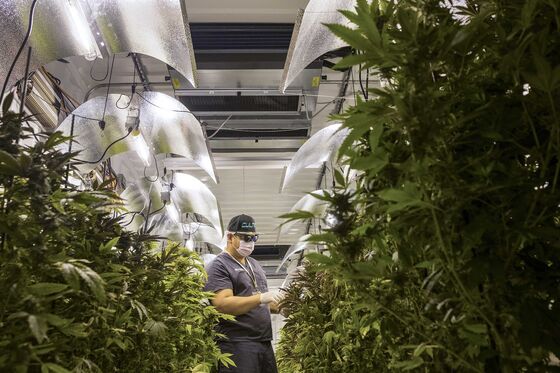 Others are weighing investments in a less glamorous variety of cannabis. Industrial hemp, which can be turned into plastics, clothing, and medicines, may soon become legal across the U.S. as part of a federal farm bill. While dozens of jurisdictions will race to profit from the change, proponents say Puerto Rico's tropical climate will provide a longer growing season than most U.S. states.
Even more ephemeral than wafting marijuana smoke is the digital technology known as blockchain, which has a diverse crowd of enthusiasts and promoters. At the February investment conference, Pierce said his blockchain comrades were already picking up and moving to Puerto Rico in significant numbers. Pierce, who resides in Puerto Rico and can often be found rambling around the streets of Old San Juan in his signature black brimmed hat and sandals, says he'd previously envisioned building a community of crypto investors on the island, but the hurricane prompted him to accelerate the timeline. 
Puerto Ricans aren't universally enthusiastic about an invasion of blockchain missionaries, which some have decried as crypto-colonialism. At a forum in Rincón, Pierce seemed genuinely taken aback as he was shouted down by furious residents. "Taking advantage of our vulnerability, these saviors have come to change our lives and bring us hope," says Alex Aguilera, a 49-year-old publicist and a vocal opponent of the movement. "This has happened many times throughout history, and each time, under the weight of these calamities, we've fallen back on our low self-esteem and opened the door to people like this." 
Nor has Rosselló's try-anything approach won unanimous support. He's struggled to win backing from lawmakers for his proposed film industry incentives, even though his New Progressive Party has a majority in both chambers. That's not deterring him, though. On Aug. 23 he was back on a dais, this time in front of a room of scientists at a conference organized by the Puerto Rico Agricultural Biotechnology Industry Association. There was no word yet on what financial inducements his government might proffer, but his pitch was vigorous. "Innovation has a critical role in the development of our economy," he told the assembled crowd.
To contact the editor responsible for this story: Stephen Merelman at smerelman@bloomberg.net, Cristina Lindblad