The Future of Air France Depends On Becoming Less French
(Bloomberg Businessweek) -- Air France-KLM's offices in central Paris might reside in the finest piece of airline-controlled real estate in the world. They're housed in an elegant limestone pile on the riverfront Esplanade des Invalides, all sharp cornices and generous arched windows. Immediate neighbors include France's Ministry of Foreign Affairs and the Palais Bourbon, which hosts the National Assembly. The airline moved most of its operations next to Charles de Gaulle Airport long before its 2004 merger with its Dutch counterpart KLM, but it has hung on to the Invalides pavilion for special events—such as the gathering Air France-KLM's then-chief executive officer, Jean-Marc Janaillac, called for one Friday evening in May.
A couple of weeks earlier, he'd tried to resolve a stalemate over pay with Air France unions by proposing an employee referendum. To focus minds on the plebiscite, Janaillac, a former public-transit executive who'd become CEO in 2016, made a confident, even reckless, promise: If his plan, which provided for a modest raise while preserving enough cash to buy new planes, failed to win majority support from the rank and file, he would resign. The morning before his planned appearance, Le Parisien reported that he was headed for a comfortable victory.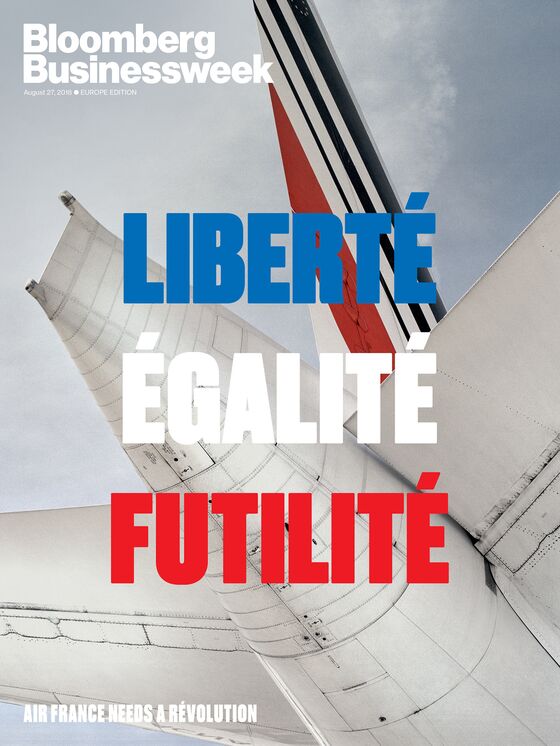 A little after 6 p.m., Janaillac entered a bright, wood-paneled briefing room, wearing a sober gray suit over a light-blue shirt and navy tie. He's 65 and mostly bald, with sharp features and a pronounced nose. He tends to look gaunt at the best of times, but that day he was obviously fatigued. As he began speaking, whispered word of the results spread through the audience. With more than 80 percent of staff participating, a solid majority of employees had voted no. "I take responsibility for the consequences of this vote, and I will submit my resignation in the coming days," Janaillac said gravely. "I hope my departure will permit a collective wake-up call and prime the conditions for a rebound."
His resignation plunged the airline into perhaps the most severe internal crisis of its history. Air France-KLM, a union of two of Europe's most recognizable brands, one the leading carrier of the world's most-visited country, spent three months in a leaderless stasis before finally appointing Ben Smith, Air Canada's 46-year-old chief operating officer, on Aug. 16. Unions have already signaled plans for further strikes, adding to a series of walkouts that have enraged passengers and cost €335 million ($386 million). After months of disruption, Air France-KLM's market value is a little over $4 billion, down from $7 billion at the start of the year and an eighth the value of cheap-and-cheerful Southwest Airlines Co.
The problems at Air France are all the more embarrassing in light of a global aviation boom and a run of robust performance at KLM, which has a more competitive cost structure. Relations between the two airlines, which maintain distinct operations, are, by most accounts, tense. French pilots complain that managers at the corporate parent are shunting traffic to more-profitable Amsterdam, shifting the company's balance of power away from Paris. Politicians in the Netherlands are grumbling that a prized national symbol, and one reaping the benefits of old-fashioned Dutch parsimony, has been lashed to a financial albatross.
The crisis is of particular concern to France's 40-year-old president, Emmanuel Macron, who came to office pledging to reinvigorate the economy by thinning the nest of regulations that bind public and private life. The state holds 14 percent of Air France-KLM's shares and about a quarter of its voting rights, giving it a de facto veto over strategic decisions. (Delta Air Lines Inc. and China Eastern Airlines Corp. also hold large stakes.) For Macron, this shareholding creates an exquisite dilemma. On the one hand, he and his coterie of young, economically liberal advisers are eager for Air France to show the country breaking out of its old ways of doing business, to say nothing of reviving the value of the state's investment. On the other, Macron can ill afford an angry, extended confrontation with middle-class workers who are being pressed to accept financial pain; already, his popularity is plunging over measures such as gutting France's long-standing wealth tax, which have critics painting him as "the president of the rich."
Ugly labor disputes are nothing new in France, and especially not at Air France. It didn't earn the sobriquet Air Chance for nothing. Usually a face-saving compromise is found, warnings that deeper change will be required are dutifully dispensed, and the relevant cans are kicked a sufficient distance down the road. This time feels different, though. The European airline business, already highly competitive, has achieved Visigothic savagery.
Aviation rules within the European Union are borderless, meaning that a company based in any EU country can operate routes to, from, and within any other. That has allowed Ryanair Holdings Plc, EasyJet Plc, and an alphabet soup of smaller budget operators to dominate short-haul flying. Profits on eastern long-haul routes, meanwhile, are under assault from Emirates Airline and Qatar Airways, which can connect passengers cheaply and in huge volumes through Dubai and Doha. Most alarming of all for Air France, which gets a large share of its earnings from the trans-Atlantic market, is the rise of low-cost long-haul carriers such as Norwegian Air Shuttle ASA.
It's not an environment that forgives extended internal crises or out-of-whack costs—and the airline's leaders know it. "Customers are demanding that we get our act together," Pieter Bootsma, Air France-KLM's executive vice president for commercial and revenue strategy, said in a July interview. "We need to change. If we don't change, we die."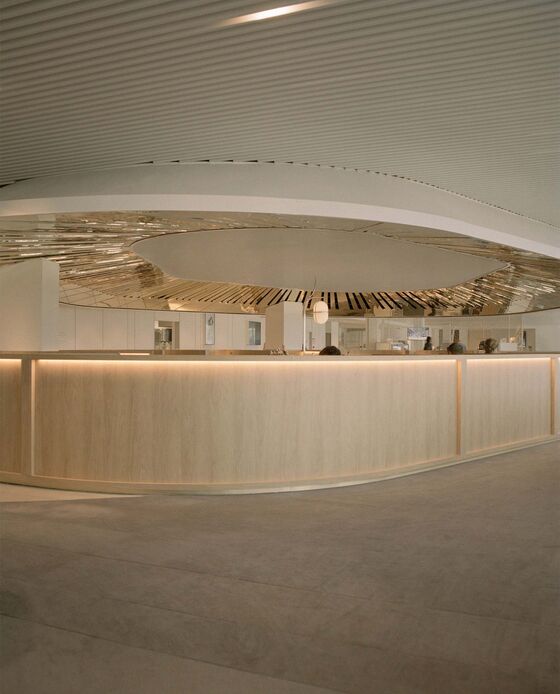 For a long time, Air France was a proud symbol of French stylistic and technological ingenuity. The airline essentially inaugurated the 1950s Jet Age in Europe, with the silvery twin-engine Caravelle. The following decade it introduced stewardesses' uniforms created by Dior, and a decade after that it began flying the Concorde, a needle-nosed ambassador from the future with interiors by notable Parisian designers. More recently it was the first European operator of the French-built A380 superjumbo—a vision of aviation-to-come that has come, like the Concorde, to not much.
Air France has made concessions to the utilitarian realities of 21st century flight, but it still aspires to a certain Gallic sensuousness. Food in La Première, its tastefully appointed first class, is curated by superstar chefs, including the late Joël Robuchon, and rather than consign its passengers to clear their Eustachian tubes with mere spearmint, it offers its own gum in crème brûlée and pistachio-macaron flavors. But those indulgences no longer satisfy even French consumers, who are proving just as fond of the Greyhound-with-wings model of air travel as their European neighbors.
The merger with KLM in some respects anticipated this moment. It was conceived along lines that the famously chauvinistic President Charles de Gaulle might have approved of—a manifestation of European integration led by France and managed from Paris. Yet Air France-KLM was to be an explicitly postnational project, one that would vault both companies beyond the old flag-carrier model. "The huge European single market obviously implies the setting up of truly pan-European operations," Leo van Wijk, KLM's then-boss, said when the deal was announced. "The dominant factor of national airlines will disappear." Europe was littered at the time with undersize and dysfunctional carriers—Swissair and Belgium's Sabena, once iconic brands, had collapsed a couple of years before—and Air France and KLM had no intention of being among them.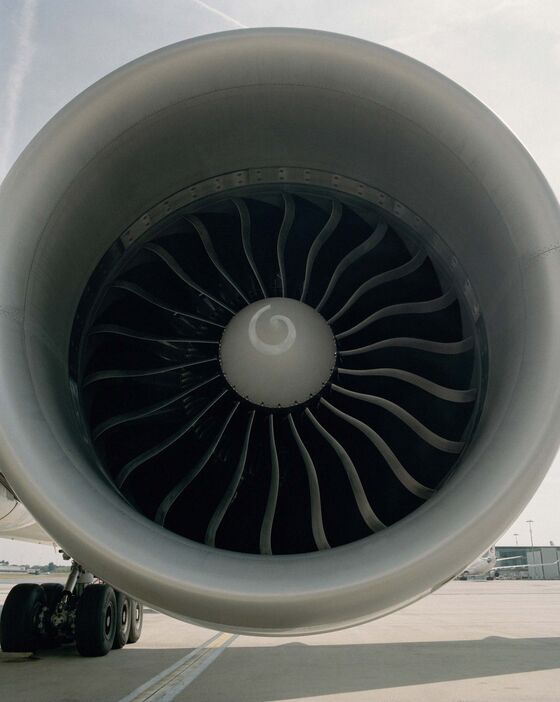 It looked promising at the outset. Air France-KLM began as the world's largest aviation group by revenue, with an unparalleled global route network, world-class hubs in Paris and Amsterdam, and complementary regional footprints. In the following years, its traffic grew impressively, and rivals became concerned enough to start copying its strategy: British Airways eventually merged with Spain's Iberia, and Deutsche Lufthansa AG absorbed competitors in German-speaking Europe. But as the Ryanairs and EasyJets multiplied, everyone had to cut costs sharply, then keep cutting—something Air France was slower to do.
The carrier's recent performance had offered hope that the worst of the budget-airline onslaught was over. Last year was one of Air France's most profitable, thanks to low fuel prices, a robust European economy, and earlier efficiency efforts championed by Janaillac. Any celebrations were brief, however. In February a group of 10 unions representing pilots, flight attendants, and ground crew requested an immediate 6 percent pay increase, after years of frozen compensation, to reflect those results. When Janaillac refused, arguing that it would bust budgets and jeopardize plans such as replacing Air France's aging short-haul fleet, workers went on a series of rolling strikes: 15 days of walkouts over about three months, each forcing the cancellation of as many as a quarter of the airline's scheduled flights. The situation prompted Janaillac's failed referendum proposal. When trading opened the Monday after he resigned, Air France-KLM shares fell more than 14 percent, their steepest intraday drop in more than a decade.
Janaillac's replacement will have to contend with Philippe Evain, the head of Air France's largest pilots' union, SNPL. Evain was the public face of the strikes, which were the culmination of a dogged strategy he's pursued since taking the role in 2014. If there were such a thing as a syndicaliste action figure, he'd make a good model. Lantern-jawed, sandy-haired, and much taller than 6 feet, he towers over the podiums from which he periodically delivers ultimatums to Air France managers. During an early morning interview in his bare office on the edge of Charles de Gaulle Airport, a navy-blue uniform was hanging on a coat rack at one end of the room; Evain still flies 8 to 10 days a month. On the door, someone had placed a red sticker that summed up his tenure leading the union: "Pilotes en grève" ("Pilots on strike").
In Evain's telling, Air France's operating costs aren't meaningfully higher than those of its rivals, and its performance is solid. "The company has been largely profitable since 2014," three years after front-line employees' last significant raise, he said. The problem, he argued, is France's cumbersome regulatory regime. Like all French employers, the airline pays some of Europe's highest social charges (payroll taxes, effectively), while also shelling out for the steep fees charged by Aéroports de Paris, or ADP, the semiprivate owner of Charles de Gaulle. "There's always a billion missing" because of the demands made on Air France, Evain said. "But [company leaders] say to employees, 'Look, your results are worse, so you have to shape up.' "
Though some employees' gripes can seem out of step with commercial realities—one controversy not long ago involved the elimination of the gâteau équipage, the dessert provided to cabin crew on long-haul flights (the cheesecake on the New York hitch was a favorite)—Air France-KLM executives agree with this critique. "We have a huge issue with the competitive environment in France," Laurent Timsit, head of international affairs, said in an interview. "When you're close to being the most expensive on everything that has to do with airport and navigation charges and taxes, and you're really much above everybody on social charges, then of course you have a difficult situation." The company has complained especially bitterly about airport fees, which could rise further as Macron proceeds with plans to fully privatize ADP. "If you create a private monopoly, and you're not able to regulate it properly, you've made a big mistake," Timsit cautioned.
But aviation executives and industry analysts tend to dismiss regulatory challenges as Air France's principal issue. Unlike British Airways, Lufthansa, and American Airlines, Air France has yet to make the wrenching adjustments—­gâteau équipage notwithstanding—required to bring operations in line with what contemporary customers are willing to pay. Its salaries are comparable to those of its European peers, but because of restrictive collective-bargaining agreements its pilots and cabin crew tend to fly less, and on a less flexible schedule, according to a former senior executive.
That means it costs Air France more to run the same number of flights than it costs Lufthansa or, for that matter, KLM. For an equal ticket price, the Dutch unit can fly the same passenger more profitably via Amsterdam than Air France can via Paris. KLM's operating margin last year was 8.8 percent, compared with 3.7 percent at Air France, and the company as a whole is managing its traffic flows accordingly. The percentage of connections scheduled via the French capital is now about 58 percent, down from 63 percent at the time of the merger. Janaillac told staff before his departure that Paris's share would increase soon, but the changing balance has contributed to a creeping sense among employees that power and resources within Air France-KLM are shifting. "The wealth of the company is leaving for Amsterdam," Evain said.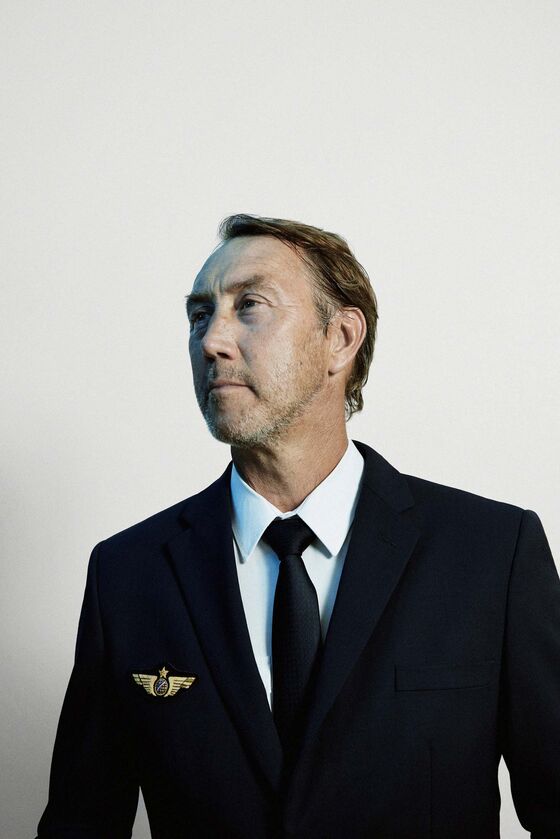 Despite the mutual suspicions, large chunks of Air France's and KLM's operations have been integrated to some competitive advantage. About 12,000 of the airlines' roughly 83,000 employees work on combined functions, such as staffing check-in desks and lounges at foreign airports. The same goes, partially, back in Paris and Amsterdam. At Air France's operational headquarters, a warren of concrete low-rises adjacent to Charles de Gaulle's taxiways, one wing is devoted to an airy, trading-floor-style hall where analysts from a joint "revenue management" department game out what customers might be willing to pay for each flight. Their goal is to profitably fill every seat by the time boarding commences.
On a recent tour, many of the staff were tall, blond, and almost cartoonishly Dutch, though their work is conducted exclusively in English. That way, said Fahmi Mahjoub, vice president for pricing and revenue management, "we're all speaking our second language, so everyone's on the same level." Viewed from this part of the operation, the ideal of a borderless megacarrier seemed realistic. Clusters of desks were identified not by brand but by little flags denoting the destinations served. Flights to Brazil were in one corner, India in another, with the same teams responsible for filling both sets of jets. From their perspective, there was no difference between an Air France flight and a KLM one.
Elsewhere in the complex, it was apparent that Air France was trying to muster an energy befitting the namesake airline of the confident, outward-looking nation Macron says he wants France to be. Top executives sit alongside everyone else in an entirely open-plan layout, a rare arrangement in a country where corporate hierarchies are more rigid than in the English-speaking world. The space where the social media department works is pocked with glassed-in conference rooms with tech-y names such as 404 Page Not Found and #HASHTAG. The stark white desks were populated by casually stylish, overwhelmingly young staff crouched over new Lenovo laptops, including a group ministering to Louis and Lucie, Air France's new customer-support chatbots.
Some of the efforts at revitalization have seemed merely cosmetic, even frivolous. One of Janaillac's primary initiatives was the introduction of Joon, a sub-brand pitched ostensibly at millennials ("jeune" is French for "young"), with flight attendants in trim electric-blue polo shirts and white Stan Smith-style tennis shoes. Joon has taken over routes between Paris and Berlin, Lisbon, and Rome, among others. Some staff were dismayed to see such concessions from a company with ties to design houses like Dior and Balenciaga, especially on flights to top-drawer European capitals. "These are routes where we have historic links," Jean Sautereau, an Air France long-haul pilot, said in an interview. "We're going to serve our clients with flight attendants wearing sneakers?" Industry analysts were also confused, given the spotty history of the airline-within-an-airline concept. (Remember United's Ted or Delta's Song?)
Janaillac didn't respond to interview requests for this story, but there was evident method to Joon. Though Air France has said it doesn't consider the unit, which now has 15 aircraft, to be a low-cost carrier, creating a new legal entity meant it could be staffed with flight attendants who aren't subject to past agreements on pay and working conditions. (Pilots are still drawn from the general pool.) It's designed to help stem losses on the short-haul network, serving cities with intense competition from budget flights and relatively few business travelers. Long-haul routes with similar characteristics are next. Agreements with unions cap Joon's size at 28 planes for now, but it will account for the lion's share of future traffic increases.
Competition will only intensify further. EasyJet opened its sixth French crew base in March. Ryanair, which had long avoided basing aircraft in France because of steep taxes and pro-union laws, is considering doing the same. And in early July, executives from International Airlines Group SA (IAG), the British Airways and Iberia parent, gathered at Orly Airport to celebrate the first French flight by Level, a new low-cost, long-haul brand it developed in-house. Air France-KLM has evaluated doing the same thing, with an even more stripped-down template than it used for Joon. Whether to proceed will be, like so much else, a decision for its new leader.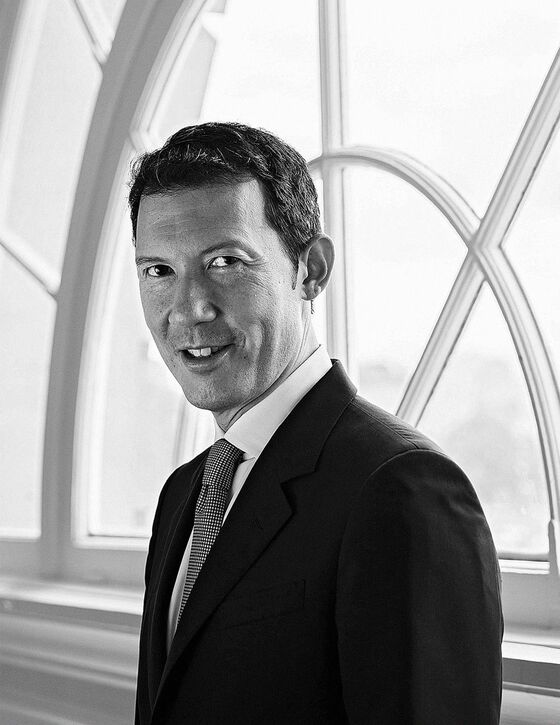 There are good reasons why it took Air France-KLM so long to replace Janaillac: For one thing, the job could very well end in failure and humiliation, without being much fun along the way. The first attempt to name a successor didn't go well. In June, as the board committee responsible for nominating candidates was preparing to endorse Philippe Capron, chief financial officer of the utility group Veolia Environnement SA, the news leaked, prompting outrage from shareholders who objected to his lack of transport experience. Decision-makers at Bercy, the vast brutalist complex in eastern Paris from which state holdings are managed, were of the same view, according to an official who asked to remain anonymous; they made clear to Air France-KLM directors that they wouldn't sign off.
The search was further complicated by Air France-KLM's customarily stingy executive pay. With compensation of about €1.1 million, Janaillac was the lowest-paid major-airline CEO in Europe last year; IAG's Willie Walsh made more than €4 million. The field was also at first seemingly limited to French candidates. Air France-KLM's boss had never been a citizen of any other country, in keeping with the original vision for the group as two-thirds French and one-third Dutch.
But as the hunt for a new leader wore on, Macron's government proved flexible on both points. That opened the door for Air Canada's Smith, who will receive annual pay of up to €4.25 million, and whose appointment was enthusiastically endorsed by Finance Minister Bruno Le Maire even before it had been officially announced. Smith will take over by the end of September.
The threatening Canadian is a rare C-suite species, but unions aren't exactly throwing a welcome party for the new CEO. Although Smith is a French speaker who rose from running a travel agency to become COO of Canada's largest airline, labor groups immediately condemned him for having the wrong passport. In a statement issued the morning he was appointed, a group of nine unions declared it "inconceivable that Air France, a French company since 1933, would fall into the hands of a foreign executive" at a time of rising protectionism elsewhere. Unsurprisingly, they also took issue with Smith's salary. Sweetening a CEO's compensation while demanding concessions from workers tends to go down in France like a stale baguette.
Despite the government's eagerness to reform Air France, Smith—who negotiated Air Canada's most recent labor deals, striking unprecedented 10-year agreements with both pilots and cabin crew—can't be assured of Macron's backing in a confrontation with workers. The administration has so far taken a hard line, blocking a recent compromise pay deal in the hopes of applying what the anonymous official termed an "electric shock" to Air France, and dispatching Le Maire to warn the public that the airline could "disappear" if it doesn't become more competitive. But French leaders have a long history of backing down on painful reforms when protests threaten to exhaust their political capital. The picture might be only somewhat better for Smith in the Netherlands, where KLM pilots are considering a strike to reduce their workload.
Working in his favor, operations returned mostly to normal at Air France for the critical summer travel season. The carrier can still capitalize on robust tourism to Paris and other French destinations, which benefit from arguably the best national brand on the planet. And despite the regulatory challenges Macron is trying to address, France remains the euro zone's second-largest economy, with outstanding physical and educational infrastructure, substantially higher labor productivity than the U.K., and a more dynamic business climate than it sometimes gets credit for. France's larger companies are, in the main, as strong as any in Europe, and despite its particularly fraught relationship with employees, it's quite possible that a reinvigorated Air France could join them.
To get there, Smith will have to contend above all with the budget carriers' advance onto traditional airlines' most sacred turf: the trans-Atlantic market. At the vanguard is Norwegian, which has grown with astonishing rapidity. The Oslo-based carrier will be operating 32 fuel-efficient 787s by the end of the year, out of a total fleet of 165 aircraft—up from 13 in 2005. This hasn't been without risk: Norwegian is heavily leveraged, and its long-haul operations have struggled to make money. But it's proven popular well beyond its Nordic base, and it now flies about 60 intercontinental routes, mostly to the U.S. from a range of European capitals. Paris is one of those, with seven long-haul routes that load passengers directly across from Air France-KLM's executive offices.
With so many options for flights, it's no longer axiomatic that every nation needs its own airline. Hungary's Malev wasn't replaced after it went bankrupt in 2012, yet foreign budget operators now transport more Hungarians each year than Malev ever managed. Air France-KLM is at no risk of disappearing, of course, with net debt that's been dropping steadily and almost €26 billion in revenue last year (despite missed opportunities in flight catering and in its maintenance unit). The threat for the new CEO is more of irrelevance than oblivion—that the company, or at least its largest division, becomes an atrophied anachronism, bypassed by most citizens of its home country in favor of cheaper flights that are likelier to actually leave the ground, whatever the nationality of their operators.
The fathers of the Air France-KLM merger got one thing exactly right. European aviation really did become borderless. So much so that many consumers would struggle to name the countries where Ryanair and EasyJet are based, while Norwegian loads English and Spanish passengers onto planes whose tail fins depict Scandinavians such as Søren Kierkegaard and Greta Garbo. For Smith, the challenge is clear: Ensure that the pan-European ideal that inspired the creation of his company doesn't also diminish it.
To contact the editor responsible for this story: Jeremy Keehn at jkeehn3@bloomberg.net, Jim Aley