China Wants Only the Cleanest Trash
(Bloomberg Businessweek) -- China's Yunnan Xintongji Plastic Engineering Co. not long ago employed 180 people making construction pipes fashioned from the 3 million pounds of plastic trash it imported from the U.S. each year. Then in January, the Chinese government pulled the plug on lots of American junk and demanded exporters send only the cleanest plastic and paper waste, free of contaminants such as grease and broken glass. Without access to raw materials, XTJ had to lay off all but 30 of its workers and began running at 20 percent capacity.
So XTJ and its U.S. exporter, Atlanta businessman Song Lin, got creative. They're readying their own recycling plant south of Macon, Ga., to collect scrap plastic, clean it, and "pelletize" it before shipping it to China. Two other Chinese companies recently agreed to buy or build U.S. factories to acquire waste materials, some of which will be bound for the mainland, says Bill Moore, an Atlanta-based paper recycling consultant. And, based on his talks with industry contacts, a dozen more deals could be forthcoming, he says.
"These companies in China are absolutely starving for this material," says another recycling consultant, Bob Gedert. "Many have said they will close up shop if they don't get the materials."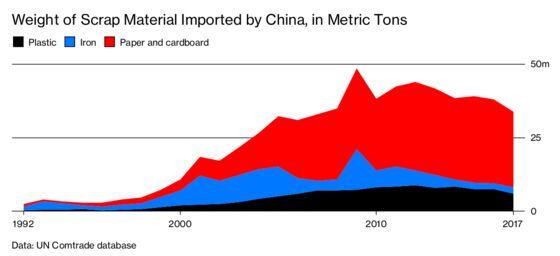 Modern economies depend on huge amounts of paper for everything from cardboard shipping boxes to packaging for consumer goods. But after decades of industrial expansion, China's ­forest resources are largely tapped out, says Hannah Zhao, an economist covering recovered paper for RISI Inc., a forest products industry research firm. That's made the country heavily dependent on imports of ­wastepaper, or "fiber" as it's referred to in the business, to run its paper mills.
So while China's import guidelines have rocked the global recycling industry, no one is feeling the pinch more than the country's own factories. Chinese manufacturers are hunting for assets in the U.S., Southeast Asia, and elsewhere, hoping to send back contaminant-­free recyclables that will get past newly strict inspectors. They plan to capitalize on the imbalance between cheap recyclables in the U.S. and soaring prices in China, where recovered cardboard is fetching 60 percent more than a year ago, RISI says.
In May a unit of Hong Kong-based Nine Dragons Paper Holdings Ltd. bought mills in Biron, Wis., and Rumford, Maine, from a Canadian company for $175 million. The mills will make paper and packaging products for North American customers, but may expand production to turn U.S. wastepaper into pulp—the raw ingredient of paper—and ship it to China, says Brian Boland, a vice president of Nine Dragons subsidiary ND Paper. The pulp will provide raw material for Nine Dragons' eight paper and container­board plants in China and one in Vietnam. "Nine Dragons is operating a number of mills, and they want to make sure they've got paper to run on," Boland says.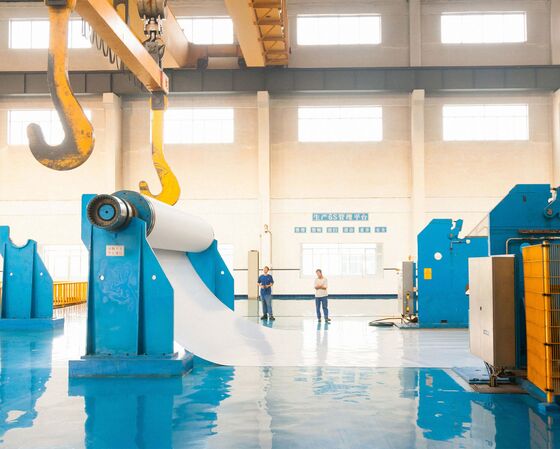 Following the same model is Ecomelida Inc., a recycler controlled by Zhangzhou Sanlida Environmental Technology Corp., based in China's southern Fujian province. It will collect Americans' used Tetra Pak cartons, which hold milk, juices, and broths found in grocery stores, and recycle their paper and plastic in a new $52 million plant in Orangeburg, S.C. Another of Ecomelida's U.S. production lines will make pulp out of discarded paper and send it to China. "If there's not enough raw material, we cannot grow," says Yang Huang, an executive vice president who oversees Ecomelida's U.S. operations.
For years, China had lenient standards for scrap imports, and much of the plastics and wastepaper that arrived in container ships was loaded with contaminants, such as cheese-encrusted pizza boxes. Much of it had to be discarded because those contaminants can't easily or economically be separated out. The government this year started demanding a cleaner trash stream in a bid to keep extra waste out of its own landfills.
American recycling programs and processing plants have struggled to meet the stricter standards. U.S. exports of recovered paper to China fell 39 percent in the first five months of this year, U.S. export data show. A ton of recovered cardboard fetches $74 in the U.S., where it sold for $170 a year ago, according to RISI. Some inferior grades of paper and plastic are bringing so little revenue that some U.S. recycling programs consider it to be more economical to stick it in landfills.
Giant waste hauler Waste Management Inc., which has a big recycling operation, expects the effects of the glut in recycled products to reduce its earnings by $100 million in 2018, double the impact it expected earlier this year. The company has found a new home for some of its "mixed paper," a low grade of recycled paper, in places such as India and Thailand, says Brent Bell, vice president for recycling. However, it's more expensive to ship recycled materials to those places than to China, which historically has had cheap rates thanks to a surplus of shipping containers on the U.S. West Coast that would otherwise have to return to China empty, he says.
A bigger worry is the recent news that China's Ministry of Ecology and Environment has proposed a rule that, if enacted, would ban imports of all forms of solid waste. An all-out ban would force U.S. recycling companies to find new outlets for America's waste. Says Joshua Zaret, a forest products senior analyst at Bloomberg Intelligence: "That would be horrible, because as bad as it is, can the rest of the world pick up that slack?" —With Jack Kaskey
To contact the editor responsible for this story: James Ellis at jellis27@bloomberg.net