American CEO Pay Is Soaring, But the Gender Pay Gap Is Drawing the Rage
(Bloomberg Businessweek) -- Heading into 2018, corporate ­leaders braced for ­public backlash: For the first time, thousands of ­publicly traded U.S. com­panies would be required by the U.S. Securities and Exchange Commission to disclose how much their chief executive officers made compared with their median workers.
Executive compensation has soared about 1,000 percent since 1978, while real wages for most Americans are up about 11 percent, according to an Aug. 16 report from the Economic Policy Institute. Putting a number to that differential was expected to cause outraged headlines and trigger criticism from investors and consumers on social media. Human resource chiefs, meanwhile, worried the disclosures would sow discontent among the rank and file, particularly those paid even less than the median.
When the numbers started coming out, they showed that CEOs of the 500 largest U.S. com­panies by market value received pay packages roughly 160 times larger than their standard ­employees', according to data compiled by Bloomberg. Individually, some of the ratios are staggering: At Weight Watchers International Inc., CEO Mindy Grossman's $33.4 million pay package for 2017 was more than 5,000 times bigger than the $6,013 earned by the company's median worker. (The company relies heavily on part-timers.)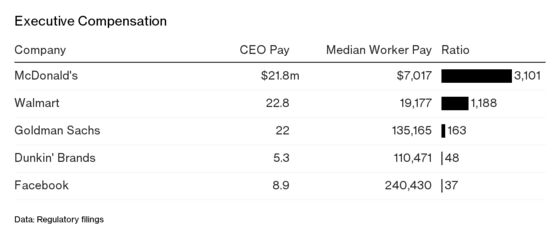 But the wave of disclosures coincided with a different discussion of inequities in the workplace, one that all but drowned out talk of CEO pay: the #MeToo movement. Although it began as a movement about sexual harassment, #MeToo gave renewed prominence to decades-old discussions about pay ­inequity between women and men. Laws prohibiting ­gender-based pay discrimination in the U.S. dating to the 1960s have helped narrow the divide, but the pay gap between men and women has remained stuck at about 20¢ on the dollar for the past 20 years. According to research published last year in the journal Gender & Society, when women are harassed at work, they often leave for fields that pay less. The closer a woman gets to the top, the more likely she is to face harassment, meaning that women are often shut out from the highest-paying jobs.
Among the companies whose images have been tarnished by allegations of gender pay disparities is Alphabet Inc.'s Google, which last year was sued for pay discrimination, and both Microsoft Corp. and Twitter Inc. have been sued for favoring male engineers for advancement. In response, corporate America has made a show of introspection and transparency where gender and pay are concerned. Companies including Nike, Starbucks, and Adobe Systems have announced sweeping adjustments of salaries to erase gender-based pay differences. In the U.K., companies with more than 250 employees in the country are required to publish pay information, broken out by gender, on a government website, drawing attention to pay differentials at U.S.-based companies with a large presence in Britain, including Goldman Sachs Group Inc. and JPMorgan Chase & Co. (Both have affirmed their commitment to a diverse workplace.) But that attention failed to extend to the CEO pay ratio data beginning to dribble out.
"Public pressure, the #MeToo movement, the U.K. wage gap disclosures, all of that coming together" helped elevate the conversation about gender pay differences, says Natasha Lamb, managing partner at Arjuna Capital, an ethical-­investment firm that's pushed for companies to disclose men-to-women pay ratios. The lack of attention on CEO-to-worker pay, she says, is "a missed opportunity to get to the core of income inequality and the fact that capitalism is working for capitalists while many others are left behind."
Keith Payne, a professor of psychology at the University of North Carolina at Chapel Hill, says part of the reason for Americans' uneven interest in gender vs. CEO pay can be traced to their concept of fairness. The nation's ingrained beliefs in the virtues of meritocracy and value of hard work help justify CEO pay in the public imagination. In general, humans are bad at wrapping their heads around big numbers and abstract statistics. "Pie charts and tables don't move us to tears," Payne says. "Stories and individual cases are much more effective, especially if it's relevant to aspects of our identities." Knowing that a CEO you've never met, who might not even work in the same office as you, out-earns you by a factor of 300 is typically less upsetting than learning about a 20 percent wage difference between you—a woman—and the man in the next cubicle.
The SEC's rule requires annual disclosures, and as data accumulate in the coming years, the CEO-to-worker pay ratio might eventually become more salient, says Rich Clayton, research director at CtW Investment Group, which works with a coalition of union pension funds with more than $250 billion in assets. "Americans will be frustrated when they see a company's profits grow year after year while the median wage isn't moving," he says. "That will galvanize the point that something's broken." —With Rebecca Greenfield and Jenn Zhao

To contact the editor responsible for this story: Howard Chua-Eoan at hchuaeoan@bloomberg.net, Jillian Goodman