Harvey Levin Is Casting the TMZ Primary
(Bloomberg Businessweek) -- Harvey Levin, founder of the celebrity news site TMZ, locked his gaze on a toy monkey. It had fuzzy hair, brooding eyes, and a wan smile. Levin appraised the toy monkey, which is named Annabell and has belonged to reality TV star Kris Jenner since she was 7 years old. "In a way," Levin said of Annabell, "she symbolizes overcoming obstacles."
Levin was taping an episode for the second season of Objectified, a Fox News series in which he interviews celebrities about their most cherished possessions. At one point he referred to Jenner, from the long-running show Keeping Up With the Kardashians, as the matriarch of the "most famous family on the planet."
This seemed unquestionably true until Election Day 2016. But lately the Kardashian-Jenners have been eclipsed by a family no less skilled at cashing in on public notoriety. Ever since Donald Trump became president, even the affairs of once-peripheral Trump-Kushner characters—say, Don Jr. and his budding romance with former Fox News host Kimberly Guilfoyle—have overshadowed Kardashian-Jenner plotlines. It's now the Kardashians who are having trouble keeping up with the Trumps.
Perhaps as a result, there's been talk of late about various Kardashian-Jenners going into politics, a notion Levin and TMZ have enthusiastically promoted. Standing across from Jenner at a kitchen island, he tried to coax an announcement out of her, noting that the family has together amassed some 700 million followers on social media. "Have you ever thought of using that to push a political agenda?" Levin asked. "Because you could probably get people elected and voted out of office." Jenner responded that she was focused on her family's philanthropic efforts. "Can we take that as a maybe?" Levin said, grinning.
For years, Levin, 67, has arbitrated fame in American life. After launching in 2005, TMZ quickly grew into a major force in entertainment news, breaking stories about celebrity misbehavior (Mel Gibson's arrest for drunk driving) and celebrity deaths (Michael Jackson's) while lickerishly trafficking in celebrity bikini shots. A section of its website is devoted to "celebrity butts."
TMZ's dominance of the gossip business has seemed uncertain recently. Consumers can now get their fixes on Instagram and Snapchat, which seems to have stalled the company's growth. According to tracking service ComScore, TMZ.com attracted 29.1 million unique viewers per month in the first half of 2018, down from 31.8 million two years earlier. Ratings for TMZ's flagship show, TMZ on TV, which airs on Fox affiliates, were down 34 percent for the first five months of this year among 18- to 49-year-olds, compared with the same period in 2016, according to Nielsen. "Nobody comes close to TMZ in the celebrity news world in terms of driving the narrative," says Jason Beckerman, TMZ's head of legal affairs and business development, who replied to questions on Levin's behalf. The company's shows, he says, remain "extraordinarily profitable," though he declined to get into specifics.
TMZ's dip comes at an awkward time. In June, AT&T Inc. completed an $85 billion acquisition of Time Warner Inc., which includes Warner Bros., which owns TMZ. Prior to the deal's completion, a person familiar with the discussions says, Kevin Tsujihara, chief executive officer of Warner Bros., put a feeler out to at least one other media organization to gauge its potential interest in buying TMZ. A spokesman for Warner Bros. says TMZ isn't for sale. AT&T declined to comment.
Time Warner has never disclosed financial information about TMZ, which encompasses three websites, four TV shows, and a bus tour of Los Angeles. A former member of TMZ's business team places the company's annual revenue in the ballpark of $100 million. This might not be much for AT&T, but celebrity news sites contribute value in other ways. Access to famous entertainers and favors doled out on their behalf can be its own form of currency—even more so if there's a chance a celebrity could someday be a U.S. president.
This has worked for TMZ before. During his transition from TV performer to commander in chief, Donald Trump showed a shrewd understanding of the political value of outlets such as TMZ and the National Enquirer, both of which helped protect Trump's Hollywood-enhanced image against an onslaught of investigative reporting. As the distance between Washington and Hollywood closes, Levin may have hit upon a strategy for bringing back TMZ's clout.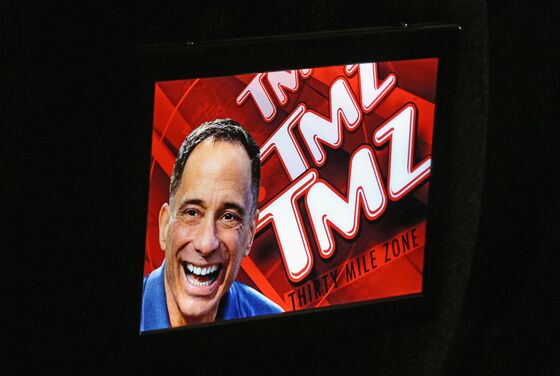 Levin has always been interested in politics. He was involved in political debates in high school and majored in political science at the University of California at Santa Barbara. Afterward he earned a law degree from the University of Chicago and spent several years in academia before entering the media industry. During the 1990s he became a local TV news reporter in L.A. When the O.J. Simpson trial captured the world's attention, he was there, rubbing elbows with the city's top lawyers, including Simpson's then-friend and attorney, Robert Kardashian.
In the early 2000s, Levin began producing the syndicated Warner Bros. TV news show Celebrity Justice, which reveled in the legal chicanery of the stars. Back then, Time Warner executives were feverishly trying to invent corporate synergies with newly acquired America Online. One idea they seized on was to create a celebrity news website that would combine AOL's technology with Warner Bros.' TV content, particularly the many interviews from the syndicated show Extra. As the idea percolated, Levin's TV show was canceled. He accepted an offer to run the site, which came to be named TMZ, for Thirty Mile Zone, a reference to L.A.'s historic studio district.
Inside a dreary space in Glendale, at a safe remove from the constricting internal politics on the Warner lot, Levin set up a gossip skunkworks. After years of legal reporting, he knew that juicy information was half-buried in the L.A. court system, awaiting anyone who understood how to uncover it. TMZ hired a young staff, whom he trained in this impish art. Scoops started to flow, and the brand grew.
In the fall of 2007, he introduced a daily show called TMZ on TV. Levin would stand in the newsroom, discussing the celebrity news of the day with a cast of hip young reporters. The tone was snarky; the production costs, minimal. Fox picked up the show, and it soon began attracting sizable audiences. According to a former TMZ employee, TV revenue quickly surpassed web revenue. Warner Bros. later signed Levin to a so-called overall deal, which paid him handsomely to create TV shows. "People in Hollywood don't necessarily like Harvey Levin, but they respect the empire that Harvey has built," says Kevin Blatt, a Hollywood publicist and gossip broker who's sold tips to TMZ in the past. According to Blatt, the website "became incredible at breaking huge news stories."
Even as TMZ made Levin influential in the entertainment industry, he remained engaged in politics. "We've always viewed politicians to be just another branch of the celebrity tree," Beckerman says. In 2007 Levin sent an emissary to Washington to scout office space and interview potential hires for a gossip venture. But two former TMZ employees say Time Warner decided it had too many regulatory issues at stake on Capitol Hill to have gossip reporters running amok there. The company killed the project before it could begin. Levin's aspirations to political influence appeared to fester. And then came Trump.
Thanks to his role on NBC's The Apprentice and former ownership of the Miss Universe pageant, Trump had long served as a minor recurring TMZ character. Along the way, Levin had befriended Michael Cohen, Trump's personal lawyer and fixer, who appeared occasionally on TMZ shows. Levin is a longtime supporter of various liberal causes and is passionate about gay rights and preventing animal cruelty. But as the 2016 general election heated up, he saw an opportunity to make TMZ a bigger player in Washington. He seemed to back the GOP ticket despite Vice President Mike Pence's standing as a bête noire of the gay and lesbian community. TMZ assisted Trump, in particular by countering reports of his allegedly boorish behavior within the entertainment world—the type of stories TMZ might at least have been expected to capitalize on, if not expose. At one point, when Trump was taking fire in the press for his allegedly creepy behavior toward women backstage at his beauty pageants, TMZ published a video in which former Miss Teen USA Katie Blair testified to Trump's gentlemanly behavior, called him an honest man, and categorically shot down any suggestion that he'd acted inappropriately toward other contestants. "I have great respect for him as a boss, as a businessman," Blair said.
TMZ's support paid off. In the fall of 2016, the candidate sat down at Trump Tower with Levin for a flattering hourlong interview that aired on Rupert Murdoch's Fox News just after the election. Levin went on to sell Objectified to the network.
In March 2017 he went to Washington and met again with Trump, this time inside the Oval Office. According to the Daily Beast, Trump later did a favor for Levin, helping him arrange an interview with Israeli Prime Minister Benjamin Netanyahu. (TMZ's Beckerman says Trump wasn't involved.)
Levin's chumminess with Trump was hardly a secret to TMZ's staff. Every day dozens of its field producers lie in wait outside L.A. restaurants, nightclubs, and airport terminals, armed with newsy topics to raise during filmed encounters with celebrities. According to two former employees, though, one topic was essentially verboten during the 2016 presidential election and the administration's first year: Trump-related controversies. It was widely understood that Trump-bashing wouldn't make it on the air.
As stories claiming Trump had extramarital affairs with former Playboy model Karen McDougal and adult film actress Stormy Daniels blew up in the press, TMZ's role in reporting on the salacious tale remained conspicuously inconsequential. "We have this scandal that's been brewing for more than a year about the president's involvement with a Playboy playmate and a porn star," says William Bastone, a co-founder of the Smoking Gun, a gossip website. That should have put it squarely in TMZ's wheelhouse, but instead, he says, TMZ was "totally out to lunch." Beckerman disputes that TMZ ignored Trump scandals or discouraged reporters from asking Trump-related questions. He points to an October 2016 TMZ story that backed up claims by a woman who said Trump touched her inappropriately. Trump denied the allegation.
TMZ's coverage has since become more critical. According to the two former editorial staffers, sometime around the start of 2018 the restrictions on anti-Trump stories mysteriously loosened. They never got a memo explaining why, but TMZ's website is now rife with clips of celebrities criticizing the president. Recent videos have included actor Mickey Rourke calling him a "garbage can" and Levin referring to Trump's July closed-door meeting with Russian President Vladimir Putin as "a disaster." In early August, Trump publicly criticized basketball star LeBron James. Afterward, an article on the TMZ site defended James and referred to Trump as "the most vile President ever to hold office." Levin then hopped on Twitter and wrote of Trump, "He's got to go!!"
What changed? According to a person with knowledge of the relationship, not long ago Levin and Trump talked on the phone regularly. But they had a falling-out over the president's repeated efforts to ban transgender troops from serving in the U.S. military—a policy Levin finds repugnant. (Caitlyn Jenner, formerly Bruce Jenner and Kris's ex-husband, recently told Variety that her support for Trump had curdled over the same issue.) According to the source, Levin and Trump haven't spoken for months.
 
Levin might be done with Trump, but having tasted the fruits of presidential back-scratching, it's unlikely he'll move on from politics. Last September, during an interview for Objectified, he asked Terry Bollea, better known as the wrestler Hulk Hogan, about his political aspirations. TMZ later posted an interview with Roger Stone, the Republican operative and former Trump adviser, touting the Hulkster's political viability. "He's an entertainer, like Ronald Reagan, who became president—like Donald Trump, who became president," Stone told TMZ. "Why not Terry Bollea for U.S. Senate?"
As TMZ's field producers make their rounds, they frequently question celebrities about the 2020 presidential prospects of their peers, including Oprah Winfrey, Mark Cuban, Kanye West, and Dwayne "The Rock" Johnson. Not long ago, TMZ on TV ran a segment on the Rock's political aspirations. "He'd make a great candidate," said former wrestler Mick Foley. "He's a guy who cuts across party lines." Later on the show, its staffers predicted that 2020's slate of candidates would be brimming with celebrity hopefuls. Beckerman says TMZ is changing with the times. As social media have given celebrities more power, "the natural response from us is to consider whether those celebrities would be interested in politics," he says.
TMZ's biggest moment of 2018 was in April, when West, an outspoken Trump supporter who's said he plans to run for president in 2024, hopped on Twitter to complain about being slighted by the site. "Harvey Levin of TMZ your hearing from your future president," he wrote. "Let's be friends."
Several days later, West appeared on TMZ Live. The interview went off like a hot-take inferno. Among other things, he revealed that he'd become addicted to opioids after getting liposuction and said that the 400-year history of American slavery amounted to a choice made by the enslaved.
For now, the Kardashian-Jenners appear to be the front-runner in TMZ's celebrity president horse race. In July the site published an "exclusive" story reporting that Kim Kardashian had just met with inmates at a women's prison in California. The item explained that it was part of her advocacy for prison reform, which had already resulted in a high-profile presidential pardon of a 63-year-old incarcerated great-grandmother—not to mention a widely circulated photo of Kardashian posing with a grinning Trump inside the White House.
The following night, one of TMZ's reporters spotted Jayceon Taylor, better known as The Game, standing outside a chic West Hollywood seafood restaurant. The reporter asked about Kardashian's advocacy for prison reform. "Kim K. is running for president," the rapper replied. Unlike Hillary Clinton, he argued, the Kardashians know how to motivate millennials. He pointed out that Kim's half-sister Kylie Jenner runs a successful cosmetics startup. The silent lip-gloss-buying majority could emerge as a reliable voting bloc. "You know how many of them will go vote if Kylie tweets 'Vote for my sister'?" The Game asked.
A presidential candidate whose fame can be traced to a sex tape might strain all credulity, but support from celebrity media has political value. Publishers such as TMZ and the National Enquirer are uniquely positioned to detonate—or disarm—future unflattering tapes. "That's the best kind of opposition research," says Frank Luntz, a political consultant and pollster. "There is a currency for that in Washington."
This currency could, however, prove a bit too volatile for the world's largest telecom company. If AT&T ultimately puts TMZ up for sale, there should be plenty of interest. Murdoch, executive chairman of 21st Century Fox Inc., would be an apt buyer. TMZ on TV, TMZ Live, and TMZ Sports all air on Fox outlets, and TMZ on TV is signed through 2020. Levin and his team "have been woven into our fabric," says Frank Cicha, senior vice president for programming at Fox Television Stations. "I fully expect we'll want to renew. It's one of the key building blocks of our strategy. It's a great business for us, and I know we'll want to stay in." And ultimately, it's hard to envision a better way for Levin to realize his political ambitions than by joining Team Murdoch.
To contact the editor responsible for this story: Max Chafkin at mchafkin@bloomberg.net, Jeremy Keehn