Amazon Captures 5 Percent of American Retail Spending. Is That a Lot?
(Bloomberg Businessweek) -- Americans last year bought about $200 billion worth of stuff from Amazon and its Whole Foods grocery stores.
That figure is based on a Bloomberg Intelligence estimate that Amazon sold about $300 billion in merchandise in 2017 and the company's report that two-thirds of its revenue comes from the U.S. If that's accurate, Amazon.com Inc. captured about 5 percent of Americans' retail spending, excluding cars and car parts and visits to restaurants and bars.
Whether 5 percent is a lot or a little is in the eye of the beholder. President Trump and the left-leaning think tank the Open Markets Institute have suggested that antimonopoly laws should be used to tie Amazon's hands. An influential 2017 article in the Yale Law Journal said Amazon's market size and short-term prices don't effectively reflect the company's ability to crush competition. Amazon has responded that it's a minnow in America's vast retail sea: For comparison, Walmart Inc.'s U.S. sales were $381 billion in its latest fiscal year, or about 10 percent of Americans' spending (again, excluding restaurants, bars, and cars).
Those worried about Amazon's heft could arm themselves with a different figure: 49 percent. That's the share of Americans' online spending Amazon is expected to grab this year, up from 43.5 percent in 2017, according to EMarketer. The research firm says the No. 2 e-commerce company, EBay Inc., will take 6.6 percent of U.S. online sales. While Amazon's second-quarter revenue missed expectations, its operating margin more than doubled analysts' estimates, suggesting the company is getting leaner and meaner.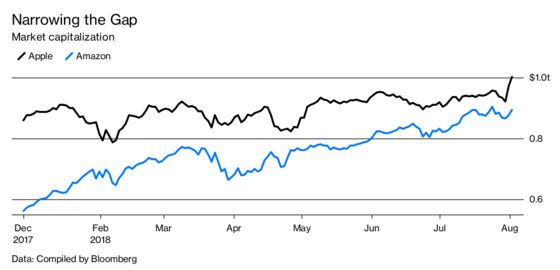 ● SECOND PLACE IS STILL HUGE
The value of Amazon's stock has more than tripled in the past three years, making it the world's second-most-valuable publicly traded corporation, behind Apple Inc. Some analysts had predicted it would reach the $1 trillion mark first, but they were proved wrong on Aug. 2.
 
● MINNOW OR SHARK
Amazon says it's just a small e-commerce fish in the big retail pond. Anti-monopolists warn that, while it may not yet dominate, there's still lots of room to grow—and lots of sales to gobble up.
 
● NO END IN SIGHT
Amazon's revenue increases 25 percent to 30 percent a year, about four times the growth rate of U.S. retail spending. At such a rate, its share of that spending could rise to 6 percent in 2018.
 
● BUT ...
Less than 10 percent of retail spending in the U.S. is online, vs. 23 percent in China and 16 percent in South Korea.
 
Ovide is a tech columnist for Bloomberg Opinion.
To contact the editor responsible for this story: Jillian Goodman at jgoodman74@bloomberg.net