Welcome to the 'Man Camps' of West Texas
(Bloomberg Businessweek) -- There's not much to look at except dirt, mesquite, and sagebrush around the 10 acres of flat, almost treeless land near Goldsmith, Texas, where Aries Residence Suites runs a housing complex used by itinerant oil workers. Three years ago, all 188 rooms were as empty as the landscape—a testament to crude's tumble from more than $100 a barrel to $30. Today, prices are up around $70 and almost every Aries bed is occupied, just as at many other "man camps" throughout West Texas.
The Permian Basin, a more than 75,000-square-mile expanse of sedimentary rock that's one of the world's biggest oil plays, is drawing billions of dollars in new investment. Companies are scrambling to find people to do everything from operating drilling rigs to driving trucks. Wages have reached such lofty levels that even unskilled laborers can earn $100,000 a year. Many of the jobs are in remote areas with no houses, schools, or supermarkets, so free room and board are essential perks for workers, most of whom elect to leave their families at home.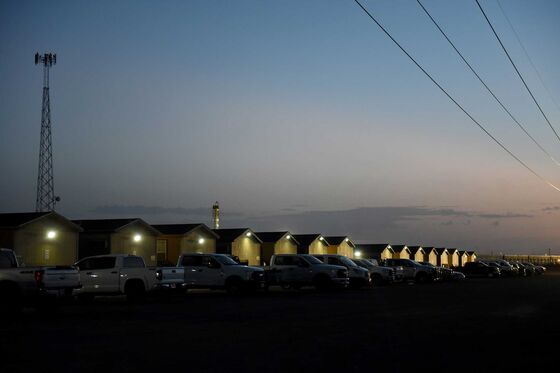 David Penny, a 57-year-old pump operator who's originally from Zimbabwe, stays at the Goldsmith camp during his two-week shifts. "It's a great place to work, but a terrible place to live," he says, citing the heat, dust, and dearth of grocery stores and restaurants among the negatives. His wife, who lives 370 miles away in Dallas, "would never come out here, and I don't blame her one bit," says Penny over lunch at the on-site cafeteria.
Thousands of workers now reside in dormitory-like compounds in West Texas and eastern New Mexico, and more are on the way. Aries, which has 11 locations spread out over North Dakota, Oklahoma, and Texas, is expanding Goldsmith, which is near capacity, to 400 beds and will soon break ground on a 500-bed facility in Orla, Texas, a town with new oilfield activity but a population of less than 300.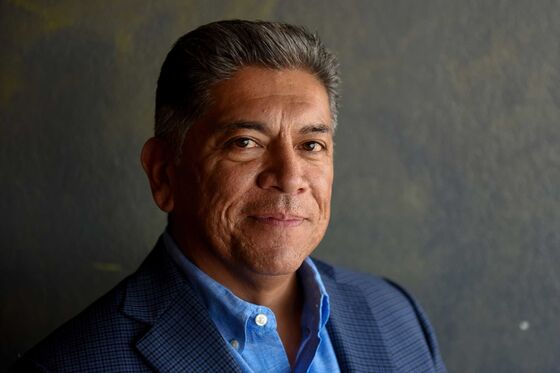 Permian Lodging, which operates one of the biggest man camps in the basin, says all 1,200 units at a 90-acre lot outside Midland, Texas, are occupied, and it recently built a slightly smaller facility roughly 100 miles southwest, near Pecos. The company is also readying two other camps in Texas and one in New Mexico, for a total of almost 1,300 beds.
"It's crazy," says Dennis Noland, founder of Alpha Resources, a human resources consultant that does work with companies in the Permian. "It is the best example of a boomtown, Wild West area that I've ever seen."
The Permian's production is set to double by 2023, aided by investments from Exxon Mobil Corp., Chevron Corp., BP Plc, and others, to reach 5.4 million barrels a day, according to estimates by researcher IHS Markit Ltd. That would top the output of any country in OPEC except Saudi Arabia. By 2035, it could hit 6.3 million barrels, projects Wood Mackenzie, another researcher.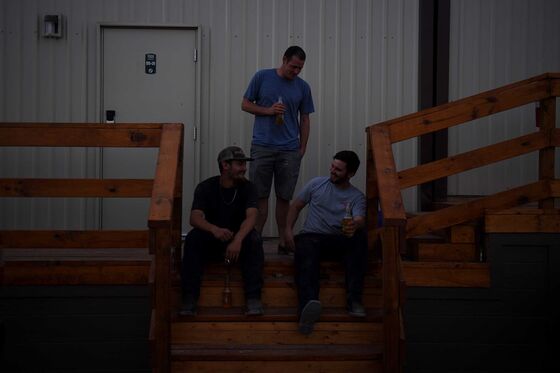 While the industry desperately needs more workers, few are willing to relocate full time to the sparsely populated rural areas in which the drilling takes place. Many jobs are an hour's drive or more from the nearest supermarket, restaurant, or bar. Temperatures can linger above 100F for days, and the absence of trees means no natural shade for workers pulling 14-hour shifts.
Conditions like that are why Robert Wardrup, 54, calls the Permian "the armpit of Texas." Wardrup is shacking up at the Aries camp in Goldsmith while working as a cement supervisor for Baker Hughes's BJ Services unit. He arrived about a year ago after being laid off from an oil industry job in Alaska's Prudhoe Bay, where investment has declined.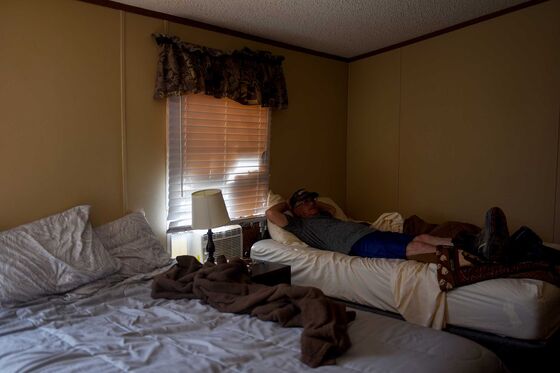 Many companies pay for their employees to stay in temporary housing, and some even pick up travel expenses. Such perks make the hardship worthwhile, especially with the premium pay. "It's a very good living," says Wardrup, who makes $27.50 an hour. "If you don't have a college education, where else are you going to make $100,000 a year?"
There are few alternatives to the man camps, because the housing stock in the Permian was paltry to begin with, and the oil boom has pushed rents across the region to their highest level since at least 2005. A 700-square-foot apartment in Midland—the Permian's unofficial capital—goes for $1,300 a month, a third more than last year.
For the oil and gas industry, the man camps are the lowest-cost alternative, especially since most employees work weekslong shifts broken up by short trips home. A double room at a man camp can be as low as $36 a night, while motels and hotels in Midland and Odessa can run as high as $500.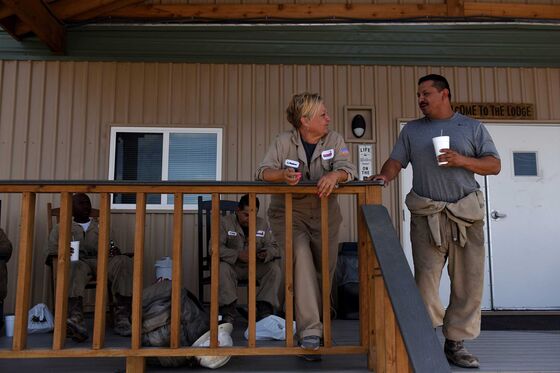 The digs aren't fancy. Most rooms aren't bigger than a standard walk-in closet, and workers often bunk with someone they've never met. At camps where meal plans aren't included, kitchens are shared among 10 or more workers.
It costs Permian Lodging at least $15 million to set up a 400-bed camp, but it can be done quickly. At the company's Midland County camp, some of the 80-by-18-foot trailers still have the wheels from when they were hauled down from the Bakken oil fields in North Dakota.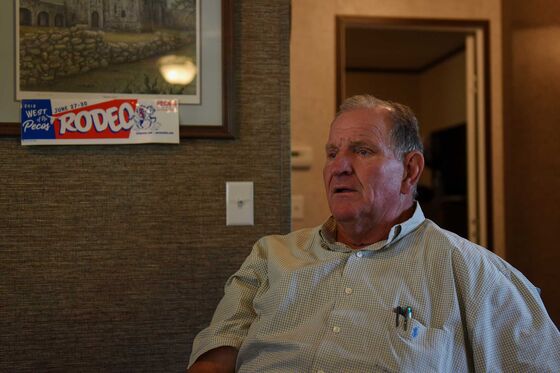 The expenses of maintaining a small community in the middle of the desert can add up, says Ralph McIngvale, a partner at Permian Lodging who lives at the Midland County camp for about three weeks a month. At the facility near Pecos, for example, the company had to truck in 24,000 gallons of water a day for a month after the local water treatment plant was damaged by lightning. Retaining staff for housecleaning and maintenance is also difficult, because many get poached to work better-paying oil jobs.
Operators of the camps have been adding amenities like 24-hour cafeterias, entertainment rooms, fitness centers, and on-site Wi-Fi. "We're trying to make everything nicer and nicer," says McIngvale. "The No. 1 thing I'm trying to do for my customers is help them retain their worker."
Despite the creature comforts, the camps are no place like home, says Jaime Portillo, whose family lives 300 miles away in El Paso, Texas. "It's very lonely," he says while grilling ribs for a small group of fellow truck drivers at the Midland County camp. "But you don't have to pay rent or stuff like that. I just want to give a better life for my kids." Portillo earns $20 an hour, plus overtime, hauling sand used by oil drillers in hydraulic fracturing. A few weeks ago, he took his 16-year-old son and 10-year-old daughter to Walt Disney World in Florida, and hopes to save enough to send his kids to college.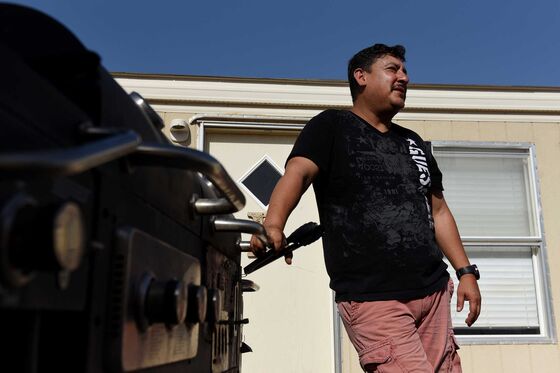 "It kind of sucks sometimes, because all there is out here is just work," says Nathan Rabe, 20, who lives at Target Lodging's Anadarko Wolf Camp in Mentone, Texas. Rabe, who works on a rotation that's three weeks on and one week off, earns $21 an hour as a test-and-torque operator for WS Energy Services Inc. The money is so good he's debating whether to return to Texas A&M University in the fall, where he would be a junior.
Man camps aren't new in Texas, where rigs have been pumping crude for more than a century. Troy Schrenk, chief commercial officer of Target Lodging, which owns or operates eight facilities in the Permian for a total of more than 3,800 beds, says the camps used to have "a very negative reputation" as places that were rugged and rowdy. As the number of compounds ticks up, developers have been reaching out to surrounding communities to reassure them that things have changed.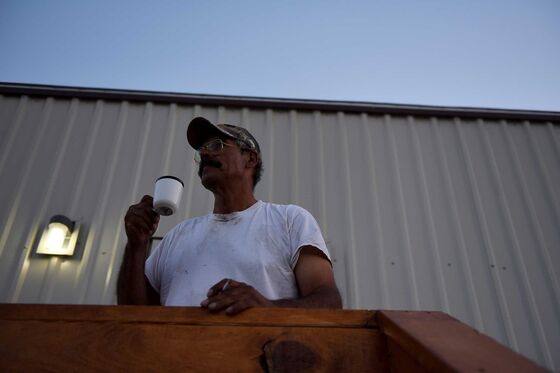 Today, most of the facilities don't allow alcohol, and the expanded amenities help tenants cope with boredom during the hours when they're not at work. "We don't like to make them feel like they're in prison," says Regina Lucas, who manages the Aries Goldsmith camp and lives there part time. Companies also say they are working to make sure women feel safe and comfortable in the camps, though there are few of them.
Midland County has recorded some minor "disturbances" at the camps, but Sheriff Gary Painter says the tenants generally have been good neighbors. "They get to drinking and fire a couple rounds in the air," Painter says. "But it's not serious."
Communities that have seen their share of oil booms and busts view the man camps as a necessary part of supporting the current economic expansion for as long as it lasts. "It's not that man camps are bad," says Ken Winkles Jr., executive director of the Pecos Economic Development Corp. "It's just that we would prefer to have the families in here."
To contact the editor responsible for this story: Steve Stroth at sstroth@bloomberg.net, Cristina Lindblad