Teslas Go Drag Racing and Smoke the Combustion Faithful
(Bloomberg Businessweek) -- Like many tracks around the Southeast, the Piedmont Dragway outside Greensboro, N.C., opens its gates to hobbyists who want to test their cars against other amateurs. Back in January 2015, a Tesla Model S rolled up to the starting line for the first time. A video posted on YouTube shows the white electric car side-by-side with a red Dodge Challenger. When the light turns green, the camera follows the Tesla as it leaves the Dodge behind and wins by several car lengths.
Ted Corriher (pronounced Core-ee-er), a middle-aged tractor implement manufacturer, was behind the wheel of the Tesla. His son, Charles, worked the camera and provided the commentary. Both Corrihers were tickled with the results—and not just because the car ran an eighth of a mile in 7.47 seconds. Track officials and other drivers had never seen anything like it.
"When we first started bringing the car out, people didn't even know what in the hell it was," says Charles.
Ted recalls track technicians asking, as they do with every car, to see the engine. Ted, playing dumb, opened the hood to reveal the empty cavity, or "frunk" as Tesla Inc. calls it. Then he walked to the back and opened the liftgate. "They were like, 'What the hell?' " says Ted. The motors, he explained, were somewhere between the wheels. The dumbfounded technicians waved him onto the track.
Charles later returned to Piedmont and began visiting other dragways in his father's car. He also ran in street races at night. With cameras mounted on the rearview mirror and outside the car, and another around his neck, he captured the races and reactions and posted video on YouTube under the name Tesla Racing Channel. There are more than 100 videos to date, a few of which have millions of views. The channel, with more than 120,000 subscribers, is an ongoing document of the arrival of the Tesla in drag racing subculture. The people whom Charles encounters are always curious, often awed, and sometimes angry.
"Uh, Tesla," says Charles. "It's out of California."
At the drag strip, a Tesla is not a status symbol for the tech elite or a totem of environmental responsibility or the start of a conversation about cash-burn rates and stock shorts—it's a fast car and a provocation. Tesla Chief Executive Officer Elon Musk, perhaps not surprisingly, enjoys seeing his product this way. "Love this Tesla P100D drag racing video," he tweeted in July 2017, linking to a video of Charles.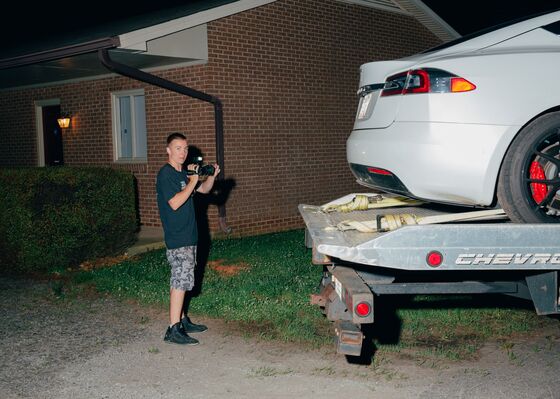 Electric-car racing is in its infancy. Formula E, an all-electric cousin to Formula One, began touring four years ago. The Electric Production Car Series from Electric GT, a tour of modified Tesla Model S's racing on circuit tracks, is scheduled to debut in Spain this fall. But in Nascar country, the electric car is still largely seen as the domain of latte-sipping lettuce eaters. Of the almost 160,000 Teslas on the road in the U.S., according to data from IHS Markit Ltd., 44 percent are in California. The 12 Southeastern states, where a quarter of the U.S. population lives, account for 14 percent—and nearly half of those are in Florida. Seven Southern states have fewer than a thousand on the road; Mississippi and West Virginia have 80 and 60, respectively. Awareness of Tesla across the Southeast is 11 percentage points lower than it is nationwide, according to brand research from GfK Automobility.
In this part of the country, where dragways are almost as common as churches, the combustion engine is an object of devotion. It's horsepower on Saturdays and the Holy Ghost on Sundays. Many of the drivers whom Charles meets have spent hundreds of hours and tens of thousands of dollars tinkering on their Corvettes and Camaros. If the Tesla—a car with nothing to do under the hood, no rumble, and no roar—can take hold here, the electric car can take hold anywhere.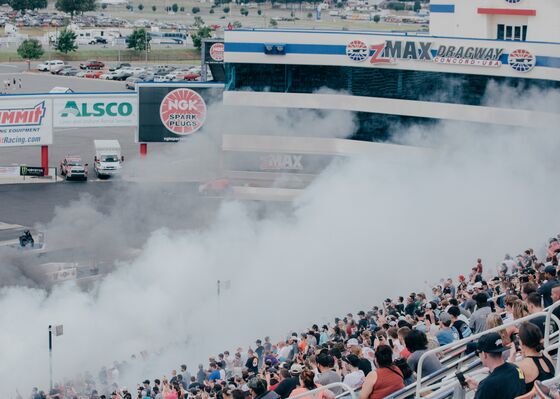 Ted Corriher bought his first Tesla because he hates gas stations. Not in an Inconvenient Truth kind of way. He hates the expense and inconvenience, and he really hates when the magnetic strip on his credit card fails to read and he has to go inside and guess how much cash it will take to fill up.
A few years ago, he started doing research on the Nissan Leaf, Chevy Volt, and Toyota Prius. Then one of his employees suggested he check out Tesla. Corriher could afford it. His great-great grandfather was a mule trader in North Carolina, and his family has been selling farming equipment in the state ever since. He worked for a time at his parents' tractor dealership, and about 10 years ago he started manufacturing and selling wood grapplers and other tractor attachments popular with gentlemen-farmers in Texas and the Northeast. "We work about 40 people, and we are 800 orders behind right now," he says. Charles, 22, runs the laser cutter at the factory.
Ted also happens to love fast cars. Now 53, he's been racing since age 15, when he bought a 1969 Camaro from a neighbor. He raced it at nearby strips for a few years before moving on to a custom-built dragster—a "210-inch wheelbase drag rail with an air-cooled, four-cylinder Volkswagen with a turbo and alcohol and nitrous in it." In the late 1990s, he switched to stock car racing and was the 2000 champion of the United Auto Racing Association, a junior Nascar circuit. He showed me a 1997 copy of the Hickory Legend, the official racing magazine of Hickory Motor Speedway; he appears on the cover, sweaty and smiling, in his checkered fire suit.
Two decades later, Ted still has the same wide grin. His once-bushy hair is thinner. Ted's house, in the rolling foothills of the Blue Ridge Mountains in Newtown, N.C., is what you might expect from a thrice-divorced gearhead of means. The backyard pool is modeled after a Sandals Resort. The air-conditioning coils are covered in diamond-plate aluminum of the kind often found on truck bumpers. The stools at the bar are repurposed ButlerBuilt red leather racing seats.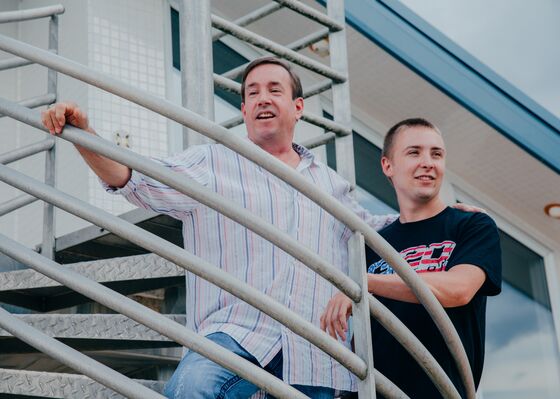 In October 2014, when Tesla announced the release of its first all-wheel-drive Model S and fastest car to date, Ted ordered one that night. "When they said zero-to-60 [miles per hour] in 3.2 [seconds], and I didn't have to do anything to it, I'm like, 'Sign me up,' " he says.
He took delivery of the P85D in Raleigh on the day after Christmas. When he got home, he stopped by the house of the neighbor who had sold him the Camaro decades ago. The two men drove the electric car to a stretch of road where they had burned more than a few tires over the years. Ted switched it into "insane mode," which allows for maximum acceleration—Tesla has since changed the name to "ludicrous mode"—and punched it. About 8 seconds and an eighth of a mile later, the two looked at each other with the same thought: This was a race car.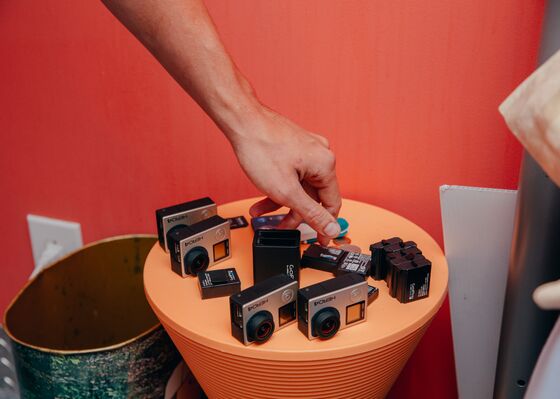 The first Tesla Racing Channel video to gain widespread attention is from one year later. It begins with Charles, seen from over the shoulder, driving the P85D with a mischievous grin. The text on the screen reads: "What happens when Dad goes out of town and leaves son with a Tesla?" Charles was 19 at the time but seems much younger, with a baby face and sandy blond hair that looks as if he cut it himself. The four-minute video shows him racing at night against souped-up Japanese imports and motorcycles, then challenging a Ferrari as the cars roll past a McDonald's in broad daylight.
Charles says he can make as much as $4,500 a month from YouTube, but usually it's somewhere closer to $1,000. He took me out onto a side road near his home in the Model S P100D he was planning to race later that night. He brought the car to a stop and asked if I would mind if he started the camera behind the rearview mirror. I was about to be fodder for a Tesla Racing Channel subgenre: the first-timer reaction shot. When he stepped on the accelerator, I felt the car squat for a split second as the tires gripped the road. Then I felt myself pinned to the seat. I could muster only two words: "Holy shit."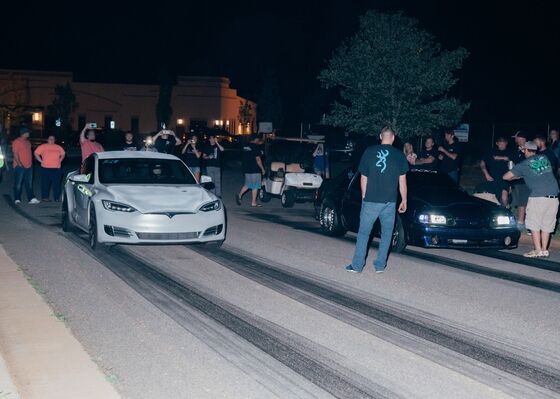 The brief ride made me want a Tesla, and Charles has had a similar effect on others. Below each video on his channel is a referral code offering $1,000 off a Tesla and free supercharging. In the fall of last year, the Corrihers received a mini-Tesla Model S for kids, a reward from the company meaning at least a few people had used the code to buy a car.
Charles is an ideal Tesla frontman for the Southern racing set. He's conversant in cubic inches and has an aw-shucks demeanor that defuses all but the most hostile interlocutors. "I'm like some 16-year-old-looking kid," he says. "You can't be that mad."
In the video Musk tweeted, which has been viewed almost 5 million times, Charles drives a Tesla P100D in a nighttime street race. He defeats a Fox-body Ford Mustang and claims a $3,200 purse. Afterward, the other driver demands a rematch for "ten thousand, twenty thousand, whatever you want to bet." He calls the Tesla a "gotdamn all-wheel drive" and alleges that Charles handicapped him by putting him on the side of the street that was wet.
"I'm feelin' good. I'm eatin' good. Y'all have a good night," says Charles, wad of cash in hand.
Most opponents skip past the anger stage and go straight to resignation. When he first started outrunning cars around the neighborhood, Ted says, defeated divers wasted little time studying up on Tesla. "We would come and make a pretty fast pass, and when we come back for the next pass, they had already Googled what the hell it was," he says. Willing opponents became harder to find. "I'm 'bout to get my ass cooked by a golf cart," says one driver with a modified Chevy truck in a video from last year.
More than anything else, people want to know the price tag. Since buying his first Tesla in 2014, Ted has acquired another five: three more Model S editions and pair of Model 3s. "How much are these things?" asks one track official in a video from last November.
"This one is 130," says Charles.
"A hundred and thirty thousand dollars?!" he responds, leaning in. "Have you lost your fucking mind?"
"Pretty much," says Charles.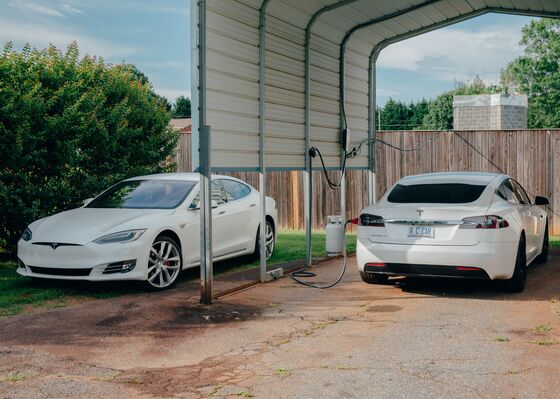 On a sunny Saturday in April, Farmington Dragway in Mocksville, N.C., is hosting "Bad Blood Shootout," a day for street-legal cars. Before the races, to prove their street readiness, the assembled Corvettes, Camaros, Mustangs, Hondas, and Audis—plus one Tesla—drive a few miles in a loop on the farm-lined roads around the track. Charles is driving a friend's car, a rear-wheel-drive 2014 Model S. The year before, he won the "all-motor" class at the event in one of his dad's Teslas.
Jason Hughes, who lives in Hickory, supplied the car—one of three he owns. He's well-known in the Tesla hacker community and has equipped his house with an array of more than 100 solar panels that feed into a pair of repurposed batteries yanked from Tesla cars. "They are computers on wheels, and that's my thing," he says. He's also using a pair of Tesla motors and three Chevy Volt batteries to rebuild a 1995 Mitsubishi 3000 GT into a 1,400-horsepower car.
Every other car racing at Farmington that day drives through a small puddle of water on the way to the starting line. The moisture slicks the tires for a burnout—spinning the wheels until the tires smoke so that they are hot and grip better during the race. The loud, smelly ritual is integral to a day at the track. Charles, though, drives carefully around the pool in the Model S, which is wrapped in candy yellow vinyl with a vanity plate that reads "Minions!" He doesn't need to burn out, since the Tesla's traction control checks in a hundred times per second and moderates torque instantaneously. The car hooks every time.
In one qualifying run, the Tesla takes off down the track alone accompanied by no roar and no smoke, just a hissing whir. A woman in the stands, who had been looking the other way, spins around suddenly. "What?" she says. "I'm so confused."
As long as Charles doesn't blow the start, the Tesla will win the first 60 feet against any gas-powered car. An electric motor needs only the time it takes to switch on to go from zero to full power. In a Tesla, that's about a tenth of a second. A gas engine needs at least a few seconds to ramp up.
Drivers who are unfamiliar with this instant acceleration tend to overreact. "When the Tesla jumps out that far in front, you go into the oh-shit mode," says Ted. Panicked opponents add too much power, spinning their tires and allowing a Tesla to win even against faster cars.
At Farmington, a quick start is not enough to best a 1963 Chevy Nova SS, which runs the eighth of a mile in 6.96 seconds, beating Charles by a second. Later in the day, though, the Tesla dominates the smaller hard-tire class for cars without racing slicks. In the final heat, Charles faces a powder blue 1985 Ford LTD station wagon with a decal in the rear window that reads "Load of Tin from Detroit." Charles gets off the line late but then accelerates past the Ford, hitting a top speed of 96 mph and winning by nearly a full second.
Jimmy Hull, the hulking 59-year-old lumberjack who drove the Ford, still believes in his gasoline-powered load of tin. "If they had let me put my nitrous in," he says, "I would have had something for that Tesla."
To contact the editor responsible for this story: Aaron Rutkoff at arutkoff@bloomberg.net, Craig Trudell