Marchionne's Unfinished Business: Selling Jeeps in China
(Bloomberg Businessweek) -- Editor's Note: Sometimes the boss can put his company in a tough place. Here's an overview of the types of key man risk.
Two years ago, Cui Baochuan bought a Jeep Cherokee, attracted by the rugged, go-anywhere image of the $38,000 American SUV and its ability to navigate through the winter snows that can cover roads near his home in China's Shandong province. Today the 46-year-old mobile phone store manager says he's tired of buying the gas for his 20-mile commute. "This is a huge disappointment," he says. "Next time I'll get an SUV that's more fuel-efficient."
With customers such as Cui steering away from Jeep, the brand has hit a wall in China even as the auto market there expanded almost 5 percent in the first half of this year. After more than doubling Chinese Jeep sales over two years, to 220,000 in 2017, Fiat Chrysler Automobiles NV on July 25 reported a 35 percent drop in deliveries from its mainland joint venture. That triggered a 16 percent decline in the company's stock as investors questioned whether Jeep would be able to climb out of the ditch.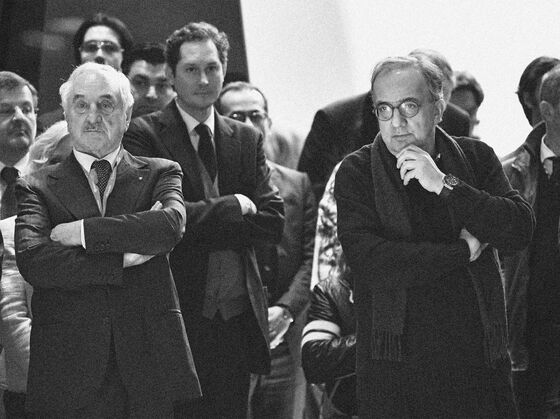 China is the key challenge facing Mike Manley, who took over as Fiat Chrysler's chief executive officer on July 21, just days before the death of celebrated CEO Sergio Marchionne. Manley got the top post largely because of his success in transforming Jeep from a mostly American brand making 300,000 SUVs annually into a global profit machine that this year will sell almost 2 million burly vehicles such as the Renegade and Cherokee.
The trouble in China illustrates how the spotlight that shines on a CEO such as Marchionne can leave investors blindsided when problems bubble up after the star leaves the stage. Marchionne earned well-deserved praise for saving Fiat from bankruptcy and rescuing Chrysler from the financial meltdown. In his 14 years running the company, he managed to create the world's seventh-largest carmaker and boost shareholder value more than tenfold.
Marchionne handed off a financially healthy business to Manley; the company is on track to report record earnings in 2018. But Fiat's goal of doubling profits in the next five years rests squarely on the rapid growth of Jeep in the world's largest auto market, and a strategy to make that happen never crystallized. "Marchionne brought the Jeep brand to China and increased local production, which was a big achievement," says Wang Rongzhen, a manager at a dealership in the central province of Shaanxi. "But after that, he didn't pay enough attention here."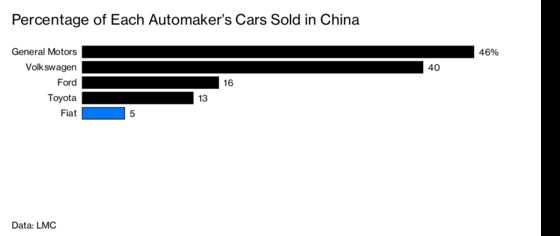 Manley says his task is to reposition the brand by making SUVs tailored for local tastes, with better fuel efficiency, electric engines, and self-driving features. This year the company began selling the Jeep Grand Commander, a car designed for the mainland. Jeep plans to add eight models over the next five years, including another designed specifically for China. Four will be battery-powered, to help Fiat catch up with Daimler, Ford, and Volkswagen—all of which have electric-vehicle joint ventures in the country. Developing EVs is crucial, as China aims to boost sales of "new energy vehicles" to 7 million annually by 2025, from 777,000 last year, with subsidies for consumers and quotas for automakers. "It will take the balance of the year for us to really see the progress that I'm looking for, but the good news is I think we know" the problems in China, Manley said on a July 25 conference call. "We can certainly fix them."
He understands how hard that may be. As Fiat Chrysler's Asia boss, Manley inherited an operation that had already been through two joint-venture partners. At its third JV, with Guangzhou Automobile Group, he oversaw a strategy to build mass-market Fiats. When that effort foundered, he shifted the focus to Jeeps, many of them produced in China. The plan looked promising, but changes in tariffs, fed by the Trump-China trade war, have made imports from the U.S. more expensive while lowering prices on most cars made locally or shipped in from other places. "The biggest challenges we face," Manley said on the call, "are all focused in China."
One problem is that consumers view Jeep as an exotic American producer of brawny off-road transportation, not cars a city dweller might turn to for fuel-efficient commuting. Although the word "Jeep" is largely synonymous with SUV in China, and the company sells a lot of T-shirts and bags with the Jeep logo, Chinese buyers aren't willing to pay a premium for its vehicles. Dealers say its overall lineup is stuck between expensive German brands and lower-priced Japanese and Korean offerings. "Marchionne knew he exaggerated the appeal" of Jeep's American background, says Philippe Houchois, an analyst at Jefferies Group LLC. As a result, Fiat "probably had a slightly inflated view of the brand's popularity."
To contact the editor responsible for this story: David Rocks at drocks1@bloomberg.net
With assistance from Editorial Board