Les Moonves's Sexual Harassment Scandal Threatens Future of CBS
(Bloomberg Businessweek) -- Editor's Note: Sometimes the boss can put his company in a tough place. Here's an overview of the types of key man risk.
Years ago, Leslie Moonves helped rescue CBS Corp. from the brink of irrelevance, in part by greenlighting Survivor, a massively popular reality TV show about island castaways using cunning and instinct to outlast their competitors. Over years as chief executive officer, Moonves came to epitomize the same essential pretext as his network's hit show: the art of survival. When controversies dragged down many of CBS's most prominent stars, including Dan Rather and Charlie Rose, Moonves persevered. When changes in technology laid waste to much of the traditional media industry, CBS improbably prospered. And when CBS's controlling overseer, Sumner Redstone, descended into senility, the resulting drama—imploding love triangles, clashing heirs, humiliating lawsuits—never punctured Moonves's air of invincibility. CBS was his island, and nothing could endanger the company's surprising run because nothing could endanger Moonves.
Until finally, something did.
On July 27 the New Yorker published a damning investigative story in which several women accused Moonves of sexual harassment, including forced touching and kissing during business meetings. The women said that after they rejected his intimidating lechery, their careers suffered. The article detailed a culture of rampant male chauvinism at CBS, all allegedly shielded by Moonves's impregnable reputation. In response, he acknowledged having possibly made some women uncomfortable in the past, but denied harming anybody's career as a result.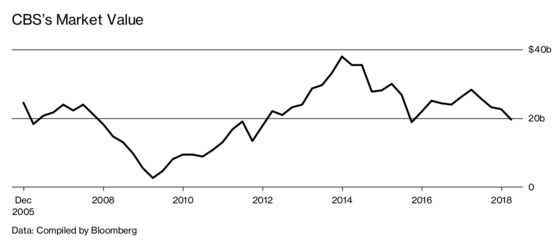 Despite the rebuttals, CBS's share price plummeted, and on July 30 the board of directors met and discussed Moonves's fate. Afterward the company announced it was postponing its annual shareholder meeting while he stayed on the job and an outside counsel investigated the allegations.
Moonves's self-inflicted wound comes at a particularly uncertain time for CBS. For months the CEO has been locked in a ferocious power struggle with Redstone's daughter, Shari, who through the family-controlled National Amusements Inc., is CBS's controlling shareholder. Shari Redstone would like to combine CBS with Viacom Inc., the youth-focused media conglomerate her family also controls. Moonves, believing Viacom's best days are well behind it, has resisted. In May, CBS's board sided with Moonves over Redstone, as a majority of the directors backed their chief in a flurry of corporate infighting that's resulted in dueling lawsuits.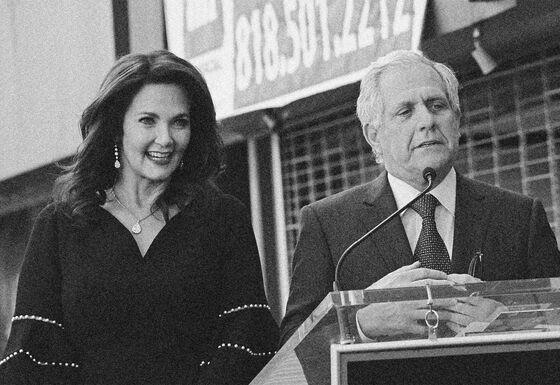 By so closely enmeshing its corporate story with its leader's heroic personal narrative for so long, there's little room for CBS to delineate between Moonves's cloudy future and its own. Its tribal council could finally force him off the island, but doing so would likely hand control of CBS's strategy back to Redstone—an awkward prospect, considering how vehemently and publicly the board just rejected her vision for its future. So for now at least, CBS's fate could hang on Moonves's ability to withstand a likely backlash in this #MeToo era. Talk about key man risk.
To contact the editor responsible for this story: James Ellis at jellis27@bloomberg.net