Patrón Made Tequila Top-Shelf. Will Bacardi Dilute It?
(Bloomberg Businessweek) -- One day in 1989, Francisco Alcaraz, then the master distiller at Tequila Siete Leguas, was leaving the company's twin factories in Atotonilco el Alto when a man wearing sunglasses and a half-unbuttoned shirt called out to him. "Can you help me?" the man asked. Atotonilco is a quiet village, with few outsiders, in the highlands of the western Mexican state of Jalisco. To this day, Siete Leguas sits on a hilltop side street so untrafficked that the gate of its brickwork facade is often left open. It was unexpected to hear anyone speaking English there, let alone a tan, barrel-chested American dressed all in black, like Johnny Cash. The man asked Alcaraz if he knew the distillery's owner. Of course, Alcaraz said. Lucrecia González, the late founder's daughter, was his boss.
Right on the street, the man introduced himself as Martin Crowley and started explaining what he was doing there. Alcaraz, who's partial to a pompadour and black leather jackets, couldn't help but be intrigued—there's not a lot of excitement in Atotonilco. Crowley said he was a fan of Chinaco, a high-end tequila introduced to the U.S. market two years earlier. Chinaco was as popular as it was tough to find—it was such a hot commodity, border bandits had hijacked a shipment crossing into Texas.
Crowley saw a market opportunity—a high-end tequila that wouldn't be hard to get hold of—and came to Mexico hoping to start his own brand. He'd heard that cousins of the González family, who were behind Chinaco, produced Siete Leguas. Crowley told Alcaraz that he wanted to contract with Siete Leguas to make the best tequila in the world. "I said, 'I can't promise that,' " Alcaraz recalls, explaining that he told Crowley how different palates prefer different flavor profiles and how changing moods or even time of day can make drinkers prefer one taste to another. "I thought he was a gringo loco." Alcaraz's contract with Siete Leguas, however, specified that he got a cut of the profits from any brand the distillery produced. So why not hear out the American? Also, it impressed Alcaraz that Crowley was interested in quality, not volume.
The gringo loco would later explain to Alcaraz—in discussions off the street—that he had distribution connections in California from previous wine and restaurant ventures; that his drinking buddy and business partner, John Paul DeJoria, who'd made a fortune as co-founder of hair-care products company John Paul Mitchell Systems, had friends in Hollywood; and that his vision was to put his tequila in an attractively designed bottle, unique at the time, that conveyed the handcrafted soul of Mexico. He intended to call it Patrón, because one meaning is "godfather." Alcaraz agreed to talk to the González family and, eventually, Siete Leguas contracted with Crowley. No one ever expected the brand to become the world's largest producer and exporter of premium tequila.
Alcaraz relayed this story to me on the balcony of the palatial Hacienda Patrón, just outside of Atotonilco. Blue agave fields stretched in every direction beyond the manicured lawns. Below us was a courtyard with tall palms, a granite fountain, and a bronze statue of Alcaraz erected a few years ago at the entrance to the distillery. In one hand he holds an hijuelo, the small offshoot of an existing agave plant from which a new plant grows; in the other, the distinctive Patrón bottle.
Few know who he is, but Alcaraz is a major reason why Patrón is a household name: He came up with the production method, which introduced great complexity and flavor to its unaged tequila and reintroduced the spirit to a generation of drinkers. Without him, it's unlikely that Bacardi Ltd. would have purchased the 70 percent of Patrón Spirits International AG that it didn't already own for $5.1 billion in January, a deal that rounds out Bacardi's premium portfolio, which includes Grey Goose vodka and Dewar's Scotch. (According to a lawsuit filed against Patrón by an ex-employee in 2013, the master distiller was due 3 percent of the sale price, or $150 million. The same suit says Alcaraz never requested this compensation. Alcaraz declined to discuss his financial arrangements with Patrón and Bacardi.)
According to the Distilled Spirits Council, tequila sales have more than quadrupled from 2002 to 2017 in the U.S. alone, with most of the growth in high-end brands. Bacardi is banking that Patrón still has room to grow internationally. The question is whether people around the world will get to know Patrón as the traditional spirit it's always been or whether expansion plans will turn the tequila into a product beneath Alcaraz's standards.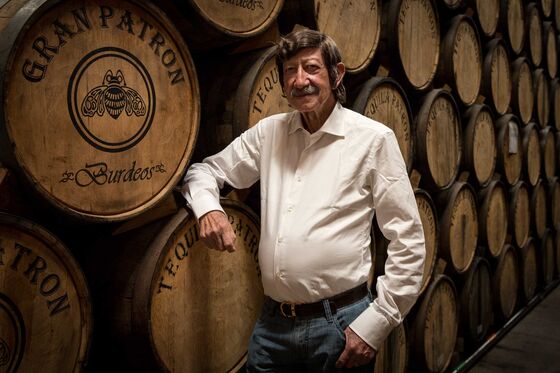 Alcaraz was born in 1946 in the swampland south of Guadalajara, Jalisco's capital. Tamazula de Gordiano, the "lagoon of toads," is named for the brown cane toads that infested the fields that fed the sugar factories where his father worked as a mechanic. He grew up in his dad's machine shop, watching factory chemists go to work in their labs wearing clean white coats. "I wanted to be them," he says.
He studied chemical engineering at the University of Guadalajara to learn about sugar extraction. But in 1964, Alcaraz's freshman year, the Mexican government announced that, because of surging U.S. demand for tequila, it would loosen the mandate requiring the spirit to be made from only traditional agave sugars. As much as 30 percent of any bottle of tequila could now be derived from other sources, creating a category informally known as mixto, and the industry turned to cane. One of Alcaraz's professors, Jorge Núñez, the engineer at Tequila El Viejito in Atotonilco, encouraged his student to apply his knowledge of cane sugar to studying distillation.
Before Alcaraz graduated, government officials came to the school explaining that standards were being further loosened to allow 49 percent nonagave sugars. They would be taking charge of industry inspections to ensure distillers didn't try to exploit the new rules. Alcaraz applied for a job and landed the spot as the country's first tequila inspector. Every month he traveled to Jalisco's 54 distilleries (only a couple were outside the state). "It was an invaluable experience," he says. "I had the opportunity of knowing all these different processes and equipment."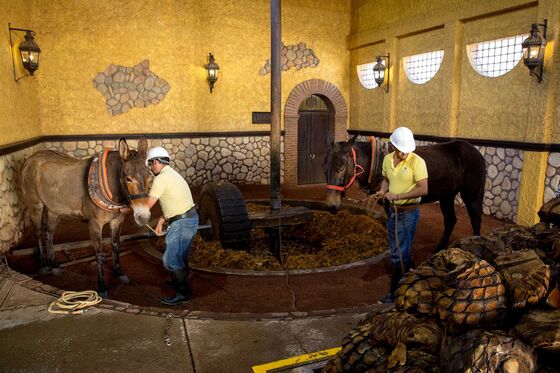 After two years, Núñez got him a job as production manager at El Viejito. Alcaraz set up a cot in the still room and slept there so he could learn the sounds of the copper pots and coils through every stage of distillation. After the spirits company La Madrileña hired El Viejito to make its tequila, Alcaraz experimented until he found a highly efficient fermentation yeast for a line that was exported to America as Two Fingers Tequila. Two Fingers, marketed with a fictional story about a two-fingered man known only as Ortega, appealed to partyers, not connoisseurs. It was a hit, the first new brand to ride the wave of success started by big names such as Jose Cuervo, Sauza, and Herradura in the 1960s and early '70s.
In 1981, Alcaraz struck out on his own. He began consulting for other tequila makers in the highlands east of Guadalajara, developing yeast cultures that improved the conversion of sugars to alcohol, boosting production. This was easy, he says, because these brands were making tequila with only 51 percent agave; their goal was output, not quality, so it didn't matter if Alcaraz altered the flavor of its tequila by changing the fermentation process. It was all going into margaritas anyway. But then he was hired by a client whose product presented a unique challenge.
Siete Leguas wanted to increase volume without sacrificing the quality of its 100 percent agave tequila. The family had recently purchased a second distillery a few doors down from the factory where the company was founded in the 1950s. The original distillery used a traditional stone-milling process, but the new one was set up with the more efficient roller mills the cane industry employed. No one had ever wedded the processes, and the family wanted Alcaraz's expertise in finding the right balance for the blend. The method Alcaraz devised produced the signature blanco, or unaged expression, for Siete Leguas. It combined the rich agave sweetness of stone-crushed tequilas with the bright minerality associated with the best roller-milled spirits. Within a few years, it was legendary among tequila aficionados.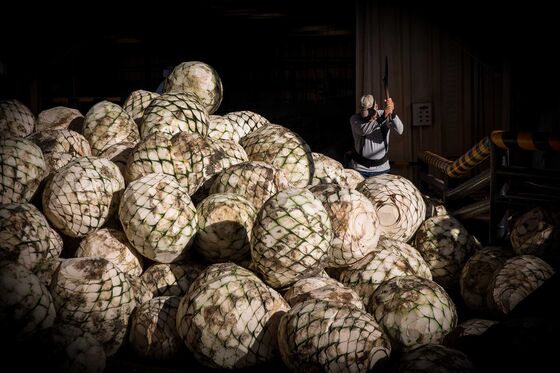 It took a year for Crowley to stockpile enough of the squat, hand-blown bottles he'd commissioned and enough of Alcaraz's unaged tequila to fill them. For Patrón's introduction in 1991, Crowley had a risky idea. He wanted to put its blanco against the top-selling tequilas in the U.S. in a blind taste test before a live audience of Los Angeles glitterati. DeJoria's A-list friends, including Tom Cruise, Arnold Schwarzenegger, and Lara Flynn Boyle, mingled among other guests at Wolfgang Puck's Spago, waiting to watch a panel of L.A.'s top food and spirits critics measure this new tequila against the blancos from Cuervo, Sauza, and Herradura. In a bit of showmanship, the judges' choices would be safeguarded and tabulated by Ernst & Young. Crowley even hired a magician to reveal the results. When it was time to declare the winner, the magician's cigarette burst into a puff of smoke and a bottle of Patrón appeared in his hand. The crowd erupted. "From then on, Patrón was on the lips of every hipster in Hollywood," Ilana Edelstein, Crowley's then-girlfriend, wrote in The Patrón Way. (The 2013 book explains that Crowley picked the name because, Edelstein writes, it means "the guy you go to when you want to marry off your daughter. We liked the aristocratic, dignified way it sounded.")
It wasn't long before Patrón had fresh competition. Importers Robert Denton and Martin Grassl introduced Americans to extra-aged tequilas—El Tesoro de Don Felipe and Porfidio, respectively, the latter of which was sold in handblown bottles with a glass cactus at the bottom. But while those brands focused on winning over bourbon and cognac fans, Crowley pushed Patrón to vodka drinkers. His argument: Why drink a spirit that's been distilled four or five times to the point of flavorlessness when a double-distilled blanco retains the appealing complexity of agave? Patrón went for $35, two to three times what any other blanco went for, and it was selling out.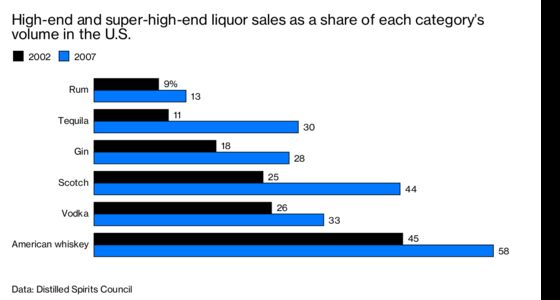 By 1994, Chinaco, El Tesoro, and other smaller brands were producing about 2,000 cases annually, whereas Patrón claimed to be moving 13,000. It was a minuscule slice of a market that totaled more than 5 million cases, but big distributors noticed the buzz. Jim Beam bought the rights to import El Tesoro. Spanish wine and spirits giant Pedro Domecq acquired Sauza. Its high-end lines, including the blanco Hornitos, were selling in the hundreds of thousands of cases. Seagram's Co. approached Crowley.
Seeing the potential, Alcaraz went to the González family with a plan for upping production. But by then, Lucrecia González had brought her younger brother Fernando in on business decisions. Fernando bridled against Alcaraz's proposal. He disliked Siete Leguas being known in America as a maker of someone else's tequila. "We are family-run," Fernando says. "We care about quality, not volume." Alcaraz argued that Fernando wouldn't need to buy another distillery or compromise his production methods. If he just hired more workers, they could rotate in shifts, putting Siete Leguas into 24-hour production. The family refused. "I was very angry with them," Alcaraz says. "So I said, 'OK, I'm leaving.' "
Without Siete Leguas as a home, Crowley signed a deal with undisclosed terms for a joint venture with Seagram's. If the company agreed to pay for a new distillery, it would become Patrón's exclusive U.S. distributor. Alcaraz drew up plans for building on land he owned near Atotonilco. Seagram's had other ideas. It wanted the distillery built about 45 minutes away in Arandas on a better road for trucking into Guadalajara. And Seagram's insisted on bringing in its own engineers. "They changed everything—the size of the ovens, the shape of the pot stills," Alcaraz says. He warned Crowley: "Their point of view is just production, production, lower the costs. It's not to produce the tequila you want." Alcaraz spent months trying to make the tequila produced in Arandas taste like what he had made at Siete Leguas, without luck. "They fired me," he says.
Alcaraz was devastated. He called Crowley to tell him the bad news. Crowley was delighted. "Congratulations, Francisco!" he said, according to Alcaraz. Now that he'd been fired, Alcaraz wasn't constrained by Seagram's production demands. Crowley sued Seagram's to get out of the contract, arguing that the company had interfered with the design of the new distillery and made it impossible for Patrón to live up to the standards their agreement required. Seagram's rejected those claims, and the parties settled out of court in September 2000. "It was a bitter experience," Alcaraz says.
With the lawsuit behind them, Crowley gave Alcaraz what he wanted: the chance to build a distillery from scratch. Alcaraz says Crowley offered him $5 million to make it a reality. "Do what you know how to do," Crowley said. Hacienda Patrón, where the company still makes the bulk of its tequila, was finished in 2002. Crowley announced that he intended to retire and sell Patrón, and Italian spirits company Campari Group was poised to buy it. But just as arrangements were being finalized in April 2003, Crowley died unexpectedly of a heart attack.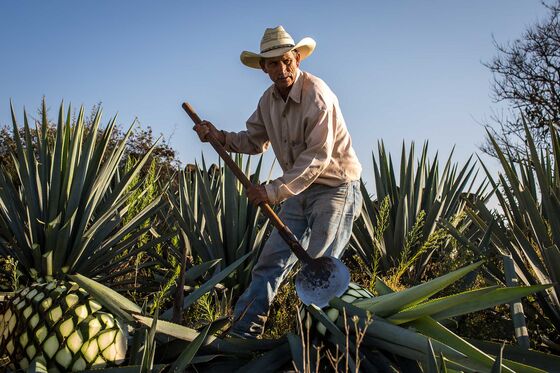 With his sudden death, the fate of Crowley's 50 percent ownership stake was unclear. DeJoria argued that he had a right to purchase Crowley's shares; the Crowley estate disagreed and wanted to sell to Bacardi, saying it would offer a better price than DeJoria's or Campari's. DeJoria called a meeting of what he called the VVIPs ("very, very important people"), including Alcaraz. DeJoria offered them substantial bonuses and company stock if they stayed for the duration of the dispute, which he expected to last five years, or until the sale of the company. The agreement reached in 2008 gave Bacardi a 30 percent interest in Patrón for less than $500 million. DeJoria bought the remaining shares, making him the majority owner, with small shares divided among the VVIPs.
In the decade since the agreement, Patrón has become the top-selling premium tequila, surpassing spirits from Herradura, Sauza, and other companies. Alcaraz kept pace by replicating his process, expanding Hacienda Patrón with computer-controlled stone mills and massive fermentation rooms, but he never changed the basic method. In recent years, Alcaraz, now 72, has slowed down, spending more time with his adult children and handing over the reins to a new generation of tequila makers. Although he's continued to work with Patrón's production team, coming up with several new high-end lines, he has let other engineers take the lead in developing the all stone-crushed Roca Patrón (introduced in 2014) and Patrón Extra Añejo (2017). "His contributions to distilling … make him one of the most important tequileros of the last generation," says Clayton Szczech, founder of Experience Tequila, the industry's leading tourism and education company. "But his legacy is even more extensive, as he was a teacher to distillers who are currently producing some of the best tequila."
Despite that legacy, some industry watchers worry that, with such a heavy investment, Bacardi will try to expand Patrón's market share in the hopes of catching up to Cuervo as the top seller of tequila, premium or otherwise. The company would have to add factories. Bacardi and Patrón declined interview requests for this article, but in a statement announcing the deal in January, Mahesh Madhavan, Bacardi's chief executive officer, said he intended to "grow Patrón around the world, increasing scale in the U.S. and globally."
What does that mean for the future of the tequila? Grover Sanschagrin, the founder and president of Tequila Matchmaker, the most respected source for industry information, said on the day of the sale that he expected Bacardi to change Patrón's production method. The latest tool for increasing output is a high-volume diffuser adapted from the ethanol industry that uses acids and enzymes to extract sugars from uncooked agave—a method that yields a flavorless or even bitter tequila, but lots of it. Since then, Sanschagrin says, he's had encouraging conversations with Patrón executives, who say the deal is not about changing production but expanding and profiting on distribution.
Still, once Bacardi maxes out its distribution profits, Patrón will likely face pressure to conform to the production methods of the parent company's other brands and competitors. When Bacardi bought Cazadores in 2002, it switched the once-respected, family-owned brand to diffusers. Bacardi's other tequila, Corzo, is made at the same facility. Diageo Plc, which acquired Don Julio in 2015 and paid George Clooney and his partners more than $1 billion for Casamigos in 2017, is building a high-volume distillery almost directly across the road from Hacienda Patrón.
If Bacardi takes this approach to add a few percentage points to the profit margin, it will be an unfortunate postscript for Alcaraz. Throughout his career, he mostly brushed off opportunities for wealth. And though he's amused by the bronze statue of himself, he generally despises honorifics. Once at Hacienda Patrón, I saw him bristle when a well-meaning American called him "Don Francisco," a title reserved for the owner of a hacienda. "No me llames así," he replied—"don't call me that." He may not own the place, but he made it what it is.
To contact the editor responsible for this story: Bret Begun at bbegun@bloomberg.net, Jim Aley