Startups Look to Mainstream Medical Tourism
(Bloomberg Businessweek) -- About 14 million people spent $68 billion on medical tourism in 2016, according to consulting firm PwC. A growing number are Westerners headed to developing countries for cosmetic surgery or dental work, procedures that are less expensive and invasive than major operations and often aren't covered by insurance. PwC predicts that by 2021 the medical tourism market will reach $125 billion. The growth will be built not on nose jobs and dental implants but on costlier and riskier procedures with longer recovery times, such as knee replacements and heart surgeries.
Startups from Berlin to Bangkok are trying to do for medical tourists what Airbnb or Hotels.com does for the general public. Instead of searching for a place to stay, users type in a medical procedure and get a list of clinics or doctors in nations that offer the surgery—scroll and click on a link to make an appointment. The companies charge providers a commission for bookings or a flat subscription fee to be on the platform. And they're working on additional revenue streams, such as planning beach vacations for recuperating patients and their families, most likely by integrating their platforms with popular travel sites.
One of the ripest markets is the U.S., where the average household spent more than $10,000 on health care in 2017, the first time that number hit five figures anywhere in the world, according to the Organization for Economic Cooperation and Development. A knee replacement that costs about $35,000 in the U.S. could run $8,200 in Poland, $7,200 in Colombia, or $6,600 in India, the U.S.-based Medical Tourism Association reports.
Berlin-based Medigo GmbH has served 125,000 patients, says co-founder Ugur Samut. Many just want a second opinion, but Samut says "critical illness treatments" account for 30 percent of business, and he expects that number to hit 80 percent in five years. That could stem from Medigo's allowing patients to leave reviews. ("I have no hesitation in recommending Silverline hospital and Medigo," Peter wrote in February, referring to a hospital in the Indian city of Kochi. In June, Carol wrote of Silverline: "People were overall accommodating. … The nurses in ICU had very limited skills in English.") "The more patients we get, the more experiences we are able to list," Samut says.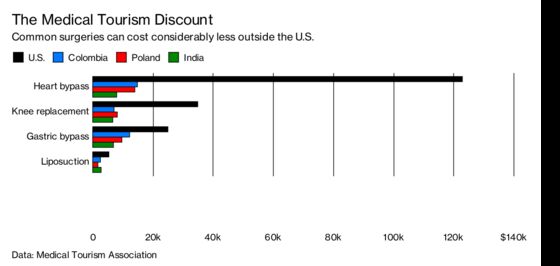 For invasive procedures, Medigo puts prospective patients in touch with someone who had the operation in the same hospital. It also teams up with insurers. In Russia, Medigo works with Allianz SE. For Allianz's Russian customers, Medigo will pay the cost of treatment abroad upfront and get reimbursed, saving someone from having to pay out of pocket. Getting more insurers on board is key to the growth of the industry, Samut says, because it would let the sites tap into the corporate market.
Paul McTaggart began to see the possibilities of the medical tourism business while living in Seattle, where he worked for travel booking site Expedia Group Inc. In 2014 he moved his family first to Mexico and then to Bangkok to start Medical Departures International. McTaggart says the site is seeing 40 percent growth annually. It's profitable, he says, based on its dental and cosmetic surgery business, and he's moved into heart care; knee, hip, and joint replacements; and cancer treatments. "Health care is opaque and basically an oligopoly," he says. "It's the consumer who's unfortunately the one who has to pay a huge premium for this."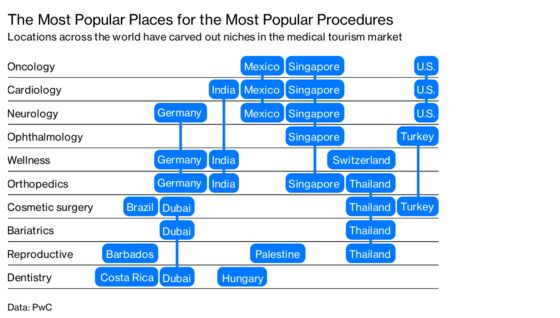 BookDoc caters to a different clientele: wealthier citizens in developing countries who travel to get more reliable care. Chevy Beh, whose family runs Malaysia's BP Healthcare Group, founded the site, which he says gets 20,000 to 30,000 visitors a day who are interested in medical tourism. He decided he needed to do more than just match patients with doctors. "We can't just start BookDoc and say, 'It's a booking platform, you just use it,' " says Beh. Medical tourists have the same concerns as other travelers, he says, and BookDoc needed to address those. So Beh partnered with TripAdvisor and Agoda for accommodations, Airbnb for longer stays, and Uber and Grab for ground transport.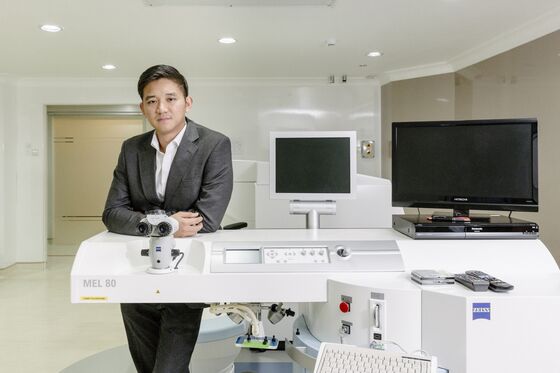 Dhiraj Joshi, a PwC health-care strategist in Dubai, says the industry needs to get more people comfortable with the idea of getting major surgeries abroad by showing them that the care is as good and safe as at home. "For somebody to let someone else 3,000 miles away open their chest and do a heart surgery, that decision is never taken solely on convenience or cost alone," he says. "This is a trick the medical tourism industry is grappling with and hasn't yet been able to get past."
To contact the editor responsible for this story: Bret Begun at bbegun@bloomberg.net, Adam Majendie