How Hiking May Hold the Key to Slovenia's Tourism Future
(Bloomberg Businessweek) -- The first time I met Slovenian mountaineer Ales Cesen, we were snowshoeing across an ice cap in Iceland, about 2,000 miles from his native country.
It was only October, but winter had come early that year, and the climate was particularly dour, even by local standards. Unhindered by the mist and hail, Cesen made just one noise: a rhythmic slooping sound as his feet dragged along the glacier. Perhaps it was his hiker's stoicism. Or maybe he was just peeved about the weather.
I'd been in Reykjavik on business when an old friend and seasoned expedition leader, Siggi Bjarni Sveinsson, invited me to explore the country's southerly expanse of volcanoes and glaciers. I was lured by the promise of new adventures but unprepared to share them with such a veteran climber. I could barely keep up.
We paused when the wind subsided, and Cesen's wife, Polona, exhumed a plastic package from her rucksack: a bag of hermetically sealed doughnuts, like the ones you find at the gas station that will survive the apocalypse, and we qualified our shared sweet tooth indulgence as "cultural exchange." Cesen abstained, and as he blazed ahead to explore a fissure forged by the cataclysmic eruption of the volcano Eyjafjallajökull back in 2010, Sveinsson signaled for me to pause. He leaned in and said in his aspirated Icelandic accent: "You know, Ales is—how do you Americans say it? Ah, yes—a 'big f---ing deal.' "
This was 2016. Cesen was on a survey mission in Iceland hoping to understand what sparked the country's tourism ascendancy and figure out how to replicate it back home. In many ways, the Slovenia of today bears striking similarities to the Iceland of a few years ago: There are vast expanses of uncorrupted nature to explore, freshly farmed meals to enjoy, a population of kind and indomitable souls, and a paucity of visitors.
That's why Cesen decided to create Midgard Experience, a customized trekking outfit and mountaineering academy for all levels that opened in June. His goal is twofold: first, to devise a series of technical courses that can initiate hikers into the impenetrable-seeming world of alpinism. And second, to turn his native Slovenia into the latest must-visit adventure destination—the next Iceland.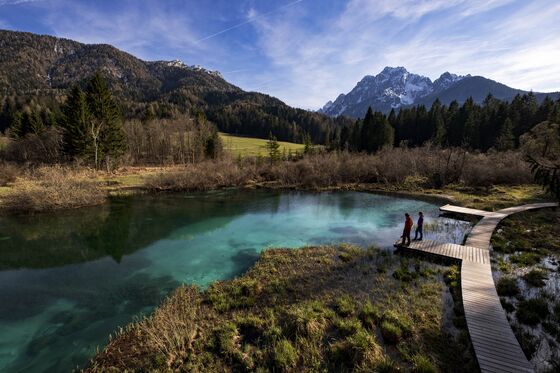 In Slovenia, Cesen, 36, could best be described as climbing royalty. His father, Tomo Cesen, is an acclaimed mountaineer known for his solo ascents of several perilous peaks in the Alps and Himalayas in the 1980s. The southeasterly passage to the summit of K2—the world's second-highest mountain and a significantly more difficult climb than Everest—is called the Cesen Route in his honor.
Ales has since become the torchbearer for his family's shared climbing passion. Polona, also 36, is an accomplished climber in her own right; they've even named their eldest son Rok. In 2015, Cesen won a Piolet d'Or—the Academy Awards of alpinism—for completing the first ascent of the north face of Hagshu in the Indian Himalayas with fellow Slovenians Luka Lindic and Marko Prezelj. And, among other honors, the Alpine Association of Slovenia, a conglomeration of 285 smaller climbing and hiking societies, recognized him as mountaineer of the year in 2017.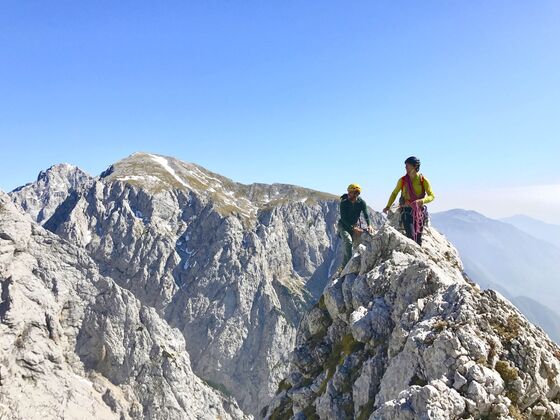 The next time I see Cesen, it's one year later to the day. He's working out the final logistics of his adventure climbing outfit and has invited me to spend some time in Slovenia to give his new alpinism product a trial run. As I touch down amid a sharp crown of peaks near Ljubljana, the country's capital, I realize that the small international airport is positioned on what must be the country's only strip of flat terrain. The craggy geography explains the cult of climbing that exists in Slovenia—think of it like California's branded surfing lifestyle but at 8,000 feet above sea level.
The Alpine Association of Slovenia is the country's largest nongovernmental organization. An affiliate of the Olympic team, it has more than 57,000 registered members. That's roughly 2.9 percent of the nation's 2 million inhabitants. Each year the association leverages a margin of its profits, and about 29,000 volunteer hours, to maintain 10,000-plus kilometers of trails and a network of 181 bivouacs and mountain shelters. Last year it collected €21 million ($24.4 million) from guided hikes, canteen purchases, and bunk accommodations, not including the taxes and revenue from private enterprises such as Cesen's.
In his new role as founder and private expedition leader for Midgard Experience, Cesen is an unofficial ambassador for the Julian Alps who's memorized each crest and crag of the range, similar to the way we intrinsically know every wrinkle and scar on our own bodies. He's not ebullient by American standards, but he's warm and welcoming during an introductory hike along the shores of Bled, a glacial lake famed for the spire of the Church of St. Martin that seemingly floats in its middle.
As we stamp our way up to lookout points and hidden waterfalls, I prod for insights about what physical challenges we'll tackle in the days ahead, but really it's Cesen who's sussing me out, gauging my abilities and interests to tailor a mountaineering experience that will push me just far enough outside my comfort zone. At the end of the day, Polona, who came on the hike, insists on a group selfie before popping open the trunk of their Peugeot and unveiling some cultural exchange—a tray of intricate, homemade petits fours, which we inhale.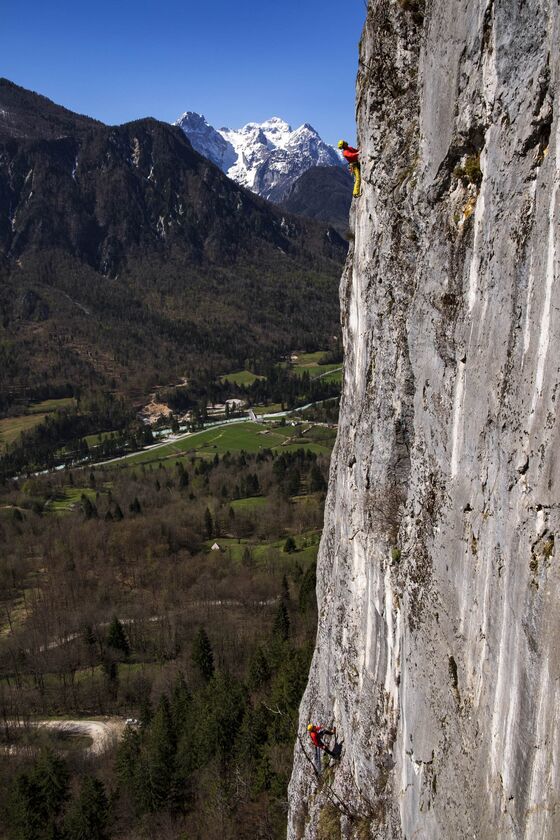 The next day, Cesen leads me on my first technical climb. He chooses a towering rock face in the nearby Kamnik Alps, a sparsely visited collection of ridges along the Austrian border where he and his alpinist peers ready themselves for Himalayan expeditions. The look of it is daunting for a beginner like me: It's 8,000 feet high and fully vertical to the naked eye, with teeny ledges to rest your legs spaced 30 feet apart.
With little ado, harnesses are latched, helmets adjusted, and ropes unfurled; then we steadily hoist ourselves from ledge to ledge, inching farther above the Technicolor tree line. Each lift of the leg is a riddle that needs solving. Finding suitable footholds and finger grips in a sheer cliff is like putting together a 5,000-piece jigsaw puzzle.
Cesen leads the way with ease, a loose rope connecting the two of us like a mobile belay—or the mountaineering equivalent of training wheels. Exerting little or no effort at all, he inserts spring-loaded cams into stone crevices to create a system of hooks for our safety ropes. His first lessons come quickly and cover three critical skills: spotting unlikely grooves and fissures in the stone, trusting one's instincts, and learning to play the mountain like a game of chess. With the latter, I realize that mountaineering is as much a feat of mental endurance as it is physical exertion. You have to appreciate the gravity (literally) of each move while setting yourself up for a successful path ahead. Gradually, Cesen loosens our link, creating distance between us and testing my newfound ability. Slowly and carefully I build a sequence of steps and grips together—a "rock ballet," as Cesen calls it. And as the ground rapidly peels away from me, I realize this isn't merely a guided climb, but a master class led by the Daniel Day-Lewis of mountaineering.
We reach our first crest around midday and follow a thin dragon's tail of stone toward a second, higher peak. By the end of the afternoon we reach the summit, a craggy moonscape freckled by snow puddles and alpine moss. Our reward is an extended overnight break at a small but surprisingly modernist bivouac cabin—it's almost Scandinavian in style, built from blond wood and geometric panes of weatherproof glass. Inside, five ergonomically designed beds extend from the walls, each lined with a thin, yoga mat-like pad. A weathered journal sits on the table by the door containing the scrawled signatures—Slovenian, mostly—of other tired climbers who've overnighted in the hut.
With the warm setting sun still gleaming, we enjoy our packed provisions on the smooth shale outside: creamy farm cheese from a dairy near Bled, homemade prosciutto cured along the Italian border, and morsels of a decadent chocolate cake that (unsurprisingly, by now) Polona had packed for us. Cesen briefly breaks the silence between chews: "I can tell that you belong in nature," he says. His words, though characteristically succinct, feel like the most gratifying compliment I've ever received. Exhausted but beaming with pride, I stare thousands of feet down the valley and take in my accomplishment.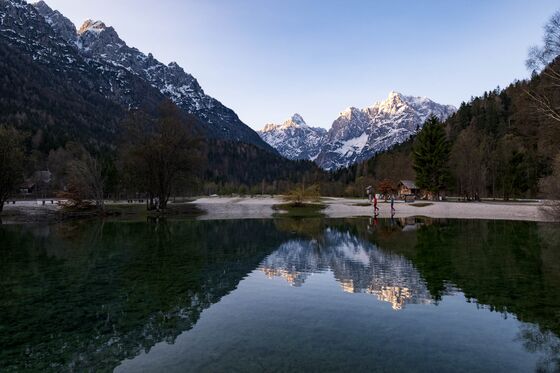 Today, Cesen's exclusive adventure outfit is fully operational. The private three-day, two-night itineraries are custom-tailored and start at €980 per person including overnight accommodations and instructional guiding. Whether he's taking guests on advanced ascents along the north face of the Julians, setting on multiday treks through the Valley of Seven Lakes, or practicing rock climbing techniques at the arcing walls of Crni Kal, Cesen imbues each trip with a sincere passion for nature and sport. Intentionally or not, he's also succeeded at something the travel industry often struggles to achieve: bridging authenticity and adventure.
"Why is it that when it comes to conquering a mountain, most travelers sign up for factory-fare treks like the Kilimanjaro parade or the overcrowded Inca Trail?" I wonder aloud to Cesen, recalling when I visited Machu Picchu and witnessed a zombielike flood of hikers pouring through the legendary ruin's Sun Gate.
"It's a bit like faking romance in a brothel," he replies, deriding the prevailing trend of these so-called checklist climbs. If he's successful, Cesen says, he'll supplant travelers' desires to summit Everest with the gratification of mastering an intimidating (but surprisingly accessible) adventure sport.
Currently, Bled and its sister lake, Bohinj, get the lion's share of Slovenia's international traffic—mostly from tourists who trundle through on bus tours and assume the twin lakes are the country's only drawing card. Holidaying Slovenians, however, take to the Alps, where Cesen's operation is based. Ascending Triglav, the country's highest peak, is like joining these locals on a rite of passage; roughly 60,000 nationals overnight in the scatter of mountain huts there each year.
Being an alpinist and being Slovenian are two sides of the same coin. Undoubtedly, this propensity for fitness and nature has played a role in the country's high standards of living. (Slovenia regularly ranks toward the top of the Global Peace Index.) It certainly explains why Slovenia claims 759 registered professional climbers—the highest number per capita on the global competitive circuit—and 13 of the coveted Piolet d'Ors awarded in the last 26 years.
It turns out that Slovenia, much like Ales, is—how do you say it?—ah, yes, a big f---ing deal.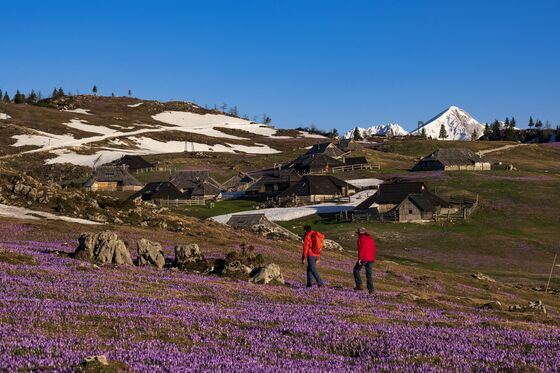 Now That You've Worked Up an Appetite
JB Restaurant
At Ljubljana's best restaurant, French-trained chef Janez Bratovz serves
tasting menus with magnificent dishes such as foie gras ravioli and beef cheeks in rosemary demi-glace.
Klinec Inn
It's everything you want from a rustic Italian meal, just 1 mile from the border, in Slovenia's Brda region. Think hand-rolled pasta and homemade salumi, plus locally sourced biodynamic wines.
Hisa Franko
Proprietor Anna Ros is Slovenia's first chef to crack the World's 50 Best Restaurants list. She achieved that by pulling ingredients from her backyard in the remote Soca Valley to create high-concept dishes such as the Oaxacan-inspired "mountain rabbit on vacation in Mexico." 
To contact the editor responsible for this story: Chris Rovzar at crovzar@bloomberg.net, Nikki Ekstein