Prisonville, Texas, Hopes to Reboot Its Economy on the Back of Trump's Immigration Crackdown
(Bloomberg Businessweek) -- Joel Hernandez was promoted to sergeant by private prison operator Management & Training Corp. days before a riot broke out in 2015 at the Willacy County Correctional Center in South Texas where he worked. He escaped with his life—but not his job. Within months of the fiery uproar, the facility, a prison in Raymondville for immigrants awaiting deportation, was shut down. About 400 MTC employees, or 6 percent of the town's entire workforce, lost their jobs. Less than a month later the Obama administration promised the federal government would stop contracting immigration detention to private operators, including MTC.
The decision was a severe blow to this remote area of the Rio Grande Valley, the poorest pocket of Texas. For two decades, first as a resident of Raymondville and then as its mayor, Gilbert Gonzales had witnessed neighboring counties build roads, schools, and housing, while his own economy foundered amid floods, illicit gambling, rampant drug use, and fleeing industries.
Three years on, Willacy County's 11 percent jobless rate is almost triple the state average. Its farmers face the worst drought in decades. The two other prisons in Raymondville—known in the region as Prisonville—remain the biggest employers in a town excited about the prospects of a new Tractor Supply Co. store. But change is coming: President Trump and his hard-line immigration agenda have revived the Willacy County Correctional Center.
Trump, who describes the entry of undocumented immigrants as an invasion, made expanding the country's detention capacity a priority. He signed an executive order four days after his inauguration that enhanced federal agencies' ability to detain some of the 11 million undocumented immigrants in the U.S. He also called for a 40 percent budget increase for Immigration and Customs Enforcement in 2019, to $8.8 billion, earmarking almost $3 billion exclusively for detention. Facilities have opened across the country—including one in an old Walmart that's holding about 1,500 children 50 miles south of Willacy County, in Brownsville. As capacity has increased, so has the amount of time detainees spend in prison, to an average of 44 days in fiscal 2018 from 34.5 days in fiscal 2014.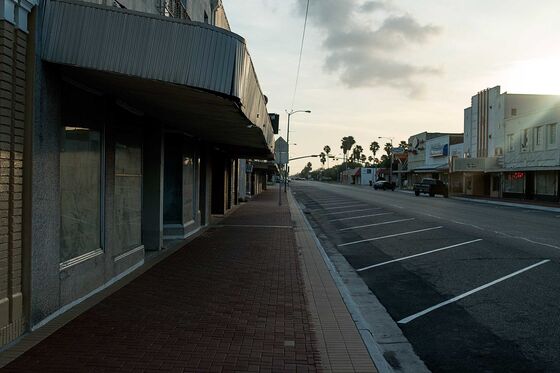 The next weapon in Trump's war on immigration is MTC's building in Raymondville. At the facility on the outskirts of town—about a mile from the local high school on the other side of Interstate 69, which stretches to Brownsville on the border—MTC officials are working to eliminate all remnants of the riot. Massive Kevlar tents were erected within 90 days of President George W. Bush's 2006 order for a new immigrant detention prison. Large enough to hold 2,000 prisoners, the tents were at the center of the 2015 violence and have now been razed. The largest remaining structure could hold 1,200 people before the riot.
Crews zip in and out of the building on golf carts as workers update the grounds and its cells. MTC doesn't yet have a contract with ICE, but a company spokesman says it's in discussions. MTC is so confident, it held a job fair in late May to recruit administrators and guards. Among the applicants was Angie Moreno-Gongora, who worked for MTC until the riot. While employed at the complex, she sued for back wages in a case that was ultimately settled out of court. Now she's ready to go back to work for MTC, if the pay's right. "I want to work for MTC because I tell people, 'Don't tell me I can't find a $15-an-hour job here in Raymondville,' " she says. Moreno-Gongora agrees with Trump that deportations should occur swiftly and en masse. She calls due process "bureaucratic red tape."
When complete, the latest iteration of the correction center will be named the El Valle Detention Facility. It will account for one-third of Prisonville's 3-square-mile campus. MTC says the facility, like its other prisons, won't be used to detain children. And it should be a boon for the community's coffers: Last year, County Judge Aurelio Guerra estimated the county could see about $450,000 a year in additional revenue. Raymondville will benefit from the operation's sewer and water fees. It's unclear how many jobs the prison will create, though it will probably be a fraction of the 400 that were lost.
The facility could eventually become a political liability, just like the U.S. Customs and Border Protection site down the road in McAllen, now a hub for protesters demanding an end to the administration's policy of separating parents and children entering through the southern border. Like many in Willacy County, Mayor Gonzales is a Hispanic Democrat who voted for Hillary Clinton and opposes Trump's immigration policies. He recently toured MTC's facility and says he's impressed with the quality of its steel latrines and their proximity to the sinks. "It's still hard to swallow the pill that Trump won, and because of him a lot of our people will be detained in those facilities," says Gonzalez, who as a child migrant laborer picked cotton in the county. "But sometimes you have to sway in a direction you don't want to sway in if the sacrifice benefits the economy. It's tough to turn away opportunities that can help build this community."
Joel Hernandez, the former guard, fled for oil country after the Willacy facility was shuttered and now works for refiners across the state. He'd rather not see his hometown continuing to live up to the Prisonville nickname, especially in the service of Trump's policies. "When I come back to town, people here don't know any better," he says. "They don't know there's a big world out there. It's like they're all locked up in there with the prisoners."
Drive through Raymondville, and you see what Hernandez means. The marquee at the local theater has been smashed. Its doors are locked, as are those of most of the storefronts downtown. The rusted silos are infested with mosquitoes; there's no grain inside or livestock nearby. The farms that do exist are profitable, but only because they've leased their land to wind farms. "One more prison won't change any of this," says Ernesto "Lefty" Cavazos, chair of the Willacy County Democratic Party. "But if they're going to do it somewhere, they might as well do it here."
To contact the editor responsible for this story: Matthew Philips at mphilips3@bloomberg.net