If You Steal It, the Art Vigilante Will Find You
(Bloomberg Businessweek) -- For days, Christos Tsirogiannis had been hitting refresh on his laptop, waiting for a chance to snatch ancient artifacts from one of the world's biggest auctioneers. At the dining room table of his tidy house on a quiet street in Cambridge, England, the 45-year-old archaeologist was stalking Christie's website, where the catalog for an upcoming antiquities auction in New York would soon be posted. It was important to his vigilante mission that he see the lots quickly. Tsirogiannis had work to do to repeat previous exploits in which he'd cost Christie's and rivals Sotheby's and Bonhams millions of dollars in sales—and the sale was in less than a month.
Then, on a sunny March morning, after dropping off his 2-year-old daughter at school and bicycling home, he returned to his laptop and tried again. The catalog appeared. He clicked through the pages, eyeballing the marble statues and clay vases as they flashed by. At Lot 26, he stopped. "That … is … an interesting one," he said. He moved his cursor toward the image of an amphora listed as "Property from a Manhattan Private Collection" that was expected to sell for as much as $50,000.
More than a decade ago, Tsirogiannis started building a secret archive of tens of thousands of Polaroids and other photos from the artifact underground, where illicitly dug pots and statues are laundered as they pass from tomb raiders to smugglers to dealers and then on to museums, collectors, and auction houses. Most of his images were seized in police raids and given to him by prosecutors in Greece and Italy. Working independently, Tsirogiannis matches the photos with objects that surface at auctions or museums and then works to repatriate the pieces. It was easy to see why the 2,500-year-old vase jogged his memory, decorated as it was with an erotic daisy chain of men, dogs, and one woman. He thought he'd seen the amphora in the section of his archive dedicated to convicted Italian trafficker Giacomo Medici. "There is a similar one in Medici, definitely, but maybe not that particular one," he said. "We will see."
Tsirogiannis takes great caution to keep the images from prying eyes. The archive itself—30,000-plus pictures depicting more than 100,000 objects—is a digital one, taking up a half-terabyte on a server in an undisclosed country in the South Pacific, accessed with passwords he changes twice a week. "There is no actual copy with me or in my house or in my working space," he said.
Although he invited me to watch him work, something he hasn't allowed a journalist to do before, Tsirogiannis refused to let me in his house when he accessed the archive. He'd even downloaded part of it to his laptop before my arrival to avoid being connected to the database while being observed. He's afraid of driving objects underground: If dealers learn that an ancient pot is in Tsirogiannis's Polaroid trove, it might never again see the light of day because it risks being seized.
When he finished clicking through the last of Christie's 109 lots, Tsirogiannis was ready to dive into his archive. It's meticulously organized so he can fetch images from one of three major dealers, including Medici, and from galleries and smaller dealers whose photos help him reconstruct who owned what and when. Within each of these libraries, he has folders for about 10 object types, amphorae in one, kylix drinking cups in another. Those in turn are categorized by shape and color. Figurines are sorted by animal type—horses are with horses, boars with boars.
To vet the catalog, he'd made a list of about 15 suspect lots. Then, one at a time, he looked for matches. The laptop screen was filled 14 across with thumbnails from the Medici folder, and Tsirogiannis's eyes darted left to right as he scrolled through in an intricate game of Memory, where players turn over two cards at a time looking for a pair.
He'd barely begun when he needed to run to a lunch meeting. He would continue the search that evening; we could meet the next day, he said. As we prepared to leave, he deleted the downloaded portion of the archive. Tsirogiannis's curiosity proved overwhelming. As soon as I left, he logged back in. "These are things that always have priority for me," he told me later. What he found made him late for his appointment. By midnight, he'd alerted law enforcement on two continents.
The foundation for Tsirogiannis's work began on the night of April 3, 1986. In the seaside town of San Felice Circeo, south of Rome, intruders sawed through the padlock on the massive front doors of a noblewoman's stone fortress while she was away. They used axes to smash a set of inner doors and set about stripping the furnishings. On a patio, they found a 2,000-year-old Roman child's sarcophagus carved from a solid block of white marble. They took that and the top of an ancient marble column they spotted near the kitchen. Using a pickax, they also detached a white marble fireplace fashioned from another sarcophagus. It bore a carved bas-relief of a scene depicting sea horses and the head of Neptune, god of the seas, according to the police report. Such ancient fixtures had legally made their way into private collections through the centuries, long before Italy passed its cultural heritage laws in the early 1900s.
The break-in set off a chain reaction that rocked the biggest auction houses and museums and, ultimately, led to Tsirogiannis's career. When Sotheby's published the catalog for its May 1987 London antiquities sale, investigators from the Italian Carabinieri art squad noticed that three lots appeared to match objects from the burglary. The Carabinieri contacted Interpol, which relayed a request to the British police to block their sale. Sotheby's pulled them from auction. More important, the operation yielded the name of the company that had consigned the three antiquities for sale: Editions Services SA, based in Geneva and registered in Panama. Medici owned the shell company, which rented storage space at a gated warehouse complex where foreign goods in transit are exempt from Swiss taxes.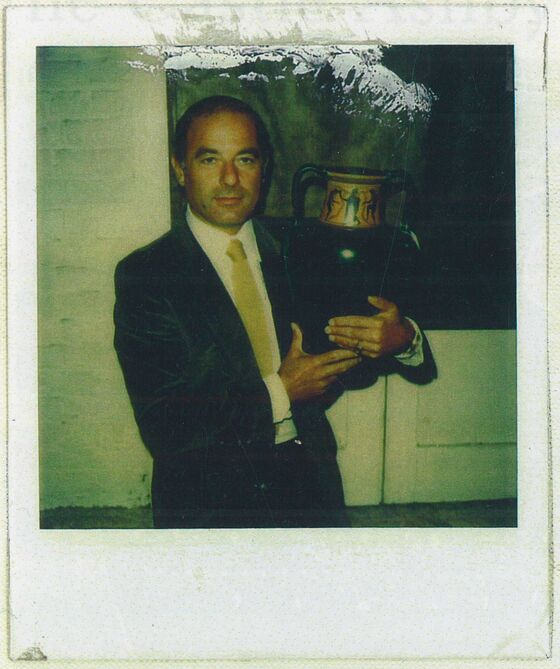 In September 1995, after a lengthy standoff with the shell company's Swiss administrator, Swiss and Italian police searched the warehouse. Alongside thousands of artifacts, they found Polaroids and rolls of film—more than 80 albums with about 4,000 photos. Some depicted objects in fragments, encrusted with dirt. Others showed the same objects undergoing restoration, and yet more depicted them fully restored. In a few photos, Medici posed with the same works in American museums.
Sorting out the pictures for Italian prosecutors was a task that fell to Maurizio Pellegrini, a technician from the Villa Giulia Etruscan museum in Rome, and Daniela Rizzo, an archaeologist there. They sought to match each of the thousands of photos to known pieces in museums and collections around the world. The evidence they compiled helped lead to the return of more than 100 objects from museums globally, including New York's Metropolitan Museum of Art, the J. Paul Getty Museum in Los Angeles, and Boston's Museum of Fine Arts. Italy seized the objects of apparent Italian origin at the warehouse, but many of them stayed in Geneva under Medici's control.
In 1998, Tsirogiannis graduated from the University of Athens, where he'd been studying archaeology and art history. His career path had been set in 1977. When he was a 4-year-old growing up in Komotini, a small town in northeast Greece, his parents had showed him newspaper photos from the newly excavated royal Macedonian tombs, which included the undisturbed, gold-filled burial place of Philip II, the father of Alexander the Great. "They showed me how these objects can be discovered," he said. "I found my cause."
At university he largely skipped lectures to work on government excavations for fieldwork experience, and he passed exams by studying friends' class notes. After a handful of short-term archaeology jobs, he began his mandatory military service in 2002, turning his remote postings into expeditions. On Crete he discovered an ancient fortification and gathered pottery for a local museum. As an army officer in 2003, Tsirogiannis discovered an ancient settlement and cemetery on the Greek-Albanian border. It helped him win his first of several contracts as a government archaeologist in 2004.
That same year, a judge in Rome convicted Medici on trafficking charges. About the same time, related investigations had netted other photo caches. One raid on the Swiss vaults of Sicilian dealer Gianfranco Becchina yielded a huge trove. Another police mission, on a remote Greek island, brought Tsirogiannis into the hunt.
His work for the government had introduced him to the Greek police art squad, which needed archaeologists to identify looted artifacts on raids. In April 2006, Tsirogiannis went to a villa that housed the belongings of British antiquities dealer Robin Symes and his late partner, Christo Michaelides, on the island of Schoinoussa. While Symes was away, Tsirogiannis and the police spent four days searching the property for artifacts. They were successful but didn't find the documentation they suspected might be there. They returned to Athens only to be sent back after the head of the art squad got new information. On the penultimate day of the second trip, the team combed through a storage room next to one of the complex's many kitchens. There they stumbled upon 17 albums bound in dark green leather and embossed with gold lettering, containing, Tsirogiannis said, "photographs of unique masterpieces from nearly all ancient civilizations." (Symes was investigated, but never indicted, in the broader Medici probe. Symes, who couldn't be reached for comment, denied in a 2005 interview with the Los Angeles Times that he knowingly sold looted goods.)
In July 2006, at a two-day meeting at police headquarters in Athens, the Italians gave the Greek team digital copies of the Medici and Becchina archives. Tsirogiannis now had the core of his collection. By 2008 his investigative work with the photos had become well known in antiquities circles. Professor Colin Renfrew, a member of the House of Lords and the godfather of academics who advocate for repatriating ancient objects, invited Tsirogiannis to the University of Cambridge to turn his archival work into a doctoral thesis.
From that perch, Tsirogiannis claimed his first auction house scalp, in 2010 at Bonhams in London. "I identified three busts depicted in fragmentary condition in the Symes-Michaelides archive that, at Bonhams, were restored in such a way that gave the impression they had never been broken," he said. The same catalog also had a marble statue he matched to a Polaroid from the Medici archive in which the piece sat uncleaned on a table. Bonhams removed the objects from sale.
Tsirogiannis had changed the rules of the game. Others had called out the houses for their practices, but no one had done so with such a powerful trove of visuals. "His approach has made auction houses and other dealers take due diligence much more seriously," said David Gill, a professor at the University of Suffolk who specializes in cultural heritage issues and helped supervise Tsirogiannis's grad work. Sotheby's contends that the industry's due diligence would benefit if the archives were made public. "Regrettably, those materials have been and remain at present completely inaccessible—except to one private individual," it said in a statement. Bonhams has asked for access to the archive, "to assist the rigorous due diligence that we do for each object in our sales," said spokeswoman Lucinda Bredin.
To date, Tsirogiannis said, he's matched more than 50 objects at auction and disrupted at least $10 million in sales. One of the biggest was a Sardinian marble female idol put up for sale at Christie's in December 2014 for an estimate as high as $1.2 million. Tsirogiannis linked the gleaming figure in the catalog to an image of a yellowed and cracked object in the Medici archive. Christie's pulled the idol from the auction.
The move to Cambridge changed his life. Tsirogiannis got his doctorate and married an Englishwoman on the classics faculty, Helen Van Noorden, who specializes in Greek epic poetry. They named their daughter and son after figures from Greek mythology.
To his frustration, Tsirogiannis doesn't make a cent as a Robin Hood—though he does have a book contract from an academic press to publish his dissertation. Since completing his doctorate, he's worked as a researcher for the Trafficking Culture project at the University of Glasgow and for a commercial archaeology unit in Cambridge that provides services for construction projects. He's also advised law firms on provenance research. In June, Denmark's Aarhus University awarded him a fellowship to study material confiscated from Symes.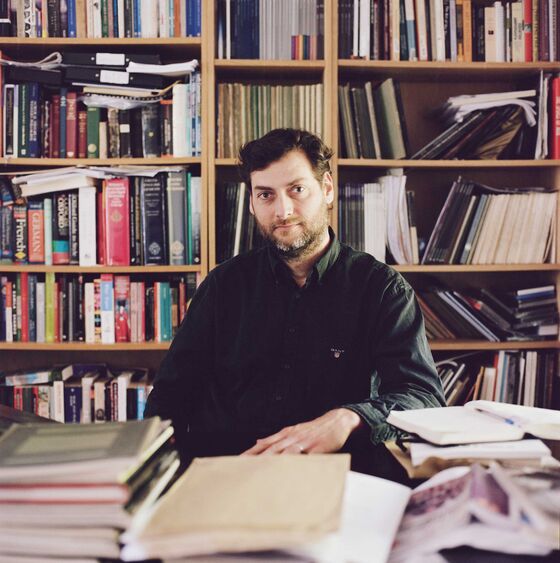 Tsirogiannis persists because the auction houses won't submit photos from their prospective sales for vetting by authorities in countries such as Greece. The houses consider such vetting to be unfairly time-consuming. Someone has to do the work, he said, because the market is failing in its responsibility to prove that ancient objects haven't been illegally removed from tombs, temples, and sanctuaries where people dedicated them to memorialize ancestors: "I cannot stand that there is such disrespect to the most sacred things and beliefs we have as human beings."
After I left his home on that March day, Tsirogiannis told me later, he found a match for a bronze Roman figurine of a boar among the 15 suspect lots in the Christie's catalog. It was in the Symes files. That evening, after putting his daughter to bed, he returned to his list. By 11 p.m., he'd vetted 13 more objects without a match. Tiring, he checked Lot 26, the erotic amphora. The pot was Etruscan, made by the pre-Roman civilization from which Tuscany gets its name. He knew it wasn't in the Symes archive, which he's practically memorized. He opened the Medici files, turning to a folder of Italian vases, which held a subfolder of Etruscan material and a sub-subfolder of amphorae. Although he initially suspected he'd find it here, there was no match.
Tsirogiannis had arranged the photos from the Becchina seizure in Switzerland in the same configuration as the Medici trove. He clicked through. What appeared on his screen was a picture of a piece of paper to which two Polaroids were affixed. It was the erotic scene in fragments and covered with encrustations, sitting on a wicker table or chair. On the paper were dates from 1993 and a handwritten code that he deciphered as price information—it appeared that Becchina bought it for 30,000 Swiss francs (about $20,400 at the time) and sold it for 47,000. (Becchina was convicted of trafficking in 2011, but he appealed, and the case ended when the statute of limitations expired. He didn't reply to requests for comment for this story.)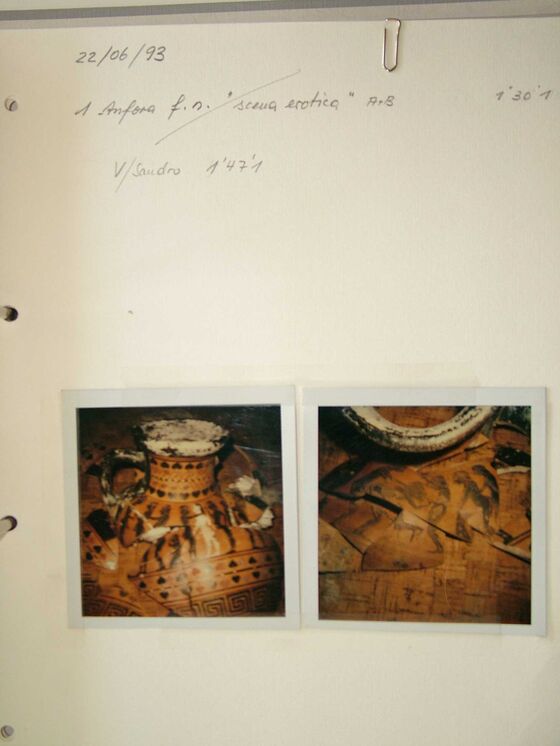 Tsirogiannis activated his network, an informal team of police, prosecutors, journalists, and bloggers who work together to get suspect antiquities pulled from auction and repatriated. He emailed the photos of the vase to the chief of Interpol's art squad, French policewoman Françoise Bortolotti. "I have just made two new identifications at the antiquities catalogue of the forthcoming Christie's auction on 18 April 2018 in New York," he wrote, describing the boar and the pot. "Please, for both cases, forward the information and the relevant evidence to the U.S. authorities."
He also sent that email to Matthew Bogdanos, a prosecutor in the Manhattan District Attorney's office who runs a new unit dedicated to antiquities investigations. A colonel in the Marine reserves, Bogdanos handled the U.S. investigation of the 2003 looting of the Iraqi National Museum in Baghdad. In New York he's repeatedly used research that Tsirogiannis has offered as investigative leads, including, last year, in the confiscation of a 2,300-year-old vase at the Metropolitan Museum of Art that matched a photo in the Medici archive.
The next morning, Tsirogiannis was indignant and thrilled at having paired Lot 26. "It's profoundly illicit," he said. "It's all incriminating. It's pure proof. It's quite straightforward, and the Italians should get it back today. Not even tomorrow." The boar was a different story. There was nothing about the photo that indicated recent excavation. The boar sparkled in what appeared to be a showroom. Although Tsirogiannis sees his work in black-and-white terms, the boar was more gray, raising the question of whether an ancient object is loot just because it shows up in a disgraced dealer's archive.
The family that Giacomo Medici comes from could hardly be confused with its Renaissance namesake. Born in Rome, he grew up poor, almost starved in World War II, and then followed his father into the artifact trade, climbing from the family street stall to supply museums. After his 2004 conviction, he served two years under house arrest at his seaside villa. He paid a €10 million ($11.6 million) fine by renouncing titles to antiquities the Italian police seized from the Geneva warehouse that weren't part of his conviction.
On a recent afternoon in Rome he sat down, smiling and tanned, for an aperitivo, a gold Cartier Tank watch on his wrist. After ordering a nonalcoholic Crodino, Medici, who turns 80 in July, ripped into the man he refers to only as "the archaeologist." "He's doing terrorism toward the auction houses and the museums!" he said.
Medici stressed that, despite his conviction for illegally trafficking in hundreds of objects, the judge absolved him of smuggling thousands of others, even objects that were photographed broken and dirty. "Archaeologists seize on the fact that an object is encrusted, but that's hugely stupid," Medici said, pointing out that many Italian museums display works that are purposely left in their natural states. That's true to a limited extent.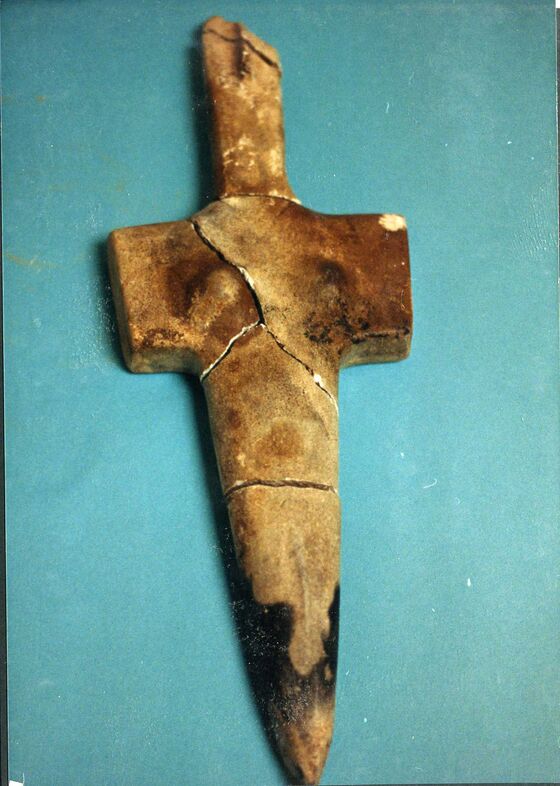 I showed him a photo of the prerestoration Sardinian figurine from his archive. He remembered it well. "Absolved!" he said, triumphant because the picture, and the figurine depicted in it, wasn't among those for which he was convicted. Then I showed him images of the erotic amphora. Even though it wasn't from his archive, I thought he might recognize it. He said it could have come from "an old collection," not an illicit excavation. But looking closely at the pictures, Medici conceded that Tsirogiannis had a point. "Unfortunately," he said, "on this, he, the archaeologist, is right."
As Christie's April auction approached, Tsirogiannis saw few signs that others agreed. Interpol told him it had forwarded the information to the relevant authorities, and Bogdanos told him only that he'd look into the matter. To apply pressure, about two weeks before the sale, Tsirogiannis sent his findings, including copies of the photos, to antiquities bloggers. Some of those posts were picked up in the art press.
On April 11, a week before the auction, a notation appeared on the catalog entry for Lot 26: "This Lot is Withdrawn." The boar was still for sale. Other lots that Tsirogiannis hadn't flagged were in flux, too: An Egyptian statuette of the god Bes, Lot 55, was withdrawn, and another vase went from withdrawn to back on sale with a note that it wouldn't be delivered to a buyer until the seller established clear title. Tsirogiannis said the withdrawals were evidence that the antiquities trade reeked. He held out hope that the boar would be withdrawn.
A week later, Tsirogiannis tuned in to a webcast of the sale from his dining room, fingers crossed. He watched as an auctioneer wearing a pink tie made announcements preceding the bidding. "We have two withdrawn lots," he said. "Those are Lots 26 and 55." The boar was still for sale. Someone bought it for $15,000. Christie's spokeswoman Cat Manson said the vase was withdrawn because information not previously available had come to light and the auction house would never sell anything that might be stolen. In this and other cases, she said, "without access to the archives, we are not able to do our best by the object."
Tsirogiannis sounded resigned afterward. Nobody heeded his warnings about the boar, and he didn't yet know the fate of the amphora. "Usually, I have to wait years to see," he said. And even then, he's never been invited to a ceremony where, say, Italians take possession of an item being returned. At best, he gets kind emails from members of the public after his rescues hit the news. "If it turns out to be the same thing with the Etruscan amphora," he added, "I will be more than happy."
In early June, Bogdanos told Tsirogiannis that a warrant had been executed for the vase. The prosecutor in the case said in an email to Bloomberg Businessweek that it doesn't comment on ongoing investigations but cited press releases that commended Tsirogiannis for his "conscientious dedication to helping stop the illegal trade in antiquities."
Yet there was no time to celebrate. Less than a month after the Christie's auction, Sotheby's would have an antiquities sale in New York, and the catalog was expected any day. When it came out in early May, Tsirogiannis found a match: Lot 4, a bronze Greek figure of a horse in the Symes trove, was estimated to sell for as much as $250,000. The day before the auction, the Greek culture ministry wrote to Sotheby's demanding the horse be withdrawn, and it was.
After years of lost sales and accusations of aiding smugglers, Sotheby's went on the offensive in June. It sued the Greek culture ministry over the bronze horse in Manhattan federal court, saying Greece had no proof that it was exported illicitly and that the client who consigned the horse for sale was its rightful owner. Tsirogiannis's work had triggered the ministry's demand. What happens next will test how much sway his secret archive has in court and whether collectors will feel more emboldened to buy a piece of history regardless of whether it should even be for sale. —With Katya Kazakina