The Dems Take Obamacare on the Road
(Bloomberg Businessweek) -- For the first time since it became law in 2010, Obamacare is a political asset for Democrats heading into an election—a striking turn after several cycles in which the law's unpopularity helped Republicans sweep into power in legislative races across the country. Still, Democrats face a challenge: President Trump's attacks on Obamacare prompted a broad reassessment of its merits and hurt his party's political standing. To successfully exploit the issue, Democrats have to find a way to cut through the din of Trump news and scandal coverage and convince voters they'll defend the health-care law from ongoing GOP sabotage and repeal efforts.
That will entail digging deep into their own pockets to pay for advertising. Democratic strategists have all but given up on trying to influence Trump-obsessed cable news coverage, even though a new NBC/Wall Street Journal poll found that health care is voters' top issue, above jobs and the economy, guns, taxes, and immigration. "My advice to candidates is, if you want people to know something about you, you're going to have to pay for it," says Guy Cecil, chairman of the super PAC Priorities USA, which plans to spend $75 million helping Democratic candidates this fall. "There's no earned-media strategy that's going to break through what's happening on cable."
Instead, Democrats are relentlessly pushing health care on the campaign trail and in TV ads. According to data from Kantar Media's CMAG, which tracks political advertising, Democratic House and Senate candidates in 2018 have already run 9,600 spots supporting the Affordable Care Act and about 17,000 mentioning Medicare. The ads have run heavily in states from California to Kentucky; they featured prominently in Pennsylvania's March special election, where Democrat Conor Lamb ran 921 spots defending Medicare en route to an upset win in a congressional district Trump carried handily.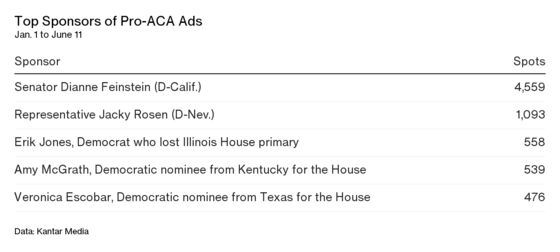 For Democrats, health care is a way to both energize their most ardent supporters and connect with skeptical voters in purple and red states where the party has struggled. The NBC/WSJ poll found that voters favor Democrats over Republicans on the issue by more than a 3-to-1 margin. Some Democratic operatives say they'd be happy to talk about nothing else until Election Day. They have plenty of material to work with: Last year's failed GOP attempt to repeal the ACA ranked as one of the least popular pieces of major legislation in three decades, according to an MIT study of surveys. The repeal would have cut health-care subsidies and paved the way for insurers to charge higher rates to people with preexisting conditions.
"I entered this race because when I saw Jeff Denham vote on Trumpcare a little over a year ago, I knew my brother, because of his preexisting condition, would be without insurance until he was 65 and on Medicare," says Josh Harder, the California Democrat running against Denham, a Republican incumbent in a competitive San Joaquin Valley House district. "I felt like somebody who voted that way needed to get out of office."
Republican efforts to chip away at Obamacare have further stoked Democrats' resolve. The 2017 tax law repealed the individual mandate that required most Americans to buy insurance, while the Trump administration also cut off "cost-sharing" reinsurance payments meant to induce insurers to offer ACA plans and drive down prices. The nonpartisan Congressional Budget Office projects that those two actions will result in an older, sicker insurance pool and drive up premiums. Republicans blame Democrats for these problems. "Make no mistake: this is solely caused by Obamacare," Senate Majority Whip John Cornyn of Texas tweeted in May.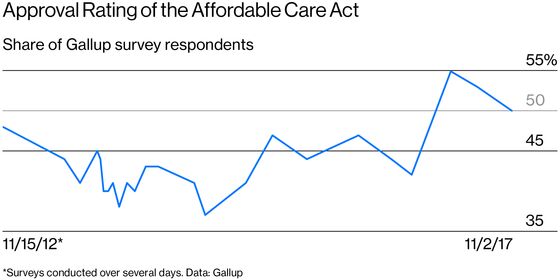 The White House shows no sign of letting up. On June 7 it announced plans to support a Texas lawsuit seeking to invalidate the ACA—including its preexisting condition rules. "They're making a big mistake," says Senator Chris Van Hollen, the Maryland Democrat who chairs his party's election committee. Voters are "going to perceive it as a direct attack on the ability to protect people with preexisting conditions."
Even Democrats in deep-red states who often cozy up to Trump are eager to strike back on this decision. "If this is their intention, to throw people off, and say they're too sick to live, and we're not going to help you in any way … they'll rue the day," says Senator Joe Manchin of West Virginia, a state Trump won by 42 points. "Because preexisting conditions, opiate, mental health—it's the first time we've ever gotten people any type of treatment whatsoever. I just can't believe the callousness." Manchin faces a tough reelection fight this year.
Democratic strategists are convinced voters aren't ignoring the assaults on Obamacare, even if press coverage has been dwarfed by Trump. "It's the biggest disparity I've ever seen between what's being covered on cable news and what candidates are actually running on in their home states: Medicare, Medicaid, the ACA, opioids," Priorities USA's Cecil says. That could change soon. Insurers have begun notifying states of their plans to increase premiums—some by double digits. Those rate hikes, set to take effect in October, could deliver voters a shock. "There's a land mine waiting," candidate Harder says. "That's going to be an area where we're going to have a pretty strong closing argument."
Even so, Cecil urges Democratic candidates to stay focused. "The Mueller investigation will go on. The tweets will continue. Michael Avenatti will still find ways to show up on television," he says. "What more is added to the discussion by having them run an ad about Stormy Daniels? Nothing. But there is plenty of room to gain by talking about the issue people repeatedly say they care about most, and that's health care." —With John McCormick