Investors Love Etsy's CEO. The Artists Aren't So Sure
(Bloomberg Businessweek) -- A year ago, Etsy Inc. was in trouble. Sales growth was slowing, expenses were climbing, and its stock had slumped 65 percent since a 2015 public offering. Activist investors were clamoring for change, and in May 2017 they got it: The board fired longtime Chief Executive Officer Chad Dickerson and replaced him with Josh Silverman, a former EBay Inc. and American Express Co. executive. Silverman, 49, is worlds away from Etsy co-founder Rob Kalin, who started the marketplace as a kinder, more equitable way for artisans to sell their work online. Kalin later decamped for New York's Catskill Mountains to establish a community for artists in a reclaimed mill. While Kalin was building Etsy in the mid-2000s, Silverman was at EBay earning a reputation as a sharp-penciled turnaround specialist whose signature achievement was fixing the Skype division for an eventual lucrative sale to Microsoft Corp.
Silverman has brought to Etsy the kind of relentless focus on customer experience perfected by Amazon.com Inc. It's a cultural revolution for Etsy, which analysts say had previously neglected the core marketplace by putting merchants first. Some sellers are deeply unhappy, not the least with Silverman's decision to jack up the company's share of each transaction. But the changes play well with investors, who've pushed shares up 200 percent, to more than $40, besting the $30 a share activist investors were predicting if Silverman followed their suggestions. "Any good retailer, traditional or e-commerce, puts the consumer first, and everything flows from that," says Edward Yruma, an analyst with KeyBanc Capital Markets Inc. "Etsy never really did that until Josh showed up."
Silverman got his start in tech as co-founder of Evite, an online invitation company he began after finishing an MBA at Stanford. In 2001 he sold Evite to IAC/InterActive Corp. for an undisclosed sum and moved to EBay, where he was assigned to turn around the e-commerce company's flagging Netherlands business. He pulled it off, and in 2008 he was put in charge of Skype, whose value EBay had just written down by $1.39 billion—more than half of the $2.5 billion it paid for the company two years earlier. He stayed on when Skype was sold to private investors and helmed a turnaround leading to its sale to Microsoft three years later for $8.5 billion.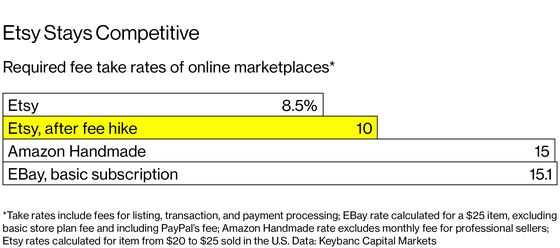 At Etsy, Silverman's plan is straightforward: bring more people to the site more often and help them find what they're looking for. To address customers' long-standing complaints that the site was hard to navigate, he pressed engineers to improve the search function. He also cut underperforming side projects, such as tools to link merchants with manufacturers and retailers, and introduced sitewide holiday sales. Anything that didn't help gross merchant sales—the total revenue made by all sellers across the platform—was deemed secondary. "The main thing is keeping the main thing the main thing," Silverman says. "Why are we launching brand-new businesses when the return on every hour we invest on the core marketplace is so enormous?"
Silverman has a knack for "strategic clarity" about the decisions that need to be made to get something done, says John Lilly, a partner at venture firm Greylock Partners. "He's able to explain the high-level strategy but also to get into the details."
The switch from the widely loved Dickerson to Silverman was emotional for some employees. A few took to Twitter, expressing fear the company might be turning away from its values. At an all-hands meeting to announce his appointment, Silverman expressed hope and patiently answered questions. Today he says Etsy is even more socially responsible than it was before, because it's doing a better job of helping sellers make money.
For the fourth quarter of 2017, during the most recent holiday shopping season, Etsy reached a milestone—generating $1 billion of gross merchant sales. That number is important because the more sales on the platform, the more money Etsy makes in transaction fees. The stock jumped as investors saw Silverman bringing more customers to the site.
Now that he has the marketplace on the mend, Silverman is looking for ways to make more money from the merchants that use it. In early June he unveiled a tiered subscription model that charges sellers a monthly fee for extra tools such as branded websites or software to help manage a small team of people fulfilling orders.
Other decisions Silverman has made have been controversial. Etsy boosted its charge per transaction from 3.5 percent to 5 percent—which is still significantly lower than such marketplaces as EBay and Amazon—and the change riled some merchants who want Etsy to be a friendly partner rather than a business with investors to please. "It's hard to see that as anything other than just a cash grab," says Matthew Buchholz, who's sold prints and birthday cards featuring drawings of monsters rampaging through idyllic historical scenes on Etsy since 2010. "It really starts to feel like this isn't a partnership anymore."
Silverman says what's good for investors—boosting sales on the website—is also the best way to fulfill the company's core mission of helping its community of merchants do more business. Much of the extra money from the transaction fee increase will go to offline and online ads to get consumers to visit the site more often, rather than at only such moments as Mother's Day or birthdays. "Our sellers fundamentally have hired us to market them," he says. "We've got to communicate to the world when Etsy is relevant."
To contact the editor responsible for this story: James Ellis at jellis27@bloomberg.net, Robin Ajello