Dwyane Wade on the NBA, Being a Role Model, and Which Coach Should Run for Office
(Bloomberg Businessweek) -- Miami Heat superstar Dwyane Wade discusses his hopes for his sons, his legacy, his business ventures, and why he wants to own part of the Seattle SuperSonics. He talked to Bloomberg Businessweek Editor Joel Weber. They spoke on June 19 at Bloomberg headquarters in New York.
You're a 12-time NBA All-Star, three-time NBA champ, 20,000 career points, 4,000 rebounds. What did I miss?
A lot. I've got 22,000 points now. An Olympic gold medal.
I don't really talk about that.
What are the things that you still think you want to cross off?
From a basketball standpoint? I'm way past where I wanted to go. I just wanted to play in the NBA, and I got a chance to do that. And from there, everything else has definitely been the cherry on top of my career. I couldn't have written it any better than it's been, so I'm cool.
When you think back on your 15 years in the NBA, how has the league changed?
First of all, David Stern, our last commissioner, did an amazing job of helping us grow our game, saying "OK, we need a face-lift, and let's do this differently." He made our game global to where, in China and other countries, it's so big. The NBA wasn't one of the top leagues. It was definitely looked at as a very thuggish league, you know. They used to fight back in the day a lot, a lot of real grown-man fights. And that was one of the things that David Stern cleaned up—getting the players out, getting us involved in the community, building the brand.
He changed that. Once you hit somebody you're going to lose all your money. The guys started dressing differently. He helped the new players coming in to start thinking of the NBA as more of a business. It really changed the mindset.
The NBA finals this year, between the Golden State Warriors and the Cleveland Cavaliers, was over in a blink. Did you watch?
I did. A full-on sweep in the finals ain't really what we want as fans watching the game. Everybody was hoping that Cleveland would get a game or two. But a lot of people really believed it was going to be Golden State. Those guys are so dominant right now. They're very, very good. Like, real good. Like, three-championships-in-four-years good.
You've played against some great teams. How do they compare?
The greatest team I've ever played against was probably the San Antonio Spurs, with Tim Duncan, Tony Parker, and Manu Ginobili. They challenged you in so many ways with the mental part of the game. It goes way beyond basketball. Golden State does that. They challenge you mentally as well as physically. And they have more talent than everybody, as well. It's going to take some special kind of medicine to put a team together to get them.
Do you need a dynasty now to win an NBA championship ring?
Right now you do. I raise my hand as a part of the problem. When the Miami Heat decided to bring the big three together—myself, LeBron James, Chris Bosh—in 2009, the game changed. Players understand their power. I don't see that slowing down. I see the next generation—my son's generation—getting even tighter.
For other teams that ain't winning. It's not a problem for Golden State. It wasn't a problem for the Miami Heat when we went to four championships in a row. It's a problem for everyone else when they're not doing it.
Do you guys talk to each other about breaking up a dynasty like that?
Nobody's calling me at 36, like, "Yo, we need you to come lay down this dynasty." But obviously you want to take down the champs, right? People who watch the sport can't wait to see what's going to happen this summer in free agency, because you want to see a team put together that can compete against a team like that. I'm watching. I'm a fan. I want to see a big splash this summer. I would love to see some guys team up. Our game has grown. When people say Golden State is hurting our game, that's untrue. Our game is so high right now. It's so great, but we would like to see somebody else get an opportunity.
How do coaches fit into all of this now?
Do you think Steve Kerr of the Warriors could run for president?
Yeah. I'd vote for him. I like him.
What coaches in the league are underrated?
Obviously Boston Celtics coach Brad Stevens. He's one of the best young coaches in our game, a mastermind of the game of basketball. A lot of people talk about Gregg Popovich in San Antonio, rightfully so. He's incredible. We have a good young coach in Miami, Erik Spoelstra. The New York Knicks have a great young coach now in David Fizdale. So I'm excited about what he does here in New York. There's a lot of great basketball minds, but you've got to be able to talk to the players about where they're at and know how to coach them to where they need to be.
What's next for you? How did you decide to become an entrepreneur and get into business?
My whole life was focused on the game of basketball. I wanted to be a basketball player. I lied to my mother. I told her I wanted to be a doctor. But I wanted to be a basketball player. As a young kid I was very shy. I wasn't outgoing, a little unsure of myself. But once I got to college and then became a professional, I started getting this confidence. I started believing in myself, and I started to explore a different side of me that I didn't know I had, and that now comes into business. You find these avenues, these creative juices.
What was the first business decision you made?
A bad business decision. It was a restaurant venture. It went south. It went south fast. It was some sports bar and grill type vibe. I was in court for about three years. I was 23 years old, and I thought it was something cool to do. I wanted to do it with my homies. And I paid for it. They didn't pay for it. I paid for it—big time.
What did you learn from that experience?
Get help. Don't do it on your own. Make sure you dot your i's and cross your t's. I didn't do that at that age.
And you got some advice from Magic Johnson.
I got to the point where my basketball career was going great. But I had some injuries, so it scared me a little bit that it could end fast. What can I do to focus on life after basketball? Who is the blueprint person I could turn to? For me it was Magic Johnson.
I got an opportunity to go and meet with him, and I just asked him a lot of questions, took a lot of notes, met with him a few times, and it just kind of helped me get my creative juices flowing.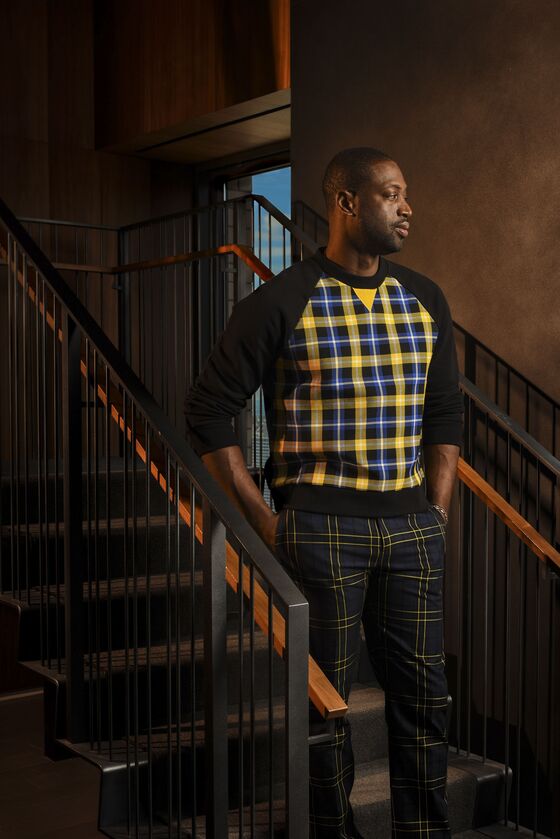 No idea is a stupid idea. You have things inside that you want to do. You might not know how to do them, but just write them down. When you're on a plane, in the back of a car, whatever comes to your mind, just write it down and send it over. Send it over to the people who can get the job done. He said, "You have a great team around you." And I did. I sent like 10 things over on a plane to my business team. It started from there.
How did you put that team together?
I started with my base agent when I came out of college. From there, he said, we need somebody to work with you on a day-to-day basis. I was able to find my business manager, who is still my business manager today. The NBA was changing, and I wanted to start dressing better, so I found my stylist. I just kept building it, depending on how I was changing, how the game around me was changing, how the world was changing. I signed with Creative Artists Agency. I started finding the right people.
And your portfolio now includes your wine, Wade Cellars, compression gear, and more. This morning I even got an alert that you've got Away luggage coming out. And here's a new one: socks.
Ultimately, I just want to build a lifestyle brand. All these things are part of a lifestyle. Do I think it can go far? I hope so. It's a lot of learning involved, but it's been pretty cool signing with Stance, the sock company, and then being able to sit down with Stance and say, "Let's start another sock company. Let's do something that's a little bit more affordable, a little bit more for the masses." Now, I'm CEO of that brand and want to see where it can go.
What was it about Stance? Why was that a brand you wanted to partner with?
At the time I wanted to start my own sock company. I was sure my team was rolling their eyes behind my head. But they went out and found a great partner. Stance was at a point where they were looking for a face for the brand. We just clicked, and it worked, and we've had some good success. Then, OK, how do we build off this? How do we keep going? My initial want was to be able to have my own sock company and make it more affordable. Stance is top man on the price. Now I get to focus on what the real passion is.
Talk about your sons, Zaire and Zion, and how they feel about basketball.
My older son, Zaire, plays. My 11-year-old doesn't. He doesn't care about basketball at all. But my 16-year-old, it's a part of him. I had him when I was at school at Marquette. We didn't have babysitters. We didn't have any extra money, so I had to take him to the gym with me. I would be in the gym working—11, 12 at night—and I think it just kind of became a part of him. I was a young parent, just being in the gym, talking to myself, and he just was there. That's a part of him, and it's cool for me right now to kind of see him be in a position where college is the next thing that we're focusing on. I hope his dreams come true just like mine.
My son is similar to me. He's a late bloomer. But now the colleges are starting to see his talent and his ability, and he got his first couple of college calls the other day. He decided to wait a couple of hours to tell me. I wanted to know right away. He put me on ice. I had to call him like, "Yo, what's going on?" But it's cool, man. I know how that has to feel for him because obviously he has my last name. You're in the shadows of your dad or whatever the case may be. So for him to be trying to make a name on his own—I enjoy seeing it.
Gatorade league, by the way. I'm sponsored by Gatorade.
There's a really talented player who's going from high school into the G League and bypassing college, getting paid at 18. This might be a harbinger of things to come. How do you view the G League, and how do you talk to your son when that's an option?
First of all, I love the G League. It's like a farm system for players. Baseball's been doing it for a long time, and I think the NBA is now focused on it because there's so many good players coming out of the G League. I wasn't for the NBA changing the rule and making kids go to school, anyway. So I love the fact that this young man has decided to step out on faith on his own. Someone has to be first.
College isn't for everybody. Certain kids want to make money for themselves and for their families, and they have the ability to do that with the G League and playing overseas, etc. So I'm all for it.
I feel like if a kid is talented enough, if an NBA franchise wants to take a chance and give him an opportunity to come in the league at 17, 18 years, like Kobe Bryant, LeBron James, Kevin Garnett—all great players—why not?
What's been the effect of the rule that kids have to be 19 and have a year playing in college before declaring for the NBA draft?
I don't really think "one-and-done" has changed the league. They're coming at 19, so they're just going to school for a year and then they're coming right to the NBA. They're going to school because they have to, but they're so good and they're so talented that they can just come out of high school. Sometimes you say, well, what if they get hurt? Obviously you can pick up insurance, but these kids have been dreaming about this their whole life, and if you're good enough to do it, then why not have the ability to be able to do it?
There's a lot of players who came out of high school and didn't get drafted. What if they were to go to college? There's many things you can do, definitely, to try to improve the rules. It's a bigger conversation that needs to be had with both the NBA and the NCAA.
When you think about your next act off the court, would you ever consider buying a team?
I definitely want to be a part of ownership in the NBA. I'm not going to try to buy a team. I don't have that kind of bread, but I definitely want to be a part of a great ownership group. NBA Commissioner Adam Silver is all about players being involved in an ownership capacity. You've got players like Grant Hill involved in the Atlanta Hawks. Shaquille O'Neal is involved in the Sacramento Kings. It's definitely something that I've talked about, some of my friends have talked about. But, first of all, I'd have to be retired. When that time comes ...
Seattle. I want Seattle's team, the Sonics, to come back. I think Seattle is a great basketball town. I would love to be a part of that. But I'm open—if you know somebody ...
You've evolved as a role model. One of the young people killed in the school shooting in Parkland, Fla., was buried in your jersey. How did you find out and how has it affected you?
Joaquin Oliver. I found out about it like everyone else, through the media. It's unreal to even think about—that tragic moment for his family when they're sitting there and going through all his likes, his wants, and the way they want to celebrate his life, and for them to say that they want to bury him in Dwyane Wade's jersey. That was just way beyond why I started playing the game of basketball.
That really hit me in the heart. I'd just got traded back to Miami from Cleveland a couple of days before that. Everything happens for a reason, so it was the perfect timing for me to come back and be able to hopefully shed some light, be a part of the message.
How involved have you remained with supporting those kids?
We're in touch with them. These kids are 16, 17, 18 years old and aware of their power. They understand their voice—not just for themselves but for other communities. I'm from Chicago, so it really made me feel good that they were involved with the kids from the inner city of Chicago, which is too familiar with gun violence. I really want to step up and be the voice for them as well.
How can you advance your message about social issues?
You find certain issues you're passionate about. You find issues that hit home. As I've gotten older, I definitely understand it's no mistake I'm in a position where I have a voice and so many others don't get the opportunity to say the things they want to say because they're being muted in a sense. I owe it to the community that supports me, supports my family. I've been all in with it.