Looking for the Best Links in Scotland? This Man Played 111 Rounds
(Bloomberg Businessweek) -- Americans have been trained to think of golf courses as the province of the elite and the effete, but to hear Tom Coyne tell it, in the British Isles, and specifically Scotland, golf is the birthright of every man, woman, and child.
Coyne, whose books include the best-selling A Gentleman's Game, has spent 20 years writing about playing golf seemingly nonstop. His last book, A Course Called Ireland, serves as a travelogue for the country's great links destinations, peppered with his own ruminations on family, friends, and the camaraderie that grows out of a day on the greens.
His latest, A Course Called Scotland, follows the same fairway, so to speak, as he embarks on a dizzying tour of 111 rounds over 57 days in the game's ancestral home. The journey takes him not just to famed courses such as St. Andrew's, where more than 230,000 rounds of golf are played on the seven courses each year, but also to the "Golf Coast" near Edinburgh, where the clubs have names like Gullane, Kilspindie, and Archerfield.
Fatigue isn't the only thing on Coyne's mind as he hauls his body through 54-hole days. He discusses personal struggles, such as his sobriety, and acknowledges that he may have traded one addiction for another. But he finds kindred spirits in the Scots: Once, when he's pulled over for speeding on his way to Aberdeen, he's let off with a warning after the officer asks, "Are you playing Cruden Bay?"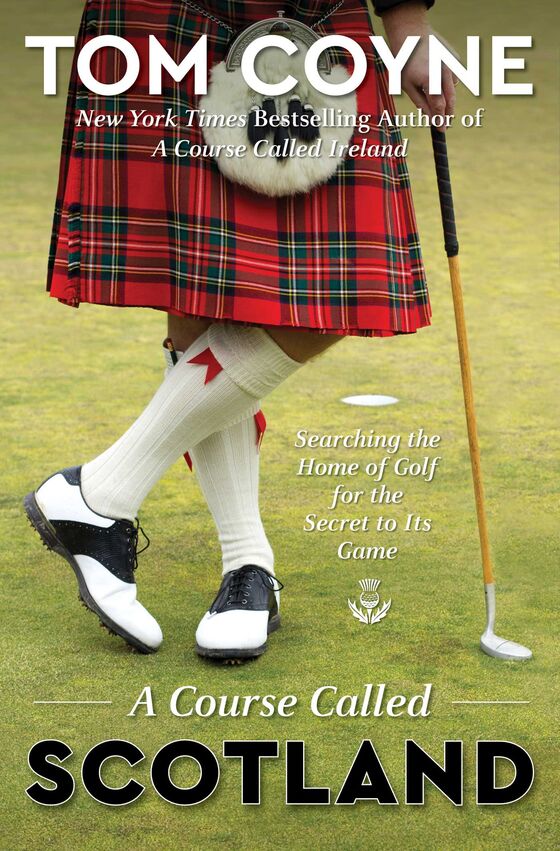 Coyne's ambling takes him to golfing outposts in modest towns with modest B&Bs. In the Highlands, he plays Brora, a course that "found its way through the landscape and let nature create new shots for you," and Castle Stuart, which "feigned punishments but offered playability." At Murcar, which shares land with Royal Aberdeen, he discovers "a jewel … that out-joyed its royal neighbor." He takes three flights and two ferries to get to Whalsay Golf Club in the Orkney Islands, where the club manager greets him by saying, "You must really love golf to be all the way up here."
Other stops are more lavish. On the west coast, he spends a soulful few days at the Ugadale Hotel in Machrihanish, whose real luxury is "American attention to detail where you wanted it most—namely, your giant shower head." The vista from the ninth hole at Royal Dornoch "rivaled Royal County Down's for the best view in golf."
But it's at Askernish, a purist's dream in the Outer Hebrides "unaltered by greens committees and updaters," that Coyne comes closest to the sublime secret he's searching for. "As I climbed each dune to discover another perfect golf hole that seemed to have no business being there, I couldn't help but feel providence all over this place." Coyne emphasizes that anyone with the desire to get to Askernish can play its links.
Many of us dream of a trip to Augusta National that will never happen, but in Scotland he finds that members at most clubs don't pay exorbitant fees; at some of the world's best and oldest courses, there are often open times for the general public.
He marvels at the wealth of options for ordinary players: 9-hole gems such as Traigh Golf Course or the 12-hole layout—Coyne's ideal number for a round—at Shiskine Golf & Tennis Club. "It struck me as strange that the game came from a place where class and exclusivity seemed so entrenched," he writes. "Yet it was in America, the everyman land of bootstraps, where golf became truly exclusive: We took the open game from the closed place and made it a closed game in the open place."
There is a purity in the Scots' game that isn't about manicured greens or a ball's "spin rate." Coyne admires their "homemade" swings that merely focus on getting the golf ball around the course and in the hole. He becomes convinced that perfection is an illusion, though a powerful one. He slowly accepts his limitations, one day at a time, swing after swing.
To contact the editor responsible for this story: James Gaddy at jgaddy@bloomberg.net