How Spain Got Its Swagger Back
(Bloomberg Businessweek) -- Nine years ago, Spanish entrepreneur Javier Goyeneche was fighting a losing battle to save his footwear and accessories company from the cratering economy. Today he has a new venture making apparel from waste plastic harvested from the ocean, and he's on track to double revenue for a second straight year. "I started Ecoalf in the middle of the crisis, and it was really difficult," he says. "We have really loyal clients, and word-of-mouth has been really good for us. But it's obvious that the economic situation is positive."
That's a turnaround from Spain's deepest recession in a half-century, triggered by a property crash. Economic output shrank almost 10 percent from 2008 to 2013, prompting the country to seek a €41 billion ($48 billion) bailout from the European Union. Stroll around Madrid today, and you'll see new shops and restaurants, along with shiny, late-model cars. Seseña, a half-hour's drive south of the capital, used to be a ghost town of half-built housing developments and empty streets. Now apartments are filling up, and local officials are planning an industrial park.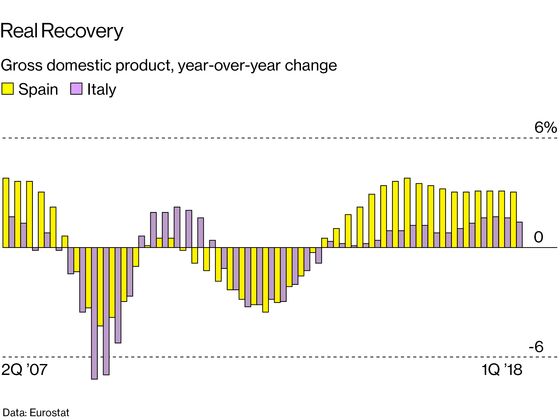 Even the abrupt ouster of Prime Minister Mariano Rajoy this month couldn't shake investors' faith that Spain's recovery is real, whereas Italy's looks increasingly fragile. Yields on Spanish government bonds are about where they were before parliament voted Rajoy out of office on June 1. The Mediterranean countries' divergent fortunes are reflected in the spread between their 10-year sovereign debt, which is the widest since 2012.
The labor market overhaul that Rajoy's government initiated in 2012 helped lay the foundation for the economic rebound, though the reform push stalled after his center-right party lost its majority in 2015. The new premier, Pedro Sánchez of the Socialist party, is friendly to markets on the whole, though he wants to strengthen the bargaining power of unions.
"This healthy growth is going to continue," says Ignacio de la Torre, chief economist at Arcano Partners, a boutique investment bank in Madrid. "The Spanish economy is immersed in a virtuous circle of falling unemployment, recovering salaries, rising consumption, and positive trends in the real estate sector."
It's true: The fundamentals haven't looked this good in years. The European Commission is predicting growth of almost 3 percent in 2018, which would mark a fifth straight year of expansion. Construction and tourism were the twin engines of Spain's last resurgence. This time exports are powering a lot of the growth: They reached a high of €277 billion in 2017, an almost 9 percent increase from the previous year.
Spain is home to a number of multinationals, including clothing giant Inditex, energy company Repsol, and Banco Santander, but by and large its corporations have been less aggressive about seeking opportunities abroad than have companies in other European countries. "In the past, exports were treated as an option for times of crisis when you couldn't rely on the domestic market, but now companies view exports as something they have to do all the time," says Emilio Ontiveros, founder of economic consulting firm Analistas Financieros Internacionales SA.
Ecoalf is emblematic of this new attitude. After starting the company in 2012, Goyeneche began testing his concept with a group of six fishermen on the Mediterranean coast near Valencia. The men pulled waste plastic from the seabed that was upcycled into fashionable clothing, shoes, and bags. The 30-person company collected about 2 tons of plastic last year, and its line encompasses more than 300 items. Almost half of its sales come from outside Spain.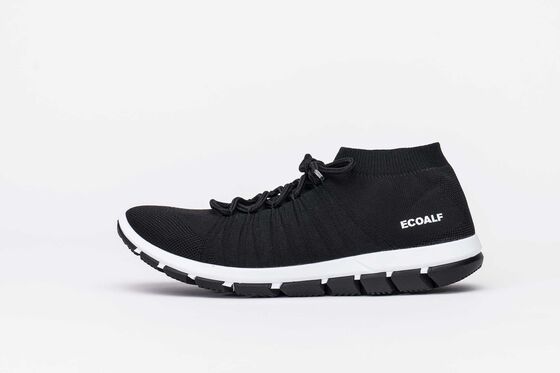 Gestamp Automoción SA, a maker of auto components, has leveraged Spain's status as home to Europe's second-biggest auto industry, after Germany, to win business abroad. The company opened research and development centers in China, Japan, and the U.S. last year, and more than four-fifths of its revenue is international.
"There was a time when saying that a company had a position in Spain scared investors. I saw that firsthand," says Carmen de Pablo Redondo, who worked abroad for 11 years, including a stint as an investment banker in London with Morgan Stanley, before joining Gestamp in 2013 as director for corporate development and investor relations. "Now it's the other way around. A Spanish company is seen as part of the economic engine of Europe." In the time de Pablo has been on the job, Gestamp's workforce has increased more than 40 percent, to 41,048 employees in 2017.
Spain's recovery isn't complete. One enduring legacy of the housing crisis is an overhang of mortgage debt, only a small percentage of which is fixed-rate. The rise in crude prices is another negative, because the country depends on imported oil. And while unemployment is 10 percentage points lower than its peak during the recession, it still exceeds 16 percent.
Yet there's no denying the economy is on a better footing. "It's surprising, especially if I look back at how we were thinking five years ago," says Nicolás López, investment director at brokerage firm M&G Valores in Madrid. "Things have worked out much better than we could have predicted."
To contact the editor responsible for this story: Cristina Lindblad at mlindblad1@bloomberg.net, Anne Swardson