Falling Birthrates Call for More Accessible Fertility Treatment
(Bloomberg Businessweek) -- Forty years ago, the world's first test-tube baby, Louise Brown, was born to Lesley Brown and her husband, John, a truck driver for British Rail. To pay for the experimental treatment, they used £800 John had won betting on soccer, the equivalent of almost £4,500 ($5,977) today.
In the decades since, an estimated 6.5 million babies have been born through in vitro fertilization. As the technology has become more mainstream, the costs have soared, putting fertility treatments beyond the reach of working-class patients like the Browns. In the U.S., the most expensive country for IVF, treatment cycles can cost as much as $23,000, according to FertilityIQ, a San Francisco-based website that collects fertility information and patient reviews. In the U.K. the average cycle costs about £5,000, almost one-fifth of the median annual disposable income of a British household.
Infertility is indifferent to class. In the U.K. it affects about 1 in 7 couples, or 3.5 million people, according to the National Health Service. Last fall fertility doctor Geeta Nargund and her son, Praful, opened ABC IVF, a low-cost clinic, in London. As with conventional IVF, the process begins with hormone shots or tablets to encourage a woman's body to release extra eggs, which are then combined with sperm in a laboratory to produce embryos that are implanted in her uterus. Thanks to a streamlined hormonal regimen and a simplified device for culturing embryos, an IVF cycle at ABC costs just £2,500, including all tests, medicines, and doctor visits. "At the end of the day, infertility is a disease," Nargund says. "It must be regarded as any health-care need."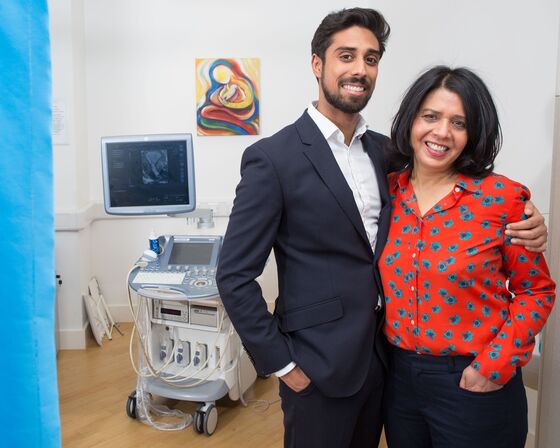 Nargund developed what's called the mild-stimulation approach at Create Fertility, a network of six clinics across the U.K. that she founded and still operates with Praful, who handles the business side of both companies. Reduced hormone dosages were originally intended not only to make IVF more affordable but also to protect women's health by preventing ovarian hyperstimulation syndrome, a potentially fatal complication that affects almost 2 percent of women undergoing ovarian stimulation. Nargund has since contributed to research showing that less hormonal stimulation produces better-quality eggs, though fewer, with a lower risk of chromosomal abnormality and a higher likelihood of implantation.
The Nargunds estimate that about 60 percent of IVF patients in the U.K. meet the standards for treatment at ABC: They are 38 or younger, with normal ovarian reserve and no extraordinary medical complications. Sticking to a standard patient profile, Praful says, reduces the number of doctor visits and the need for additional tests and add-on services that can drive up costs. (Create Fertility clinics take older patients with more complex conditions; treatment there starts at £3,295, not including the cost of medications.)
The Nargunds plan to expand ABC IVF throughout Europe, where the birthrate has dropped below the rate of population replacement in recent decades. That's partly the result of Europeans marrying later and delaying birth, suggesting that demand for IVF and other assisted reproductive technologies, such as egg freezing, will grow. In the U.K. the birthrate hit a 10-year low in 2016, according to the Office of National Statistics, even as the number of IVF cycles rose 4 percent from the previous year, to 68,000, according to the Human Fertilization and Embryology Authority, Britain's regulatory body for the fertility industry.
The Nargunds' approach isn't yet generally accepted in the medical community. "It's definitely cheaper, it's definitely easier. Is it better, is it more efficient? No, no," says Dr. James Grifo, director of the fertility center at New York University's Langone School of Medicine, where a cycle of IVF starts at $12,650, not including medications, lab tests, and other components of the process. "You spend a certain amount of money to have a certain level of quality," he says. "You can't charge less than that number." In a paper published in 2014, Nargund and her co-authors showed that the simplified embryo-culturing device she uses produced results almost identical to those of conventional IVF: just more than a 30 percent chance of a live birth for each embryo transferred.
Nargund says most add-ons, such as immunological therapies and high doses of fertility drugs, are prescribed despite "little justifiable evidence to support their use," as she wrote in a 2015 paper evaluating research on a range of interventions. Praful says many established clinics have a large investment in the status quo, with top-ranked fertility doctors earning millions of dollars a year in the U.S. He says other doctors ask, "Well, if the cost is half, do I have to see double the number of patients to maintain my income and my lifestyle?"
Ultimately, Praful expects patients to vote with their feet. The U.S., where only about 26 percent of insurance plans cover IVF, is on his radar as a potential market. He and Nargund haven't yet found a manufacturer for their simplified incubators, which are currently made by the Walking Egg, a Belgian nonprofit focused on bringing IVF to developing countries. Nargund says funders will catch on. "They want to see a maturity phase before they make an investment," she says. "It's achievable. I think it's just early stages, that's all."
To contact the editor responsible for this story: Jillian Goodman at jgoodman74@bloomberg.net