Exxon Doubles Down on Oil
(Bloomberg Businessweek) -- In the late 19th century, inventors including Thomas Edison created electric lighting that all but ended demand for kerosene, then the biggest product made from petroleum. Oil magnate John D. Rockefeller, the forefather of Exxon Mobil Corp., was unmoved, seeing any price dip as a chance to buy up competitors.
"We must try and not lose our nerve when the market gets to the bottom as some people almost always do," the founder of Standard Oil instructed his senior management in 1884. "We will surely make a mistake if we do not buy."
More than 130 years later, with renewable energy growing and electric vehicles threatening the future of gasoline-powered cars, the strategy of Exxon, Standard Oil's biggest successor, is largely the same: double down on oil.
Speaking at his second Exxon annual meeting as chief executive officer in late May, Darren Woods used the kerosene story as an example of how the company adapts over time. "Society's needs evolve, and so do we," he said, as he positioned Exxon as part of the solution to what he calls the "risk of climate change." But Woods in an interview says the company's investment dollars will follow Rockefeller's bet-on-what-you-know mantra.
At a time when most of Big Oil is restraining spending, in part because of uncertainty over the future of energy markets, Exxon plans to boost expenditures every year from now until 2025. It wants to invest a total of more than $200 billion, almost all on traditional oil and gas megaprojects around the world, from Brazil to Papua New Guinea. The company has no plans to follow global rivals such as Royal Dutch Shell, Total, and BP into wind, solar, or battery storage.
"It's about finding the advantaged barrels, the profitable barrels, the barrels that we'd be happy with, irrespective of where we're at in the price cycle," Woods says.
The way the Exxon chief sees it, the world's energy consumption is growing at such a fast rate that even in the unlikely scenario that all cars are electric in 2040, oil demand would be the same then as it was in 2013. So investing when others are pulling back should pay off, he says.
The risk, of course, is that Exxon gets caught on the wrong side of history, producing fossil fuels that consumers don't need, that governments don't want, and that are a major cause of climate change. Those prospects have made many investors wary. "If you look back historically there have been a lot of industries that have disappeared because change has swallowed them up," says Brian Rice, a portfolio manager at California State Teachers' Retirement System, which manages $225 billion including Exxon shares. "I can't imagine oil and gas going away completely, but it's evolving."
None of the majors detail their spending on renewable energy, but the difference in their strategic positioning is marked. Royal Dutch Shell Plc has pledged to invest in wind projects in the Netherlands. It plans to offer hydrogen refueling and electric car charging stations and will supply power to retail customers in the U.K. BP Plc is investing in solar, and Total SA in battery manufacturing. Norway's state-controlled oil company recently changed its name to Equinor ASA from Statoil to indicate its post-petroleum future.
Exxon has no expertise in renewables, Woods says, so despite the role they have in the world's energy mix, the company won't be investing in them. Its renewable efforts are largely focused on developing proprietary technology in-house, including an algae-based fuel that could power heavy-duty vehicles.
"Society has aspirations for economic growth, reliable and affordable energy, and environment protection," Woods said at the annual meeting. "We see our role as helping close the gap between what people want and what can be responsibly done."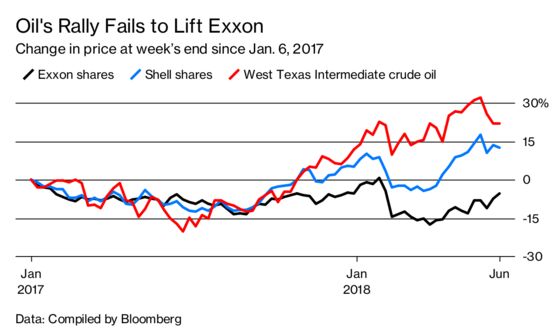 Higher long-term spending on traditional projects isn't what investors want now, and it's evident in Exxon's stock market performance. Shares are down 2 percent over the past three years even as Brent crude, the international benchmark, has climbed 19 percent. And now the company is close to the once unthinkable—losing its position as the world's biggest publicly traded oil company. Its market value lead over Shell has narrowed to about $55 billion, from $128 billion a year ago.
"The market wants disciplined spending, they want return of cash flow, and, effectively, Exxon is off-cycle," says Mark Stoeckle, who manages $2.4 billion including Exxon shares at Adams Funds in Boston. "Exxon is spending. It's spending more than the other integrated Big Oil companies."
Exxon's capital expenditures will rise roughly 40 percent by the early 2020s, to about $33 billion a year. By contrast, Shell's spending is remaining at about $27 billion annually, while Chevron's will top out at about $20 billion. Shell and Chevron have been open about their intentions to return money to investors through share buybacks. Woods says Exxon will only do so if there's enough cash left after its investment in new oil and gas production.
The key areas of focus are offshore oil drilling in Brazil and Guyana, producing and processing liquefied natural gas in Mozambique and Papua New Guinea, and shale oil and gas production in the U.S. Permian Basin. "Everyone, if they had the investment opportunities that we have, they would be progressing those investment opportunities," Woods says.
His plan is in part born out of necessity, because major investments in Canada, Russia, and the U.S. over the past decade have sputtered. Exxon spent $35 billion on U.S. gas producer XTO Energy Inc. in 2010 just as prices peaked and has invested $16 billion in Canada's Kearl oil sands project since 2009—only to write off much of the oil reserves.
The landmark exploration deal the company signed with Russia in 2013 was supposed to take up the slack, but it was caught behind a wall of sanctions and later abandoned. As a result, Exxon's production has dropped five of the last six years.
Woods's new projects should reverse that trend, increasing production by about 25 percent, to 5 million barrels a day, by 2025, he says. That would be Exxon's highest-ever production since its 1999 merger with Mobil—just in time for the peak in global oil demand many analysts are predicting sometime after 2030.
"Other companies' returns will go up faster than theirs because they're weighed down by this" capital expenditure, says Kevin Holt, who helps manage $934 billion at Invesco Ltd. in Houston. "They're having to invest to make up for errors of the past."
To contact the editor responsible for this story: James Ellis at jellis27@bloomberg.net