Germany Has Thrived With Engineering. But the Future Is Digital
(Bloomberg Businessweek) -- Since it was founded 55 years ago, EBM-Papst GmbH has thrived by focusing almost entirely on a single item: fans—thousands of models, ranging from half-inchers for vents in car dashboards to 5-foot monsters for industrial cooling units. EBM is a paragon of efficiency and precision, plotting every step of the production process in detail. To test durability, EBM shocks its fans with electromagnetic waves, heats and freezes them, and measures the tiniest vibrations in an insulated room built on springs to eliminate external noise. Insiders quip that the company, with more than 14,000 employees worldwide, is so focused that no matter what the problem, the solution is always a fan.
Chief Executive Officer Stefan Brandl says EBM today faces a problem that defies that conventional mindset: how to prosper in the digital era, when technologies such as data mining and artificial intelligence—not engineering rigor—will determine winners and losers. So Brandl, who took over in January 2017, has opened an in-house startup dubbed EBM-Papst Neo, a sort of think tank of digital-savvy millennials focused on helping the old-school manufacturer navigate the new economy. "We sell hardware and are growing today, but we need to be aware of what could challenge our business model tomorrow," says Brandl, whose company reported 2017 revenue of €1.9 billion ($2.2 billion), up 13 percent. "We're looking for ideas to maintain our edge."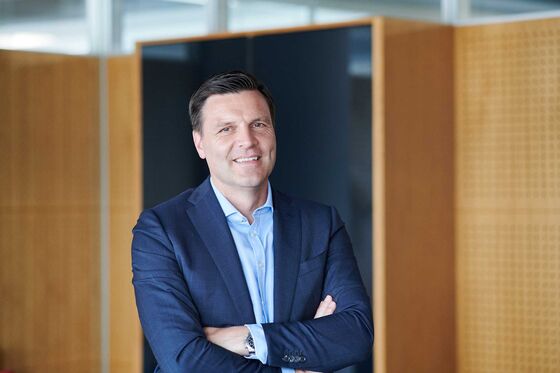 Because manufacturing accounts for almost a quarter of Germany's economy—twice the level in the U.S.—the country is under particular threat in the digital era. The ZEW Centre for European Economic Research estimates that more than 10 percent of the country's jobs could disappear in the technological shift. At least 40 percent of Germany's biggest corporations—including auto giant Volkswagen, drugmaker Bayer, and insurer Allianz—have created a senior executive role to address the challenge, according to Berlin's University of Applied Sciences. The concern is that Germany risks being held back by a mindset that tends toward overengineering, and with disruption rocking everything from autos to agriculture, digital technologies should be a top priority, says Christopher Meinecke of tech industry trade group Bitkom. "The competition is not just in Europe and the U.S. but also in China," Meinecke says. "We need to act quickly."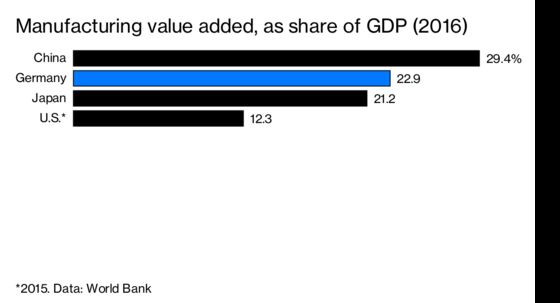 A decade ago, EBM learned just how painful change can be. Cheap competition from Asia forced the company to exit the market for laptop fans as it struggled to match rivals' prices—a wake-up call that highlighted the company's vulnerability to shifts in the competitive landscape. Looking ahead to the even more dramatic transformation likely in the digital era, Brandl is spending about €1 million annually on the idea lab. He hired five business and technology graduates, asking them to pinpoint new products and services that don't rely exclusively on fans. After two months of training at headquarters in Mulfingen, a pastoral town of 4,000 in the rolling foothills two hours south of Frankfurt, the team was dispatched to an office in the industrial city of Dortmund. The goal is to turn what today are one-off hardware sales into more lucrative contracts, for instance tapping data from a fan's sensors to predict when components will fail so repairs can be performed before there's a breakdown.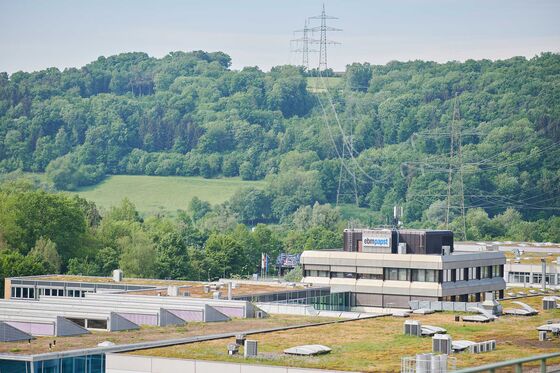 But there's only so much German companies can do on their own. While they benefit from the country's world-class autobahns for delivering goods, Germany lacks a comparable network for data, trailing Spain, Portugal, and even Kazakhstan in high-speed internet connections. That's a thorny issue for the Mittelstand—the thousands of small and midsize enterprises, often located in rural areas, that underpin German prosperity. "The digital economy is about moving around data," Brandl says before plowing through a plate of sausages at the company cafeteria.
The slow pace can be traced to the top. While she trained as a physicist, Chancellor Angela Merkel was slow to embrace the digital future—though lately she's made "digitalization" one of her buzzwords. In March she appointed a digital czar within the Chancellery, a role intended to link big companies with startups and promote adoption of technologies such as AI, 3D printing, and blockchain. "We're at the start of a fundamental development, like the beginning of industrialization," Merkel said at a May 15 gathering of union leaders in Berlin. "Now we have the duty to extend our great industrial strength into the digital era. That's not trivial."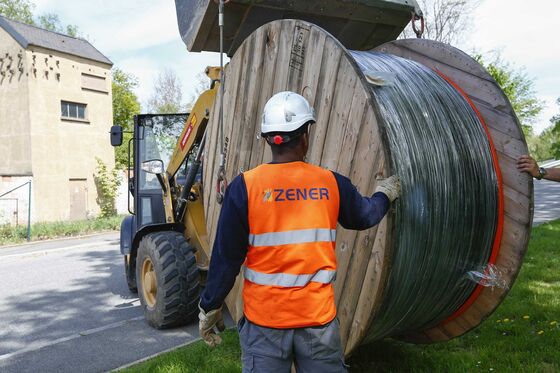 There are signs that Germany is picking up speed. In Berlin, Deutsche Telekom AG has built one of Europe's most ambitious 5G wireless networks. And the carrier is spending more than €5 billion to add 60,000 kilometers (37,300 miles) of new fiber lines this year, a 50 percent increase from 2017. "People here really want this, and the mayors are very focused on the issue," says Juan Oest, a manager for Grupo Zener, a Spanish company that's building high-speed internet links to hundreds of homes in Bavaria, one of thousands of such projects across Germany.
While infrastructure is indeed key, Brandl says, his concerns go deeper. Even if EBM has all the bandwidth in the world, he frets that a middleman similar to Amazon.com Inc. or Alibaba Group Holding Ltd. could get between him and his customers and erode the foundations of his business. That's why he says he—and other German executives—must be open to initiatives like his idea lab. "It's clear that Germany's leadership role is in play in the digital transition," Brandl says. Among corporate leaders, "it's topic No. 1."
To contact the editor responsible for this story: David Rocks at drocks1@bloomberg.net