AI Helps Africa Bypass the Grid
(Bloomberg Businessweek) -- In sub-Saharan Africa, home electricity is a 50-50 prospect and bank accounts can be rare, but most people have some kind of cellphone. The phones provide information often tough to come by in rural areas—the latest commodity prices, for example. And even in places where pastoral tribesmen tend livestock in very old-school ways, they may also chat over WhatsApp and use money-transfer apps to settle debts. To charge the phones without access to an electrical grid, Africans spend more than $17 billion a year on such fuels as kerosene and firewood to power sometimes primitive generators. Simon Bransfield-Garth is pitching a cleaner and, he says, smarter alternative.
His company, Azuri Technologies Ltd., has brought what it calls smart solar power to 150,000 people in a dozen African nations, focusing on East Africa and Nigeria. While solar batteries often struggle to power homes through the night, Azuri's yellow box—the size of a landline phone, it's called HomeSmart—uses software with artificial intelligence to learn each home's energy needs and adjust power output to keep things running. Those tweaks include automatically dimming lights and TV screens, lowering speaker volume, and slowing a fan's motor.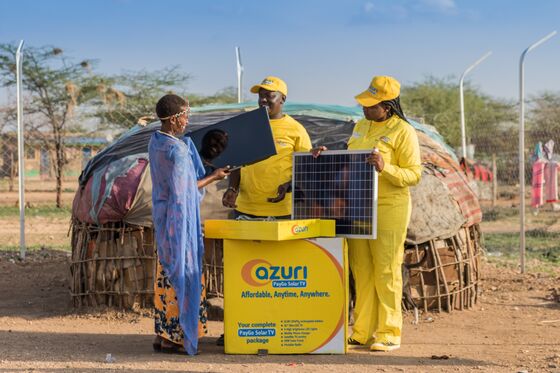 "Instead of a system just powering as fast as it can for a certain amount of time and stopping, we provide customers with the amount of light they typically use on a day-to-day basis," Bransfield-Garth says. His company runs on a lease-to-own model. Customers can make payments online monthly, weekly, or as they go. Most pay about $3 a week for 18 months to pay off the equipment costs, roughly half what they used to pay for kerosene.
The setup is simple: A roof-mounted, 5-watt solar panel connects to the battery, placed on a wall in the home. The basic system comes with two LED lightbulbs and a USB port for charging mobile devices. Add-ons such as radios and TVs cost more.
The Azuri system's AI software distinguishes it from other solar startups in Africa, says Benjamin Attia, a solar analyst at researcher Wood Mackenzie Ltd. To make the most of the juice the solar panel gathers, the software sets internal targets for the exact amount of energy it thinks a customer will need overnight and refines those estimates based on use patterns. Unlike with kerosene, "I have no fears of burns and fumes," says Lucia, an Azuri user in the Tanzanian village of Ngulyat.
Bransfield-Garth has raised $18 million in venture funding, led by the U.K.'s IP Group Plc. He says the company is profitable and revenue has doubled in two years but wouldn't provide numbers. A Briton, he began researching AI neural networks in the 1980s before getting into semiconductors, consumer electronics, and eventually renewable energy. He spun Azuri out of his solar panel company, Eight19 Ltd., in 2012, after spending two years developing the storage cell and figuring out how sensors and panels could be used to better predict customers' energy habits. Based on when the sun hits a panel, for example, the HomeSmart software can determine sunrise and sunset, latitude and longitude, and what time of year it is. The company installed its first units outside Nairobi.
"When people looked out of their homes at night and saw someone had light on at 10 p.m., two days later there was a queue around the block," Bransfield-Garth recalls. "First there's a sense of disbelief. Then people get excited, and it's something of an event. And in six months, it all becomes fairly normal." Six years ago, few homes used solar. Now, as many as half a million homes in East Africa plug in.
Azuri says sales volume allows it to offset costs and offer the incentives it does. The company has about 80 employees and 2,000 sales and marketing partners throughout Africa, mostly residents with relationships on the village level. Gratis installation and upkeep, the company says, helps secure loyalty and friendly word-of-mouth.
To contact the editor responsible for this story: Jeff Muskus at jmuskus@bloomberg.net