Trump Gets a Lot Out of Trade Wars. The U.S. Gets Less
(Bloomberg Businessweek) -- The Trump administration is doing its best to convince the world that its decision to slap tariffs on a host of foreign-made goods is no big deal. The dispute with Canada is "a family quarrel," according to top Trump economic adviser Larry Kudlow. As for the growing rift with Europe over Trump's policies on trade and other issues, Secretary of Commerce Wilbur Ross says they're "blips on the radar screen" and "everybody will get over this in due course."
America's closest allies give a very different impression. After Trump imposed steel and aluminum tariffs on the European Union, Canada, and Mexico on May 31, Jean-Claude Juncker, president of the European Commission, called the move "protectionism, pure and simple." Canadian Prime Minister Justin Trudeau deemed the tariffs "an affront to the long-standing security partnership between Canada and the United States," while French President Emmanuel Macron was more blunt, warning that Trump's action was "illegal" and "creating economic nationalism." He ominously added: "And nationalism is war."
Trump has become the bully of the global economy, using the immense leverage of the U.S. market and the close to $3 trillion of foreign goods and services Americans buy every year to bludgeon friend and foe alike into rewriting trade pacts and offering favorable concessions. For the most part, the rest of the world has stood firm, either granting minor compromises or simply fighting back. The EU, Canada, and Mexico have all retaliated against Trump's metal tariffs by slapping duties on U.S. products ranging from cheese to motorcycles.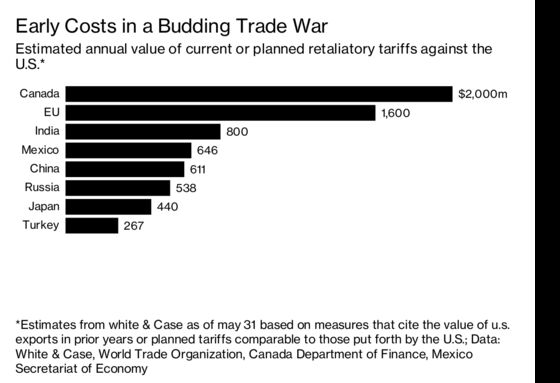 His decision to confront China was risky enough. A trade meltdown between the two biggest economies in the world would no doubt wreak havoc on global trade and perhaps tip off a superpower confrontation akin to the Cold War. But at least that effort was taken against a country that has routinely abused the free-trade system. Browbeating close partners such as Germany, France, and Canada could prove even more dangerous, with potentially far-reaching economic, political, and strategic repercussions for U.S. relations with other countries.
These partnerships are core to a world economic order—crafted by Washington seven decades ago—that's served as the backbone of global prosperity and American political and economic dominance. By undermining them, Trump could well be threatening U.S. leadership, the entire global trading order, and the stability of the world economy.
And for what? Trump and his lieutenants claim their goal is to make trade "fair" and stop the rest of the world from taking advantage of the U.S. and hurting American industry. There's a kernel of truth to that grievance. Some countries have been less open to foreign investment than the U.S. and have at times imposed higher tariffs or other barriers on American imports than the U.S. does on its products. China has been an especially poor trading partner—pilfering U.S. technology, blocking market access for U.S. companies, and heavily subsidizing competing industries. More broadly, cheaper imports have forced thousands of U.S. factories to close over the past 20 years.
However, it's hard to tell what Trump's policy actually is. His team of trade negotiators seems hopelessly divided, sowing confusion by spewing contradictions. Hard-liners such as U.S. Trade Representative Robert Lighthizer and Trump trade adviser Peter Navarro seem to relish a global slugfest, especially with China, seeking nothing short of an overhaul of America's trading relationships. Meanwhile, Treasury Secretary Steven Mnuchin, who's often led the talks with China, has been much more cautious. Internal divisions have recently turned into overt squabbling. A week after Mnuchin declared that the trade war with China was "on hold," the White House announced it was moving ahead with tariffs. Navarro called Mnuchin's comment "an unfortunate sound bite."
Beijing has deftly exploited team Trump's infighting—dangling the prospect of reducing the trade deficit, a Trump obsession, to dodge concessions in areas it considers more critical, such as its industrial policies, and to forestall tougher action favored by White House hard-liners. At the end of the latest round of talks, on June 3, it was Beijing making the threats. If Washington presses ahead with sanctions, "all the economic and trade achievements negotiated by the two sides will not take effect," a Chinese statement in state media warned.
The original list of demands presented by the White House to China shows Trump's team has a comprehensive understanding of the mercantilist nastiness Beijing uses to extract technology from foreign companies, hobble their success in China, and promote its own champions. But in the latest round of talks in Beijing, the negotiations seemed to have degenerated into haggling over the terms of proposed Chinese purchases of American products. Beijing officials offered to buy almost $70 billion of soybeans, natural gas, and other products on the condition that Trump drops his threatened tariffs. Other thorny issues critical to the future of U.S. competitiveness—such as the protection of U.S. intellectual property and China's market-distorting industrial policies—got sidelined.
That has some in the business community worried. "If we continue down this path of focusing on reducing the deficit by selling China more food and fuel," says Jim McGregor, chairman for greater China at consulting firm APCO Worldwide LLC, "we are headed toward becoming a highly developed Third World country that supplies China with natural resources and in the future can license technology from them."
Trump's approach to South Korea has shown similar tendencies. He'd derided the U.S. free-trade pact with Seoul as "horrible" and threatened to scrap it in 2017. But after negotiations, he was satiated by a few tweaks—mainly, a quota on Korean steel exports to the U.S. and extended protection for U.S. pickup truck makers. In a report on the deal, Krystal Tan, an economist at research firm Capital Economics Ltd., concluded that Korea's concessions "will make little practical difference," but Trump declared the new deal "great."
This is to say nothing of the fraught push to renegotiate the North American Free Trade Agreement. One of the main sticking points is over a proposal to factor labor cost differentials into trade in automobiles. Adopting it would force Mexico to hike wages in its auto manufacturing sector by as much as five times or suffer extra duties on its car exports—effectively depriving the country of its comparative advantage. The idea is to push factories out of Mexico and into the U.S. It's one of several proposals Claude Barfield, an American Enterprise Institute scholar, called "poison pills," perhaps intended to scuttle Nafta altogether. Trump may now favor negotiating bilateral deals with Canada and Mexico.
Connecting the dots across these trade negotiations reveals a simple common denominator: politics. Trump is arm-twisting trading partners for concessions to aid and protect a small number of industries—steel, automobiles, agriculture, and energy—that just so happen to prevail in states that voted for him. Other threatened actions have the same aim. Trump wants to hike tariffs on imported cars in the name of "national security," a transparent attempt to force automakers to manufacture more cars inside the U.S. In that regard, his trade policies aren't about "fair" trade at all. They're about solidifying his political base and rewarding his supporters.
The effect Trump's trade talk has had on domestic politics is stunning. In the span of one election cycle, he's managed to turn the GOP away from free trade and toward protectionist policies. A recent survey by the Pew Research Center shows Republicans are far more likely to oppose free-trade agreements and favor tariffs than Democrats.
The political nature of Trump's tariffs may appear to make him less dangerous: In the end, he'll settle for a few favors and not disrupt the global order. But the cost of his approach is far steeper. What he's doing is strikingly similar to the way China behaves—using state power to manipulate trade in favor of certain special interests. Jörg Wuttke, a former president of the EU Chamber of Commerce in China, notes that Trump is badgering the Chinese state to intervene to redirect customer-determined flows of trade toward the U.S. and away from other countries—including close allies. "All he's doing is moving the furniture," Wuttke says, "and that's our furniture."
As a result, the U.S. is becoming isolated from its own allies. At a meeting of Group of Seven finance ministers on June 2, the other six ganged up on Mnuchin over Trump's tariffs and demanded collective cooperation on resolving trade issues. "It was the U.S. against everyone else," said Japanese Finance Minister Taro Aso. That, too, opens the door for China. Trump had a chance to team up with allies in Europe and Asia to pressure China to change its trade practices. Instead, he's allowed Beijing to portray Trump as the problem in world trade. Chinese officials recently made a big show of lowering tariffs on a range of goods, from apparel to appliances. Although this may have minimal impact on U.S. exports, it has value in painting Beijing as the grown-up—with an eye on driving a deeper wedge between Washington and its allies.
Since the end of World War II, the U.S. has championed an economic order based on rules and norms, given credibility by the consistency of U.S. foreign policy and Washington's commitment to upholding this global order. Behind it all were core guiding principles—that a prosperous world is a safe world, that trade makes alliances stronger, and that openness ultimately wins the day. By stripping U.S. policy of its higher purpose, bullying allies, and twisting trade to suit his narrow political needs, Trump is upending all of this. Without U.S. support, the entire global order, which has produced so much growth and wealth over the past 70 years, could well crumble, clearing a path for the very thing that Trump claims to be striving to prevent: a dominant China and a diminished U.S. That's something the world may never "get over."
To contact the editor responsible for this story: Matthew Philips at mphilips3@bloomberg.net