A Journalist Is Taking Over One of Bordeaux's Great Wine Empires
(Bloomberg Businessweek) -- In Abidjan, Ivory Coast, Saskia de Rothschild spent a month interviewing inmates at the notorious La Maca prison for an article in the French magazine Revue XXI. As an investigative journalist, she filmed for a documentary the first female U.S. Marines sent to Afghanistan's front lines; for the New York Times, she embedded with sheep farmers fighting the mining industry in Greenland. But the challenge in front of her now may be her toughest yet.
In April the 31-year-old became the youngest person to currently lead a first-growth Bordeaux estate, Château Lafite Rothschild. She's also the first female chairwoman of Domaines Barons de Rothschild (Lafite), her extended family's global wine empire, which includes seven other wineries on three continents. The announcement coincides with the 150th anniversary of Rothschild ownership of the château. (The first vines were planted in the 1670s; Thomas Jefferson visited and became a devoted fan.)
De Rothschild won't only be the face of the company that makes one of the most celebrated red wines on the planet. Her millennial perspective and distinctly global outlook will help shape its future in the face of serious 21st century challenges, including the increasing demand for organic and biodynamic wines and the cutthroat competition in China's fine-wine market.
Speculation has circulated for years about who would succeed Saskia's father, the ever-charming Baron Eric de Rothschild, 77, who began running Lafite in 1974 and expanded the Rothschilds' wine portfolio. Several branches of the family own shares of the privately held DBR (Lafite), which also includes Bordeaux châteaux Rieussec, L'Evangile, and Duhart-Milon. There's also Domaine D'Aussières in Languedoc, Viña Los Vascos in Chile, and joint-venture Bodegas Caro in Argentina. Additionally the company produces three lines of branded everyday wine—Légende, Saga, and Réserve Spéciale—making 3 million bottles a year.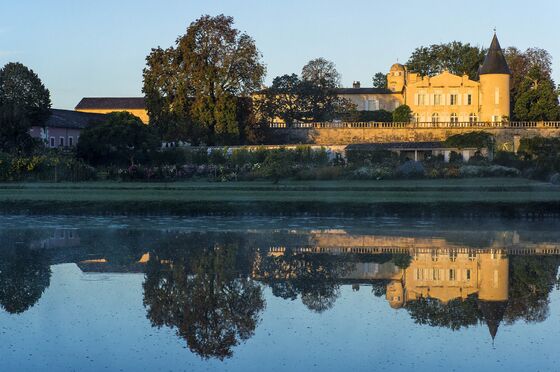 But Château Lafite Rothschild remains the crown jewel of the business. Set among manicured lawns with crunchy gravel paths and a lake and surrounded by 112 hectares (277 acres) of closely planted cabernet, merlot, cabernet franc, and petit verdot vines, it produces more wine than any of the other first growths. Also known as premiers crus, these are the top five wines in a famous 1855 classification that ranked estates in quality from fifth to first "growths."
For centuries merchant ships sailed from Bordeaux laden with casks of red wine for Britain, then spread the region's prestige throughout the globe. At the end of the 14th century, the area sent the equivalent of 1 million bottles to London for the wedding of King Edward II, and by the 18th century, prosperous French aristocrats began to build turreted châteaux. Lafite was already renowned in 1868 when wealthy French banker Baron James de Rothschild bought it for just under 5 million francs (about $54 million today), and since then it's been vulnerable to vine blights, wars, changing tastes, and price booms and busts. Still, the mystique of its elegant, long-lived red wines has been reflected in prices that are consistently higher than those for other first growths.
Top vintages can last 50, even 100 years. Internationally, current vintages hover at about $700 a bottle; the much-sought-after 1982 is $4,000. If you are lucky enough to ever taste that legendary wine, you'll experience a haunting cedary black truffle fragrance and complex flavors that unroll with the light silkiness that is Lafite's hallmark.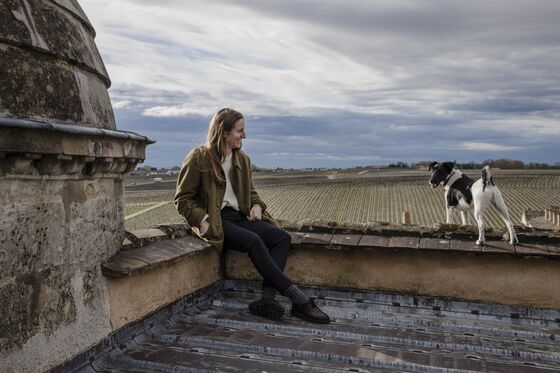 At the height of the Asian boom in interest in 2011, the estate's value was an estimated €3.7 billion ($4.3 billion), according to the London International Vintners Exchange, a trading house for investment-grade wines. Its value is still at least €1 billion. Michael Baynes of Maxwell-Baynes Real Estate in Bordeaux puts the collective value of DBR (Lafite)'s other châteaux at about €790 million, based on recent sales, and its Languedoc and Chilean estates at €70 million. "Rarity and status play more of a role than the underlying economics of the business," says Alex Hall of Vineyard Intelligence. "Lafite Rothschild itself is like a famous painting. Until it is sold, it's difficult to know what it's actually worth."
De Rothschild has two brothers and a number of cousins who might've taken on the top role. But she had the primary requirement: She actually wanted the job. Fascinated by the estate from an early age, de Rothschild groomed herself by interning at Château L'Evangile in Pomerol at age 19 and joining the group that selects Lafite's assemblage (the final blend of wines that ends up in bottles) at 20. She also obtained an MBA from HEC Paris and a master's degree in journalism at Columbia and worked for the New York Times in Paris. In 2015 she began full time at the family company.
Unlike other first-growth château owners, who started out with no formal training in wine, de Rothschild has been taking courses in viticulture and oenology at agricultural school CNEAC in Argenton-sur-Creuse for a national diploma and is writing a thesis on cold maceration in winemaking. In the process, she convinced the DBR (Lafite) board that she has the ambition, drive, and passion to head a company with 430 employees and 1,200 hectares of vineyards worldwide.
I meet with de Rothschild in a light-filled drawing room in Château Lafite, parts of which date to the 16th century. We're sitting in antique chairs upholstered in red silk brocade; gilt-framed portraits of her ancestors hang on the walls. Carrying a red notebook stuffed with papers, she talks about Lafite with thoughtful passion, sharing memories of childhood summers here. "My father taught me to taste wine," she says. "He told me to close my eyes when sipping, to memorize it." She emphasizes how even this famous estate must find ways to speak to the new generation of wine drinkers. But it's not long before we get to one of her first challenges: namely, China.
Lafite has had a complicated relationship with the Chinese market. It was one of the first great Bordeaux to be sold in China, and it quickly emerged as a desired gift for government officials. Its appearance as the only wine worth drinking in Hong Kong gangster movies, such as Exiled, and a famous Chinese television soap opera helped cement its fame. During the Asia-led wine boom, Lafite became a superbrand, and its prices skyrocketed. All this led to wine speculation and a flood of counterfeits. But in 2011 the bubble began to burst; there was economic uncertainty and a crackdown on gifting by the government. Wine prices for Lafite and other first growths plummeted. Only in 2016 did they begin to rebound.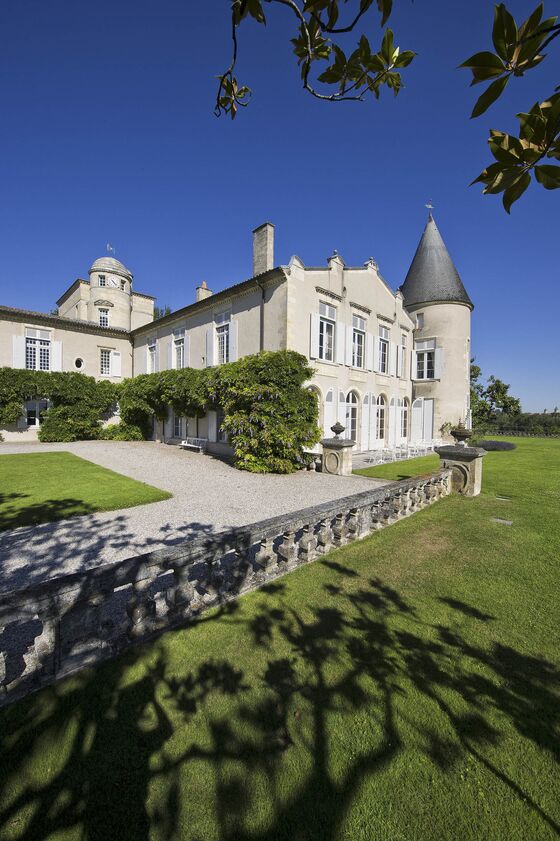 But the Chinese market can't be ignored: Almost 80 million bottles of Bordeaux are exported annually to China and Hong Kong, and prices have been creeping up. Meanwhile, Chinese moguls, including Jack Ma, have bought more than 100 châteaux in Bordeaux since 2010.
"One of the immediate priorities is the launch of our Chinese estate," she concedes. That's the company's early, daring 10-year-old winery project on the hilly Shandong Peninsula in eastern China, roughly equidistant from Beijing and Shanghai. It was started in a partnership with China's Citic Group Ltd., formerly the China International Trust & Investment Corp., a state-owned investment company. The goal was to gain a foothold in a growing domestic market with millions of potential customers, building on Lafite's reputation.
In 2011 the company planted 25 hectares of vines on the property, with the intention of producing a cabernet-based red blend. Then in January, Citic, as part of its retrenching to its core financial business, wanted out of the partnership. DBR (Lafite) plans to buy out Citic's 30 percent share for more than $5 million and intends to open the winery next year.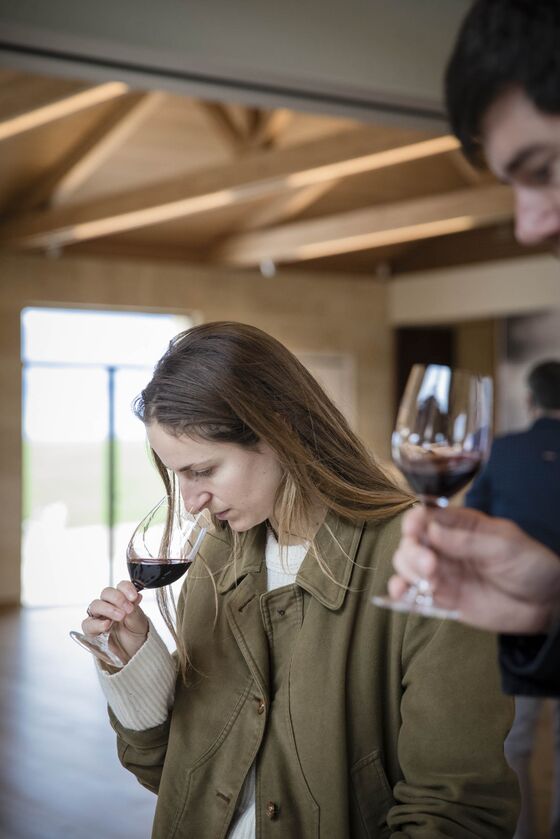 At many top châteaux, it's typical for the owner (or a family member) to be the face of the brand, with a savvy wine professional as the day-to-day actor behind the scenes. De Rothschild will team with DBR (Lafite)'s recently appointed chief executive officer, Jean-Guillaume Prats, the former president and CEO of LVMH Moët Hennessy Louis Vuitton SE's wine division. Helpfully, he oversaw the creation and introduction of LVMH's Chinese wine, Ao Yun. "Saskia de Rothschild combines fierce intelligence with great imagination," says Sarah Kemp, an adviser to the London wine club 67 Pall Mall. "Like her father, she is a listener, but she is her own woman and will bring an exciting new chapter to Lafite."
But keeping Lafite in its top spot as the most expensive and sought-after Bordeaux is no easy task. According to a recent Sotheby's market report, Bordeaux, which dominated the auction scene for decades, represented only 40 percent of its worldwide sales in 2017. That's a record low.
Part of that decline comes from collector tastes—rarer Burgundies are more in vogue at the moment, and interest is spreading in fine wines made in other parts of the world. At the same time, new wine enthusiasts tend to be more environmentally conscious than those from the era of de Rothschild's father. Thomas Duroux, CEO of Bordeaux's Château Palmer, which was recently certified biodynamic, says that in the next 10 years, all serious classified growths will go in this direction. "It's what consumers want," he says. Château Pontet-Canet, which has also gone biodynamic, has seen a meteoric rise in the critical opinion of its wine and its prices.
Most of Lafite's vineyard is organic, and it now has nine experimental biodynamic hectares. The company's Château L'Evangile is almost 100 percent organic. "We are speeding up," de Rothschild says. "Our mission is the conversion to a more natural, sustainable way of doing agriculture."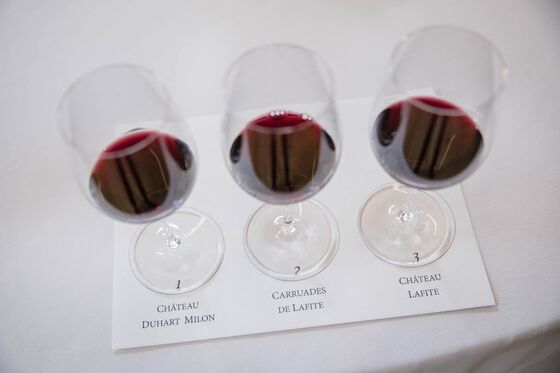 Future sales also depend on bringing her millennial generation back to Bordeaux and connecting more directly with consumers. "We have to create a more friendly, more humble approach," she says. "My friends in Paris don't drink Bordeaux. You can't find it in certain restaurants. They drink Loire whites, Châteauneuf from the Rhône, and wines from the Jura and Languedoc."
It's a long list of challenges. De Rothschild can't tackle them all herself. For now, her father will be co-chairman of Château Lafite with her, but she is in charge of DBR (Lafite).
"Before I was interested in wine, I was fascinated by Lafite as a place," de Rothschild reflects as I'm leaving. We can see the tower of the charming château, and a herd of rare wild cows wanders 50 hectares of marshland. Long rows of green vines give the estate an idyllic, peaceful atmosphere and the sense of mystery that lies behind all truly great wines. "It's not a regular business, it has this vulnerable quality," de Rothschild says. "And with climate change, that sensation is growing. That's why I've always wanted to protect it."
Long term, de Rothschild hopes to add more wineries to the portfolio—in the Loire, definitely in Napa, and even farther afield, perhaps in Ethiopia. "But we won't buy shiny shoes," she says with a smile. "We like to find a raw stone and polish it."
To contact the editor responsible for this story: Chris Rovzar at crovzar@bloomberg.net