Italy's Young Populists Are Coddling the Old—and Holding the Country Back
(Bloomberg Businessweek) -- At just 31 years old, Luigi Di Maio, head of Italy's populist Five Star Movement, is no one's image of a gerontocrat. Yet since helping form a new coalition government, Di Maio has given priority to rolling back a gradual increase in Italy's retirement age—even though doing so would help older Italians while adding to the debt burden on his own generation.
Dismantling a money-saving 2011 pension measure is one of a handful of issues on which Di Maio sees eye to eye with his coalition partner, Matteo Salvini, 45, of the right-wing, anti-immigrant League party. Asked earlier this year about former Prime Minister Silvio Berlusconi's goal of preserving the "good parts" of the 2011 measure, Salvini said, "It's no problem, because there are no good parts in it."
It's not easy to be young in Italy, even apart from the pension burden. The country's economic output is smaller now than it was in 2004, and employment policies are skewed to protecting jobs, not creating them. The number of Italians registered as living abroad rose 60 percent from 2006 to 2017, to almost 5 million. Among those who stay, it's common for unemployed young people to live with their parents instead of starting their own families, which is one reason the country has one of the world's lowest birthrates.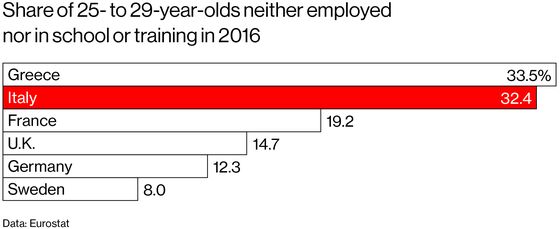 It's understandable that after years of stagnation, Italian voters were eager for a change in government. But for a country that needs optimism and entrepreneurial vigor, the new leadership has a backward-looking agenda. The League wants tax cuts and tight restrictions on immigration. Five Star wants a guaranteed minimum income for all. Both say they want to stay in the European Union—but threaten to defy its rules on migration and debt.
Support from both Five Star and the League for repeal of the 2011 retirement age increase reflects the extent to which the pet issues of the elderly have been swept up into the broader populist agenda. Perhaps surprisingly, it's not the old who put Five Star and the League in power. Five Star, which was founded by a comedian and styles itself as a popular movement rather than a political party, draws most of its strength from younger voters: Its support among those 65 and older is only half as strong as among those younger than 35, according to polling by Quorum/YouTrend for the March 4 election. The League's support isn't as skewed by age, but 65 and older is still its weakest demographic, the same poll shows. (Di Maio and Salvini compromised on law professor Giuseppe Conte to be their government's prime minister.)
It's hard to see how this coalition will boost an economy that grew just 1.6 percent in last year's fourth quarter from a year earlier. Marta Morazzoni, 23, a native of Milan who's studying economics in Spain, says she voted for the center-left Democratic Party, formerly headed by Matteo Renzi, but knows many people her age who supported extreme parties or didn't vote at all. Says Morazzoni: "Many people don't even really care about leaving Europe or not leaving Europe, or giving the vote to Salvini or not, because they are so fed up with all our politicians that they do not make the distinction." She's not planning to return to Italy after her studies, because she has little confidence that those in government can turn things around. "In the last 25 or 30 years," she says, "my country hasn't changed."

The disenchantment of many young Italians can become a self-fulfilling prophecy. Sergio DellaPergola, an Italian demographer who emigrated to Israel and teaches at the Hebrew University of Jerusalem, is struck by how much more optimistic his adopted country is than his native one. "In Israel, people start families even without resources," he says. "Babies bring optimism, and optimism brings babies. So the economy works."
The new government may muddle through, as previous ones have. Yields on government bonds have fallen since shooting up at the end of May. High rates would make it hard or impossible for Italy to pay interest on its government debt, which at more than 130 percent of gross domestic product is second-highest in the EU after Greece's. But rolling back reforms—such as Renzi's Jobs Act of 2015, which made it easier for large companies to fire people—may doom the country to become the perennial sick man of Europe.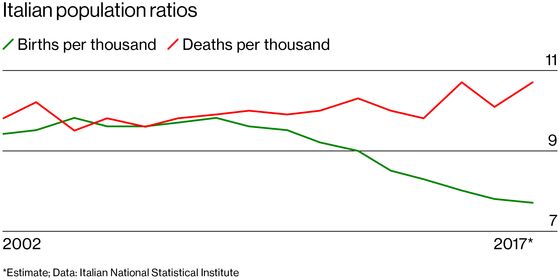 "We need to have a vision for the next 30 years," says Paola Subacchi, who is a senior research fellow at Chatham House, a policy institute in London, as well as a visiting professor at the University of Bologna. She favors limits on deficit spending, improvements in public education, infrastructure investment, and less red tape. She says Italy's new leaders should strongly commit to sticking with the euro currency and remaining in the European Union, which would reassure investors and keep Italy from having to pay higher interest rates than other euro zone countries with which it competes. EU leaders would be more likely to cut Italy some slack on budget rules if they were confident that the government would spend wisely, investing for the long term, says Subacchi.
Restoring hope is the first step that's needed, says Lucrezia Reichlin, a former director-general of research at the European Central Bank and an economics professor at London Business School. "You do not want to subsidize the losers, but you have to give them something to transform themselves," she says. Reichlin launched Ortygia Business School in the Sicilian city of Siracusa last year to teach a new generation of executives and support the growth of the countries of the Mediterranean. One of her goals is to draw young people to Italy, both Italians who have left and others coming to the country for the first time. "We need to create incentives for young people to move to Italy."
In a Eurobarometer survey of "active aging" conducted in 2011, Italians came in second to last (ahead of Slovenia) among EU nations in the percentage who said they would like to keep working after reaching the age at which they would qualify for a pension. Pair that with the popularity of rolling back the retirement age increase and you see a country in a quitting mood. Changing that attitude should be any new government's top priority. —With Alessandra Migliaccio
To contact the editor responsible for this story: Cristina Lindblad at mlindblad1@bloomberg.net