A Once-Hot Fidelity Fund Is Outperforming Again. Investors Still Don't Care
(Bloomberg Businessweek) -- Jeff Feingold runs Fidelity Magellan, once the most famous mutual fund in the world. But there's a good chance you've never heard of Feingold, which says a lot about the plight of active money managers these days.
From the late 1970s through the '80s, most Americans who invested in the stock market knew the man behind Magellan. Peter Lynch posted market-beating returns of 29 percent a year, leading many ordinary investors to think the path to riches was choosing the right money manager. Lynch's successors, including Jeffrey Vinik and Robert Stansky, got plenty of media ink in the 1990s, even if they never came close to matching Lynch's numbers.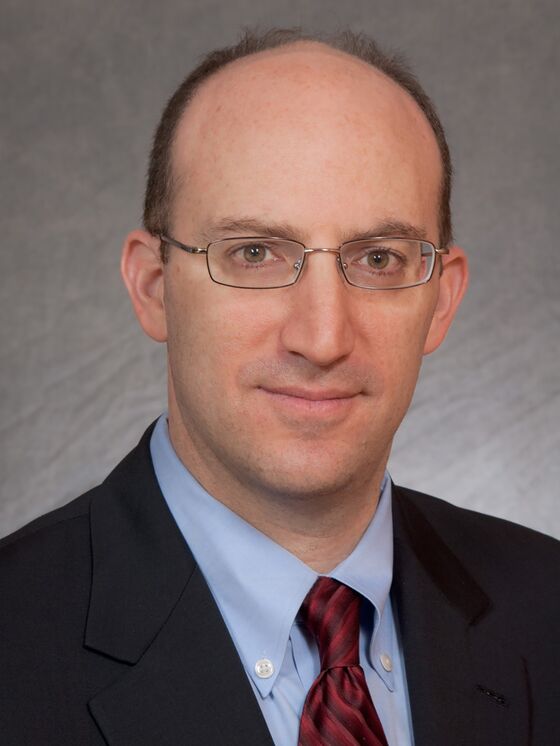 Now, indexing is king, and many individual investors would rather find the lowest-cost benchmark tracker than bet on hot managers. Magellan's journey from icon to afterthought may be the starkest example of the eroding trust in professional stockpickers. Feingold's record is strong: Under his tenure, which began in September 2011, Magellan has bested the S&P 500 index every full year but 2016. Annualized gains have averaged more than 15 percent, currently putting the fund just a bit ahead of the index. The fund has outdone more than 90 percent of funds with a similar investing style over the past one, three, and five years.
What Magellan isn't doing is winning cash from customers. Magellan was once so popular that Fidelity closed it to new investors in 1997. Assets topped out at almost $110 billion in 2000, when it was the largest fund in the business. But investors have pulled money out for 18 straight years, even though Magellan reopened to new investors in 2008. "If we do our job well and generate alpha, hopefully that is what will matter to shareholders," says Feingold in a conversation at Fidelity headquarters in Boston's financial district. Alpha means beating the index. "People expect us to perform. They expect we will beat the benchmark every year."
At $17.5 billion, the fund is about the same size size it was when Feingold assumed the helm. This actually obscures the outflow of cash, because the fund's holdings grew in value over the same period, offsetting the redemptions. Fidelity's biggest equity fund, at $150 billion in assets, is now Fidelity 500 Index Fund, a passive one that tracks the S&P. There are glimmers of a turnaround: Magellan in March had its first month of net deposits in a decade, according to Morningstar Inc., and its overall redemptions this year have slowed.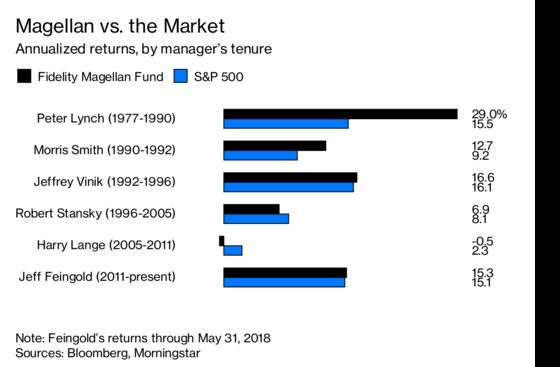 Still, the tide is against it. Newly released data show that actively managed U.S. stock funds and ETFs saw $67 billion in outflows this year through April. Their passive counterparts hauled in $59 billion. "You need a compelling argument to get investors to buy your fund, and it isn't clear Magellan has one," says Lawrence Glazer, managing partner at Mayflower Advisors in Boston. Other prominent managers at Fidelity, such as William Danoff at the $128 billion Fidelity Contrafund, have also been stung by withdrawals, despite strong performance.
Magellan also faces the weight of history. The fund, started by retired Fidelity chairman Edward C. Johnson in 1963, kept its edge on the market, even after Lynch retired in 1990, before falling into a 15-year funk after Vinik left in 1996. Under Stansky and then Harry Lange, its cumulative performance lagged the S&P. Lynch's celebrity went beyond the numbers. He wrote investing best-sellers, and his white mane was a fixture in Fidelity's advertising. Vinik continued to build his reputation after leaving Fidelity, first as a successful hedge fund manager and then as the owner of the Tampa Bay Lightning hockey team.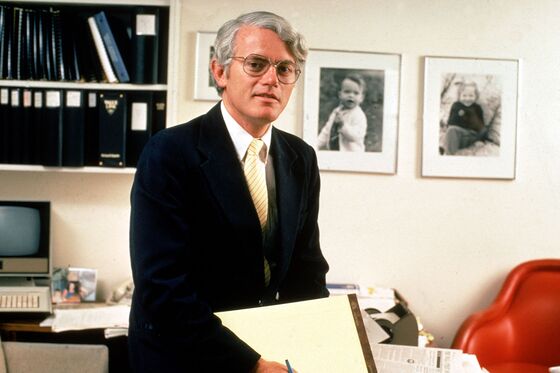 Feingold and his deputy, Kwasi Dadzie-Yeboah, who joined Magellan in 2015, previously worked together at the smaller Fidelity Trend fund. Like Lynch—who regularly asked analysts pitching stocks, "Is the story getting better?"—they try to identify businesses poised for an upswing by scrutinizing factors such as free cash growth. "We are looking for companies whose fundamentals are improving," Feingold says. "That is where we hunt."
Feingold is a lanky and bespectacled Harvard MBA and Brown University grad who climbed Fidelity's ranks after a stint as an analyst at Morgan Stanley. As an investor, he takes a traditional approach, looking at companies one by one. This style has been challenged, not only by indexing but by increasingly popular quantitative strategies, in which computers sort through reams of data to identify stocks with better odds. That's where Dadzie-Yeboah comes in. The Ghana native has a quant background and supplements Feingold's work with a methodology he's honed over more than a decade. He dubs it "automating our investment philosophy." When the story and the signals agree about a stock, the managers get an additional shot of confidence.
Magellan's recent results have been driven in part by technology holdings such as Apple Inc. and Amazon.com Inc. The managers have also shown a knack for spotting battered old-economy companies on the cusp of a rebound. They quadrupled their stake in equipment maker Caterpillar Inc. from June 2016 through September 2017, in time to catch a rally.
Feingold and Dadzie-Yeboah say running a fund with Magellan's history is humbling. They periodically meet with clients who have been in the fund since well before they took over. And they are sometimes able to bounce ideas off Lynch, now an adviser at the firm who held a group lunch earlier this year. "We are learning from people who have done it before and better," says Feingold.
Fidelity watchers agree that Magellan has improved—just not enough to spark much enthusiasm. John Bonnanzio, editor of Fidelity Monitor Insight, and James Lowell, editor of Fidelityinvestor.com, both say there are better Fidelity funds to buy, including Contrafund. The bottom line, according to Bloomberg Intelligence senior ETF analyst Eric Balchunas, is that for an active U.S. stock manager, pretty good isn't good enough anymore. "The data show that unless you really trounce the benchmark, it is very difficult to get flows," Balchunas says. "You are up against a secular shift."
To contact the editor responsible for this story: Josh Friedman at jfriedman25@bloomberg.net, Pat Regnier